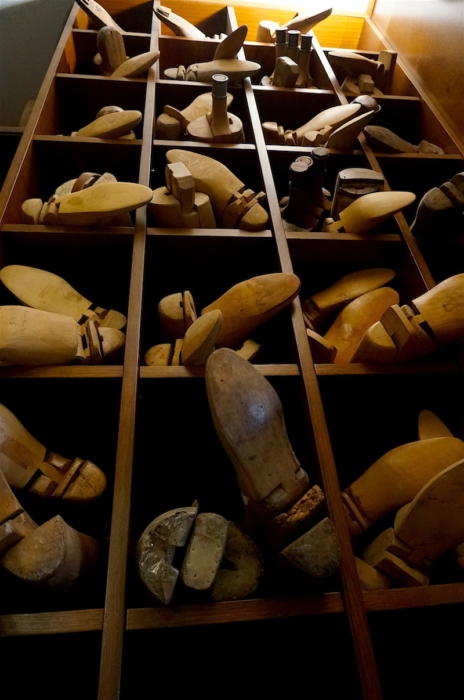 Stivaleria Savoia is an old Milanese bespoke bootmaker (stivaleria means bootmaker, and it was founded by craftsmen who made for the Savoia, or Savoy, cavalry).
The designs are classic and practical, and unlikely to set any Instagram feeds alight.
But it is steeped in history and very good value, with bespoke shoes starting at €2000.
The group of craftsmen dates back to the 1870s, but the shop itself was founded in 1925, initially making boots exclusively.
Today only about 5% of orders are for boots, but they can still make them - the most basic models starting at €3600.
(They do not make cowboy boots, despite some lovely examples being on display.)
The business is largely bespoke, although there is also a ready-made line from Cheaney and made-to-order options done in Milan.
The bespoke designs are all fairly traditional and understated, with a range of round and square toe shapes, but relatively square waists and heels. Monk straps are particularly prominent.
Interestingly, Savoia do offer a narrower, more bevelled waist, but most orders are for the squarer, flatter styles.
Famous customers over the years have included Italian, Moroccan and French royalty, as well as film stars new and old - Sylvester Stallone has been a customer, as he has of a few other makers.
As is often the case with storied craftsmen, there is a beautiful book-based order system that involves one index volume and then several others containing measurements and order details.
Savoia has five craftsmen: managing director Fausto Risi (pictured above), who does all the measuring and lastmaking; his wife Silvia, who does all the cutting; head shoemaker Filippo Ballatore, and two other makers.
A lovely aspect of Savoia is that the workshop is right in the shop, with all the dust, grime and tools that prove you're getting a handmade and highly sweated product.
It's behind glass, so none of that can contaminate the wood-panelled shop, but customers are encouraged to step inside and see the work going on.
Several makers retain such visible workshops today, such as John Lobb Ltd on St James's Street. But ideally anyone with that work going on should be displaying at least part of it.
Value is hard enough to communicate at the best of times; if some aspect of it is physical and as difficult to ignore as a man stitching a welt, it should be put front and centre.
Enchanted by the shop, and encouraged by Gianni of Sartoria Vergallo (who was there, as he conducts his Milan appointments there now, and whose assistant helped with translation), I commissioned a pair of dark-brown cap toes.
Let's see how they turn out.
For a comparison of different bespoke shoemakers, see the post 'The bespoke shoemakers I have known'
For a step-by-step guide to how a bespoke shoe is made - and therefore much of its value - see the series with Cleverley in London, collected here.