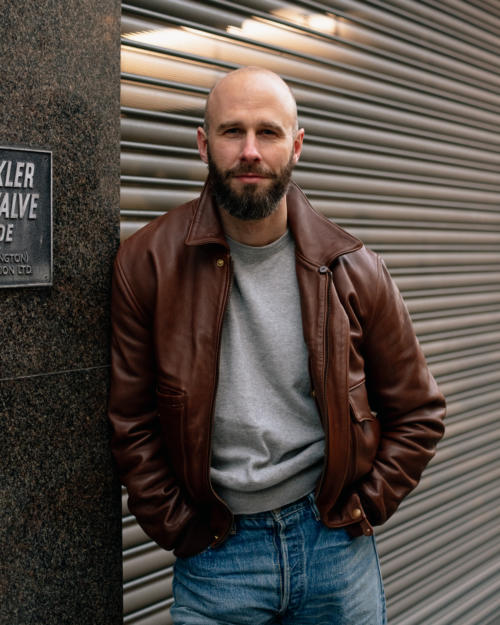 I think this Chapal jacket holds the record for the review most frequently requested, yet never fulfilled. I do apologise – the past two winters I have meant to shoot and cover it, and things have always got in the way.
The upside of the delay is that, I think, the jacket now qualifies for our 'How great things age' series. I've had it for five years, and even if it has never been worn intensely, it has been consistently.
So how do I feel about it now?
In brief, it is a truly luxurious item of clothing which I hugely enjoy wearing. It's also unique – I've never seen or tried a leather jacket using these kinds of materials, that has this feel.
On the downside, I found it quite a 'reproduction' military look for a while, and that sometimes stopped me wearing it. That was improved when I started wearing it more without the fur collar (as here).
And, I probably made a mistake when commissioning (it was made to measure) in keeping it fairly short. This means I find it's really only functional with mid- to high-waisted trousers.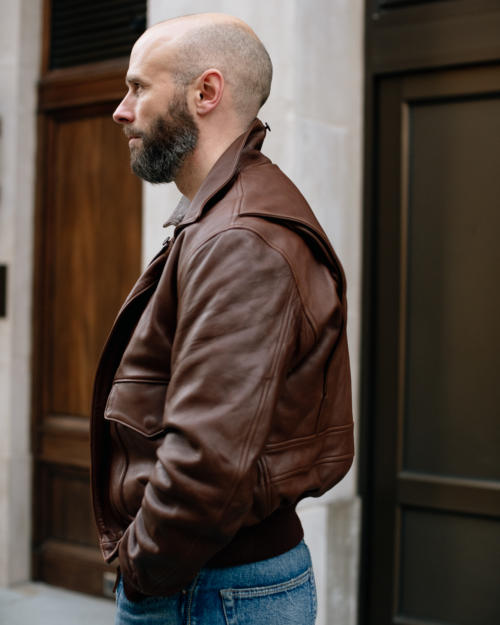 The jeans I'm wearing here are the Full Count ones covered recently in this Anthology piece. They have a back rise of 17 inches, which is pretty high.
If I wear anything lower, the tight ribbing of the Chapal jacket rides up above the waistband of the jeans – pushing them down, showing some T-shirt/shirt, and becoming less comfortable.
There's nothing wrong with the ribbing itself. A blouson style is meant to have a tight waistband, so it stays in place while the voluminous material above allows you to move around.
That blousy cut is also, I think, rather flattering. It gives you a particularly small waist and big back – the greatest 'Atlas'-style proportions possible.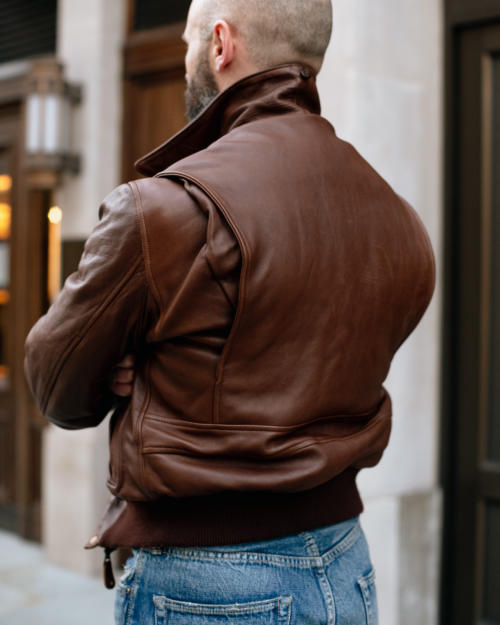 An old-style flight jacket is an extreme example. The proportions are exaggerated by the jacket being particularly short in the body, big and pleated in the back, and in a thick material.
But I do think proportions like this are worth tending towards, in contrast to the tight-fitting jackets that have dominated the 20 years or so.
And, I should say, in contrast to my own purchases in the past – particularly this Purple Label jacket. Six years later, I still think about buying the wrong size.
We'll probably return to that theme later this year. It also applies to my old linen bomber, which would have looked better and in fact been cooler were it roomier. I even had a tailor slim it down: this was a mistake, and later led to me selling it.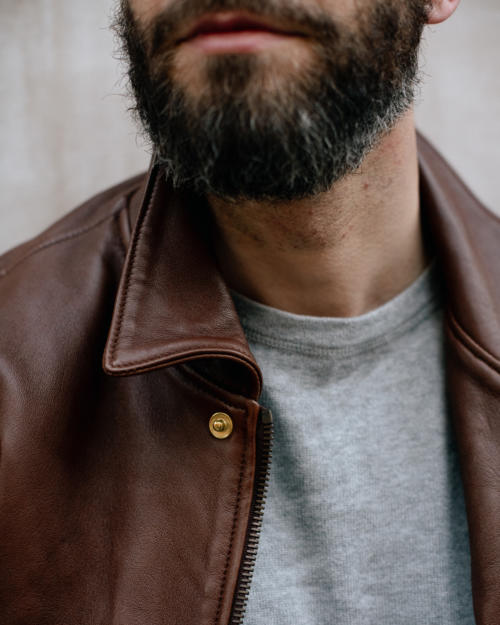 Returning to the Chapal jacket, I won't go into the history of the company here, as I covered in previously in this article, when I visited the Paris atelier.
I also won't detail the make of the jacket, or the made-to-measure process, because again, I covered them previously here.
Instead, today's piece is purely a reflection on my experiences with it, and an answer to the question: would I recommend it to readers?
The point about experience to focus on is that this jacket feels like no other to wear.
The outer is made from a veg-tanned sheep leather that Chapal makes in its own tannery. It is thick but soft, robust but easy. I have horsehide jackets that have a similar strength, and calf ones that are just as soft, but nothing combines both in this way.
The reason the leather is so different is that Chapal has been tanning since 1832, and it still owns that tannery, which gives it control of production. It knows the original formulas and it can fulfil them.
Sometimes it's hard to point to ways that owning your production creates a better product, but with Chapal, here, it's pretty obvious. It's also a good case for paying to develop your own materials, rather than picking from swatches.
The lining of the jacket is not unique, but it's still pretty unusual.
Mine, the standard lining, is a heavy tan gabardine with a padded backing. This adds to the luxurious feeling when wearing it, and to its warmth.
There are other (in theory more luxurious) linings available. You can have it with Fox flannel or with silk. But I think the gabardine is the nicest, and probably best suited to the leather.
The jacket's ribbing is a cashmere/wool mix that, while soft, is heavy enough to be very strong. The hardware is all brass, and my favourite untreated one at that – so it tarnishes, but can be brought back up to a shine if desired.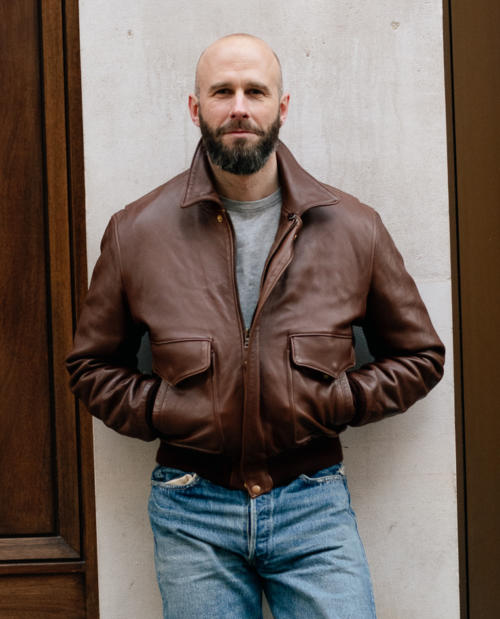 In conclusion, would I recommend it to readers? I think yes, but only if the style is you, and price isn't too much of an issue.
Style-wise, a suede jacket like my Himel Bros is easier to wear. It has less of a repro look, is more subtle in style, and goes with a greater range of clothing. A Valstarino-style suede would be more versatile still.
But it is easier to wear than many horsehide jackets, including my own brown Real McCoy's. That has an asymmetric, biker-style cut, but even a straight A2 from Real McCoy's or Aero leather can look quite unusual, and I know many guys don't like the stiffness of horsehide.
The Chapal USAAF is expensive. When I bought mine a ready-made jacket cost €3120 and today it is €4600 (both including VAT). But Chapal is a small brand, and the quality is top notch: that money is all going into the product.
I am very, very glad I own mine, and would do so again. It wouldn't be the first leather or suede jacket I would buy, and I wouldn't hugely stretch my budget to reach it, but it deserves its reputation as a piece apart.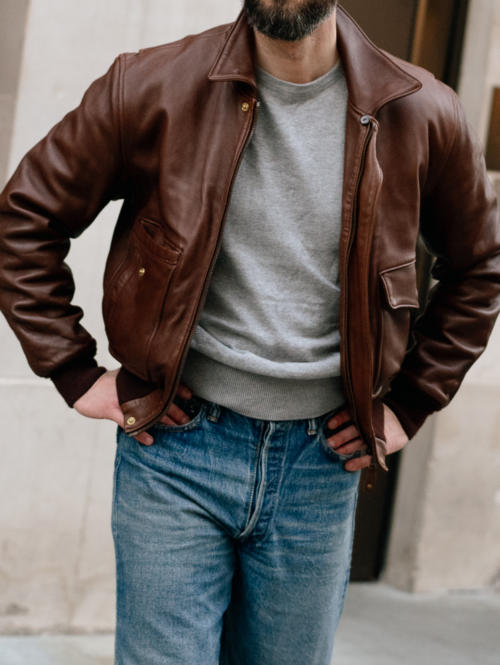 In the outfit, by the way, I'm wearing the jacket with a grey thermal T-shirt from Adret.
Because of the shortness of the jacket, it needs a shorter or waisted piece underneath, as most T-shirts would drop beneath the hem. (This isn't necessarily wrong, just a different look, and not mine.)
You could tuck the T-shirt in of course, but the Adret thermals (although predictably expensive) have the advantage of ribbing at the bottom, like a sweatshirt, which keeps them sitting higher.
They also have the look of a sweatshirt, and I like this look under a variety of casual pieces, from blousons to overshirts. It looks neater than a T-shirt, but still sporty and not as smart as a knitted tee.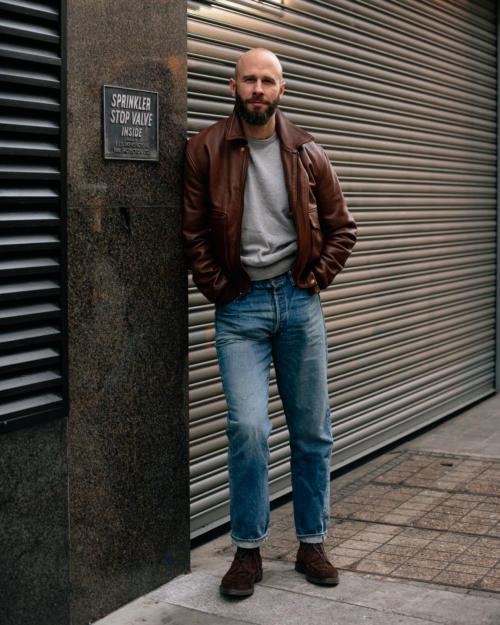 Photography: Alex Natt @adnatt
Boots shown are the Cranleigh from Edward Green
The USAAF jacket is available in other materials including black and charcoal leather, brown suede and boiled wool. Made to measure is available in Paris but also online, through digital consultations.
Made to measure costs €500-€1000 on top of the ready-made price. Completely original designs in collaboration with the team are also possible, for a larger add-on.