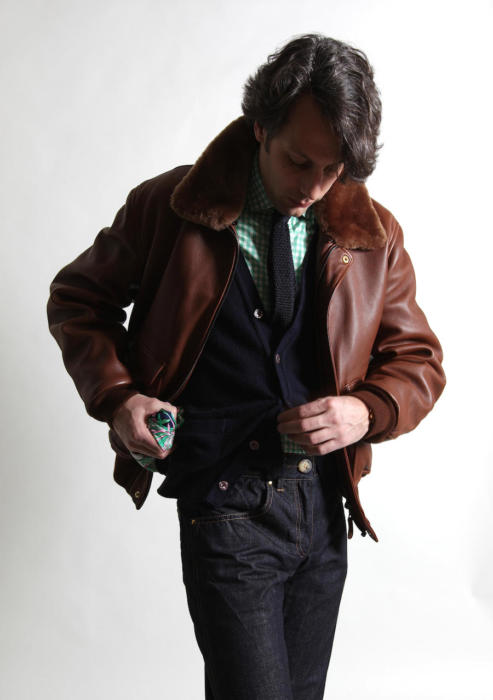 Chapal are a old, high-quality French producer of leather jackets and coats. They make a few things that won't be to readers' tastes (T-shirts, painted chairs) but it's worth turning a blind eye to that and focusing on the jackets.
I met the team behind Chapal at Pitti last year and visited their showroom in Paris a few months ago. (There is no shop. There are a few stockists, but I recommend visiting the showroom if you can.)
More usefully, I have also watched a Chapal jacket age slowly and gracefully over the past year – on Gaziano & Girling patineur Thomas Brunschwig. Thomas bought a made-to-measure 'USAAF' jacket last year and wore it through the winter, pretty much every day. The sheep leather has acquired a nice patina, darkening around pockets and lightening on exposed edges.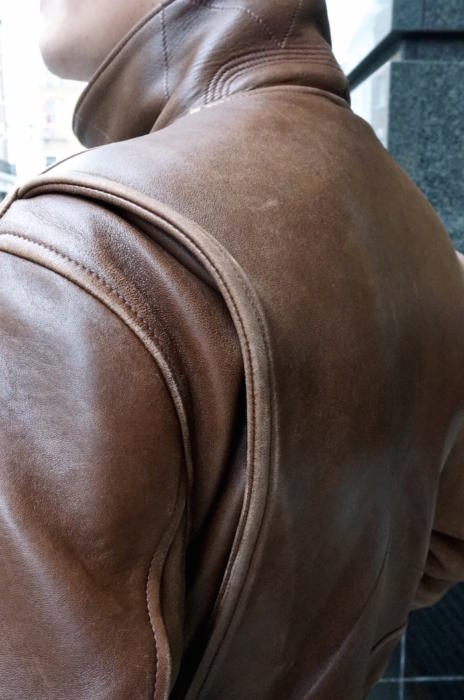 When you put on the jacket, or indeed any other model in the Chapal range, the quality is immediately apparent. The leather is veg-tanned and beautifully soft (Chapal has its own tannery – pretty rare these days), the hardware is solid, and the lining is a really thick cotton drill.
I've shown a few pictures here of Thomas's jacket, as well as a shot of Francois Pourcher at Corthay wearing the same model (top).


Chapal made for the French airforce, and was behind many innovations in flight jackets. Most famously it invented the coating applied to shearling to make it water-resistant (in 1920), which was later supplied to the US airforce and used on their B3 bomber jackets. (It had a factory in Brooklyn from 1880 to 1970.)
The model worn by Thomas and Francois is directly taken from a US design, hence USAAF, and has a detachable rabbit-fur collar. Alongside the shearling B3 and English version (RAF), it also offers original designs for the A1 and A2 jackets.
Below is the earliest design for a flying jacket – supplied to the French airforce during WWI. It is cut much longer in the body that later designs, but is cinched effectively at the waist to keep it warm and tight fitting during flight.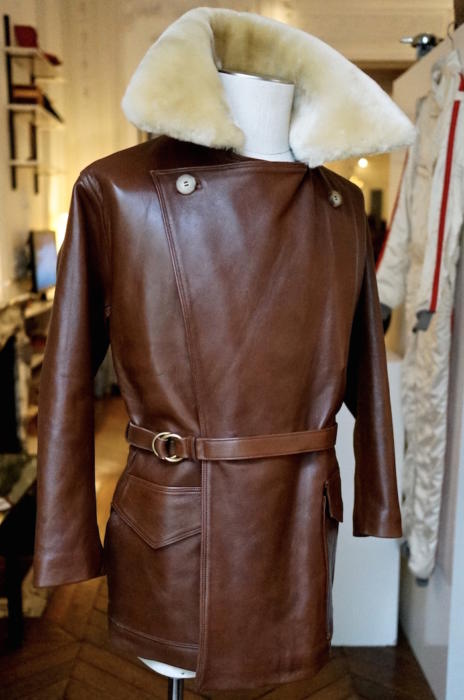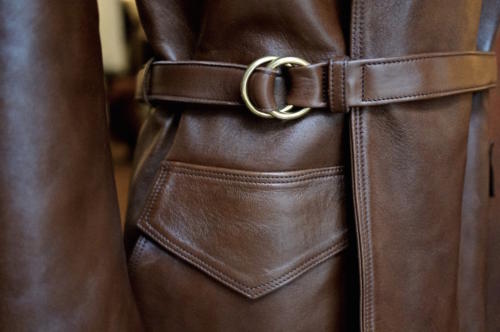 Chapal has both its own tannery and its own fur factory. The fur is supplied to other companies as well, but the tannery is just for Chapal's production. Even more unusual is that Chapal makes absolutely everything itself, from driving shoes to fibreglass helmets.
The company was founded in 1832 and has remained in the family ever since. It is now on its seventh generation, with around 35 people working there including the tannery. Jean-Francois Bardinon took over as creative director in 1982 and has pushed the company into more lines and more modern designs (though as I said, I prefer the classics).
There are a few stockists around the world, but most customers have jackets made to order. The advantage of this is that small changes to the fit (eg longer arms) can be done with only a small surcharge. A full made-to-measure service is also available, but costs 20%-40% more. The USAAF jacket starts at €2600 and shearling pieces such as the RAF are €3100.