The new Permanent Style x Cromford shearling coat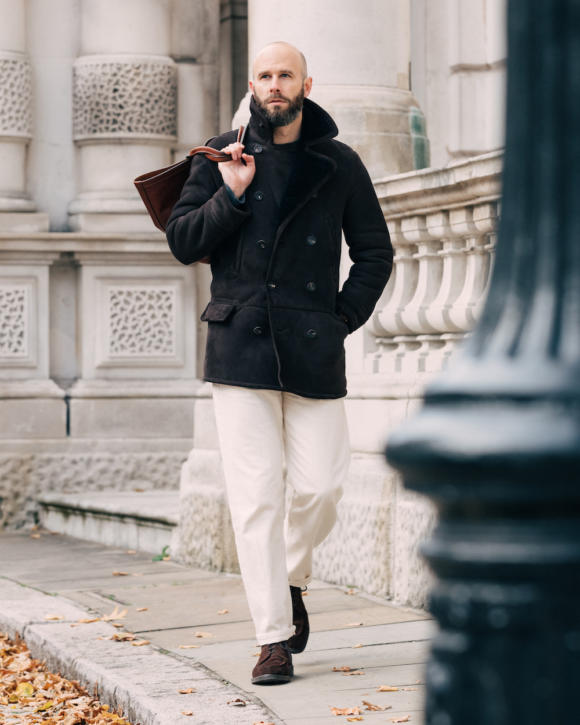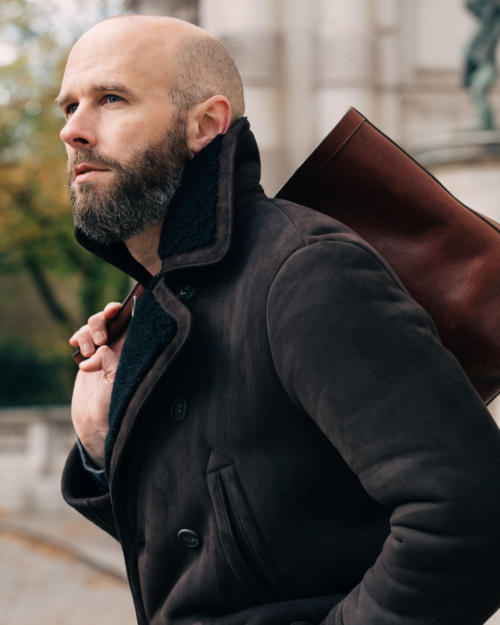 *Note: The brown of this jacket is perhaps a little browner and lighter than the pictures suggest. A picture of the skin itself has been added at the bottom of this piece to demonstrate. Thanks*
During the recent pop-up shop on Savile Row, the most asked-about item was the Donegal Overcoat. The one most readers came in with (perhaps surprisingly) was the Nubuck Tote. But by far the most popular - to try on, stroke and generally touch - was the PS Shearling.
Everyone tried on their size in the end I think - Ethan, Tony, Lucas, and a host of readers. It was simply the most luxurious thing on display, and it made a big difference that people could feel it as well as see it.
That's the biggest problem with selling online. It's hard to communicate how good something feels, let alone the specific ways in which it does so.
I guess most PS readers will have tried on luxury shearling before, so that's a good start. It has that same light-suede softness on the surface, but unlike suede also has a pliancy, body and bounce, because there's curly wool underneath. Like wearing a fine suede overshirt on top of cashmere knitwear, perhaps.
Let me know if that was a vivid evocation or, alternatively, gibberish. If it's the latter I'll try again.
In the meantime, here's another angle. If most readers have felt luxury shearling, then this is the same - possibly better - and much cheaper.
I never make price a big selling point with our collaborations. In fact I think readers should be inherently suspicious of any brand that does so. But it is nonetheless true that Cromford uses the best shearling there is, and at any designer brand it would be almost twice as much.
The PS x Cromford shearling coat costs £2700, which is an awful lot of money. But the same Spanish merino is used to make pieces that cost over £5000 elsewhere, and there are many in between that are nowhere near the same quality. (Look out for larger skins and seams in odd places.)
The design points I ran through in our first article on this coat are more important, but it's good to remind everyone of the value as well.
Those design points include the sweep of buttons that are all functional, fastening up under the chin. The double thickness of the shearling on the lapel and collar, which makes them sit better but stops the whole coat from being too heavy. And the pockets that work equally well for hands and accessories, whether you like to use the top or bottom set.
All the details are on the original launch article here.
This year we decided to do a different colour of the shearling for the second run. But there are still some coats and skins (for made to measure) available in the olive too. See bottom of this article for details.
This year's colour is a very dark, greyed brown on the outside, and black on the inside. As described last year, this double dyeing is expensive, but I think creates a lot more character. Having a dark inner layer also makes the coat look less bulky.
The colours of the shearling are actually quite similar to the ones we used on the Wax Walker, and the same clothes look good with it.
So it looks particularly nice with grey, charcoal, taupe, cream and dark denim. But it's also good with beige, mid-blue denim and navy.
The colour could seem quite striking when worn with off-white jeans, as I am in the image above. But actually it's just a dark brown like any other, as you'd have in a core suede blouson or tweed jacket, and I find it just as versatile.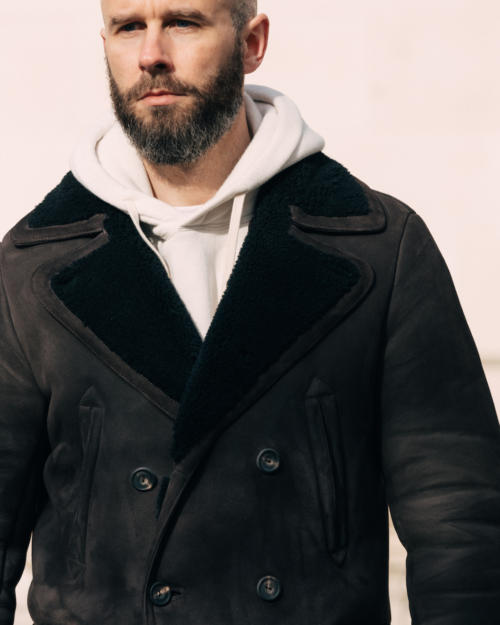 I've also deliberately shown it with different types of clothing to last time.
Last winter the olive version was shown with jeans and crewneck, and flannels and a roll neck. This time I've added a cream hoodie (above, from The Real McCoy's) and a denim shirt (below, from Bryceland's).
The combination below, in particular, demonstrates how nice this new colour is with dark indigo, which is not necessarily what I think most you'd expect.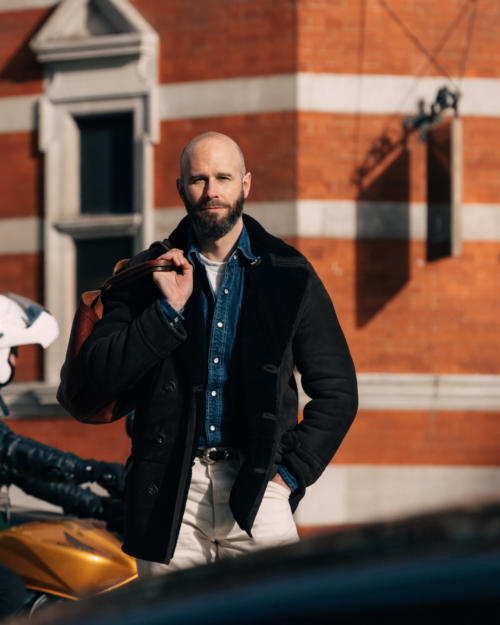 That image above also shows how the coat looks with the collar down. I didn't include an image of this last time, but not because I dislike it that way.
I am more likely to wear the collar up, but when down it has a nice roll through the front, and the curly wool on that leading edge is broken up by the hand-worked buttonholes.
Something else I didn't show last time was actually my favourite way to button the coat, which is to fasten one lapel under the chin (there is a jigger button on the other side for the purpose) but leave the other lapel rolling open.
The shot below illustrates this. It's nice because you still get a lot of protection across the chest, but you also have that long, flattering lapel line. And it only requires two or three buttons to be fastened (the other jigger button, at the waist, is the third).
The coat is sold by Cromford, not us, and so you should head to the Cromford website for details about sizing, product queries, and questions about made to measure.
The following is currently available:
20 brown coats ready-made in sizes Small to XXLarge

Enough skins for 5 brown made-to-measure coats

3 olive coats (shown below) remaining from last year: Medium, Large, XXLarge

Enough skins for 1 olive made-to-measure
The coats cost £2250 plus VAT for RTW, and £2812 plus VAT for MTM.
MTM takes roughly eight weeks. The extra time is consultation, shipping and making toile fittings

The MTM must be in the same style as this coat, but otherwise there are no limitations

If you want a different style, this is a bespoke service, which should be discussed separately with Cromford

I have a 39-inch chest, am 6 foot tall, and wear a Medium in both sets of pictures. I could happily size up to a Large too, though, if I wanted to wear more thick roll necks underneath. The difference between sizes is not Large. Again, though, Cromford are best for advice here.
Photography above, Milad Abedi; below, Jamie Ferguson.
*The new brown, as a skin and in more natural colouring: