Casual chic: The inspiration of vintage leisure and sportswear
The origins of the 'casual chic' look we've discussed in recent months - which I see as a route forward for relaxed yet smart menswear - can perhaps be seen in the leisure and sportswear of the 1930s.
That era saw the growth of leisure pursuits, and the clothes they necessitated. Sports shirts were added to dress shirts, sports shoes to dress shoes. And yet, the elegant, considered look of formal clothing was largely retained. It was casual chic.
Utility became more important, particularly in the US, which always saw itself as a more practical society. And at the same time mass manufacture made the resulting clothes more available.
The most obvious change was the introduction of knitted, collared shirts - what we would call polo shirts today. But they had little in common with most modern polos. They were fully fashioned, with stand collars, fitted like a shirt, and worn tucked in.
Basically they were an alternative to a dress shirt - not a T-shirt - for more active pursuits, and so made and styled in the same way.
Trousers still looked like trousers. They were made in the same fashion, just perhaps a little fuller legged or in more robust materials.
But we notice the trousers more in these old images, because the lack of jacket and waistcoat brings them to the forefront.
There were soft jackets worn over the top - unstructured, natural-shouldered - but also shirt-jackets, and knitwear intended as outerwear.
Over the years the genteel sports that became popular in that era - tennis, golf, skiing - slowly moved from jackets and ties, to knits and shirts, to polos and shorts. But there's always a point where the clothes were practical - no longer approximate to a suit - yet elegant.
During the next couple of decades, this look drifted down into simple, off-duty clothing.
One of my favourite images of this is the one above, of French actor Jean Gabin and friends in 1945. It almost looks like it's staged to show a range of leisure-wear options.
There's a knitted polo (bottom right), a variation with no placket (centre right), a sports shirt with jacket (back) and to cap it all, Gabin himself in roll neck and button-through shirt-jacket. All with tailored trousers.
Designer Scott Simpson alerted me to this image, and we chatted about it for this piece. "I love how relaxed and comfortable everyone looks, and yet still how considered," says Scott.
"Gabin is clearly the best dresser though. Look at the elegance of that little jacket with the reverse-pleat pockets, and the full-cut pleated trousers."
I've talked in the past many times about how the principles of tailoring we discuss can be applied to casual clothing, but it's particularly evident in these old shots.
The higher rise of the trousers lengthens the legs; the tucked-in polo emphasises the waist; the polo collar frames the face. It all becomes more important, rather than less, without a jacket.
That doesn't mean everyone should wear trousers on their natural waist, or tuck in their polo shirt. I don't do the former, and rarely the latter.
It just illustrates the power of line, and proportion.
It might encourage you to consider a slightly higher rise, for example, or wear a more tailored trouser with otherwise casual clothing. Perhaps seek out a polo that's cut a little shorter, even if you wear it tucked out. Shoes can be refined too, even if they're trainers.
Two examples of how I wear this are below, from recent articles - the first from this one on Baudoin & Lange Ginkgos, the second from this on summer dressing.
"I think the most important things for people to think about are lines and texture," says Scott. "There are sometimes fun things going on in these photos - patterns, probably colour we can't see - but it's all controlled by the cut and the feel of the clothes."
I tend to wear this look in simple, refined colours - smarter, basically, and more akin to the palette of formal tailoring.
But it doesn't have to be that way. You can still have colour and personality - just keep your eye on the cut and the quality.
Scott's own clothing obviously has some good examples. I wouldn't wear most of his strongly patterned shirts and knits, but I'd love simpler versions, in those styles.
The polo shirts Drake's was selling last year - knitted, fitted, stand collar - were another good example, and not too dissimilar to the old advertisement below. Bryceland's 'sportswear' is similar too, and like Scott directly inspired by vintage pieces.
Plus many of the brands mentioned in the original 'casual chic' article - Adret, Connolly, Rubato etc.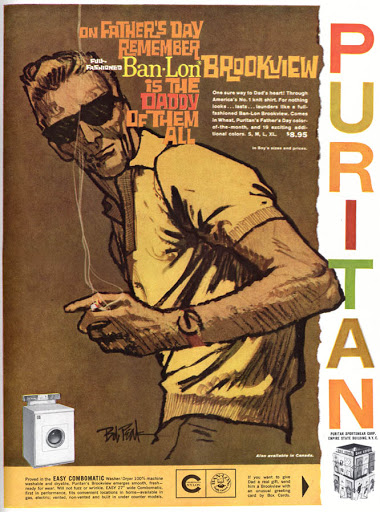 Of course, the old illustrations from Esquire or Apparel Arts are useful here too. I particularly like the two below, both proposing the knitted jacket as an elegant alternative to tailoring for sportswear.
There are a lot of different designs and colours in there, but they all have a similar idea of cut and proportion. Some jackets are a little longer, some shorter; some a little bigger in the chest, some neater; but they clearly hold similar ideals of male proportion.
The only problem with these old illustrations is that they can seem a little antiquated, or extreme. The editorial pieces in particular - showing off the latest fashions from the Riviera, perhaps - have a habit of including silk scarves, matching outfits or fishnet tops.
Obviously these are intended to catch the eye, and perhaps propose more than one thins at once. And I think it's for this reason that I often find old photographs more inspiring.
"I spend so many hours going down rabbit holes of old photography," says Scott. "There's such a high proportion of really elegant looking people, but going about their everyday business."
This refined leisurewear that Scott and I love faded away from the 1960s onwards. The seeds had been sown by the returning GIs after WW2, and the increasing popularity of T-shirts, leather and denim.
But even in 1966, Slim Aarons photography shows its influence, with actors and designers holidaying in shirts, knits and tailored trousers.
I particularly the image below, taken in Acapulco, featuring Douglas Fairbanks Junior, Oscar de la Renta and Emilio Pucci. There's a lot of colour and variation going on, but still - polos, neat shorts, long-sleeved knits. Certainly no vests, T-shirts or logos.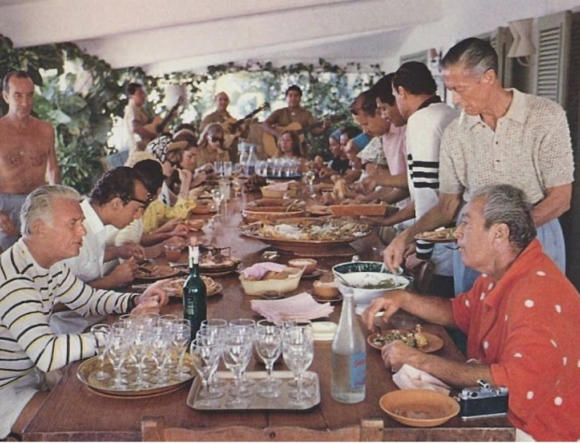 I feel quite strongly that guys today could get a lot out of these principles of dressing.
It's as simple as having some trousers made for you, in a flattering cut, and then finding a well-made polo shirt and blouson to wear over the top.
Finish it off with some canvas tennis shoes in the summer, suede boots in the winter, and you're suddenly leagues ahead of everyone else without going near a suit or tie.
I'm sure it's an area I'll mine more over the coming year. But do let me know if you have any particular views on this approach, or specific aspects you'd like me to go into.
I do like disappearing down a good rabbit hole.
Related posts in this area are:
Many thanks to Scott for his help, inspiration and images. The Scott Fraser Collection is here.