Espadrilles: Style, occasion, and brands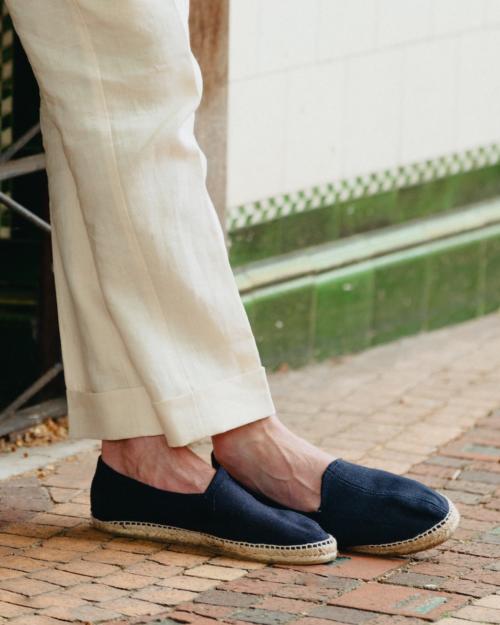 UPDATE: This is a nice video from Diegos showing how espadrilles are made. You can see the better, neater hand sewing of the soles mentioned below.
I remember clearly when I got my first pair of espadrilles. I was 19, on holiday in Spain, and bought a pair from a local market. Dusty and unceremoniously wrapped with an elastic band, they were bought as a cheap alternative to the flip-flops that were giving me blisters.
I wore them every day for the rest of the holiday. Even at that age, I appreciated the elegance of wearing something that covered my bony toes. You could also stand on the backs, and so slip them on like as a sandal. They were cool and comfy.
In fact, it was the comfort underfoot that really got to me. There's something deeply pleasurable about walking on the coiled rope that makes up their sole. It moves against your feet, almost massaging them. And crunches in a satisfying manner.
That rope makes them terrible with water. The key mistake most people seemed to make was the wear them to the beach and get them near the sea. The rope hardens, and they're never the same again.
That might seem hopelessly impractical in a holiday shoe, when you could be close to a pool or the sea every day. But it takes little effort to take them off before they get wet. And if you're not prepared to invest that amount of effort, you'll struggle with almost any good-looking clothes.
I bought a second pair of espadrilles the following year, avoided getting them wet, and they lasted another five summers.
People talk about espadrilles as a throw-away item, and certainly the rope sole will gradually fray at the edges. But all you need to do is trim them with a pair of scissors, and they'll be pretty much as good as new.
One thing the rope is certainly bad for is walking on concrete, or tarmac. Basically, wearing in town. This is where the versions sold more commonly in cities today, with thin rubber soles on the bottom, are more practical - and perhaps represent a second category of espadrille.
I don't mind these soles. I remember when Italian maker Zabbatigli first started doing them (perhaps 10 years ago), the rubber was too thick, and stiff. Today, the soles are universally thin and flexible.
I still prefer a simple rope sole on holiday. I want that crunch under foot as I walk out to the terrace on a cool morning to have breakfast. But for wearing in London in the Summer, the rubber sole is best.
In London, I tend to wear my espadrilles close to home - to the shops, to the cafe - and not into town. Some readers will consider even that inappropriate, seeing the shoe as suitable only for home or holiday. But when other men are wearing flip-flops to get their coffee, an espadrille is significant step up.
I would even endorse others wearing them into their office, workspace, or wherever else they go on a working day. If everyone else is in shorts, T-shirts and sandals, then wearing linen trousers and espadrilles will look very good. Fit in, but aspire to better.
I don't wear them into town because I tend to do a lot of walking, and espadrilles are not built for a day of pounding the streets. They are a strolling shoe.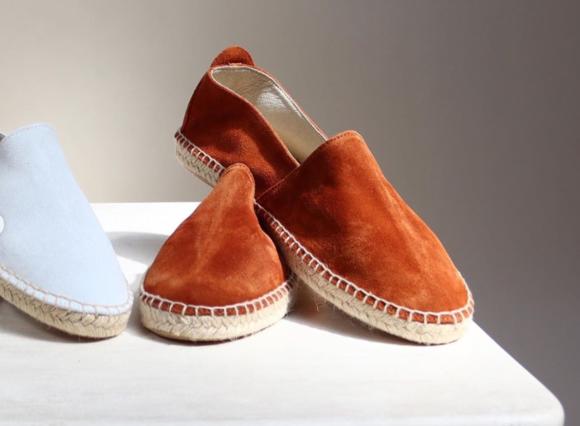 So that's where I wear them. Now how about brands, and value?
I've owned or tried a few: Zabbatigli, Castaner, Drake's, La Portegna, Ralph Lauren and Anderson & Sheppard (above).
I loved Zabbatigli, which were made on Capri, but they've sadly gone out of business. They were most similar to the local product in Italy and Spain that was available in London.
Anderson & Sheppard still have a few models of Zabbatigli left, but most of their espadrilles are made in Spain, and sold under the A&S brand. These have a similar round-toed shape, and a thin rubber sole.
The point on which A&S stands apart is its range of colours, in suede and velvet. Unfortunately I don't like the suede or velvet much, preferring the original canvas. But if you do, the selection is great.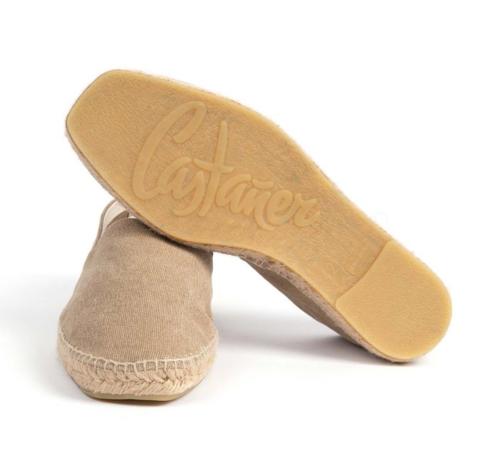 Castaner (above) is a big Spanish maker, and does a huge number of styles for men and women. Trunk sell the classic model, plus a higher, laced one.
Personally I only like the former, which has a nice thin sole although a squarer toe than most of the other brands. It's also a little higher in the vamp and heel than the A&S line.
No Man Walks Alone also has a few different models of Castaner, in the US.
My favourite at the moment, though, is Drake's (below, and top). I can see how others wouldn't like the style, as it is lower in the vamp and curved, rather than the traditional straight cut. It also has a seam running down the front.
But I like the curved shape, and don't mind the seam. Particularly as you can hardly see it on the navy pair I have. The stitching around the sole is also noticeably smaller, running up less onto the upper.
Most importantly, they are also quite slim in shape, which I think makes them look a little bit smarter than the traditional, broad and round-toed model. Or indeed the square Castaner.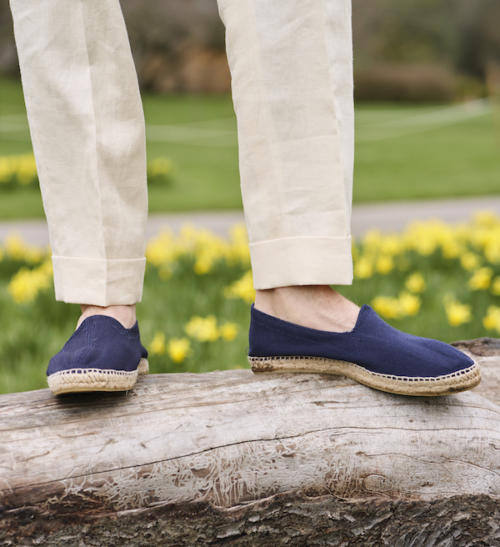 The Drake's ones are pretty reasonable at £55.
Now I know everyone says this still is expensive, when the ones they bought on holiday were €10. But you're not on holiday, you're in London. These you're looking at had to be flown in, put in a nice shop, and sold to you by nice people. Even if you're buying them online, someone has to run, maintain and fulfil that online shop. And 20% of that price is VAT.
They're also better made than the ones you got at the seaside. For a shoe you'll happily wear for several years, it's hard to argue with the value.
I struggle slightly more with the A&S ones that are £120 - although they do use suede, rather than canvas. And Castaner isn't too bad at £85, with various little added details like a leather patch under your heel and a pull-tag on the back.
I have no idea how to justify the Ralph Lauren ones at £300, or indeed those from Gucci at £400 and Loro Piana at £455. They all have extras that you could point to, but not worth hundreds of pounds.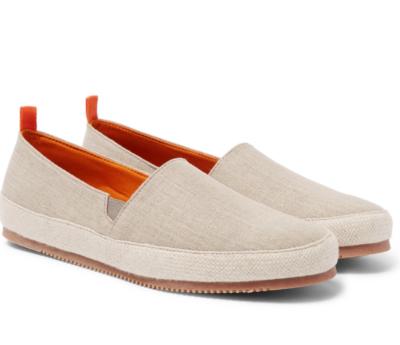 I don't count brands such as Mulo (above), Tom's and Rivieras as espadrilles, by the way.
The things that define an espadrille are the rope sole and the canvas. When you have neither of those, what you're left with is a plimsoll: just a slip-on, elasticated shoe with a rubber sole.
And unfortunately, most of the style and elegance of an espadrille is lost too. For the amazing thing about an espadrille is how something so simple, light and comfortable can look elegant. I'm sure it's the reason it caught on in the first place, and has lasted as a summer classic for so long.
A plimsoll has the additional risk of making a man look like a schoolboy. Which is already a danger in the summer, wearing a T-shirt and shorts.
I do have a pair in that style, from La Portenga, which I wore frequently and were very comfortable. But they've gradually been worn less and less for this reason.
The aspiration here is to look just a little - as much as possible - like James Mason (below). And that's not happening in a plimsoll.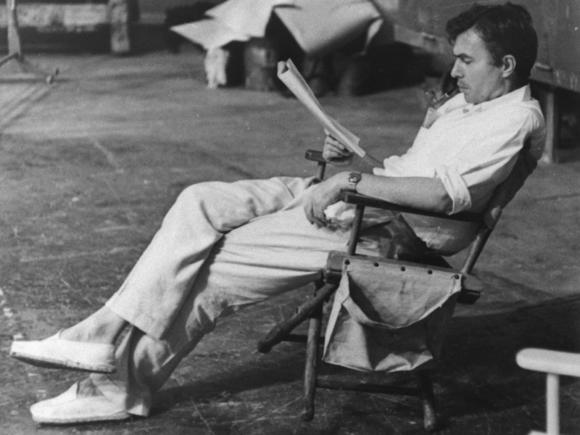 A last question on espadrilles is colour. This isn't easy, as the normal staples of light and dark-brown don't work so well in canvas.
Navy is the default, and probably the most useful, but doesn't go with everything.
The next best is probably a cream or natural canvas colour, but it will look dirty quickly. Olive is a decent option.
After that you're left with strong colours or stripes. Fortunately, in the Summer you're likely to be wearing pale-coloured trousers or shorts, both of which work with a larger range of shoe colours.
I wear a 43 in the Drake's, a 9 in the Anderson & Sheppard, a 43 in La Portegna and am between a 43 and a 44 in Castaner.