The joy of cordovan – and how to wear and maintain it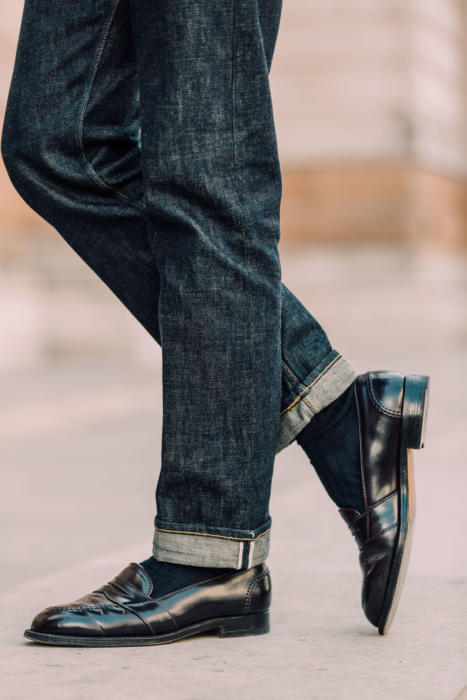 I'm a relatively recent convert to cordovan, but have come to love it as I've started to wear more casual clothing, and darker colours.
It also added a layer of love visiting the Horween tannery in Chicago last year (shown below). That's worth a read for detail on what cordovan actually is - more a membrane than a skin - and the work that goes into tanning it.
If you don't own cordovan, or have been put off by it in the past, I'd put forward two major arguments.
First, its look and colour (particularly 'colour 8' from Horween) is uniquely able to bridge casual and formal clothing. The only thing that comes close is suede, and that is never quite as smart.
And second, it's tough and pretty much waterproof. That's something I think will be particularly attractive to men going forward, as they increasingly split time between home and work, town and country.
I didn't wear cordovan for years.
I think the biggest thing that put me off most was just that normal, calf leather seemed more exciting. It produced a higher polish, looked sleeker, and aged in a way that produced more variation in colours and textures.
Cordovan always seemed a little dull by comparison. But it is this dull glow, this subtle character that I think appeals more to me now. Just as fancy patinas have lost all charm, so cordovan has gained it.
Cordovan is a thicker and more oiled leather than calf, and as a result ripples more than wrinkles. As it isn't a skin, it doesn't have a top layer, and so can look almost shadowy, with colours floating beneath the surface.
You also get a nice contrast between hard smoothness where there is reinforcement in the shoe - like the toe and heel - and a highly textured colour change where it bends.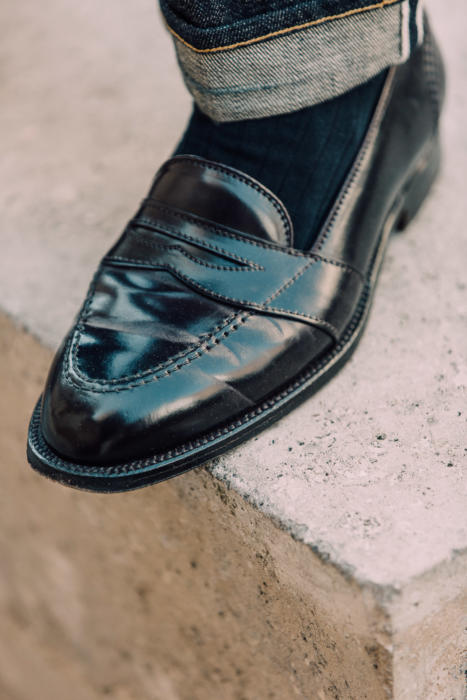 It is this texture in the creases that I think make it bridge formal and casual clothing.
Because cordovan is shiny - it has a natural shine, and one that comes quickly back with buffing - it should be rather smart. Indeed, traditionally it was considered a formal leather, to wear with tailoring rather than denim.
But these creases make cordovan look like it's 20 years old, almost from the first wear. And this heavy, characterful creasing is what gives cordovan shoes such a casual feel.
The loafers shown above - my Alden full-straps on the Aberdeen last - look almost black in this light. Indeed, some readers thought they were black, when they saw the recent checks post that featured them.
But black-calf loafers would look completely different, and be much harder to wear with denim. It is the oiled, worn-in look of cordovan that makes them work.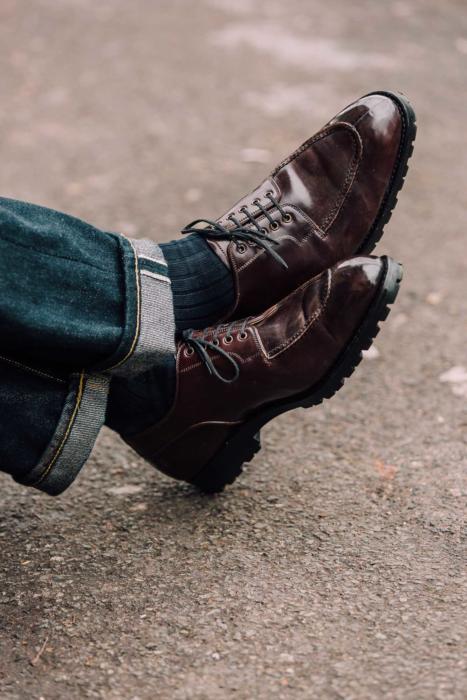 The colour is particularly appealing too. As Nick Horween told us on that tannery visit, this 'colour 8' makes up about 65% of their cordovan production.
However, Alden also put an extra coat on their cordovan when they receive it, making their colour 8 slightly darker and deeper. And it's a shade I prefer - you can see the difference in my Vass pair above.
Some people describe colour 8 as burgundy, but for me it's much closer to a mix of purple and black. When it creases, the paler colour that comes up is like a pale purple or pink (which is surprising for some, and I know puts some off).
The purple/black colour is dark enough to go with lots of materials and styles of trousers, from denim to flannels. But it is also absolutely unique - the kind of thing you recognise immediately on someone else walking down the street.
I've seen and worn many shoes over the years that were called burgundy, oxblood, or something similar, but I always felt they had nothing to recommend them over black or brown. Colour 8 does.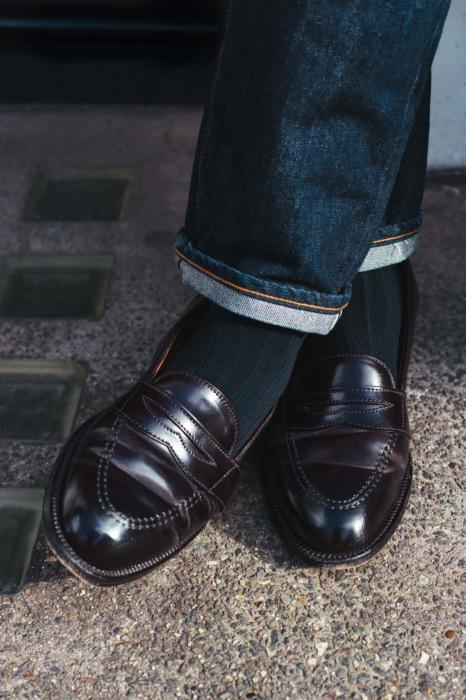 The other common objection to cordovan is that it's stiff, and takes a long time to wear in.
It's certainly thicker than calf. But I've not found it usually takes long to wear in - no longer, really, than the soles you get on a lot of English shoes. And I've never really had to start wearing them just a few hours a day - again, unlike some calf shoes.
Cordovan can feel heavy, certainly. My Alden Norwegian bluchers feel substantially heavier than, say, calf Dovers from Edward Green. But the sole is thicker too.
One thing that's certainly true, is that cordovan can be particularly uncomfortable if the shoe is too tight. I recently bought a pair of Alden Jumper boots (Barrie last, below) and they were comfortable from day one. But the full-strap loafers pictured here can pinch horribly.
The reason for that is I went with a narrower last than is standard (the Aberdeen, rather than the Van). This was not easy, and required a trip to the Madison Avenue store in New York.
The reason I did that was that I'd always found the classic Van-last loafers to be too chunky for me. They just don't go with the style of trousers I wear.
You can see that in these images with my Blackhorse Lane denim. A jean with a leg that slim looks silly with a normal Alden loafer on the bottom. Fine with wider legs, perhaps some workwear-like chinos. But otherwise no.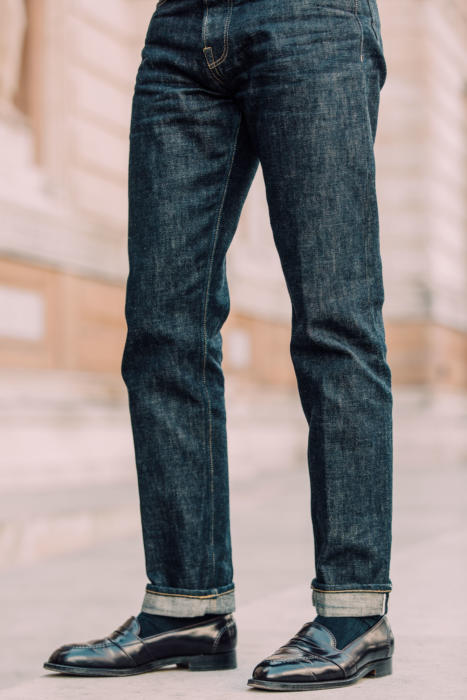 It was a great decision in that the loafers look lovely. And they feel lovely for most of the day. But after five or six hours of being out and about in town, they start to hurt. It's something I will look at correcting at some point, perhaps by stretching them a little.
For now, I'd recommend going for a more comfortable fit with cordovan, if you have the chance. It's not an Alden thing, by the way - it's the same with my Edward Green black cordovan (shown below).
Speaking of black, I bought those EG loafers in black cordovan largely for its toughness, but it doesn't have the same variation as colour 8, and therefore charm.
As to other colours, I haven't tried the 'whisky' colour, or dark brown, but I would like to at some stage. I think I've just been so attracted by the unique look of colour 8 that I've always gone for more styles in that same colour, instead.
How to care for cordovan
Cordovan is, generally, easier to look after than calf. It benefits hugely from brushing, and from buffing (rubbing).
A fast brush will not only remove dirt, but the friction will build up heat that brings back oils and shine to the leather. I recommend doing it after every wear, if you can.
Rubbing it vigorously has a similar effect, and produces more of a shine. I recommend doing so - with a cloth - before you wear them or when you want them to look particularly good.
A small amount of cream every few weeks can help soften the leather, and feed it, but don't use too much or you'll get white marks in the creases. Remember it's already pretty oily.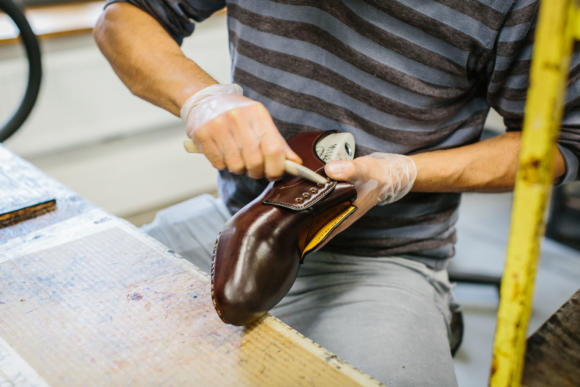 And cordovan is essentially waterproof, because it doesn't suffer any long-term damage from being splashed or soaked. Splashes can produce white marks (welts) but the treatments above deal with these.
Finally, even scratches and nicks can be rubbed out to an extent, with the help of a deer bone (shown above, at Ludwig Reiter). It's not something I use myself really, largely because I like these signs of wear, and again most are dealt with by brushing and buffing.
For a more detailed breakdown of these steps, with illustrations, Jesper has a good guide here.
There are lots more things we could say about cordovan: other tanneries, whether the extra expense is worth it, the particular costs of buying Alden in Europe at the moment. But I'll leave those for another post, or indeed the comment discussion below.