A guide to brands of unstructured jacket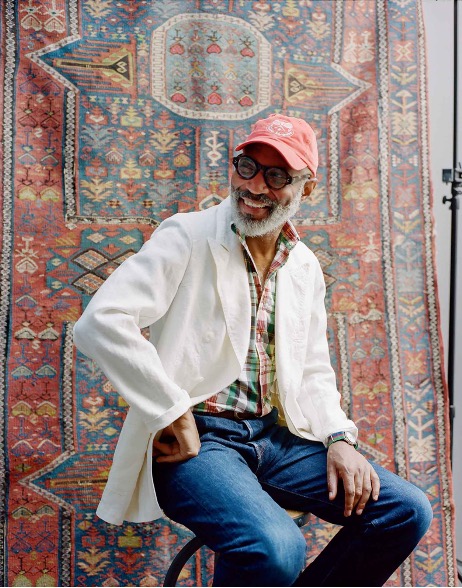 By Manish Puri
Whilst soft tailoring is hardly a new concept, there's something about unstructured tailoring that feels particularly in sync with modern life: it's indisputably more casual, reframes imperfections as characteristics, is lighter in the arms and on the pocket, cooler to wear (think sweat not Fonzie) and, heck yes, in some cases is machine washable (please check the care labels).
An increasing number of tailoring brands carry some type of unstructured jacket, and this guide has been written to help pick apart the offerings. We have touched on 19 different brands, but focused on six that offer a choice across price points, formality levels, styles and cloths.
In addition, the six brands we've chosen have established, unstructured single-breasted jacket models and so my hope is that, even if the specific jackets shown are no longer available, the observations will continue to prove useful as the model remains on sale.
We've shown photos of each of the featured brand's navy option to try and make any comparison as simple as possible. However, most offer a variety of colours and cloths which we've tried to summarise through the guide; and most will also be launching spring/summer versions in the upcoming weeks.
On that subject, anyone that is considering purchasing an unstructured jacket would do well to read Simon's piece on the best cloths for unstructured jackets.
Before we dive in let me briefly clarify what I mean by an "unstructured jacket".
By "unstructured" I'm referring to a garment that has been excised of all canvas, padding and most (if not all) of its lining – sleeve lining and buggy lining (across the shoulders) sometimes escape the purge to make it easier to slip a jacket on and off.
By "jacket" … well I'm hesitant to define that to this learned readership, so permit me to define it in terms of what it isn't. It isn't anything with square quarters. It isn't anything with four or five buttons. It isn't anything with lapels that are neither notch nor peak. And importantly, as a result, these unstructured versions have the potential to substitute for more classic tailoring in your wardrobe.
Now that we're on the same page, let's get going. In a break with the tradition established by my one previous guide, I've elected to present the brands in ascending price order. I hope you find it useful, and I'll be lurking below-the-line to answer questions where I can, full of appreciation for anyone that can add their insight on these or any other unstructured jackets.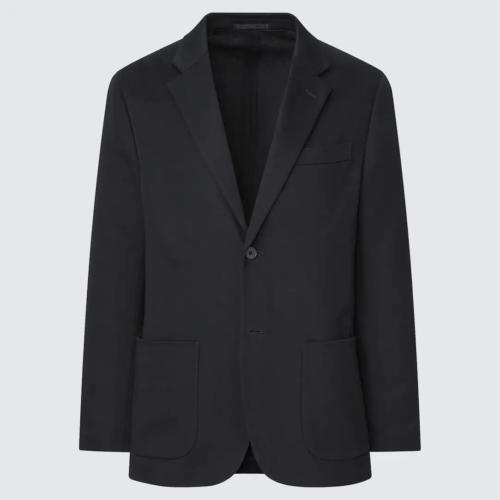 Uniqlo Comfort Jacket (£49.90)
Please, before you refresh your browser or reboot your computer, let me reassure you that you're still on Permanent Style and, yes, we're going to talk about a tailored jacket from Uniqlo.
If one of the most expensive elements of tailoring is the work that goes into the 'structuring' I wanted to see what merits a truly budget unstructured option offered. I also liked the idea of including something in this guide that would be easily shoppable for most readers, rather than just those that live in London, New York or Hong Kong.
The fit and style of the jacket was a pleasant surprise. Perhaps my views of high-street fashion are outmoded, but I was anticipating a coat that was miserly in length, lapel and latitude in the waist.
The back length of the medium (to fit chests 38" to 41") was 72cm which compares to an average length of 75cm across the RTW 38" structured blazer offerings of Drake's, Spier & Mackay and Anglo-Italian. That 3cm differential does present a peek of the cheek, but its's less "bum-freezer" and more "bum-fridge". Even so, I would avoid this jacket if you're above-average height.
The lapel width was around 7.7cm which is similar to Simon's RAF blue suit from Whitcomb & Shaftesbury. Not a dramatic width by any means but wide enough to ensure one doesn't look like a footballer on the court steps celebrating a libel case victory against a tabloid newspaper.
As I'm quite straight between chest and waist (being reared on chapati, paratha and naan will do that to a lad) I usually find RTW 38" jackets a little snug around the belly. However, the Uniqlo fit was also relatively straight through the body allowing me to comfortably button it with room to spare.
The cloth composition varies across the range of comfort jackets but, broadly speaking, they are made up of 50% cotton and 50% polyester. This is one of the reasons why the Uniqlo option is so much cheaper and it is its primary failing. As a result of the cloth, the jacket felt flat and inert. I imagine if one had the misfortune of slipping in the bathtub and getting tangled up in the shower curtain it might feel similar to wearing this.
It's also telling that the "Style Hint" section of the Uniqlo website (where customers share images of their garments) doesn't feature many photos of men actually wearing the men's comfort jacket – it either shows women wearing the jacket or men carrying the jacket as they saunter around town. It adds to the impression that this is an accessory piece for those that don't regularly need or want a jacket but would like something that can pass muster in a pinch.
Other options: I don't think there is anything at this price range that can compete with the Uniqlo comfort jacket. However, another high street option (albeit slightly more expensive) is Massimo Dutti, who sell a lot of unstructured and lightly structured blazers.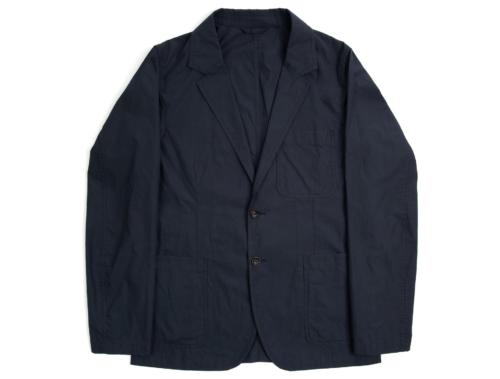 Trunk Clothiers Ebury Jacket (£395)
Trunk's unstructured jacket model is the Ebury, which comes in two colourways: navy and olive.
What separates the Ebury from any of the other jackets featured in this guide is that it's made entirely from 100% Ventile. Simon provided a great summary of what Ventile is and how it performs as a cloth when he recently looked back on how his Nigel Cabourn parka had aged. I don't want to replicate that here but essentially Ventile is a compact cotton that is waterproof and windproof. This lends versatility to the Ebury as it straddles tailoring and light outerwear.
In keeping with the fabric, the styling of the Ebury is deliberately informal: triple patch pockets and no cuff buttons. The fit has just a little more room in the chest and through the waist than some of Trunk's other jacket models, which helps to accommodate a lightweight jumper.
I also wanted to mention on Trunk's Wigmore jacket, which is made for them by the Italian brand Lardini. The Wigmore isn't quite unstructured, having a light half-canvas in the chest, but I think it's a good option for readers that are intrigued by the prospect of an unstructured jacket but aren't willing to do away entirely with the benefits of canvas.
My overall impression was that the Wigmore was the most balanced of the three Italian-made jackets in this guide by far - with generous lapels and length and a nipped waist to give some shape through the body. Which is perhaps not surprising given the design has been informed by Trunk's experience of selling Boglioli, Caruso and Lardini. I found the fit true to size (I tried a 38").
Other options: Nigel Cabourn make a similarly styled jacket called the Peak blazer (£240) in navy and army green. Like the Trunk model, the Cabourn jacket has triple patch pockets and no cuff buttons. However, unlike Trunk, the Cabourn is made from ripstop cotton and has a shy lapel that is more peek than peak.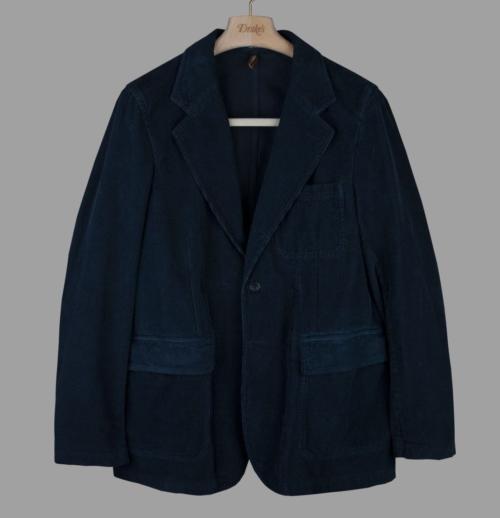 Drake's Games Blazer (£695 to £795)
The games blazer is Drake's reworking of a tailored jacket in an attempt to give it a more utilitarian and sportier air. Each of the jackets can be paired with matching trousers (priced separately) to form a suit that works equally well as separates. The games blazer is currently available in three iterations, which we look at below.
The Mk. I (shown above) and Mk. IV are Drake's single-breasted options. Both are shorter in length and fuller in the body than their standard tailored block. Both give a nod, a wink and even a nudge to workwear styling. The Mk. IV features a beefier lapel than the Mk. I, four flap pockets and a set of interchangeable buttons that allow the wearer to switch between plain brown and engraved brass.
Whilst instore I tried on the Mk. IV (size 38"), although I do have a slight preference for the Mk. I as I find the flap pockets on the IV rather busy. The length of the jacket felt quite short – my quick measurement was 71cm, but Drake's online size chart said 72.5cm (similar to the Uniqlo coat).
Regardless, I'm not as concerned by a shorter games blazer because this is styled less as a formal piece of tailoring. The Mk. IV sleeves were particularly long but, given there are no cuff buttons, the length is easily altered by a tailor, or on the fly with a roll-back or two.
I also tried the Mk. III, which is Drake's double-breasted unstructured jacket option, and I loved it. Taking an elegant 6 x 2 DB, making it up in informal cloths like washed linen and wide-wale corduroy and then removing all structure from it epitomises the high/low vibe that is at the heart of the games blazer range.
The Mk. III also negates some of the difficulties in buying well-fitting, structured RTW double-breasted jackets. By foregoing structure, you're signalling your acceptance of a silhouette that will never follow the exquisite, hourglass lines of the finest double-breasted, and that's quite liberating. This in turn gives you less reason to keep the thing buttoned up, which only further emphasises the informality of the blazer and permits the peak lapels to sweep past the buttoning point like a long shawl-collar cardigan.
Other options: William Crabtree & Sons also carry a robust and utilitarian option in the form of their Lowgill work jacket (£295) which comes in three colours (chocolate, navy and khaki) and is made up of a 10oz cotton canvas. The Lowgill features a five-button front so it can function as either a chore jacket with the collar popped or as a casual blazer with the lapel rolled back.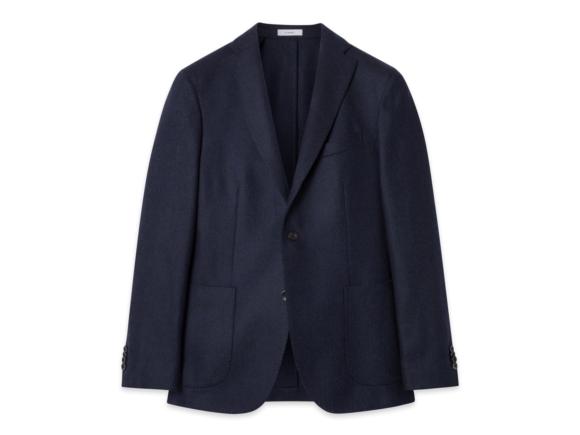 Boglioli K-Jacket (£650 to £1220)
The K-Jacket was the first unstructured option in the UK that I encountered around six or seven years ago. To this day it continues to underpin Boglioli's tailored offering with no fewer than 28 single-breasted K-jackets (and a few double-breasted options too) on their website at the time of writing – significantly more variety than any other brand featured in this guide.
It's this range that makes the K-jacket an attractive option. Unsurprisingly, they have a multitude of jackets in cashmere, corduroy and an assortment of wools (the herringbone Shetland above is one of my favourites). But Boglioli also specialise in (and indeed have pioneered) various garment dying and washing techniques. The upshot is that a lot of the K-jacket fabrics have an almost vintage look and texture.
I sized up to a 40" K-jacket and it was comfortable but still a touch narrow in the arms and across the shoulders. What I noticed most was the height of the gorge, which rested above my clavicle and almost hoisted onto the shoulders. A high gorge can help to lengthen the appearance of the torso and emphasise the shoulders over the chest, but this is quite extreme. It's also fair to say that gorge positions have trended down the chest in recent years. Ultimately, where it should fall really depends on your taste and body type.
I also noticed that on a couple of the jackets the quarters were gently curling away from the body, like a Pringle. This could be caused by the lack of canvas, the fabric or just be that the jackets needed a quick press. However, because I experienced it on a couple of them, I wanted to note it here for others.
The shoulders are spalla camicia and the sleeve length just a fraction shorter than the other jackets in this guide – which worked well for my arms. This is an important consideration as the K-jacket has working cuff buttons so any sizeable sleeve length adjustments will be trickier and more costly.
Other options: I've focused on Boglioli because of their unique and extensive fabric offerings, but there's no shortage of Italian brands making unstructured jackets around this price range (between £500 and £1100). Aspesi, Barena, Canali (Kei blazer), Caruso, De Petrillo, Lardini and Masimo Alba all sell unstructured jackets of one form or another.
My two notes in this category are that (a) many jackets labelled 'unstructured' may still have some minimal canvas and (b) these jackets tend to wear small so consider sizing up. All of the brands I've mentioned (including Boglioli) can be viewed at Mr. Porter via this link.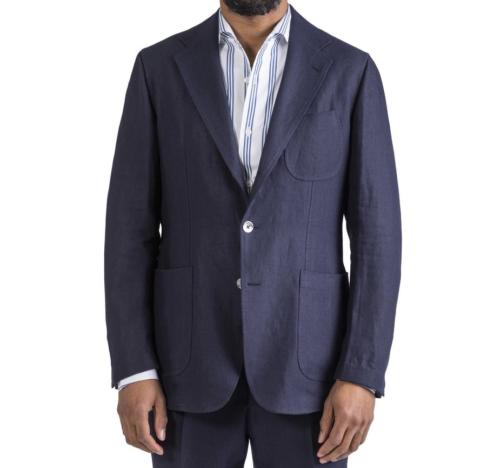 The Armoury Model 7 ($1050 to $1600)
The Armoury's in-house tailoring is made by their long-term partners Ring Jacket and over the years they've developed a wide range of jacket models. The Model 7 is based on The Armoury's popular Model 3 but eschews any canvas, padding or lining (even in the sleeves – which is unusual).
The shoulder of the jacket is slightly extended. Given the absence of any internal structure, the front jacket panel is also extended so that when it meets the sleeve head the excess can be used to create a subtle shoulder roll (rollino) as opposed to the shirring (grinze) more commonly seen on soft and unstructured shoulders.
The chest of the jacket offers a little room and fullness. On the Model 3 this is aided by a light, floating canvas, but on the Model 7 this is achieved by incorporating hammer darts which are secreted under the lapels (see below).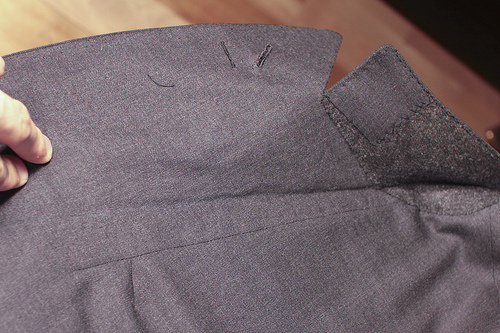 The extended shoulder, the roll and the drape in the chest all nudge the Model 7 towards a Florentine style, which separates it from some of the closer-fitting Neapolitan-inspired jackets we've covered in this guide.
The Armoury consistently refer to their Model 7 as a travel jacket. On the road, any guilt usually felt when tossing a jacket into a carry-on is assuaged by the lack of canvas and padding – and, fabric wrinkling aside, this should be equally true of all the jackets in this guide. At the destination, the intention is for the Model 7 to be comfortable in warmer climes – even the choice of a breast patch pocket (which I'm increasingly preferring on my casual jackets) was made to reduce the amount of fabric sewn inside the jacket.
As such, the RTW Model 7 jackets available online are limited to summer cloths like seersucker, high-twist wool and linen. However, as with all of The Armoury's in-house tailoring, there are comprehensive MTO and MTM options available should you want an unstructured Florentine-style jacket in a winter weight.
Other options: Neapolitan style jackets dominate the RTW market, but Florentine tailor Sartoria Vestrucci have a collection of unstructured shirt jackets ($1190 to $2290). Their RTW (which is often modelled so handsomely by their Creative Director Tommaso Capozzoli) follows the same cut and style as their bespoke offering. You can also shop Sartoria Vestrucci on The Rake (£858).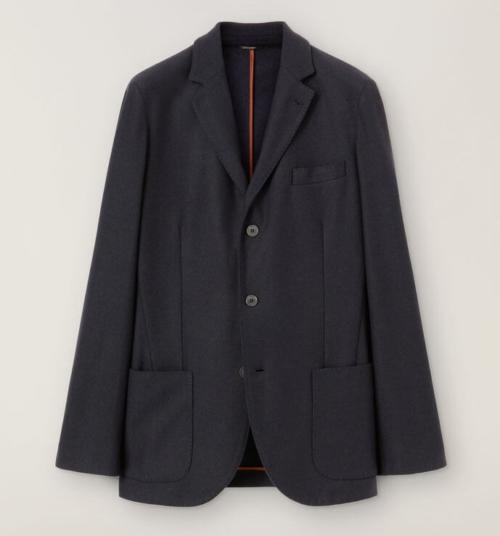 Loro Piana Sweater Jacket (£1,490 to £10,880)
Loro Piana's sweater jacket prices vary significantly depending on the composition; the wool, silk and linen pique blend (ideal for warm weather) is £1,490 whilst the opulent vicuna and cashmere mix comes in at a hefty £10,880. The most versatile option (and the one that I tried) is the 50% cashmere and 50% silk, which costs £2,700.
Loro Piana's pricing largely reflects the superior quality of their raw materials, and anyone in doubt should take a look at Simon's detailed piece on his visit to the Loro Piana factory. Furthermore, having never visited one of their shops before, I was astonished by the legion of assistants that were working the floor - like a highly drilled Formula 1 pit crew in trim navy suits.
The cloth felt and looked sumptuous - buttery in the hand, light on the shoulders and with a subtle melange texture to it. Were I to see a swatch at my favourite tailors, I would happily order a jacket in it, safe in the knowledge that I was getting a foundation piece for any capsule wardrobe: a three-season navy blazer.
However, in terms of the fit and style I'm afraid I found the sweater jacket to be a tad charmless. Slim in the lapel (around 7.25cm), slim in the arms and slim in the body - I sized up to the UK 40/ IT 50 and the jacket was still straining at the button when closed. Whilst it might be fatuous to make comparisons between Uniqlo and Loro Piana I preferred the fit of the comfort jacket.
Perhaps the more svelte amongst the Permanent Style readers can pull this jacket off. I hope so, otherwise it's a frustrating make from such an appealing cloth.
Other options: Brioni have a couple of intriguing unstructured options. Their Travel Jacket is based on an archive bespoke creation from 1968 and is reissued periodically - the grey cashmere cotton (£2,530) is unstructured whereas the navy wool (£4,170) is not (hence the price difference). The jacket has flap patch pockets on the hips which the wearer can access through three openings: top, middle and side.
The Plume jacket (£1,590 to £4,370) is Brioni's partially structured model (permitting itself a lightweight canvas in the chest) and is more generously and, in my opinion, elegantly proportioned than the Loro Piano sweater jacket. Brioni's RTW range benefits from extensive handwork and complimentary alterations.
Brunello Cucinelli also have a sizeable range of deconstructed blazers to choose from (£1,750 to £4,450). Although, I must admit I found it hard to look beyond the styling where every model appeared as if they were in the midst of being pantsed – their jeans waistbands grimly clinging on to the precipice of modesty.
Manish is @the_daily_mirror on Instagram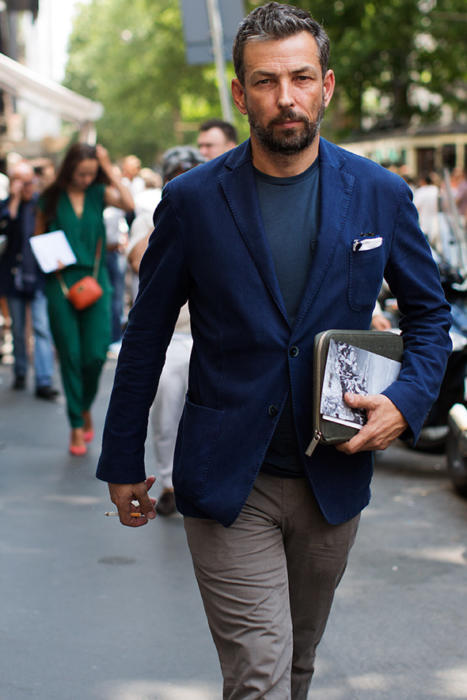 The Index
The index is designed to collect the key information of each of the single-breasted models featured. To aid comparison we've shown the waist, chest and body length measurements for size UK40/IT50 - measurements taken from the brands.
I'd generally consider myself to be a fairly solid 38/48, but my experience was that a few of the unstructured jackets run small to size (particularly Boglioli and Loro Piana) so I would certainly recommend readers try a size up before making a purchase.
Prices are correct as of time of writing.
Brand
Model (Size)
Price
Button
Vents
Pockets
Varieties
Length (cm)
Chest
Waist
Uniqlo
Comfort Jacket (M)
£49.90
Two
Centre
Patch/patch flap on hips. Barchetta on chest.
Various colours, patterns and pocket types.
72
54
TBC
Drake's
Games Blazer Mk.IV (40/50)
£695 to £795
Three roll two
Unvented
Patch/patch flap on hips and chest.
Available in blends of cotton, linen and corduroy.

Various plain colours and pocket types.

DB (MK. III) also available

73.5
56
TBC
Trunk Clothiers
Ebury (50)
£395
Two
Unvented
Patch on hips and chest.
Navy and olive
74
53
51
Boglioli
K-Jacket

(50)

£650 to £1220
Two
Double
Patch on hips. Barchetta on chest.
Large number of cloths – many unique to Boglioli.

DB also available.

74
53
48
The Armoury
Model 7

(50)

$1050 to $1600
Three roll two
Double
Patch on hips and chest.
Summer cloths but others can be ordered in MTO and MTM.
77
57
49
Loro Piana
Sweater Jacket (50)
£1,490 to £10,880
Three roll two
Double
Patch on hips. Barchetta on chest.
Available in blends of wool, silk, linen, cashmere and vicuña.

Various plain colours.

75
49
47