Brioni bespoke tailoring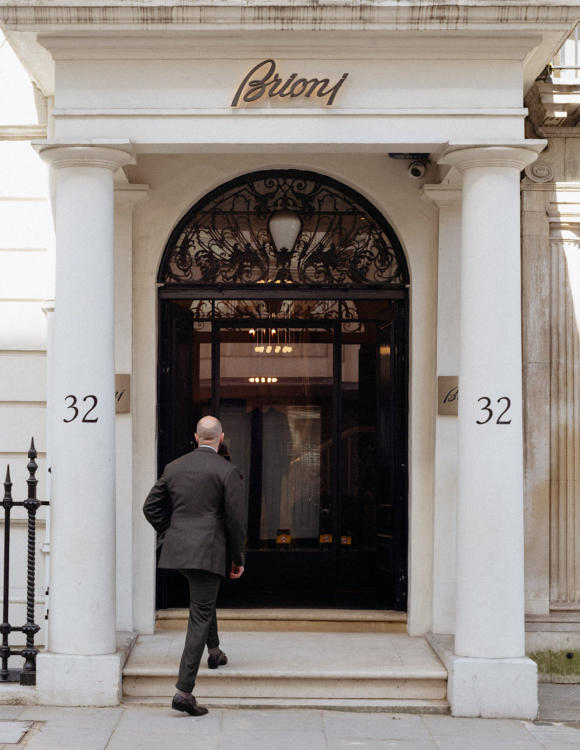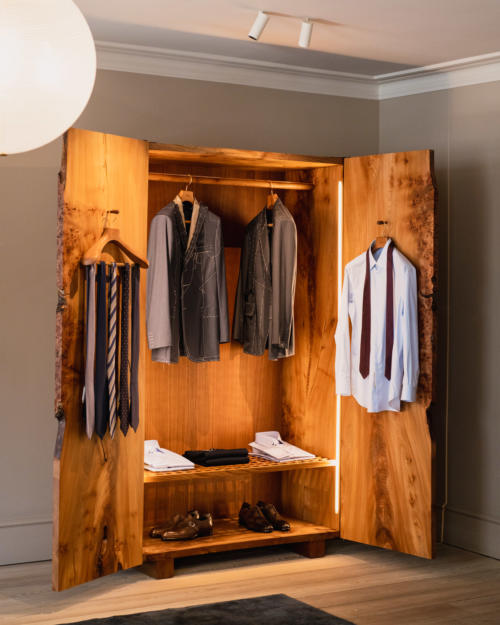 A few months ago, Brioni contacted me to ask if I would be interested in having a suit made, in order to review it.
Not knowing much about the Brioni product, I was a little unsure. Invitations to cover other big-brand made to measure have not always turned out well. Prada MTM is one example that comes to mind.
But fortunately, as soon as I started talking to the team in the Bruton Street store, it became clear this was serious bespoke.
The hand padding on the chest and lapel I was shown - pictured below - was the first obvious sign, even if the staff admitted a real jacket didn't have stitches quite as tight or precise as this display model.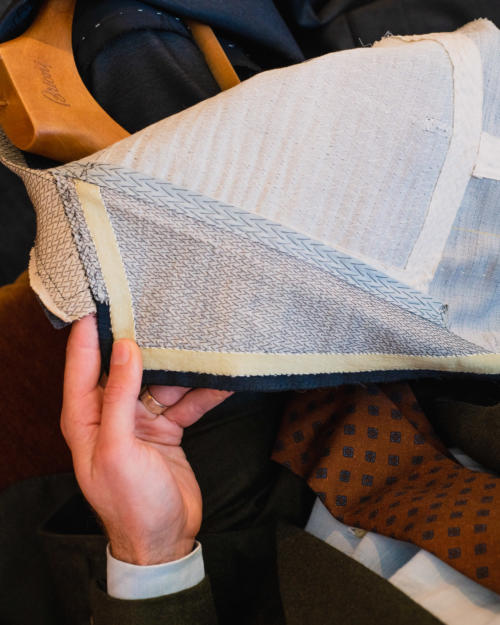 I was even impressed by the quality of the ready-to-wear tailoring.
I previously reported that the chest and lapel on the RTW jackets was hand-padded, having been told so by the staff in store, and been shown examples.
This was challenged by a reader, citing an article where such a jacket had been taken apart by another tailor. When I asked to talk to the management to clarify, it turned out there had been a mistake: only bespoke uses hand padding.
However, that padding does use an old machine that gives the tailor greater control than anything more modern and automated. And hand padding does become less useful the lighter and softer you want your jackets.
There is always more rigidity with hand-sewing the chest, unless you have stitches that are so loose as to be almost pointless. And therefore even on bespoke, Brioni sometimes uses that old machine here, unless the customer asks otherwise.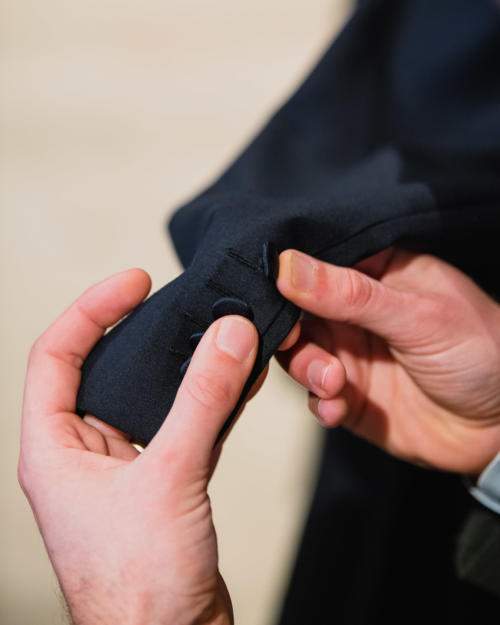 Many other aspects of the ready-made tailoring is done by hand, from the obvious things like the buttonholes down to the much less obvious like pocket jettings.
This is more than any other ready-made tailoring I have seen, including the likes of Tom Ford or Kiton. (The latter is much better at marketing theirs.)
And as is often the case with handwork (or individual paper patterns) the significance is just as much what it indicates about the care taken elsewhere - how much hand ironing is done, for example, or how much refining of the pattern over several fittings.
With Brioni, it signifies that these are all suits made with a bespoke mindset. They have lots of inlay in the seams (12cm across the chest), tailors in-house that can take any of the RTW suits apart, and extensive alterations that are standard, not extra.
So that's not just nipping in the waist or hemming the trousers, but sloping the shoulders and shortening the sleeves (from the shoulders) as well. Customers regularly bring back suits to be repaired, pressed and altered.
This work and service goes some way to justify how expensive a Brioni suit or jacket is: in the UK online, suits start around £3000 and run up to £7000.
But even there, the variation is mostly down to different materials - you get the same quality for £3000. And a Tom Ford suit starts at $4,000, without the same handwork inside.
Of course, top-line suits from the likes of TF, Zegna and Kiton do have lots of other handwork, but not as much as Brioni. Above, for example, is an impressively fine hand-sewn buttonhole, while below is the lining on the inside of the trouser waistband, which is all delicately attached by hand.
Brioni bespoke is better value still, relatively speaking.
It starts at £5,360, which is comparable to most top-end bespoke from Savile Row, Paris or Milan. In fact, cheaper these days than most of the big names, which are often north of six thousand.
Although I don't think we should go too far down this line of thinking. Because good as it is to know that the bespoke is decent value, I think the biggest selling point is going to be Brioni's service, convenience and sense of luxury.
Presuming my jacket and trousers turn out well, I can see Brioni being an attractive option for those who value having many stores around the world - that they can pop into any time - and staff who provide good service.
I've had a surprising number of conversations over the years with readers who bemoan the lack of professionalism among bespoke tailors. Who get tired of things going wrong, or of picking out cloth sitting on a hotel bed.
Even among Savile Row houses, it can be frustrating to be an American customer and have just a one-hour window, every six months, to interact with your tailor. Sometimes even just half an hour.
None of this will matter to those for whom money is the biggest factor, and they are of course the vast majority.
But that doesn't mean the preferences of others should be ignored. And there is something we all like about visiting a beautiful store, with enough (good) staff to have noted everything you discussed on the last visit. Which has lovely changing rooms, and indeed a sumptuous bathroom. (I took some photos in there - I want that marble sink.)
It's also lovely, in a different way, visiting a small tailor like Musella Dembech in Milan - where the workshop is in the family apartment, and Gianfrancesco holds the mirror out for you because he's never got round to fixing it to the wall.
But that's not for everyone. For those that enjoy - indeed are happy to consciously pay for - good retail, someone like Brioni looks like a better choice than many other big brands.
The biggest issue for me personally might be Brioni's style.
Their RTW jackets around the store are beautifully made, and impressively light when you try them. I was particularly taken with the 'Plume' construction, which is the lightest to still have all the same hand-padded canvas (lighter and softer than any Neapolitan jacket I've had).
But the house style does tend towards the mainstream aesthetic of shorter jacket, close fit and high gorge. They use a lot of super-count worsteds, silks and other more luxe materials. It's not an aesthetic I would normally be drawn too.
Still, this is personal. You can't expect a bigger brand to be driven by the current classic-menswear vogue of wide shoulders, low buttoning points and chunky tweeds.
And the team were very clear that the bespoke service meant I could have anything I wanted. So I wore suits and jackets to my fittings that demonstrated the proportions I liked - in these pictures, my Benson & Clegg flannel suit.
I'll see how the final result turns out.
I will confess, though, to be rather fond of the Brioni team, a few months into the process. They are efficient, engaged and aware. They know what other bespoke houses produce and what they can offer to compete.
They seem proud of their service, with tailors on site to be able to do any job. Indeed, it looks like the last fitting or two of mine will be made on location, rather than being sent to Penne.
I also kind of think Brioni is an interesting case study.
Many tailors try to make their businesses more sustainable by expanding into ready-made clothing. Some add cheaper RTW suits, to avoid competing with bespoke (eg Dege & Skinner); others use a foreign-made service that lowers costs (I think Kilgour were the first); and others add a RTW collection that does everything except tailoring (Anderson & Sheppard).
Brioni started as a bespoke tailor, but very early on (in the 1950s) started doing runway shows, collections and the first trunk shows. They were an innovator, also setting up one of the first in-house tailoring schools.
They are in some ways what an ambitious bespoke tailor aims to become: an international brand, but with no compromise on their tailoring.
Over the years it feels like Brioni tailoring has been rather lost beneath celebrity collaborations and various changes of creative director. If I can, it will be nice to do something to change that.
Photography: Alex Natt @adnatt
Note: This article has been updated from its original version, to correct a point about hand padding