Benson & Clegg bespoke – and George VI's monkey jacket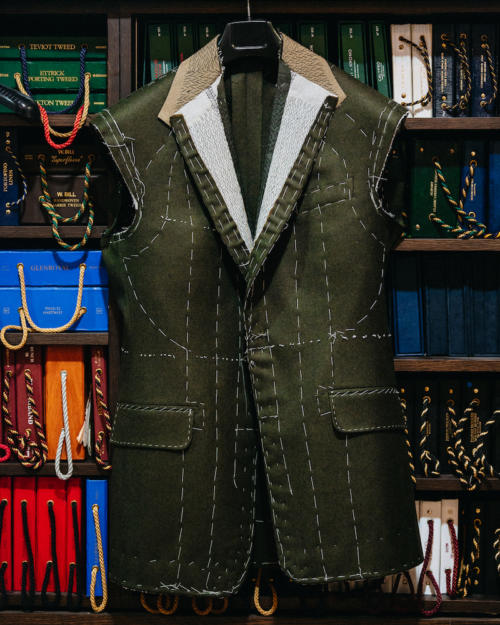 Benson & Clegg is not a button shop.
I didn't realise until I went in, earlier this year, quite how much it has gained that reputation.
It's partly a result of their own good promotion over the years, but perhaps more significantly because of their Royal Warrant to Prince Charles - for buttons, badges and military neckwear.
The Americans love it, apparently. They declare, when they visit, that they always come to Benson & Clegg to buy their buttons and braces.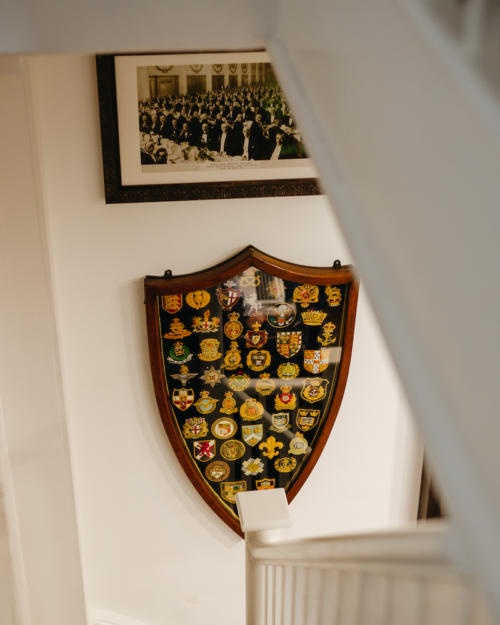 Which is lovely, as far as it goes. It's always nice to have such a strong reputation in one area, and Benson & Clegg do own the machinery that makes some of the cufflinks and buttons, in Birmingham.
There is substance behind the fame.
But Benson is principally a tailor. Indeed, its more impressive Royal Warrant was to King George VI, for whom Harry Benson had worked when he was the Duke of York, and granted them the warrant in 1944.
Benson & Clegg dressed the King for his coronation, and made most of his suits and morning dress over the years - including the double-breasted overcoats he became famous for.
These stories don't necessarily indicate anything about the current state of the tailor, of course.
But there was a chance occurrence recently which connected the relatively new owner (Mark Gordon) and new cutter (Oliver Cross) to the firm's history.
In an episode of the British programme The Antiques Roadshow, a guest brought on a blazer and overcoat which had belonged to his father.
On the brink of giving them away, he thought to check the pockets - and found letters in them revealing that they had belonged to George VI.
Benson & Clegg contacted the owner, saying they believed they had made the garments. This was confirmed by the matching of the blazer to the King's paper pattern, which Benson still hold.
In a follow-up episode, in December, Oli Cross went on the programme. As well as discussing the history of the garments, he showed off charming pieces from the Benson archive - including the paper template that the King sent to Clegg, indicating how his medal ribbons were to be arranged on the 'naval monkey jacket' (bottom image, below).
For those that can access iPlayer, principally in the UK, the episode can be seen here (the tailoring appears after 45 minutes).
Although not mentioned in the show, Benson & Clegg have since established that the coat recovered was also the one George VI wore to give the address at the centre of the 2010 film, The King's Speech.
Mark Gordon became part owner of Benson & Clegg six years ago, and took full ownership two years ago. He has made several changes, including a full refurbishment. But the one of most interest to us is a desire to regain a reputation for bespoke.
To that end he hired Oli Cross, a tailor I knew from his days at Meyer & Mortimer, round the corner on Sackville Street.
Although I never had anything made there, I did see Oli regularly when having a shirt made by Sean O'Flynn, and a jacket made for my wife by Kathryn Sargent, both of whom shared the Sackville premises.
Oli was trained by Malcolm Plews, who has an almost unparalleled reputation as a cutter. Oli talks fondly of going round to Malcolm's house for training: "He'd open a bottle of wine at 11:30 and then say 'right, double-pleated trousers', and we'd spend the rest of the day cutting nothing but that."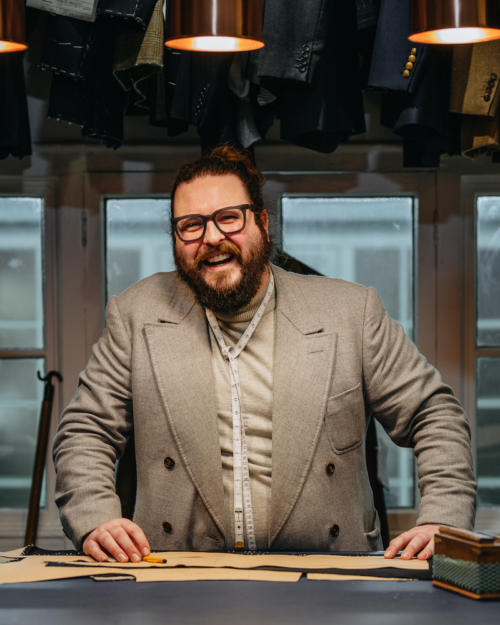 One of the nicest parts of the shop refurb is Oli's cutting table upstairs. Here he's surrounded by fitting garments, in a rack that runs around the roof above him (just visible above).
Behind him is the window looking down on the Piccadilly Arcade, and as with Budd further up, it's nice to glance up when you walk by, and see him working away.
This upstairs room is also decorated with a large picture of King George VI and his family (below), which is an enlargement of a Christmas card sent to Benson & Clegg (again, wearing that jacket).
Further round the wall is a smaller picture of the founders, Harry Benson and Thomas Clegg (above).
The pair left Hawes & Curtis to set up on their own, wanting somewhere that was a little less stuffy (back then, tailors often still had curtains across their windows). They called it their 'club lounge' - which is interesting, given it's what every brand today says they want when they set up a MTM area, but few achieve.
Frankly, I think there's something rather ominous about the shadowy photo of their new premises. The fixed poses remind me rather of Gilbert & George.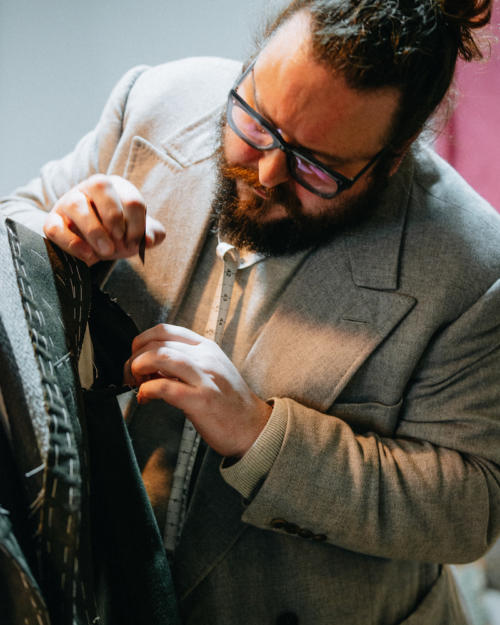 Last year, Mark said he and Oli wanted to make me a suit to show what the new team can do.
Pictured here is the second fitting, of a green-flannel two-button two piece.
I decided to use the Caccioppoli flannel that I'd previously made into a pair of trousers with Pommella (570307, shown briefly in the launch post of the Donegal Overcoat) because I liked its dark, rich colour, which I find is rare with flannel.
That does mean it's 17oz (480g) but I'm used to wearing cloths of that weight now. Ideally it would be more like 14-15oz, but the colour is more important.
The weight certainly meant it draped beautifully at the fitting, and the level of work was impressive. Oli has an in-house coatmaker that he is proud to talk about, and clearly with good reason.
I'll go more into that, and Oli's approach to cutting in general, when the suit is finished.
Benson & Clegg bespoke starts at £4,400 including VAT. They also offer MTO and MTM, which we won't cover, and bespoke cut here but made in China from £2,650.
Photography: Alex Natt @adnatt