Benson & Clegg flannel suit: Review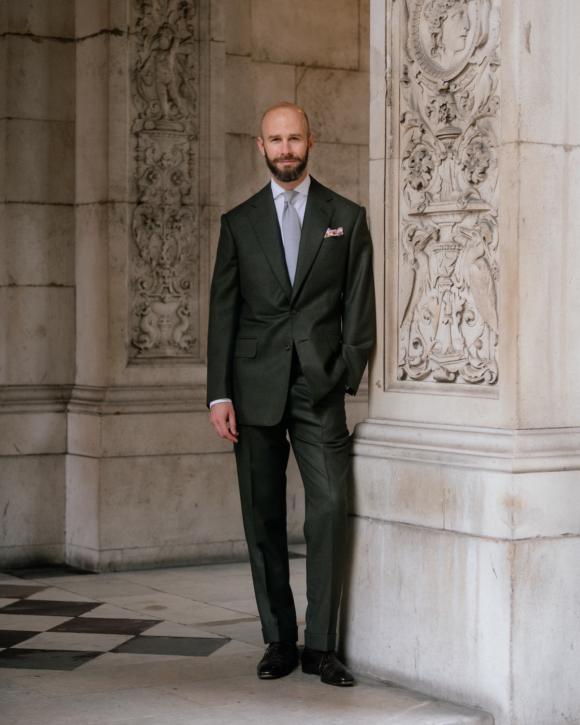 This is the kind of suit that makes you glad you're wearing a suit.
The kind you look forward to wearing, as a change to the floppy casual home stuff you've been in too much recently.
Why? Because of the structure, the shoulder and to a lesser extent, the drape. They combine to create something quite transformative.
Soft tailoring - Neapolitan in particular - has become understandably popular in the past 10 years. To the point where it's almost the default style among menswear shops.
But I'll be interested to see whether strong tailoring makes something of a comeback in the future. After all, one of the advantages of a Neapolitan suit was that it was lighter, more casual, easier to wear all week.
But with the suit looking less and less like default business clothing, I think people will be wearing them more for occasions - when they want to really feel its possibilities.
This is that kind of suit.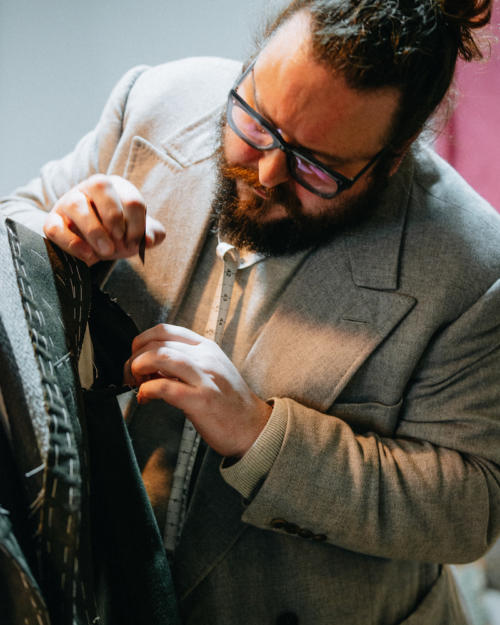 To catch-up, briefly. This suit was cut for me by Oli Cross (above), now at Benson & Clegg in London's Piccadilly Arcade. The team there has been revamped recently - as covered in our previous article - but there is also plenty of tailoring history to build on.
Oli trained under Malcolm Plews, and his cutting style is typically English and strong (though he is self-aware enough to be playing with lighter makes, set-in sleeves and other modern tendencies).
This suit, therefore, is classic English in its make: canvas, horsehair and domette in the front; a decent pad in the shoulder. It is not, however, as padded or structured as the likes of Huntsman or Sexton.
Oli would also not call himself a drape cutter, but he's happy to cut extra room in the chest and back, and that's what we went with. Long-time readers will know that's a style I like, for the way it flatters the upper body, and Oli executed it well.
I think both the posed and natural images below illustrate the impression of size that gives to the upper body.
Oli also naturally cuts quite a big sleeve, which you can really see in the image above. Look how large the top half is, and yet it still narrows elegantly to the cuff.
I've never understood why any tailor cuts a narrow sleeve. It's just not flattering to look like you have skinny arms. I can understand the motivation for a waist that's cut a little too slim, but not a sleeve.
Unless the idea is that your biceps bulge when you bend the sleeve, like they're trying to burst out. But if that's the look you want, tailoring is really not the vehicle for it: you're taking sharp, elegant lines (the shoulder, the lapel) and then deliberately putting a lump in the middle. There's just no point - you'd be better off in at T-shirt.
With a sleeve as big as the one here, there's always more chance of a little messiness at the back. But it's easy to be a little trimmer, without resorting to sausage arms.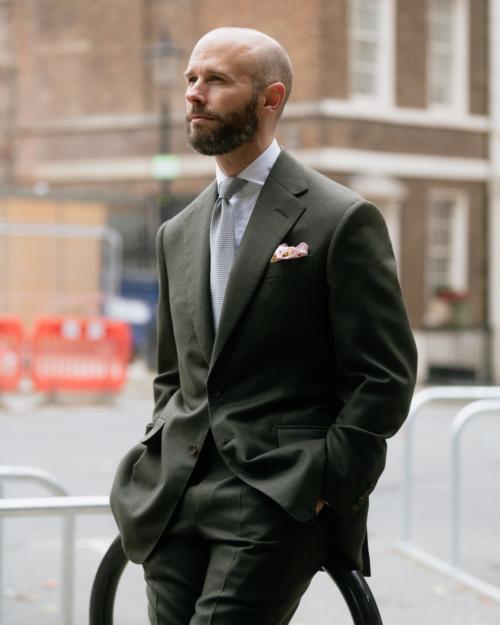 Returning to Oli's cut. This is partly what he would do naturally, and partly what I requested.
We had slightly extended shoulders (6¾ inches along the shoulder seam); a slightly lower buttoning point (waist button 18¾ from the same seam); and a moderate lapel (3¾). All of which you can compare to other tailors in the Style Breakdown series, for context.
In every case, I was not asking Oli to cut a certain style or certain proportions, but rather responding to his questions - did I want it a little bit bigger, or a bit smaller; a touch wider, or a touch narrower.
This is a good way to make sure you're very much within a cutter's natural style, and therefore comfort zone - a general practice I've recommended previously.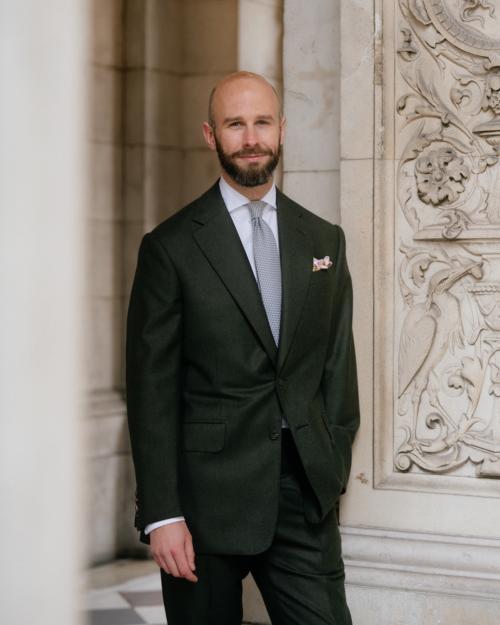 The fit of the suit felt good - solid - from the start. The balance was right, the fronts clean, no collapsing on the right under my lower right shoulder.
In fact, I'd say this is often a key mark of a higher quality tailor. The majority of the time, when I've had things made by a Savile Row house or bigger names in Italy and France, there has been this solid initial fit - this professionalism, perhaps.
Smaller tailors or perhaps those from Asia working at a slightly lower quality level, can get there in the end (eg Anthology) but there isn't often quite the same strong start.
There is some drape in the back of this suit, and around my shoulder blades, which others would want cleaning up - but it's exaggerated by the image above. The slightly messiness at the back of the sleeve I've commented on already.
The only real issue we had fit-wise was the pockets on the trousers, which are gaping a little.
This is an area that's tricky on me, because I have a proportionally large seat and like a trim trouser elsewhere. But still, it's something others have dealt with better.
We're going to see how these settle down, particularly given I use the pockets quite heavily, and look at them again in a few weeks.
The make of the suit is very good - it's what you should expect for a top-end Savile Row suit, and frankly for any suit costing over £4,000 (this cost £4,400, including VAT).
The buttonholes are precise, the jetts neatly done, the lining nicely hand-felled. It's perhaps a pity that the fabric around the inbreast pocket is cut halfway along the opening, but it's a minor point.
The only issue we had here was the length of the sleeves, which had to be adjusted a few times because of some silly miscommunication. But I don't draw many conclusions from that, given the consistency of the service elsewhere.
The cloth is a wonderful, a heavy flannel from Caccioppoli (570307, 17oz). I love deep, dark greens like this, but have found them tricky to source - most are too light or too strong.
This green is perfect, and goes really nicely with rich, autumnal colours like oranges, purples and dark brown like my shoes here. But it also works well with brighter pops of colour, like the pink of this silk handkerchief (from Rubinacci).
Those shoes were my first bespoke pair, by the way, from Cleverley, and are now 10 years old. They deserve an article in the 'How great things age' series sometime soon.
And the tie is great, but is actually polyester from Tie Rack. Its significance is emotional, as my grandfather wore it to my wedding (which we covered on PS at the time, here).
Sadly, he passed away recently, and this will be one of the things I remember him by.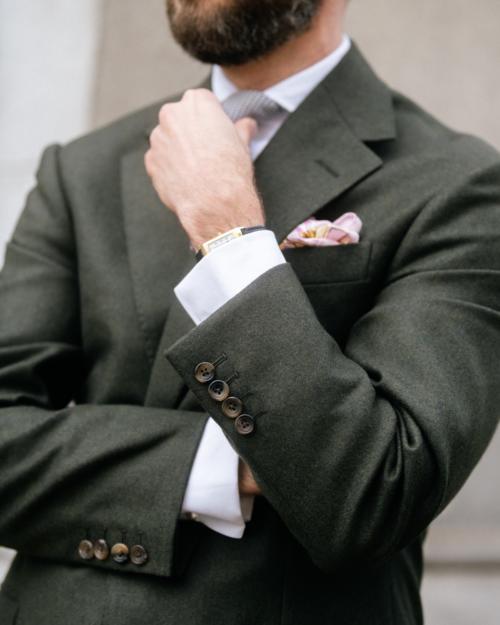 Anyway. Returning to the drier world of tailoring, I would just conclude by saying that Oli's work was impressive, and on this evidence Benson & Clegg deserve to be considered alongside any of the better-known houses on Savile Row.
It is the kind of suit I look forward to wearing. When this newest lockdown finally ends.
Benson & Clegg bespoke starts at £4,400 including VAT. They also offer MTO and MTM, which we won't cover, and bespoke cut here but made in China from £2,650.
Photography: Alex Natt @adnatt