Summer clothing, particularly from Italian brands, often includes a lot of light, bright colours. These can be difficult to wear, particularly in northern European countries where the sun might not be that consistent.
I'd suggest that of those brighter colours, one of the easiest to wear is the bright blue of this linen jacket from Anderson & Sheppard.
It is a stronger colour than most things a man is likely to own. But it isn't as glaring as lemon-yellow or go-to-hell red trousers.
It is lighter than most jackets he is likely to own too. But it isn't the cream or sky-blue linen that brands often offer for summer - and again only seems appropriate on madly sunny days.
I'm going to call it lapis blue. Names of colours are infuriatingly inconsistent, but it is perhaps closest to the stone of lapiz lazuli, rather than cobalt (stronger, deeper) or azure (lighter, brighter).
Michael Drake used to call his ties in this colour 'sugarbag blue'. But I hesitate to use that given I've never had a sugar bag this colour.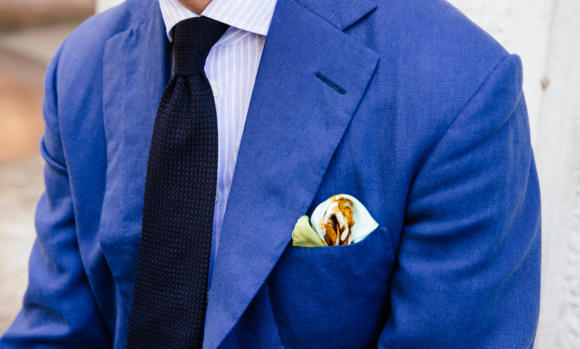 So, lapis blue for the summer. Inevitably I anchor it with some navy - in this case my old friend the 9cm, untipped, hand-rolled navy grenadine tie from Drake's.
And just as inevitably, I pair it with grey trousers below the waist - here the fresco trousers Kathryn Sargent made me years ago when she was still head cutter at Gieves & Hawkes.
Grey is by far the easiest thing to wear against bright colours, softening and supporting rather than contrasting.
The solid jacket and tie makes room for some pattern in the shirt - and here I'm wearing a blue-and-white striped shirt in a cotton/linen mix, from Luca Avitabile.
The handkerchief could have been a sharp white linen or even a grey trimmed with white (a nice, unexpected alternative). But given this was a bright day in Italy, I opted for a bright green and blue silk design from Rubinacci.
On the feet, dark-brown walcots from Edward Green, and Bresciani grey socks to match the trousers.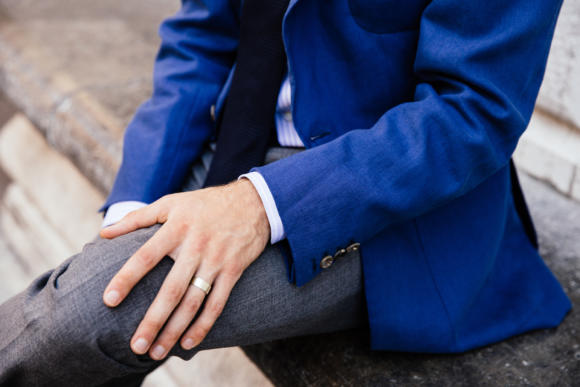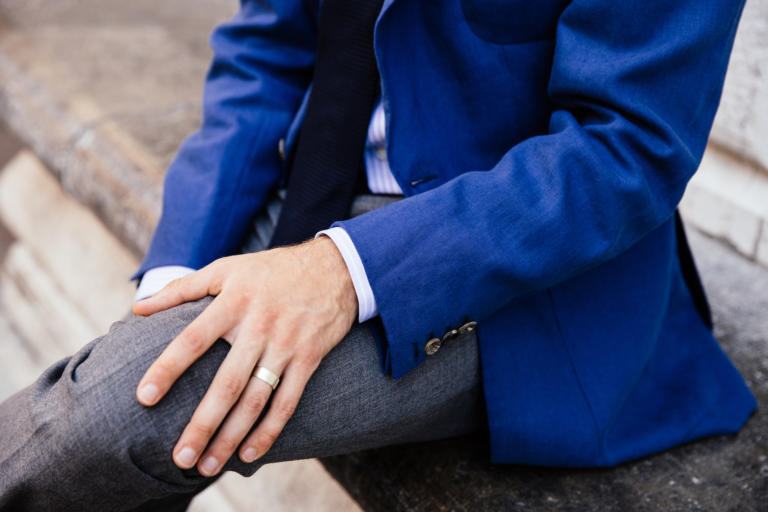 The jacket was made for me several years ago by John Hitchcock when he was at Anderson & Sheppard, and it is probably the single-breasted I like best in terms of style. It is the only two-button I have from him, and I prefer it to the three-roll-twos.
Getting it out of the wardrobe reminded me there were a few things I wanted to get altered, but haven't gotten around to. I was going to narrow the sleeve, for example (the only thing I don't like that much about the A&S drape style).
And the sleeves were mistakenly shortened from the end - rather than the shoulder - a couple of years ago, which I need to get fixed too.
I have to say in retrospect I wouldn't have had a patch breast pocket either. The dinky little Neapolitan ones are nice, but the English ones just too big and bulky. I don't mind it on the jacket now - it seems part of its character - but not something I would do again.
The linen is still available by the way, from W Bill. It is in the Linens & Cottons bunch, number WB60265.
Photography: James Munro for Drake's