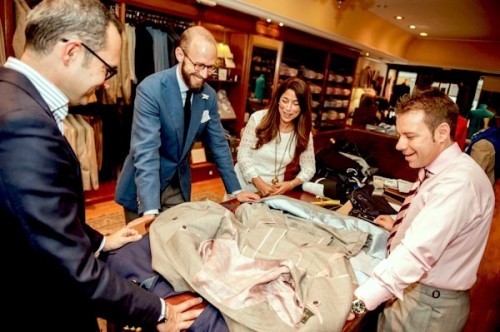 Over the past couple of years I have got to know several of Spain's leading tailors fairly well, particularly Langa, Reillo and Calvo de Mora.
Spanish tailors can be characterised as flexible and value for money, particularly given the amount of handwork involved. Their only potential weaknesses are flipsides of both those points: lacking an identifiable house style as a result of that flexibility, and concentrating on handwork rather than precision.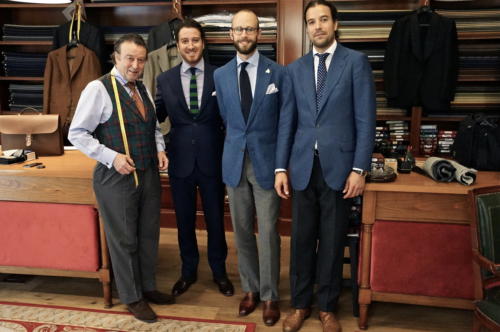 Most Spanish tailors are small. Langa and Reillo have one cutter (Joaquin Fernandez and Jose Maria Reillo respectively – shown top, at right, and bottom of the post respectively) and Calvo de Mora has one main cutter and one in training (Manuel Calvo de Mora and his son Alberto – far left and second left above). There are only two or three other tailors in Madrid (Larrainzar most notably) and few in other major cities (just one in Barcelona). Most don't do all making onsite.
This size is driven by the small market for tailoring in Spain, which in turn explains the two factors mentioned above. The tailors are flexible because they have to adapt to a range of clients and to changing demands. They all make a strong shoulder, a soft shoulder and a Neapolitan shoulder, for example. They are all willing to offer lined and unlined jackets, as well as fractions in between.
This can be a refreshing change from the narrowness of Savile Row, and there are few tailors in Italy who could make that range of shoulders with confidence. But it does mean every consultation begins with a very open 'so what would you like?'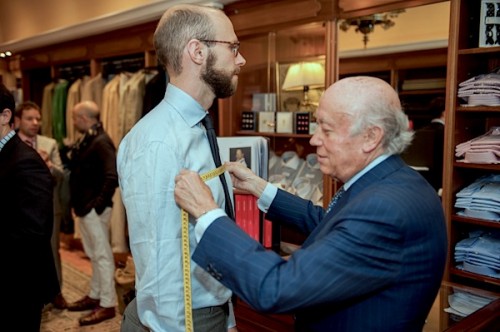 Madrid tailors are cheap. Suits cost €1800, €2000 and €2500 at Langa, Reillo and Calvo respectively, and the handwork involved is just as high as a Savile Row or Milanese suit, if not higher.
The chests are all hand-padded and the collar, sleeves and so on attached by hand (of course). But the lining is also often stitched by hand and there is particular attention to detail around points like the internal breast pockets.
However, now and again the precision of that handwork can slip a little. Anyone that has spent any time sewing will know that the challenge is not doing it by hand, but doing it so finely as to make it appear almost machine-made. Parisian tailors achieve this to a phenomenal level. English tailors often use sewing machines where it is cleaner and stronger than handwork. Neapolitans do a lot of handwork, but can be a little rough with the finishing.
In places the Spanish can have something in common with their brethren from Naples. (Interestingly, Spanish is closer to the Neapolitan dialect than Italian, as I discovered when everyone started speaking happily amongst themselves at the latest Aristocrata meeting.) I am having suits or jackets made by all three of the Spanish tailors mentioned here, however, so I will provide ample opportunity for you to judge for yourself the quality of the work.
The first should be in a couple of weeks: a brown linen suit from Joaquin at Langa. This is particularly relevant because Joaquin is the youngest of the cutters and plans to start visiting London soon, along with Mariano, the superb shirtmaker at the same house (pictured above).