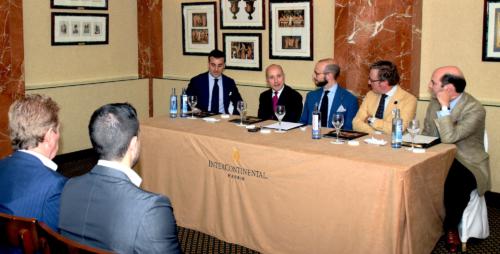 These past few days I've been in Madrid, speaking at the Aristocrata club meeting and seeing a few of the tailors and shoemakers I know (Langa, Reillo, Calvo de Mora, Norman Vilalta).
I invited Elia Caliendo and Luca Avitabile of Satriano Cinque to speak to the club (on my right and far right in the pic above) and it was lovely to see them enjoy talking about their craft to an audience for the first time. Many of those Spanish tailors were in the audience, and both sides found it interesting discussing the roots of tailoring in Naples and Spain. The influence of Spanish tailors on southern Italian tailoring is often overlooked – they travelled extensively, both to Italy and France.
Wearing blue linen jacket from Anderson & Sheppard, with navy grenadine tie and grey-linen hank with white edging (from Trunk). I'm a big fan of the grey handkerchief at the moment – it's not quite as smart and stark as plain white, and I like the softer impact.