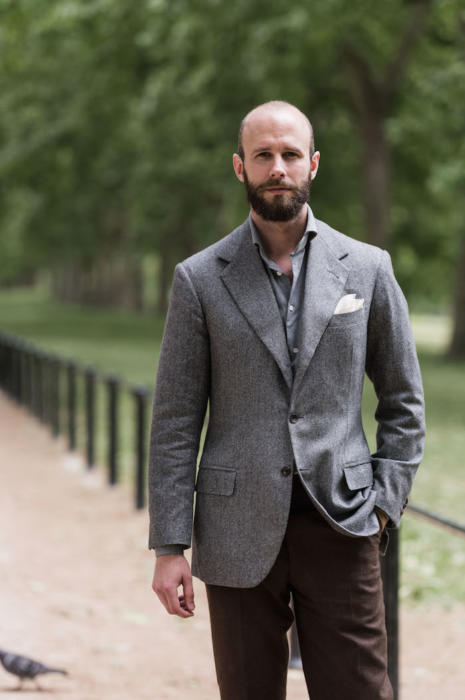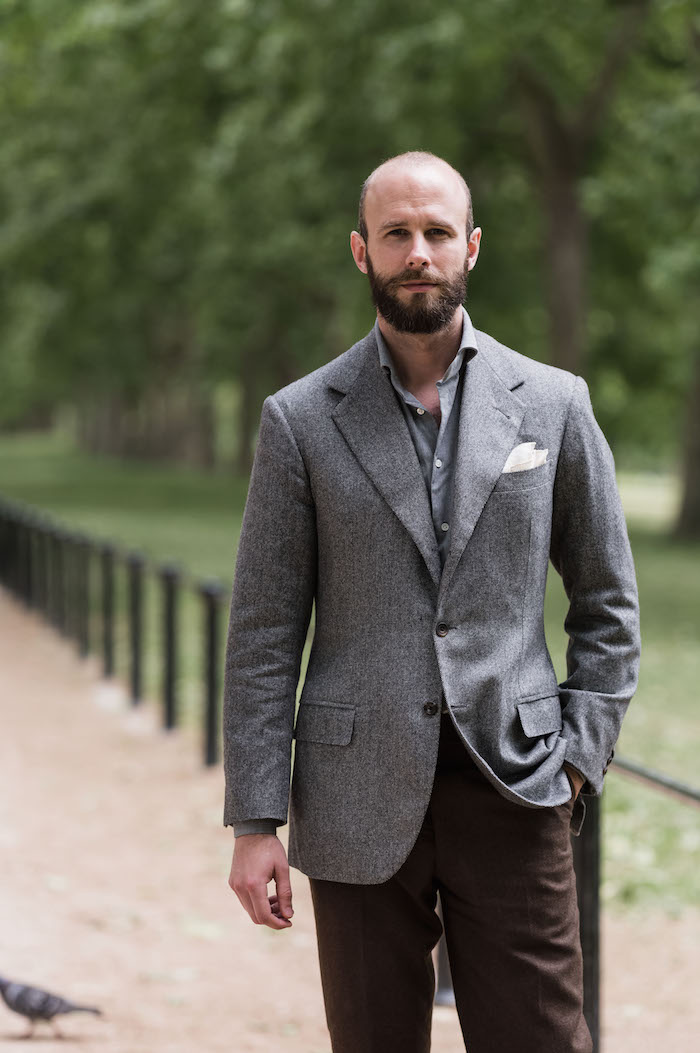 My final jacket from Ferdinando Caraceni in Milan is superb in many ways, including fit, make and finish. The style, however, is interesting and not necessarily what I expected.
I started this project last year with Nicoletta Caraceni, the daughter of Ferdinando Caraceni who now runs the outfit in Milan. For those that don't know the lineage, Ferdinando was no relation to the Caraceni that started the famous bespoke tailoring dynasty – Domenico – but was, more importantly, the cutter for Domenico and then Augusto for 29 years.
Nicoletta is not a cutter, but she has a passion for perfection that I would liken to Lorenzo Cifonelli or Joe Morgan. It is this that attracted me to her workshop, and made my decision to commission a jacket from her rather than another of the Milanese tailors.
The fit of the final result is great. Particular attention was paid to the collar where it hugs the neck – as it should be – and then the smooth run of the lapels down the body. Those lapels are slightly wider than average (3.75 inches) but still balanced to the chest width.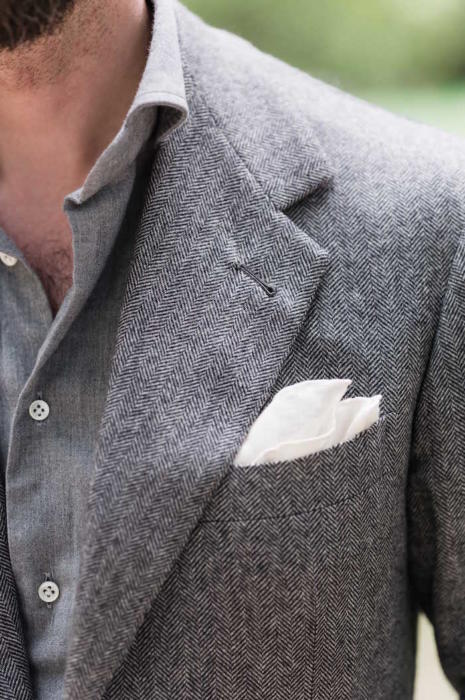 The waist has a nice suppression but it's not as slim as some. Indeed, at the final fitting it was really only the waist that we needed to change. Nicoletta has a slight bias towards a clean chest and back, rather than one that is closer to the body but risks pulling (particularly with movement).
This balance between a clean finish and close fit is a fine one, and most tailors err one way or the other. Modern tailors I have tried tend towards being as slim as possible, for example (Timothy Everest, Thom Sweeney) while more traditional ones (Henry Poole, Terry Haste) give slightly more room. It's not consistent a rule though – both Anderson & Sheppard and Richard Anderson ran quite tight.
The sleeve is fairly full, but I like it. I would warn against sleeves that are too slim, both for reasons of comfort and style. A slim sleeve can often look rather mean, and counteract the masculine size of the chest and shoulder.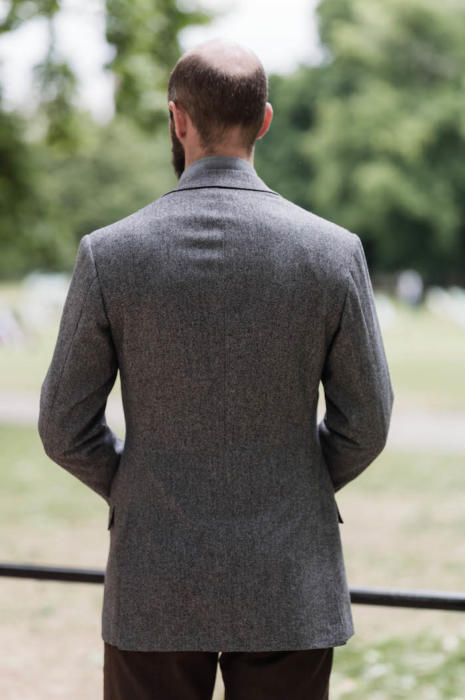 There is a slight pull across the shoulder blades which could be loosened up, but given the lightness and softness of the cloth (9.5-ounce cashmere) the back is very clean. Nicoletta ran the shoulder padding a little further down into the blades than is normal to help with this, which few people do.
Another interesting point is that like most other Milanese and Neapolitans, the seams on the jacket are top stitched. So it looks like one side is overlapping the other, rather than both turning together into the seam.
This is almost invisible on this jacket, as it's grey stitching on a grey cloth, but the effect on the shoulder line is striking. It makes the transition from shoulder into sleeve head very clean – the line is almost uninterrupted, and creates a look that is perhaps halfway between a classic suit shoulder and a Neapolitan 'shirt shoulder'.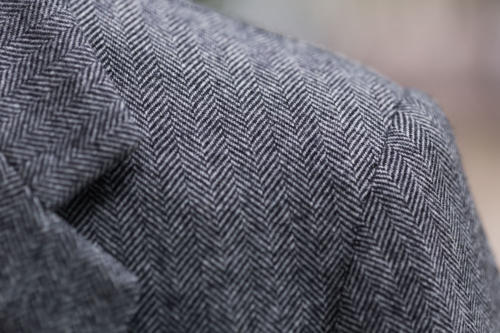 The overall style, however, is a long way from the casualness of a Neapolitan jacket, and it is this that was the element that surprised me.
When I began the process with Nicoletta, I expected the jacket to feel more informal – perhaps suitable for wearing with chinos or denim. But although the construction is very light, and it has that clean shoulder I referred to, it is too formal for that. Beautiful here with formal trousers, and it would be great in a suit, but nothing approaching the Neapolitan softness.
The cloth, by the way, is from Dugdale's – the Luxury Flannel and Cashmere Jacketing bunch made by Cerruti, number 6910. I highly recommend it. There aren't many good lightweight cashmeres out there – the English ones are heavier and the Italians (Loro Piana, Zegna, Caccioppoli) vary hugely from season to season. This is a more solid range you can return to year after year.
Jackets at Ferdinando Caraceni start at €4200 (suits from €5500). Obviously very expensive; but with the current euro exchange rate, cheaper than a lot of Savile Row.