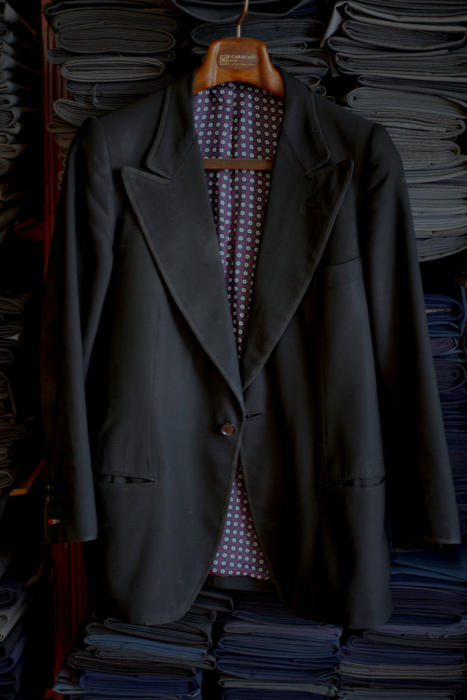 In the coming months I will be writing more posts again in our 'How great things age' series, which aims to illustrate the beauty of quality clothing over time.
Basically, it's an antidote to the new clothing that it's much easier to write about, and which most sites (especially social media) are dominated by. It shows not what you get now, but the reward in 10 or 20 years.
Because, while quality clothes can look good the day they're bought, it's often in the long term – as things are worn, cleaned and repaired – that they really show their value. Plastic does not do that.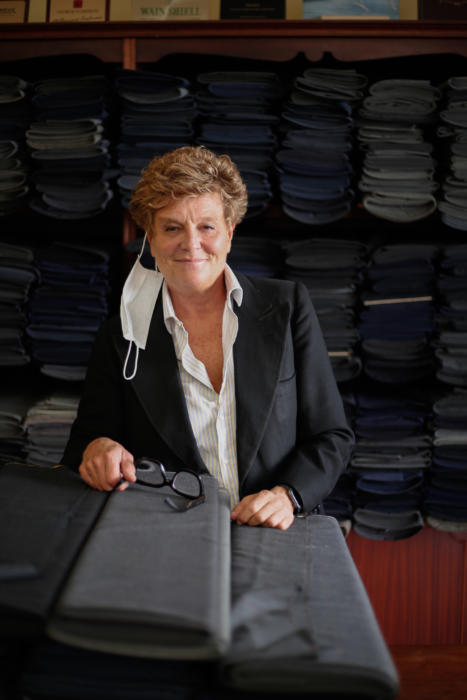 Those upcoming articles will necessarily focus on my wardrobe. And while I do have beautiful examples – having started buying bespoke shoes and tailoring just over a decade ago – I don't have anything that's 30 or 40 years old (excluding vintage).
For that I have to turn to friends, and so today I'm going to highlight a jacket owned by tailor and friend Nicoletta Caraceni, in Milan.
The tailoring house that Nicoletta runs, Ferdinando Caraceni, was founded by her father. (No relation to A Caraceni – full history/explanation here.)
Ferdinando was a very elegant man, and when he died, Nicoletta inherited a sizeable wardrobe. He was bigger than Nicoletta, but not much taller, and so the jackets didn't fit too badly – the sleeves might need to be shortened, the body slimmed, but otherwise it was OK.
That doesn't mean that she could get a real bespoke fit, of course. Just that it could be something wearable, and still of the greatest quality. Plus deep emotional value.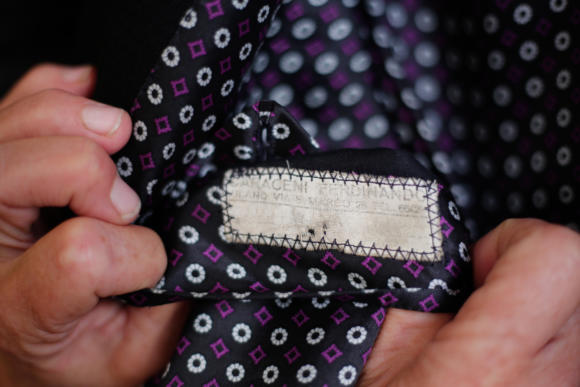 The jacket Nicoletta is wearing here is about 50 years old.
She guesses it was made in 1971. There is a picture of her father wearing it in 1973, and it wasn't new then.
The date on the label, in the inbreast pocket, has long been worn away.
(Side note: I find it funny how much I like these labels in my bespoke. I never thought I'd care that much, but I often find myself checking when a particular suit dates from. There is something special about having the moment captured, and stated. I almost want to add similar labels on my favourite ready-to-wear.)
Nicoletta's jacket, in a densely woven black wool, is part of a suit.
The trousers don't fit by some way, but they have a second use: Nicoletta has kept them for spare cloth, in order to patch and repair the jacket. She used it to patch the elbows, as you can see in the image above.
The edges of the jacket, where they would have rubbed on other surfaces, had become worn and frayed – mostly the front edge around the waist button and below, and the ends of the cuffs.
Here Nicoletta put black binding on, instead of cloth, as it was stronger and rather suited the jacket, given it was already redolent of black tie.
The lining has also been replaced more than once.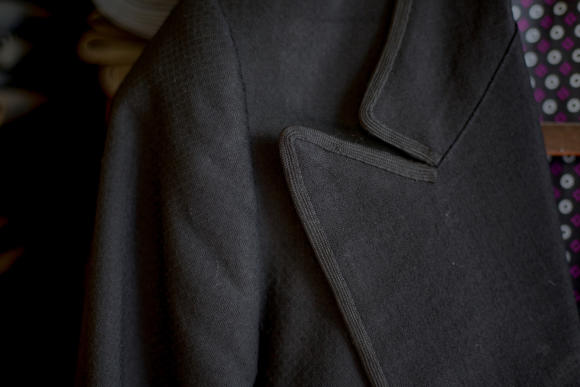 The hand-sewn buttonholes have lasted well, but the waist buttonhole was repaired at one point. Repairing usually makes most sense, as replacing buttonholes can be quite messy.
There was one buttonhole that was too worn away, on the bottom of the right sleeve, and here Nicoletta covered by doing the repair with a bright Italian tricolore. I don't have an image of that, but it is on several of her jackets, including the pinstripe she is wearing here.
Few things are less my style than multicoloured buttonholes. Indeed, much of what Nicoletta wears is not my style – she often pairs jackets like this with jeans and cowboy boots.
But I really admire her approach to clothing. We have a similar passion for good clothes and fine craft, and ultimately this mixing of styles is very her: it has absolute integrity (in both senses).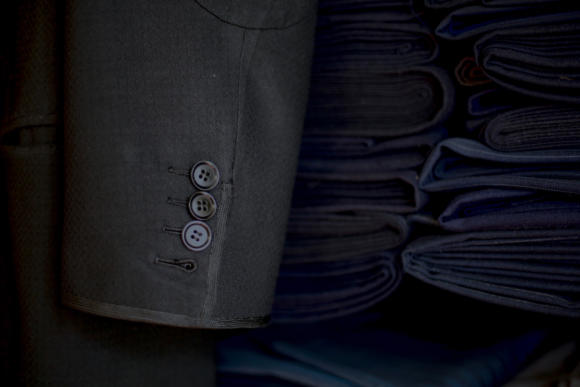 A poorer quality jacket would not have lasted this well.
Anything that used fusing, to start with, would have seen the glue dry and peel away over time, distorting the front. Fusing has improved a lot in recent years, but this would still be its downfall in the end.
Caraceni tailoring, like much in northern Italy, has a strong shoulder but rather light structure in the body. Nicoletta often says that these lighter layers lose nothing in strength or durability, and her father's jacket is pretty good evidence.
Any handmade tailoring is also easier to repair, for reasons we've gone into before (see video here on repairs, and here on alteration). There's more cloth in the seams, and those seams are easier to open and work.
Of course, with a lot of bespoke there's also a good chance that the cutter and coatmaker you go to for repair, are the same people that made that tailoring in the first place. This isn't the case with Nicoletta's jacket – the staff aren't quite that old – but they are all familiar with the techniques, having been handed down in the workshop over the decades.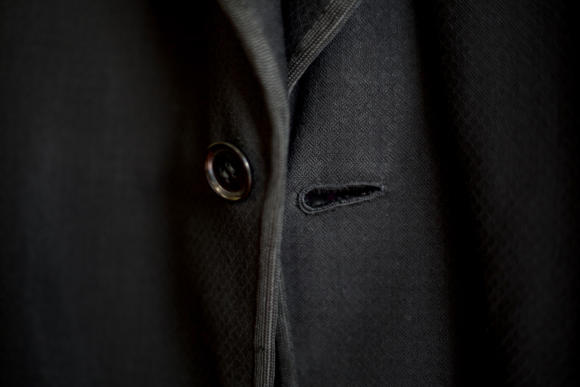 This jacket doesn't look new, and certainly shows its age. The buttonholes look worn, and the hip pockets sag open (a good argument for flapped rather than jetted pockets, perhaps).
But in two distinct ways, this bespoke looks better than even new RTW.
First, the jacket still has the 3D shape and structure of bespoke, which gives it both better lines and a more personal shape.
And second, it has the beauty of age: it is unique, it has character; it has little details everywhere that hint at its journey over the past half century.
The first of those is the lasting appeal of bespoke make. The second is the appeal of all vintage clothing – except that, of course, it's your own vintage.
The tailoring I have from Nicoletta – such as the cotton jacket below – is a long way from being this kind of vintage. But it's lovely to think what it might look like after 50 years. At which point, perhaps, it will be worn by one of my daughters. They're certainly getting tall enough.