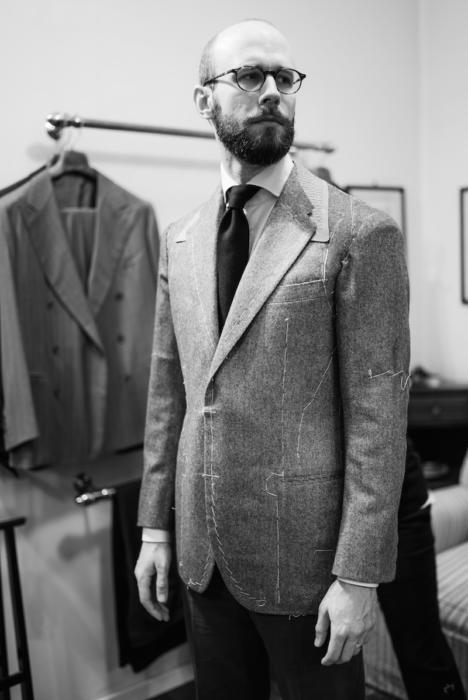 At the Milan event last month I had my final fitting on the cashmere herringbone jacket being made by Ferdinando Caraceni.
The more I get to know Nicoletta – Ferdinando's daughter, although not a cutter unlike her father – the more impressed I am by her. Her passion for the work, particularly in her father's memory, is infectious, and it reignites in me an interest in the details of finishing and stitching.
She demonstrates the finer points of a cotton double-breasted jacket, the delicate finishing of the internal seams. She scrunches up her own, 50-year-old jacket, and expands it again, to demonstrate the lightness and springy nature of the wool and canvas combined. It is, as I say, infectious.


The Caraceni atelier is also worth visiting for its collection of cloth, which stretches around two walls of the big central room. Ferdinando had a particular fondness for heavy Irish linens and heavier Huddersfield worsteds, and there are some wonderful examples in there from both mills and merchants now gone.
Interestingly, given our recent discussion of China and its increasingly inquisitive rich, Nicoletta said that she had a visit from a group of Chinese recently who were fascinated by the bespoke process and the various types of cloth.
Unfortunately, they understood the process but not the length of time required to make a suit. So having discovered that there would have to be repeat visits, they left without commissioning anything. A little knowledge, but not quite enough.

The fitting itself was great – just a few tweaks here and there. I particularly like the impression of structure the jacket gives, without much actual weight to the canvas or padding. The look is less similar to Neapolitan jackets than I expected – this will not be casual enough to wear with denim – but it is just as light and yet smart and sharp.
The cut of the jacket is an object lesson in how to achieve a flattering line through the waist, yet allow plenty of room for comfort. The key is to shape the front but leave a little room in the back. The side profile isn't be quite as sleek through the small of one's back, but it is the front that most of us care about most, and in my case I need that extra room to prevent the jacket kicking out over the seat anyway.