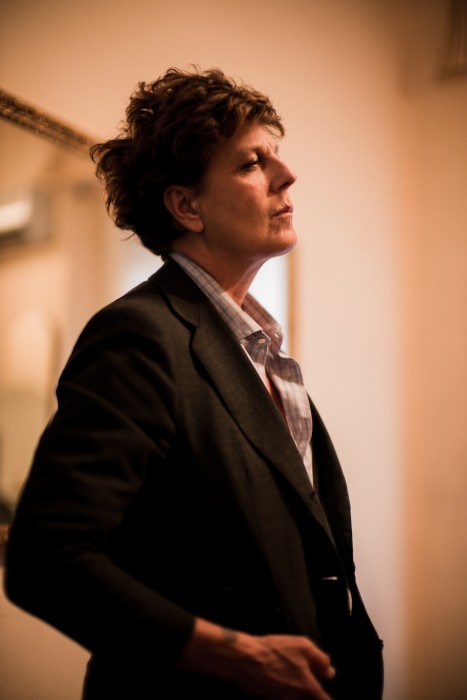 When I was in Milan two weeks ago I had a first and second fitting with Ferdinando Caraceni in a day. This isn't something that all tailors are happy doing, but for some such as Caraceni – which has a lot of foreign clients hoping to have suits made in as few visits as possible – it is quite practical.
Indeed, it's interesting the different ways tailors try to minimise a customer's visits. Cifonelli regularly makes a fitting in waste material on the same day as taking measurements. Reillo in Madrid did this with me also. Camps de Luca uses a fitting jacket stitched with a matrix of lines, in order to try and get the balance of a jacket right straight away.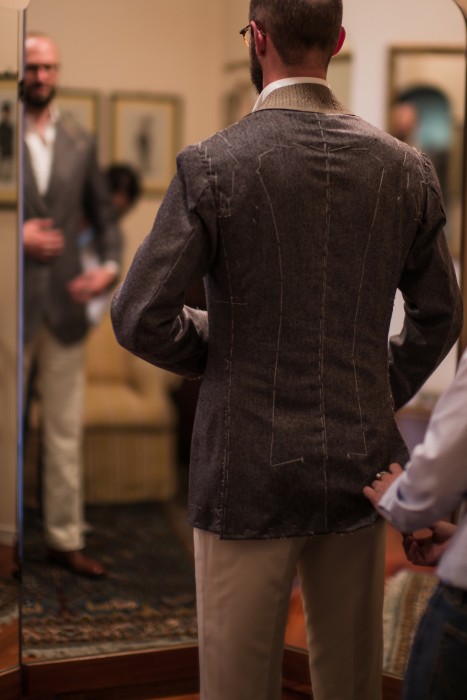 All of these tailors are trying to achieve the same thing: get the fundamental balance right (front to back, side to side) so it doesn't have to be adjusted at the basted fitting.
Caraceni, on the other hand, prefers to have two stabs at the basted fitting. With fittings at 10am and 4pm, the jacket cannot be advanced from a basted to a forward stage. But corrections made in the morning can be confirmed and refined in the afternoon, so that when the forward comes it will be pretty-much perfect.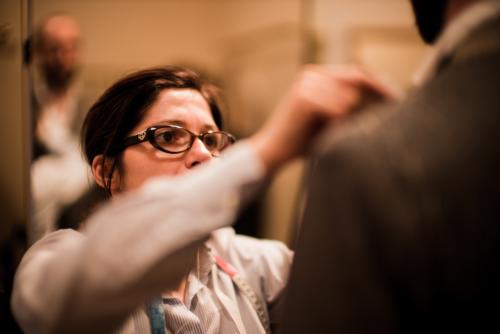 I will still require one more visit to Caraceni at some point, but the total number of visits should be reduced by one. Reillo, actually, also did two basted fittings on my second visit to Madrid, while Langa a few blocks further North did a basic fitting in the linen I had chosen, as they had it on site.
The Caraceni fitting itself was good, with intense discussion between Nicoletta (pictured top) and her cutter about the minutiae of shoulder size, as well as a familiar debate (for me) about how to cope with my hollow lower back.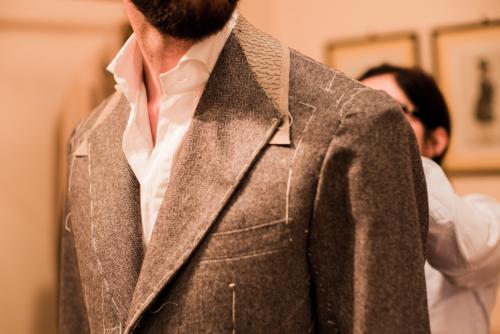 Perhaps most importantly, I was very happy with the cloth I had chosen – a Cerruti herringbone in salt-and-pepper cashmere (carried by Dugdale). It's the kind of jacket I should have had made years ago: versatile, mid-weight, equally at happy with jeans or flannels, quietly sophisticated in its cut and cloth; the kind of jacket that will simply look good to most people, and a beautiful slice of bespoke to those that know.
A good argument for point 1 in the Five Tips on Bespoke Suits.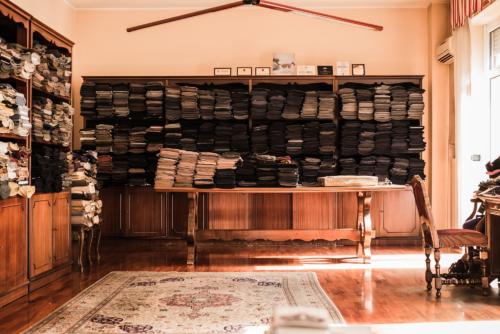 Photos: Luke Carby