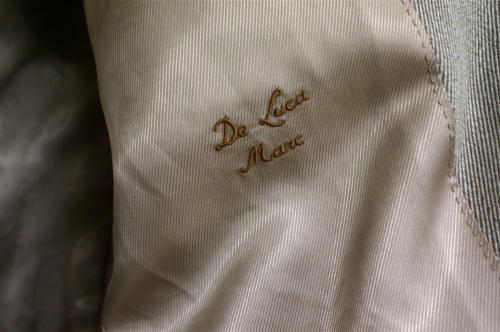 I've known the De Luca family for a while now – particularly since Julien rejoined the business a few years ago. Julien was English-educated and worked in the City before going back to join Camps de Luca, and somehow the English connection makes a difference. Europeans don't really do banter, for one thing.
Earlier in the year I took the big step of commissioning a suit from them – a two-piece in grey, 13-ounce pick-and-pick. One of the interesting things about that process was the fitting models that Marc (the father) and now Julien use to take measurements. You can see me wearing one in the photo below.

The attitude of tailors to using try-on garments at the measuring stage varies hugely, and I've never found any correlation with the final fit. Huntsman used one of their ready-to-wear suits to try on, for example; F Caraceni were keen to see an existing bespoke piece; Lorenzo Cifonelli ignores any existing garment. It's a question of what works for the tailor concerned. People learn a system and work within it.
Camps de Luca has blue-coloured jacket bodies in the standard chest sizes. Each has horizontal and vertical lines of white stitching at the crucial points. Most of all, according to Marc, the role of the blue try-on is to easily gauge the balance of the body. On an idealised body those lines would be parallel, and they're not.
"We find it enables us to skip one fitting, when needed," says Julien. "The important points of balance and body stance can be nailed early on."

For those that don't know Camps de Luca, they are the smallest of the three big tailoring houses in Paris, along with Cifonelli and Smalto. There are others – including Arnys, now owned by Berluti – but they are small, one-cutter operations. Camps shares the stunning finishing of its fellow French houses, with a few trademarks of its own, such as the teardrop-shaped pocket that's being made above.
Julien (front, with sadly departed moustache) and Marc (rear) at work

Many of Camps' customers are from Africa and the Middle East, as well as southern Europe, and as a result they work consistently in lightweight cloths. Marc couldn't remember the last time he had cut anything as heavy as a 13-ounce.
I'll post something on the first fitting in a few weeks. It will be interesting to see how the square-shouldered Camps style sits on my frame. In the meantime, below is a typically daring jacket-and-waistcoat combination commissioned by Mr Wei Koh. Julien was not looking forward to the pattern matching on that one.
Camps de Luca: 11, Place de la Madeleine, Paris
Suits start from €6500