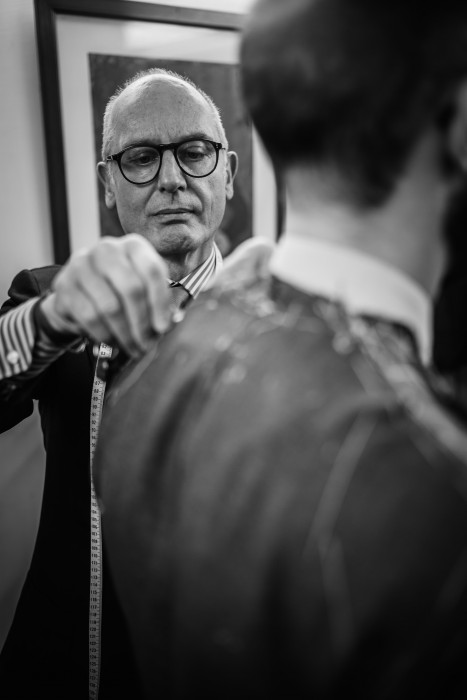 I'm getting pretty excited about this Camps de Luca suit now. Not only will it be one of the most beautifully made suits I own – coming from a Parisian tailor – but also one of the most versatile.
In both those ways it is similar to the navy Cifonelli three-piece I had made last year. That too was a piece of extraordinary craftsmanship (top stitching on an almost absurd number of seams, particularly around the waistcoat). But in retrospect the cloth was too light. At 9oz it is too light for a British autumn/winter, and something heavier would be fine most of the spring/summer.
A reader recently asked about buying his first bespoke or MTM suit, and particularly ways to make it last longer. He had the right idea in getting two pairs of trousers, but I also recommended choosing a cloth that was at least 13oz. This should be the standard weight for most everyday suits – rather than the 9 or 11oz most commonly sold. The weight will be barely noticeable, but it will hang and last much better.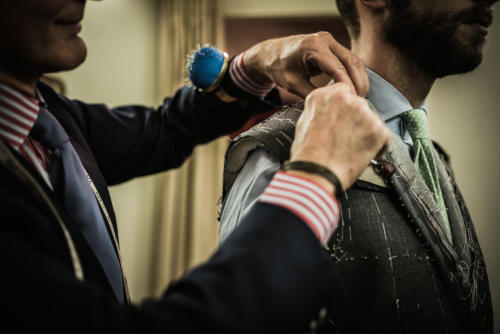 The cloth used here is a 13oz grey pick-and-pick. A mid-grey like this is tremendously versatile: it is equally at home with white, blue and pink shirts, with plains and stripes, both casual and formal. The pick-and-pick weave gives some surface interest to the material without being as strong as a stripe or check, and therefore limiting the other patterns that can be worn with it.
The lime-green tie and blue shirt combination was picked to go with a navy suit, but actually works well with the mid-grey as well.
In the fitting, it was good to see Marc de Luca fitting the collar of the jacket tight to the back of my neck. The Camps de Luca style is for a slightly square neck, with a slimmer collar and squarer shoulders than most tailors (you can see the amount of shoulder padding in the image above). A thicker, rounded back neck – particularly seen at Anderson & Sheppard – is much easier to wrap around the neck and keep it there, no matter what your physical convulsions. The fitting at the neck on the Camps style is therefore particularly important.
Thanks to Marc de Luca (pictured), for his quiet humour and persistent modesty, and here's looking forward to the final product.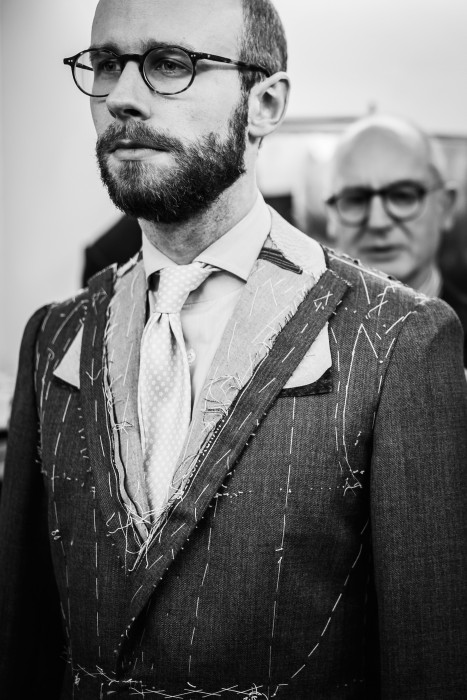 Images: Luke Carby