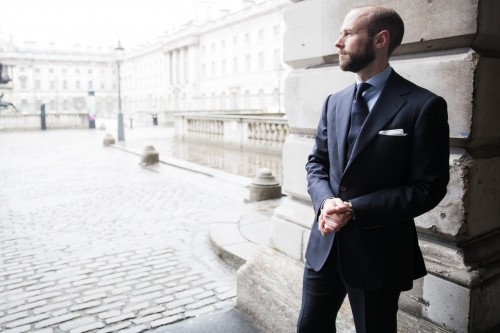 Lorenzo Cifonelli made me this beautiful suit at the beginning of the year, and I've meaning to write about it ever since.
He has cut two jackets for me in the past, a pale-grey cashmere DB and a green tweed SB. I gave details about both of them at the time, and you can see them at those links. However, I thought it was worth going into a little more detail here, particularly given reaction from some of my favourite tailors to this 11oz three-piece.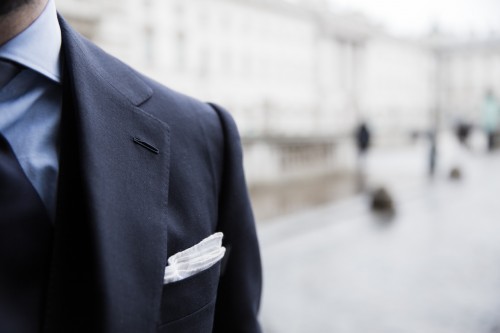 In the words of one cutter, Cifonelli uses an extravagant amount of handwork in its suits. I think extravagance is the right word. I offer no justification for it from a practical point of view – it is pure aesthetics.
The waistcoat, for example, is handsewn and then top stitched around the collar and the armhole; even the bottom of the lining, where it joins the cloth, is handsewn, which is completely unnecessary. Indeed, it is harder to achieve the straight line required when sewing by hand – Cifonelli's is, of course, straight, but it will have taken an hour or more to do that one seam. I will post more close-up photos of these aspects next week.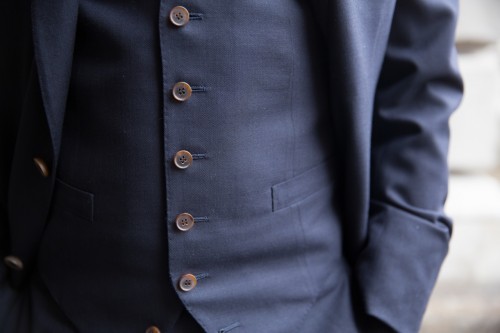 It is easy to focus too much on the construction, however, for the fit and styling are also superb. No flat-fronted pair of trousers I have fits so cleanly down the fronts. The waistcoat uses two darts in the front – one only under the pocket – to shape it into the front of those trousers. As a result it sits clean and flat against the trousers where others often stand away.
Among style points, the roping of the shoulder and broader lapel give a great plunging-V to the jacket, without resorting to the drape or heavier canvas of English tailors. The buttons are a chunky brown horn – probably the only showy thing about the suit – that I love. I always find it funny when English tailors tell you the horn buttons they have are the only ones on the market. They haven't spent any time looking.
At over €5000, this is an extravagant suit in many ways. But it is also one of the most beautiful things I have ever worn and many other tailors could learn from the style points as well as the construction.
More photos next week.
Photos: Luke Carby