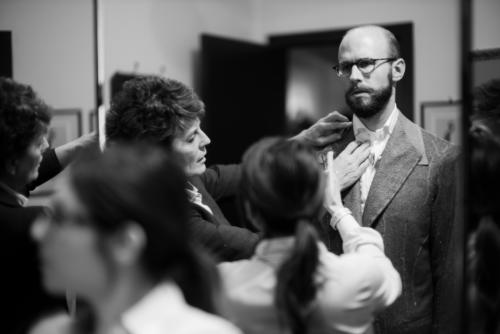 The process of commissioning a bespoke suit is a nerve-wracking and, of course, expensive one. Permanent Style has provided extensive advice on this process over the years, particularly in posts covering suits from more than 20 tailors.
But a reader comment last week suggested that it might be good to condense a few of those into one of our top fives. And of course they are relevant to buying a made-to-measure or even ready-to-wear suit as well.
1 Be conservative
It is so tempting to commission something outrageous for a first bespoke suit. You have so much more choice, after all. A big check you haven't seen in the shops; a bright lining; an unusual button style.
But the biggest advantage of bespoke is always fit. And assuming this is a big investment, I'd recommend starting with something conservative. It doesn't have to be a navy single-breasted two-piece – try experimenting with just one thing, like flannel rather than worsted. But make sure it's something you are going to wear. (A three-piece shooting suit was, retrospect, not the most practical choice.)
2 Browse designs, like you would in a shop
The biggest reason it's so hard to buy bespoke is that you can't see the finished suit until it's, well, finished. It is perhaps the biggest contrast with shopping for ready-to-wear, and the most frustrating.
Try to mitigate this as much as you can, by asking to see examples of the work and assessing them as you would in a shop – not by whether they fit, but whether you like the style. Most tailors will have a few things hanging around. Some will have more variety of designs and ideas you can consider. (My Cifonelli tweed was inspired by Lorenzo's own jacket, minus about five design details.)
3 Consider all your choices in advance
Commissioning bespoke involves a huge number of choices you've probably never considered – vents, notches, pockets – but most of these are fairly simple when explained. There is guidance around this site, and you can also wear a suit to the appointment that you like, to use it as a reference.
Those questions at the first appointment are actually fairly easy though. The harder thing is knowing what you 'like' in terms of button height, fit in the waist, or trouser width, which come up during the fittings. Point 2, above, can be helpful here, but wearing that suit you like will be more helpful. What is the leg width on that? Do you like that? Remember, some things can be changed easily at each fitting, and others can't. And there's nothing wrong with going away and checking other suits you have, before going back to confirm. (I did that with my Richard Anderson tux, and it was a good move.)
4 Reconsider an unlined jacket
I like unlined jackets, but purely from an aesthetic point of view – as in, it's nice to see the inside of the cloth and all the edges nicely finished. But except for very lightweight clothing, it doesn't make much difference to breathability.
And there are disadvantages: the friction of the cloth is more likely to make it stick on places and ruin the line. Unlined sleeves are a particular pain. So unless it's intended for the height of summer, go with a standard lining. (I've relined my Rubinacci's sleeves since I had it made.)
5 Ignore the cloth brands
As explained in posts on the various English and Italian mills, the label on the bunch of cloth doesn't mean much. It could be an actual mill, a merchant, one of a merchant's many brands, a re-seller or a combination.
Consider the weight of the cloth, the material and the colour. If you're very into cloth, you might be able to tell a difference in finish, but it's unlikely. Don't go for a very fine cloth, unless it will hardly be worn (Super 100s number). And don't buy the brand. Just buy something you like. (My Solito blazer is in Zegna cashmere but only because no one else did that weight.)
[Image: fitting at F Caraceni last week. Photo by Luke Carby]