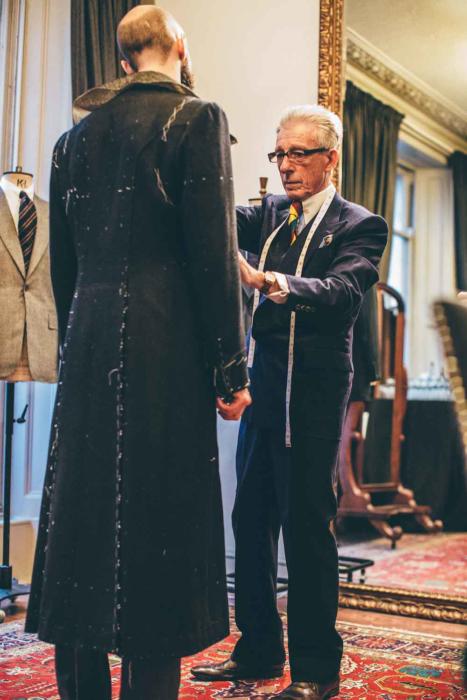 Last summer, Edward Sexton and I were sitting in the gardens of the Four Seasons hotel, Florence. It was a beautiful evening. Warm, with a light breeze, scattered groups sitting at the tables and wandering across the lawn.
The conversation turned from pleasant to animated when we started talking about overcoats. About how they are, in some ways, the ultimate expression of tailoring. The sweep of collar, lapels and skirt given maximum expression. The bad-ass swish and drama.


We concocted a plan for a dramatic Sexton overcoat. Roped shoulders; stiff collar; turn-back cuffs; and several inches more length than is really healthy.
In many ways, it will be the antithesis of the Stile Latino coat I featured a couple of weeks ago. That had no structure at all; this has everything. That could pretty much be made RTW; this never could. That was versatile, modern and relaxed. This is narrow, traditional and uptight.
It will be be an exquisite piece of bespoke tailoring. But it's the kind of thing you have made when you already have at least three good overcoats. When you want to push the boundaries.


Normally Edward would cut an overcoat to around 48 inches for someone of my height. This would be 54. It would be possible to reduce this later: a double-breasted finishes in a straight line so can be cut down relatively easily in length; a single-breasted is curved and therefore harder.
It would be double-breasted, with a flat great-coat lapel so it could be turned up easily. Deep turn-back cuffs to reflect the width of that collar. And in a charcoal wool with a nice hard finish, to keep it sharp. (Harrison's overcoating bunch 83924 – 21oz, 85% golden bale 15% cashmere).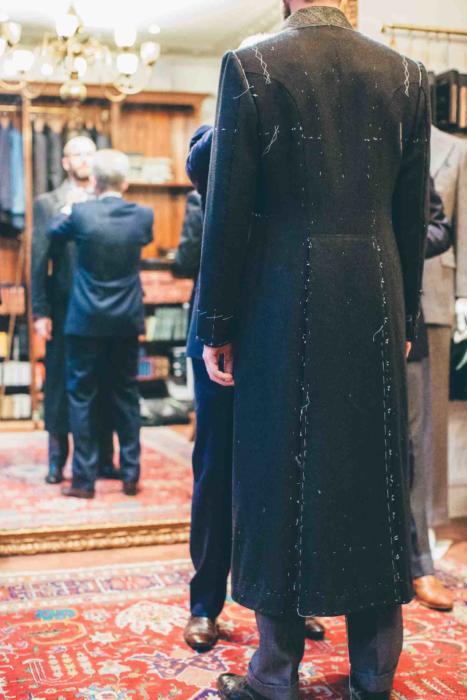 On the back, I was interested in playing with the traditional curved panels used on a tail coat and on traditional overcoats like the paletot (in the original, narrow use of the term). This would both be quite original, and dressier than a standard centre seam.
Normally such a coat would also have a horizontal seam at the waist, before splitting into a centre vent, or horizontal seams on either side of the central panel.
We wanted to do away with those and create a continuous stream of the three sections down the back, accentuating the coat's length and flair. If that shape and length looked too feminine (always a risk with anything switching from tight into loose and long) we could always add in a horizontal seam later.


At this fitting, the back and chest immediately looked lovely and clean (we had a good pattern from my DB suit). The only issues were around button placement, and the height and functionality of the collar.
The collar is absolutely key to how an overcoat looks and works. It is the first thing you see when the wearer walks into the room, and if it is popped up, frames the face and becomes even more important.
Unfortunately the collar is often the last thing a tailor works on, wanting the get the fit on the body right first, before the tension of the collar pulls it all together. Only a rough canvas collar here, therefore, but it will be something we work on at the end.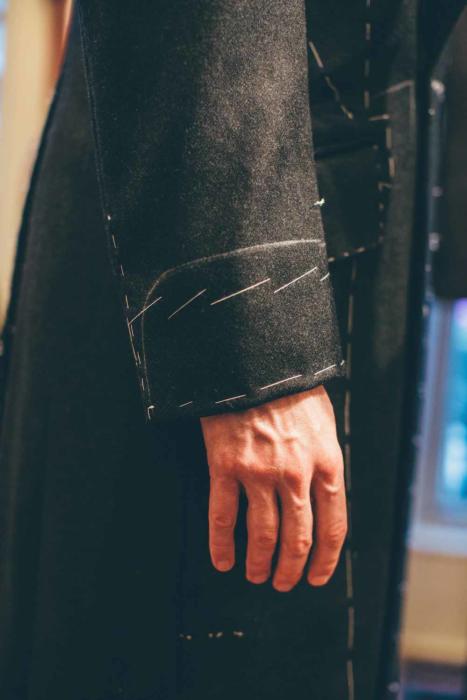 Photos: Jamie Ferguson @jkf_man