Sartoria Pasinato cavalry-twill suit: Review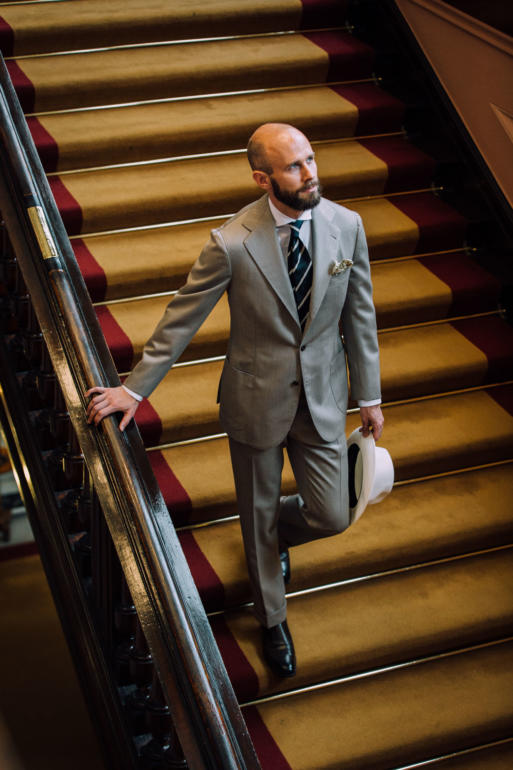 This suit from Vicenza-based Sartoria Pasinato has turned out very smartly, with a clean fit and very sharp line.
Part of this is a result of the cloth, which is a cavalry twill from Vitale Barberis Canonico (584, 440g).
Twills like this (covert is very similar) are woven so densely that they drape better than anything else. And yet their colours, and that pronounced twill, also give them a slightly casual touch.
It's interesting to compare this to the Sartoria Vergallo suit I had made two years ago, which was darker but perhaps - given its green cast and muted colour - equally smart. That too was from VBC.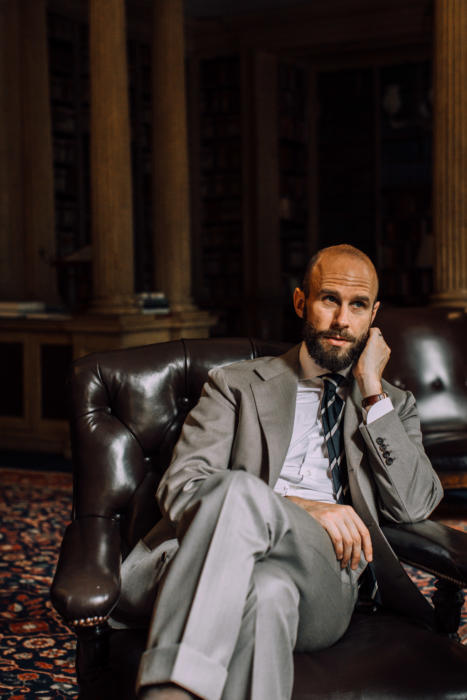 However, the lion's share of the credit must of course go to Massimo Pasinato.
I covered Massimo's background and his slightly unusual use of technology in my initial post here, when I visited him in Vicenza. And the first fitting was covered in a more personal, narrative style.
Since then we've had one more fitting - in London - after which I was sent the suit. The fit is very good, but particularly with two fittings on a first-time customer.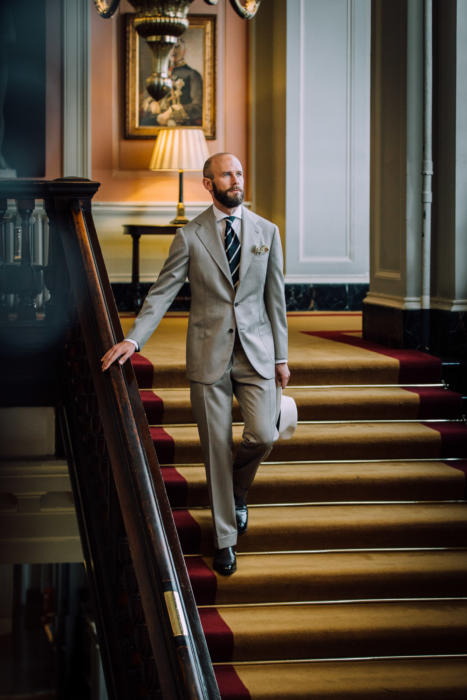 In that piece on the first fitting, I commented that the jacket looked rather short and boxy, and we lengthened it - so it was just hitting the second joint of my thumb.
The effect was significant, with the jacket now looking much leaner and in proportion. If I could I might lengthen it a touch more, but not much - perhaps 1cm.
I also asked for a more fitted waist, and that too has made a difference, though here too it could be taken a little further. Fortunately that's something that it is easy to change - unlike length.
I think Massimo has a tendency to shorter jackets because of a need to cater to younger clients, and a broader range more generally, in a small town like Vicenza. Input and suggestions from those prefer a more classic look is therefore very helpful.
Hopefully as he begins to travel more this will only increase.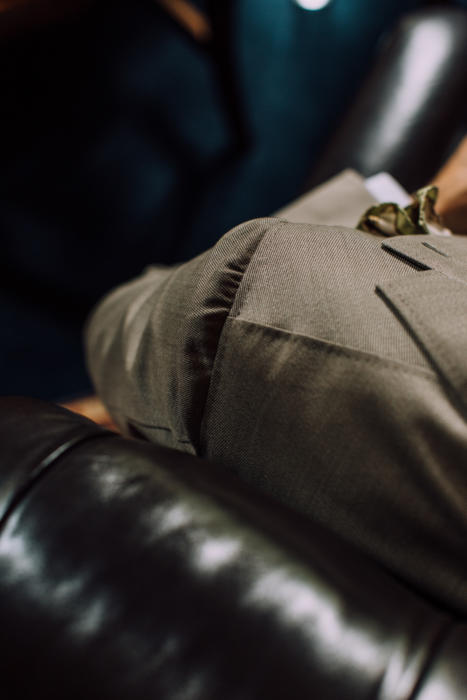 Massimo likes his finishing, and the suit has pick stitching half a centimetre from almost every seam and edge. (The distance is important - the closer to the edge, the less obvious it is.)
This amount of decorative handwork will be too much for some people, and on a second suit I might have it in fewer places.
But having said that, it is much more most noticeable on a light fabric. On anything dark or indeed with more texture (like flannel or cashmere) it would be barely visible.
The focus on finishing extends to fine buttonholes and a Milanese buttonhole on the lapel. The lining inside is also top-stitched nicely (see close-ups at the bottom of the post).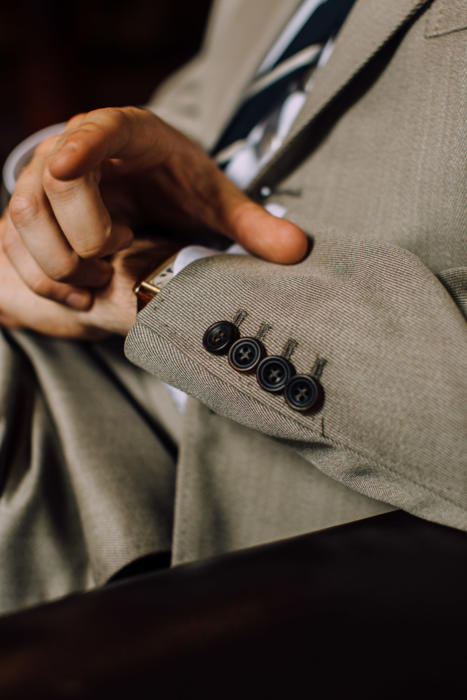 I think the selection of dark-brown horn buttons works well, given I think I will wear this largely with mid- or dark-brown leather shoes.
It doesn't necessarily come across well in the photos, but something about the muted colour of the cloth makes it feel better suited to these (for me) than tan shoes.
Having said that, a dark-brown button with some lighter bits might have been more versatile, and still smart enough for dark shoes as well.
The ones here, by the way, are my bronze-coloured Top Drawer monks from Edward Green - the Oundle model on the old 888 last.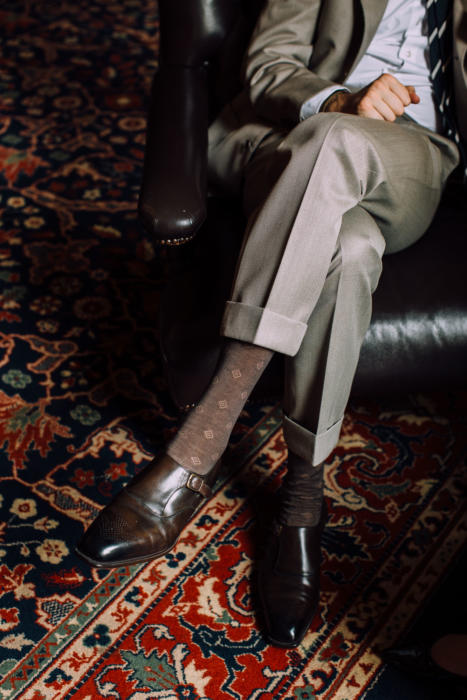 Elsewhere I'm wearing a white poplin shirt from Luca Avitabile, with a navy club-stripe tie from Drake's.
Again the colour of the suit - pale but formal - makes it most suited to white shirts.
The tie, though, could be more colourful and summery, and that would make lighter-coloured shoes more suitable too.
The handkerchief, which is mostly cream, lime-green and black, is from Rubinacci.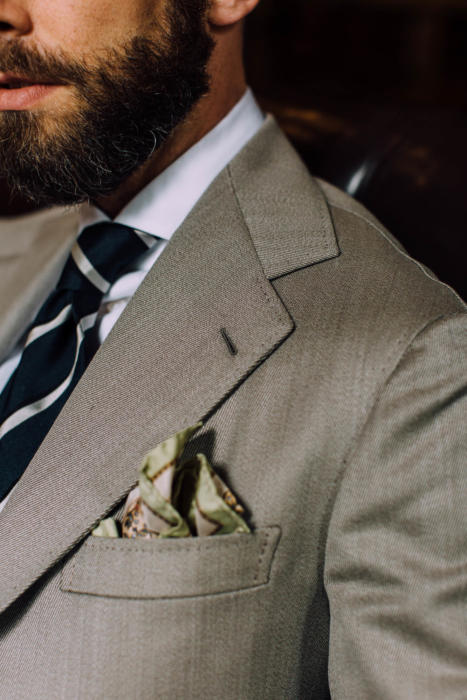 The socks are light brown with a large geometric pattern (from Bresciani) and the cream panama hat is from Anderson & Sheppard.
I generally prefer browner panama hats, or at the least with brown bands, but this starker colour combination suits the formality of the outfit.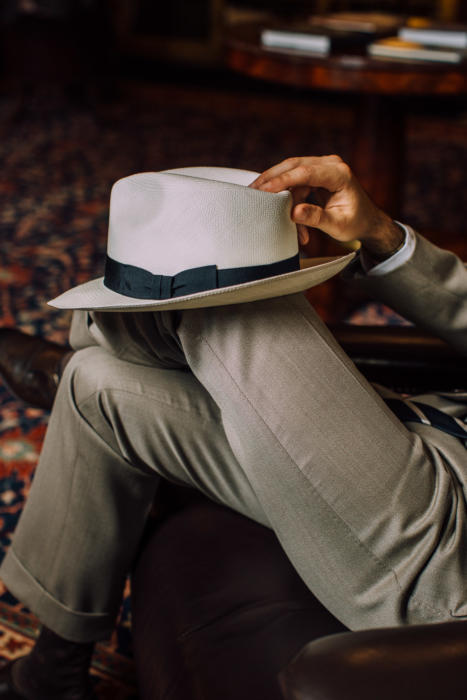 The photos, other than the close-ups below, were taken as part of a profile on me and three suits (Panico, Ciardi and Pasinato) in an upcoming edition of Japanese magazine Men's Precious.
Thank you Yoshimi for the piece, and Kaomiyama-san for their use.
Pasinato bespoke suits start from from €2200 (€1800 without cloth), with made to measure from €900. If Massimo starts travelling to London, however, that might be slightly higher to account for the larger costs.
More details on Massimo's work and his different bespoke and made-to-measure offerings can be found here.
Photography: Above, Jamie Ferguson; below, Permanent Style.