Prologue semi-bespoke summer jacket: Review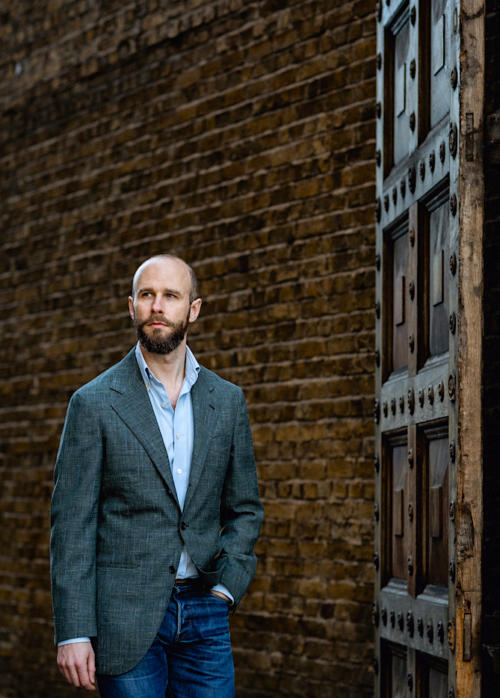 This is the summer jacket that Hong Kong outfit Prologue have been making for me over the past six months.
It is finally ready, with two fittings, and I think the result is great. It's not perfect, but the fit is good and the work solid too.
If this were a £3000 bespoke jacket from a top-end tailor, I'd be more hesitant in recommending it. But given Prologue's price point (suits start at £950) and stated approach of catering to those on a lower budget, or just starting on their bespoke journey, I have no such hesitation.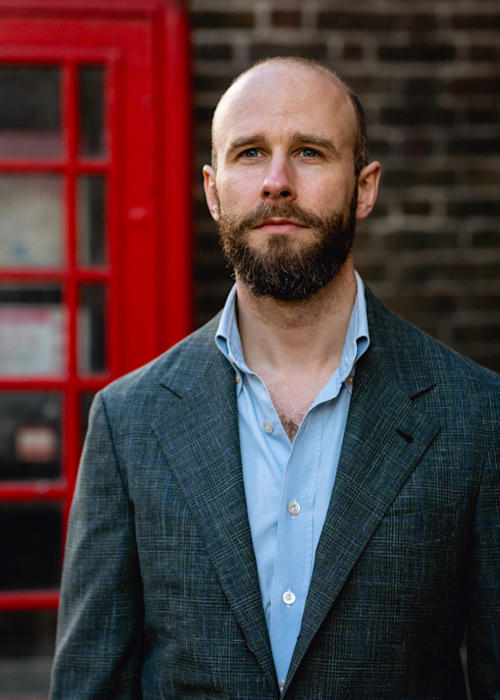 I've written previously here on who Prologue are, how they started and what their product is. If you haven't read that post, please do so for a full rundown.
In brief, Prologue was founded by two guys, Jerry and Chris, who wanted to work with a tailor in Hong Kong to produce suits in the style they liked - but at a lower price than the visiting Europeans they'd bought from on trunk shows.
This is not an uncommon story, and many people have done things in this area over the past decade.
There are just so many tailors in Hong Kong - all saying they can make anything - that it is inevitable a fan of tailoring will end up trying to shape a tailor's product into something similar to Naples or Savile Row.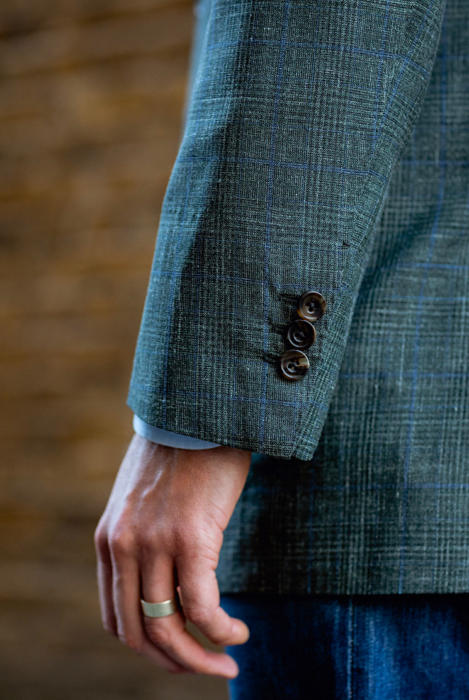 Jerry and Chris, however, have done this well for a while now, found a style and a production system that works for them, and are putting out a consistent product.
They call that product 'semi-bespoke' because they work from existing blocks rather than drafting from scratch. Although frankly, if you're not a trained tailor and are communicating fit to a remote workshop (theirs is now in mainland China) then working from a block is probably safer.
And, they don't use all of the hand-work you'd normally get on a bespoke suit - although that has evolved and improved. So for example, their lapels and collars were always hand padded, but not the chests on some jackets. Now the chests are hand-padded too.
Mine is one of the jacket styles that wasn't hand-padded before, but if I ordered it now, it would be.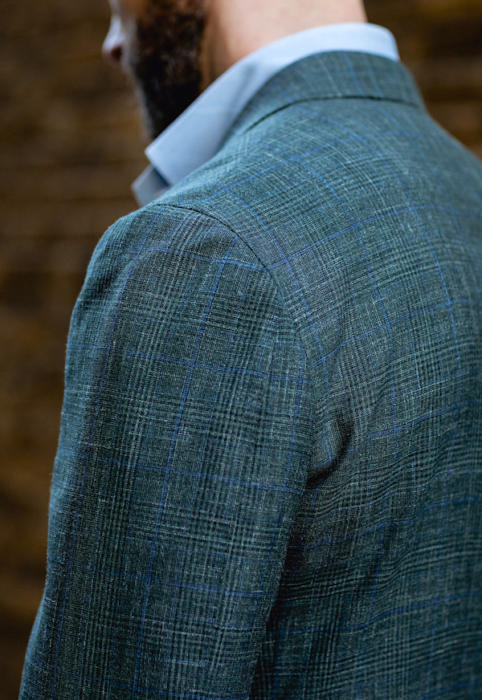 My jacket was made in my favourite cloth for a summer jacket: a wool/silk/linen mix. Here, 380123 from Caccioppoli (250g).
It is a three-roll-two front, with flapped hip pockets (tucked in here) and a welt chest pocket.
The Prologue style, like many these days, is most similar to southern Italian, with its lightweight canvas and soft shoulder (here just canvas in the shoulder), straight lapels and open fronts.
But not cut as close as most Neapolitans, or with such a small shoulder. The result is a flattering cut that, for me, is still casual enough to wear with the most casual trousers, like jeans and chinos.
However, I should say that I'm not sure the cloth necessarily works with jeans, despite being pictured here that way. It would be better in a rougher, more slubbier linen like my vintage one.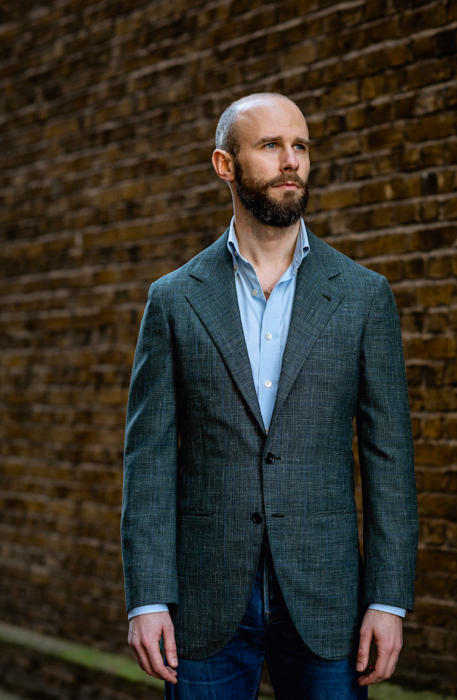 At my first fitting, the biggest issue was the jacket collapsing slightly on the right-hand side. That shoulder is lower than my left, and it's a problem tailors often have.
Deciding how to correct this is something an inexperienced fitter could struggle with. Do you lift up that whole side? Clear the armhole? Just tighten the shoulder?
Jerry and Chris opted for the latter, and I was a little unsure how it would turn out. Fortunately the result was good. Not perfect at the second fitting, but perfect in the final jacket.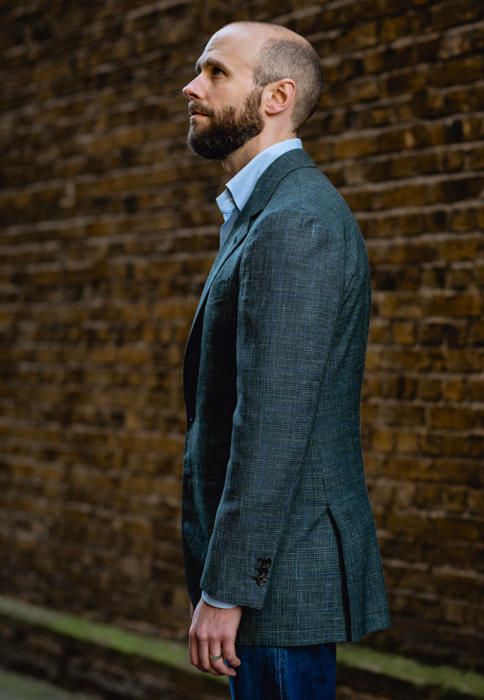 Another issue was the pitch and position of the sleeves. The right in particular was twisting rather and causing creases to run down it as a result.
This was largely corrected over the fittings. I wouldn't say it's 100% now, but no one would notice if they hadn't seen the initial issue.
Finally, I think even in the final jacket the collar could be a touch tighter on the neck, and the back lifted a little on either side.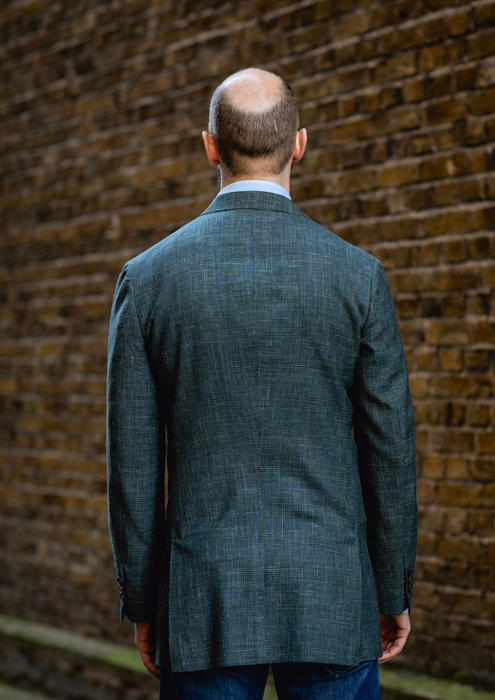 To compare this experience to other bespoke tailors, I'd say it would surprise me to have things like this come up with a large house like Henry Poole, Caraceni or Liverano. They're just too experienced and professional.
But it has come up with smaller tailors, in particular Neapolitans like Solito or Formosa, and so Prologue being at that level is already good.
In terms of make, Prologue is also not at the level of the top tailors, but is still as good as those Neapolitans. (Except of course for the fact that everything inside isn't done by hand, as mentioned earlier.)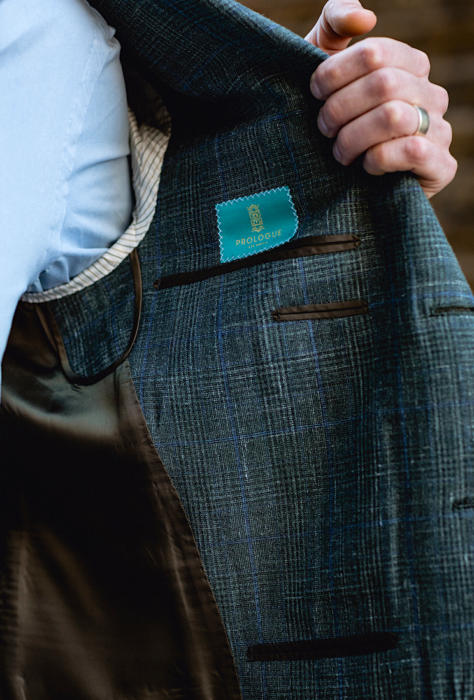 The finishing inside the jacket is good, neatly done, and equally on the buttonholes and edge stitching on the outside.
The only thing I don't like so much is the Milanese buttonhole. The stitching around it isn't that fine, and on a purely personal level, I don't like how large and open it is.
I'm also not a big fan of the red tack stitch that Prologue put on their breast pockets. It feels a little gimmicky and - as with Dalcuore, who put one on the lapel - I opted to have it removed.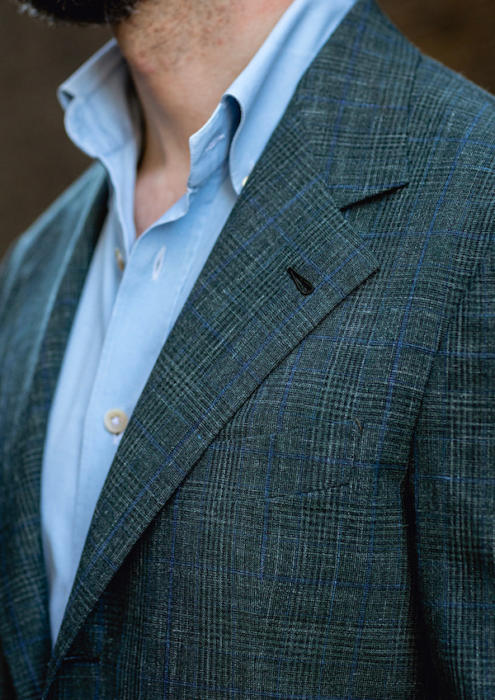 The red stitch is an interesting one, because actually I think another big advantage the Prologue guys have is taste.
Few big tailors are plugged into what young bespoke consumers want in terms of cloth or cut. Less forgivably, few are interested enough in clothes to have much view on how their tailoring is worn.
That isn't a new thing. Historically it was always the front-of-house guys on Savile Row - not the tailors - that were the stylish ones. Craft and style rarely went together.
Having someone like this to work with a tailor is still undervalued today - and you can see how well it works with The Armoury guys and their trunk shows, or someone like Gianluca Migliarotti working with Lino Pommella.
Jerry and Chris wear their clothes well. You can see this in what they buy and feature: there's a Marling & Evans cloth in undyed wool (above, on Jerry) that I really want, based off seeing them wear it.
They're not influencer/model types, but they have understated style. I'd say that's also evident in the Mandarin jackets they're developing - the brown version of which (below) was on display at the pop-up.
Little things on that jacket, like the height and angle of the collar, make a big difference in turning it from something that looks like a very traditional Chinese jacket into something much more modern.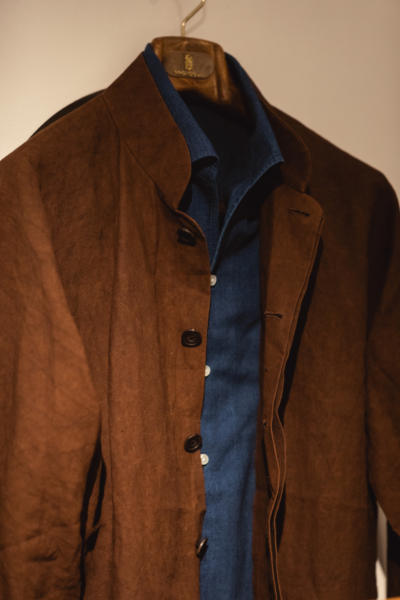 Given my experience, I think Prologue are offering a great option at their price point.
It's not a fit to rival the best tailors in the world, but that shouldn't be surprising given the way they're working from blocks, with a remote workshop.
And the make isn't full bespoke either, but it's pretty close. Indeed, given these differences from bespoke, it's perhaps more similar to the very best of made to measure, such as Saman Amel's Napoli line.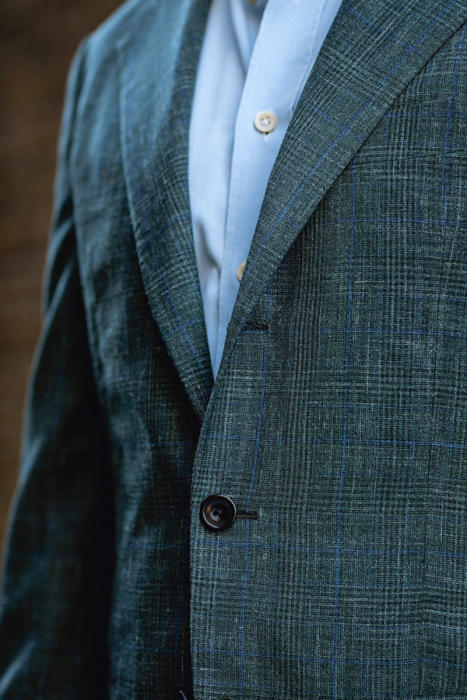 The price is just much more competitive, for being made in China. Suits start at £950 and jackets at £780.
Mine was rather more expensive at £1150, because Caccioppoli is so expensive in Asia, around £135 a metre. But that glen-check Marling & Evans jacket pictured on Jerry would be £940.
Prologue have a nice little store in Hong Kong that's worth a visit if you're there (3 Shin Hing St, Central) and are starting to travel regularly.
Currently they're going to London, Stockholm, Hamburg, Shanghai and Beijing every 3-4 months. They'll be in Shanghai May 17-19 and Europe in June, dates TBC.
[email protected], prologuehk.com
Photography: Milad Abedi