Prologue: China-made sartorial-style tailoring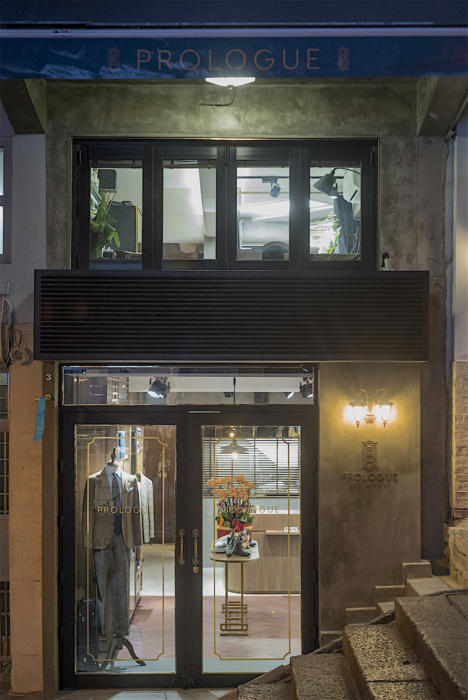 One of the most interesting things about the growth in tailoring in recent years has been the way models have changed, split or evolved.
We have bespoke suits being cut in London but made in India (eg Whitcomb & Shaftesbury); we have tailors setting up foreign branches, often as bases for much broader travel (eg Huntsman); and we have new brands with a real understanding of bespoke nonetheless deciding that made-to-measure is the future (eg Anglo-Italian).
This can be a little confusing for consumers, but it does make for a more energetic, dynamic market.
Another one to add to that mix is students of bespoke working with cheap, local tailors to improve their style.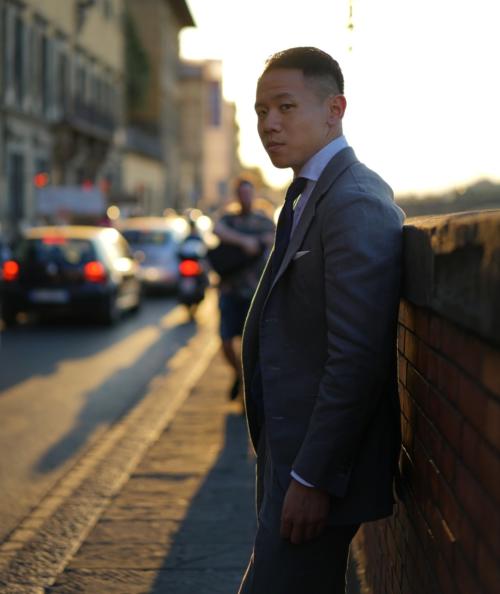 I've commented before that Hong Kong tailors often use a lot of handwork in their suits, yet may fuse a garment for speed, and generally lack an understanding of modern styles (whether sartorial or high street).
Prologue in Hong Kong was started by three guys, Chris Tang (below), Jerry Tong (above) and Maslow So, who loved the styles of many of the tailors we discuss here on Permanent Style, but wanted to find a cheaper alternative.
Chris had been an Armoury customer and tried several tailors including Liverano, Panico and Corcos. He loved the styles, but couldn't afford to have all of his suits made by these names.
And perhaps more interestingly from a business point of view, many of Chris's friends asked him for advice on getting cheaper suits, and he didn't have anything to recommend.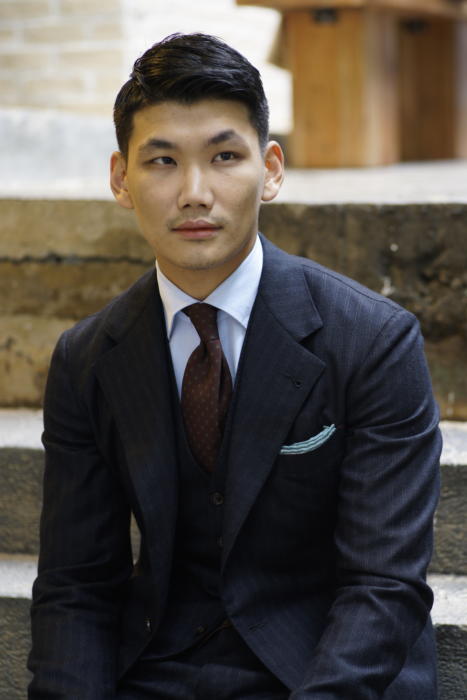 Chris and Jerry started working with Hong Kong tailors to try and get them to make more in a Neapolitan or Florentine style. But it was never worth the tailors' time to re-think everything about how they cut and made, just for these two guys.
After several failures, they found someone in mainland China who was prepared to help them learn to cut their own patterns.
Many hours were spent in the evenings and weekends (they both had full-time jobs) cutting things to fit themselves - with softer shoulders, broader lapels, more open quarters.
Eventually, they got something they were happy with on themselves. They tried it on a few friends, and again the results were pretty good.
Those suits for friends were just adjustments to the original patterns Chris and Jerry created - and this is important. They weren't drafting patterns from scratch, and for this reason they still don't call what they do 'bespoke'.
The tailoring is made by adjusting existing blocks and is largely made by hand - and for this reason they call it semi-bespoke.
On the hand-making point, both lapels and collars are hand-padded, but the chest is only done by hand on certain styles. These are also things the guys are still refining and improving.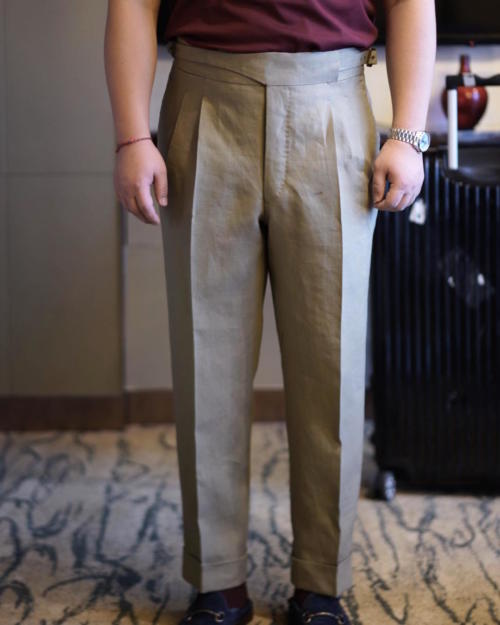 Fast forward a couple of years, and there is now a full shop called 'Prologue' in Hong Kong offering this affordable take on modern tailoring styles.
I visited when I was in Hong Kong a couple of months ago.
Chris still has his day-job, but Jerry works in the store, having left Ascot Chang. (Maslow is no longer involved in the operational side.)
The name Prologue, by the way, comes from the fact the guys recognise their suits could be just the first step on a road towards bigger and pricier things. Which is nice.
Suits start at £850 and take one or two fittings.
The style is a mix between Neapolitan and Florentine, with a broad convex lapel, slightly low gorge and very open fronts.
Most are made with a spalla camicia shoulder, although they are now also offering a standard shoulder for those that want something less unusual or more professional.
There are Milanese buttonholes, but made in a slightly larger, teardrop shape. The shape is not particularly to my taste, and they are a little thick on the inside line, but it's quite distinctive.
Prologue have also just started - importantly for readers of Permanent Style - travelling to London, though not that often. They were here last month, and are currently only scheduled to be back in January 2019.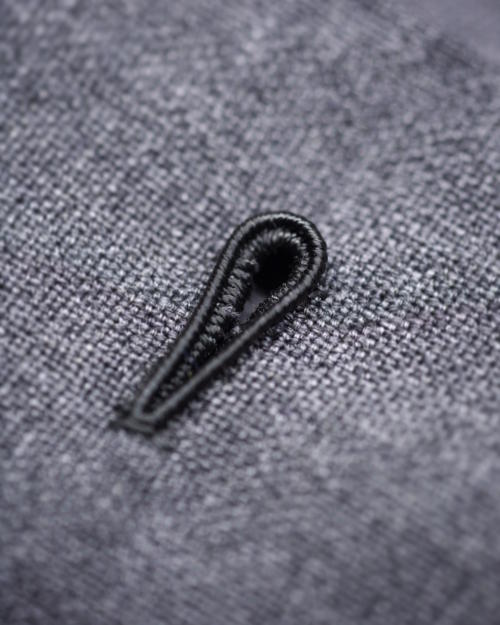 Alongside the tailoring they host some interesting artisans like Japanese shoemakers Bolero and Clematis, and stock shoes from Yanko.
There is also a range of in-house high-waisted denim, and some particularly nice wallets made by Villys in Vietnam. These are long coat wallets, with card slots hidden on the inside so the exterior is nice and clean - and focused just on the leather.
There are shoe care products from Japanese brand Boot Black (which offers a bigger range than Saphir - useful in some ways, confusing in others) and ties from Mementomori.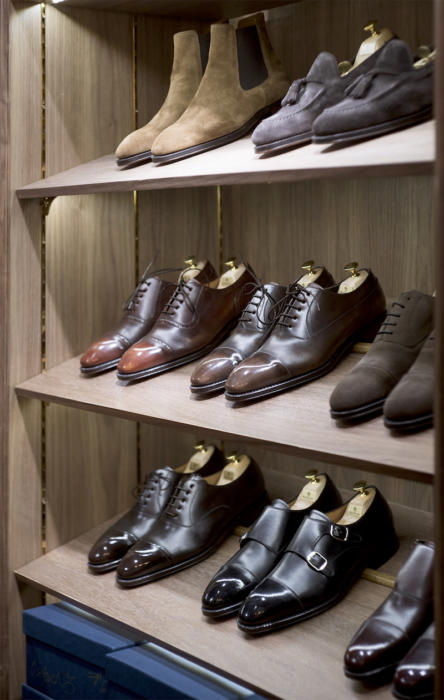 I was measured for a jacket while in Hong Kong and will report back on the quality and fit of the service.
Of the pieces I saw, I was impressed by the level of detail and handwork, although some of the fit garments varied a little in style around the collar and lapel.
The latter is a result of the guys figuring out their house style over time, and will hopefully be something that settles down - along with the making points.
Given how many places there now are to get good tailoring - in all those different evolving models - it's important to be able to offer a clear and consistent service.
More when the jacket is complete.