Hong Kong has long been a centre for international commerce, driven by its location as a port and later by its strategic importance to the British Empire.
When it was handed back to China in 1997, the city retained its vibrancy and international flavour, due to that heritage and to the success of its financial markets.
But the shopping was pretty limited. Chinese from the mainland came for tax-free western goods, leading to a plethora of designer brands and watch shops. There was little with its own identity, particularly in menswear.
I visited Hong Kong regularly between 2005 and 2009, and it was hard to find much of interest, beyond the 48-hour tailors that advertised their services on the streets of Kowloon.
That all changed in 2010, when The Armoury opened. A small store on an upper floor of the Pedder Building, it brought fine European tailoring and craft brands from around the world to the local market for the first time.
The Armoury's curation and styling gave it an influence not just in Hong Kong, but around the world – and today has inspired shops as far abroad as Toronto and Tokyo.
Hong Kong has blossomed since. There are now half a dozen stores catering to enthusiasts of classic menswear, and nearly all within a couple of blocks of each other.
When I was in Hong Kong last week, I was struck once again by the concentration of men with the money and the professional justification for good tailoring.
It has spurred all these stores, and leads to an atmosphere where everyone bumps into their customers in the coffee shop, and trends spread like wildfire.
Local artisans have also responded, albeit slowly. Tailors like WW Chan are adapting to tastes for softer tailoring, and customers of bespoke are working with local tailors to update their output.
It all makes for a heady mix that justifies a trip to Hong Kong, even if most of the brands are actually from Europe, the US or Japan.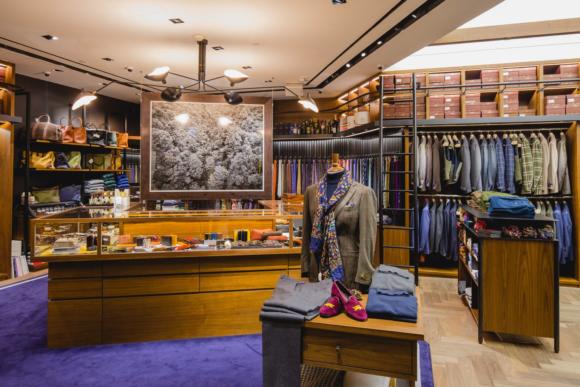 1 The Armoury
307 Pedder Building, 12 Pedder Street, Central
and B47 Landmark Central, 15 Queen's Road Central
The Armoury offers a closely curated range of classic menswear. Although many of the brands have since become well known, they were often launched by Mark, Alan and the team, and the selection remains a very personal one. They range from factories like Frank Clegg in Fall River, Massachusetts to bespoke artisans like Ortus in Tokyo, Japan.
The smaller Armoury store at 12 Pedder Street is the cosiest, and tends to host the trunk shows by visiting bespoke tailors, shoemakers and other artisans. If you're interested in bespoke, it's worth visiting here first, as you'll get an inside line on artisans and the details on other specialty pieces in-store.
If you're new to The Armoury, however, and perhaps many of the brands it carries, then start in the larger store in the lower ground floor of Landmark Central, just across the street.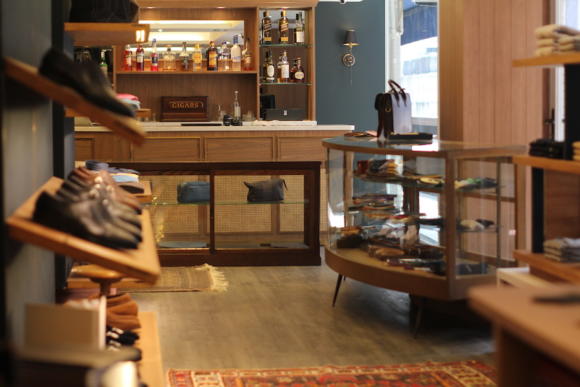 2 Attire House
4/F, Duke Wellington House, 14-24 Wellington St, Central
When Attire House opened in Hong Kong its most obvious point of difference was the lifestyle additions: a cocktail bar (run by Japan's Bar High Five) and a barbershop (from Korean company Herr) alongside its menswear.
They also quickly had some of the biggest names in bespoke menswear doing their trunk shows at the store, including Anderson & Sheppard from London, Cifonelli from Paris, and Solito from Naples.
In 2018 the House moved to a new location a block away, abandoning the bar (always a little separate, on the floor above) but adding a cigar lounge. The feel is now cosier, and there is room for the stock such as shoes from Cleverley and ties from E.Marinella.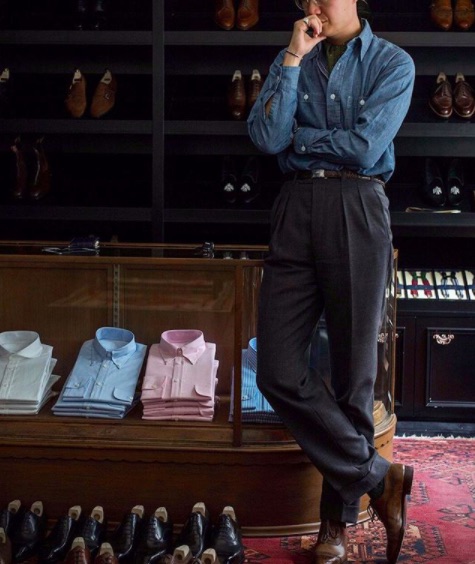 3 Bryceland's Co
7/F, Luk Yu Building, 24-26 Stanley Street, Central
Ethan Newton's take on menswear is an interesting one, combining as it does a dedication to fine tailoring with a deep love of American workwear. The result is suits in heavier, hardier cloths, made by tailors such as Dalcuore in Naples but often to Ethan's designs and specifications; and in parallel, jeans that replicate vintage Levi's alongside denim shirts cut to be worn with those suits.
Ethan remains in charge of the first Bryceland's store in Tokyo, while business partner Kenji Cheung runs Hong Kong. The atmosphere here is slightly different, with a clubby feel that comes from being on an upper floor and offering a lovely bar and private area.
The stock in Hong Kong is similar though, with shoes from Saint Crispin's, silver jewellery from Red Rabbit and ties from Sevenfold. The tailoring is made-to-measure, by Dalcuore in Naples (again to a Bryceland's block) and trousers by WW Chan locally in Hong Kong.
Among the most interesting things are the pieces designed by Ethan and Kenji themselves, such as the high-waisted boxer shorts with adjustment buttons on the back, and the popular Sawtooth denim shirts.
4 WW Chan
Unit B, 8/F, Entertainment Building, 30 Queen's Road Central, Central
Hong Kong is famous for its tailors – but largely the wrong sort. Shops and hawkers will offer a bespoke suit in 48 hours, and at very low prices. But the results are usually poor, with often a lot of handwork but square cuts and poor fit. It's usually best to stick to more established names, and accept the standard bespoke process of multiple fittings over a period of weeks.
One of the best in the city is WW Chan, which has been in Hong Kong since 1952. It descends from the original 'Red Gang' of tailors that began in Shanghai, but has refined and updated its styles over the years, unlike many such traditional houses.
Today it is certainly the progressive among the large tailors in Hong Kong, with softer Italian-style shoulders on offer, sometimes with just double-layered canvas in the shoulder rather than padding. Helpfully for international readers, WW Chan also regularly travels to the US, Australia and Europe.
5 Ascot Chang
Four Hong Kong locations including:
Shop 2031, Podium Level 2 of IFC Mall, 1 Harbour View Street, Central, Hong Kong
and MW6, Peninsula Hotel, Salisbury Road
As with suits, so with shirts. Any cheap tailor in Hong Kong will offer to chuck in a few shirts to sweeten the deal, but there are very few quality bespoke makers around.
Ascot Chang is one of them. The founder also began in Shanghai, before setting up in Hong Kong in 1949. Today there are stores in the US, China and the Philippines, largely run by Chang's apprentices and offering bespoke shirts whose measurements have to be communicated to HQ through a complex note-taking system. There are also trunk shows in Japan, Europe and the Middle East.
In Hong Kong, the oldest store is in the Peninsula Hotel on the Kowloon side of the city, but there is also a branch in the Landmark Prince's Building, close to everyone else. It is a retailer for Isaia and Brioni tailoring as well as its own shirts.
6 Drop 93
B01, 6th Floor, Cheung Lung Industrial Building, 10 Cheung Yee Street, Lai Chi Kok, Kowloon
Drop 93 is a retail concept launched by The Armoury, aiming to find new homes for clothing no longer worn by its customers, or spare pieces made by other brands.
Most activity is online, where there is a big range of tailoring, shoes and accessories – and sometimes in multiple sizes. But there is also a showroom outside the centre of Hong Kong in Lai Chi Kok, where anyone interested in pieces on the site can go to try them on in person.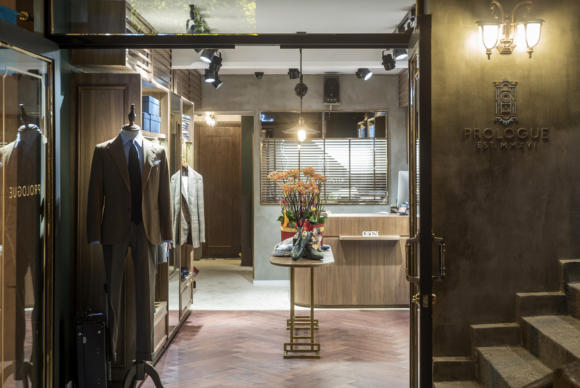 7 Prologue
3 Shin Hing Street, Central
Prologue is the most recent independent, classically minded menswear store to set up in Hong Kong. It has focused on some more unusual visiting artisans, such as Japanese shoemaker Bolero, and on its own line of tailoring.
The tailoring was how two of the founders, Chris and Jerry, got started. Although customers of Orazio Luciano, Liverano and others, they lacked the funds to buy western bespoke regularly, and in particular to recommend to their friends.
After many attempts, they finally found a mainland Chinese tailor that could produce a similar product, and worked to create a style that combined their favourite elements of Florentine, Neapolitan and Japanese work.
Although early days, they are creating a tailoring offering that has much of the appeal of Italian masters visiting Hong Kong, and at a fraction of the price – suits start at £850.
The third founder, Maslow, previously ran his own shoe store and focuses on the shoe selection at the shop, which includes Spanish maker Yanko.
8 Tassels
www.tassels.com.hk
Shop B64-65, The Landmark, Central
and 6th Floor, SOGO Causeway Bay Store, 555 Hennessy Road, Causeway Bay
A classic men's shoe store, Tassels is a good local option for well-known brands. It stocks English brands such as Crockett & Jones, Edward Green and Cheaney, Italians Bontoni and Rivolta, and Alden from the US.
It holds regular trunk shows with made-to-order offerings, and has two branches in Hong Kong, in the Central and Causeway Bay areas, as well as one in Beijing.
9 Take5
1/F 17 Cameron Road, Tsim Sha Tsui
Take 5 is a mecca for denim in Hong Kong, stocking a huge range of Japanese brands. Although not easy to find, and not necessarily sartorial in style, it is worth a trip purely for the wall-of-denim display.
Alongside names such as Iron Heart, Momotaro and The Flat Head, there are several collaborations Take5 has done with different makers, and a range of leather jackets.
10 AntiQlockwise
@AntiQlockwise
3 St. Francis Yard, Wan Chai
The market for vintage menswear in Hong Kong is nowhere near as developed as Tokyo, but is growing. A recent addition is this shop run by Quinton (below) and Jan, the former a watch dealer and the latter an employee at The Armoury. A small but lovely store, it is usually open at the weekends but is officially only available by appointment.
There is a good range of vintage watches, particularly Rolex, of Southwestern jewellery from the US, and a smattering of clothing including shorts and leather jackets.