Our Young Tailors Symposium last week in Florence - in the beautiful Stefano Bemer atelier - threw up some really interesting areas of discussion.
The six tailors all had rather different backgrounds: some trained in completely different fields before switching (Arnold Wong at WW Chan, who was previously an accountant); some came from families of tailors (Gianfrancesco Musella at Musella Dembech, below); and others studied related, artistic fields (Davide Taub at Gieves & Hawkes, who trained as an architect).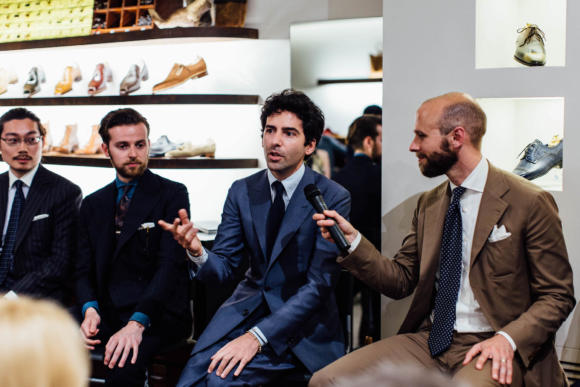 But at some point when they were young, each had a moment when they were inspired by tailoring.
Chad Park at B&Tailor in Seoul (below) told us how he had never thought about being a tailor until he had a suit made for a wedding. Then he was taken by the transformative power of it. Eithen Sweet, equally, had been inspired by the elegance of bespoke.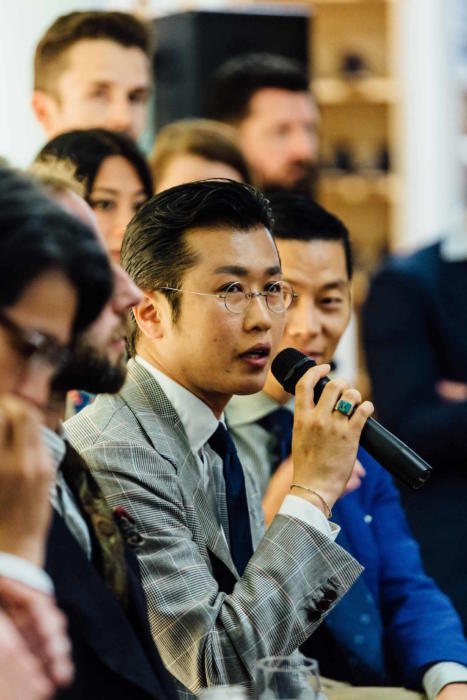 Yet where most of us would want to buy and wear that tailoring - and perhaps others would want to design it - these guys all had a reaction where they wanted to take the suit apart, learn how it was made, and then be able to put it all back together. It was a practical, hands-on response.
One of my early questions was about the most difficult aspect of their training. Satoki Kawai of Sartoria Cresent (below)mentioned the repetitiveness of gaining hand-speed in sewing, as they all did, but then also said how hard it was to stay with the profession over years of working on his own - of wanting to work on Savile Row but ending up in Milan, or having to do RTW and MTM tailoring at first in a factory in Japan.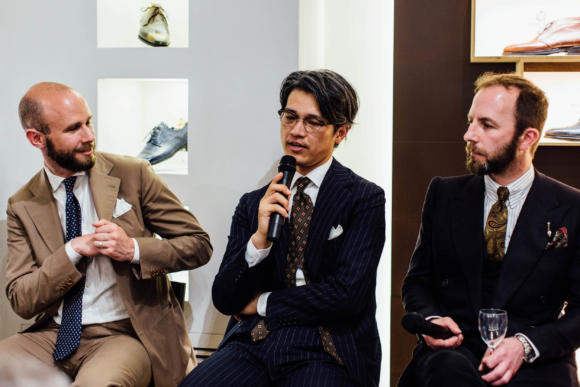 We also discussed - more significantly - how their approaches to tailoring differed from what they saw of the previous generation.
Everyone agreed that the older generation saw tailoring as a pure craft, as something workaday and not necessarily creative. This was in part a result of tailoring's demise; cutters used to be creative, back when most men had suits made, and their tailor was a key source of advice and even fashion insight.
For a young tailor to succeed today, then, he must rediscover that role and be aware of fashions - even if he doesn't bow to them. He needs to be aware of a customer's ready-to-wear alternatives, and most importantly his contemporary lifestyle.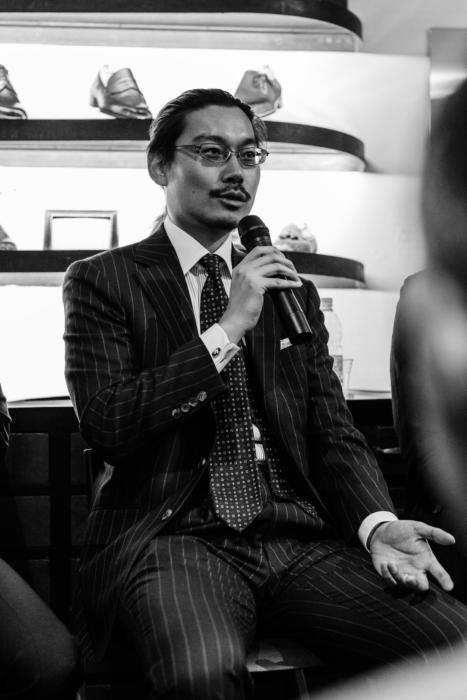 This led onto questions about how the tailors' friends and families saw their work. For most, friends were entirely ignorant of bespoke and how it worked - so they were surprised at first and then over time, more and more interested.
Davide and Eithen mentioned that friends assume their work is more glamorous than it is, given they wear fine clothes and occasionally work with celebrities. And Satoki and Arnold (above) said that their families frowned rather on tailoring as a profession, but were slowly coming round.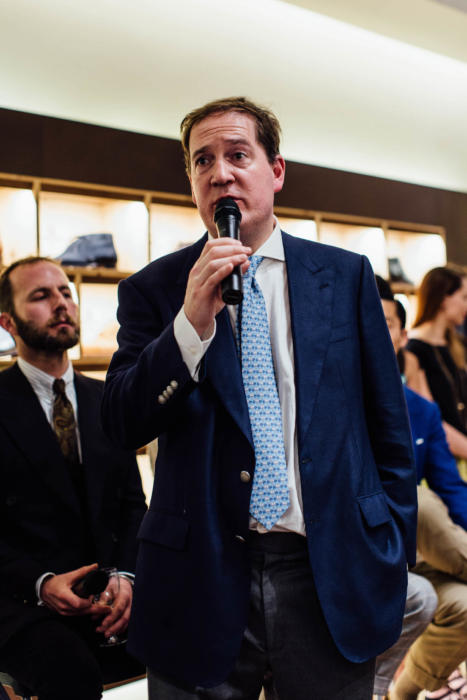 We also threw in some short, specific questions - like what's your favourite cloth (two answers for mohair, two for flannel, very little worsted).
And then fittingly, the last question from the audience concerned the future of bespoke and each tailor's ambition for it. To general agreement, Davide answered: "I came into this business, like a lot of people, to try and perpetuate it. All I would want is to be able to keep the craft and the knowledge alive."
Photography: Jamie Ferguson @jkf_man