The Young Tailors Symposium at Pitti Uomo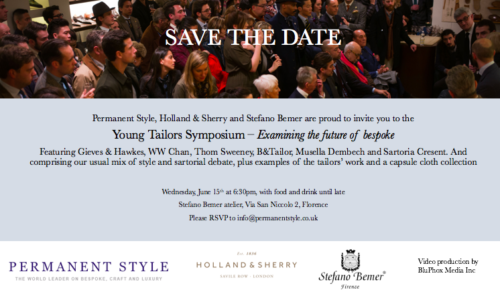 Every Pitti Uomo for the past two years, we have held an event to bring people together with a unique group of the finest craftsmen in the world.
For the next instalment, we will be returning to last summer's focus: bespoke tailoring. But whereas that year we brought together six legends of bespoke (Edward Sexton, Antonio Panico, Lorenzo Cifonelli....), this year we will be looking at the next generation: the young tailors driving the industry forward.
For me, this will be particularly fascinating, as the relevance of bespoke for young guys today is core to Permanent Style.
This is not a craft that can be allowed to ossify: talented young tailors must take it, master its techniques, and turn it to their own aesthetics.
To that end, we will be focusing on each tailor's style, but also his taste - his interest in art, fashion and design. Some of that will feature on Instagram in the lead up to the event.
Please consider the invitation above a call for any Permanent Style reader to come. However, note that last year we were very much oversubscribed, with about 50 people being turned down. So do email [email protected] as soon as you can.
The tailors featured will be:
Davide Taub, Gieves & Hawkes
Gianfrancesco Musella, Musella Dembech
Satoki Kawai, Sartoria Cresent
Eithen Sweet, Thom Sweeney
Arnold Wong, WW Chan
Chad Park, B&Tailor
Holland & Sherry are kindly supporting the event, and we have organised a display of my favourite 10 H&S cloths for the same evening. You will be able to see, touch and even order cloth from my Camps de Luca suit, Elia Caliendo tweed, Dalcuore high-twist, and many more.
I'm delighted to say that BluPhox Media will also be filming the entire day's events, and producing a documentary to be released in the coming months.
I look forward to seeing as many of you as can make it out.
Simon