The French style of Kenjiro Suzuki (and mute cutters)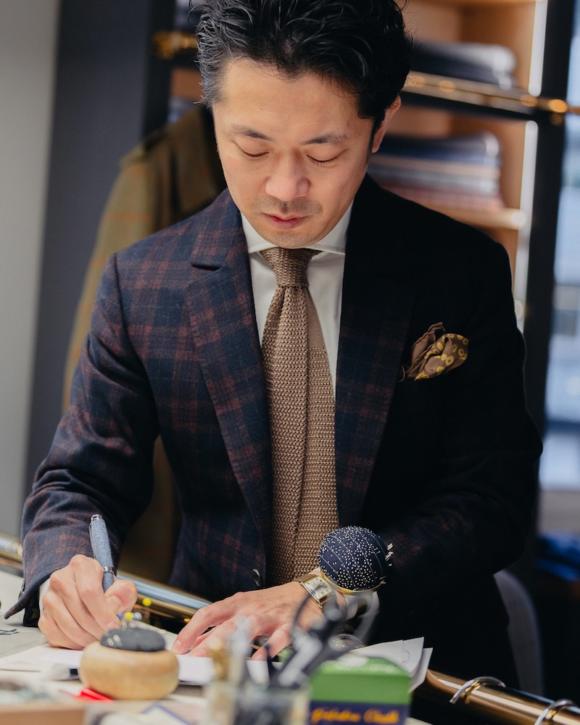 How do you make sure your best cutter doesn't leave, taking customers with him?
Simple: never let him meet the customers.
I've always been aware that Smalto, the Parisian tailor, had an unusual system in its cutting room. Unlike most tailoring houses, their 'fitter' and the 'cutter' are different people, with the former meeting the customer, taking their measurements, and conducting fittings - then passing the information onto the cutter.
To most, this would seem to introduce a needless layer of communication, and possible confusion*.
Indeed some tailors emphasise their proximity to their coatmakers, or the fact they trained as coatmakers themselves, because it helps control the next step in the process (between cutter and coatmaker).
At Smalto, however, ex-head cutter Kenjiro Suzuki says the system was deliberately set up in different levels, so that the fitter maintained all customer relationships.
In fact slightly creepily, he suggests it might not be a coincidence that some of the staff were deaf or mute. The head cutter before him was deaf and mute, and two other members of the team were mute. It's hard to set up a competing tailor shop if you can't talk.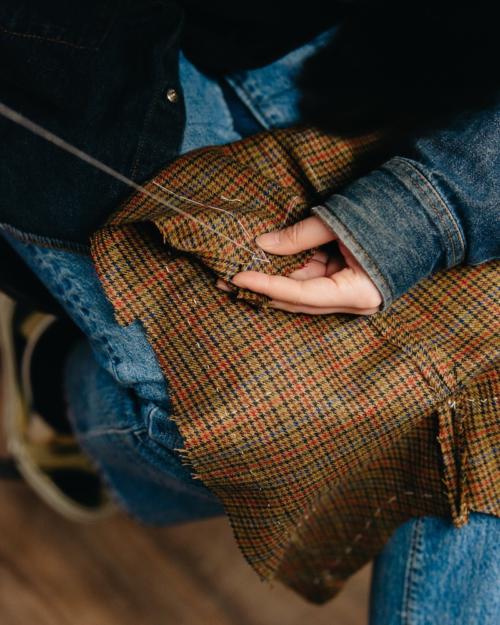 More prosaically, the set-up was also aimed at consistency. Smalto is known for having royal clients in ex-French colonies, and the King of Morocco routinely ordered 100 to 200 suits per visit.
A segmented system, more akin to a production line, is better able to make every suit the same. Unlike smaller tailors such as Camps de Luca (where Kenjiro also worked), where it's more common for a single coatmaker to make the whole jacket (apart from perhaps the finishing).
As a side note: never trust a brand which boasts either that each garment is made by a single master, or that the making is purposefully divided among specialists. Neither is necessarily better.
As a factory manager once told me, "It's the execution that makes the quality, not the system. But that's a much more boring story for a journalist."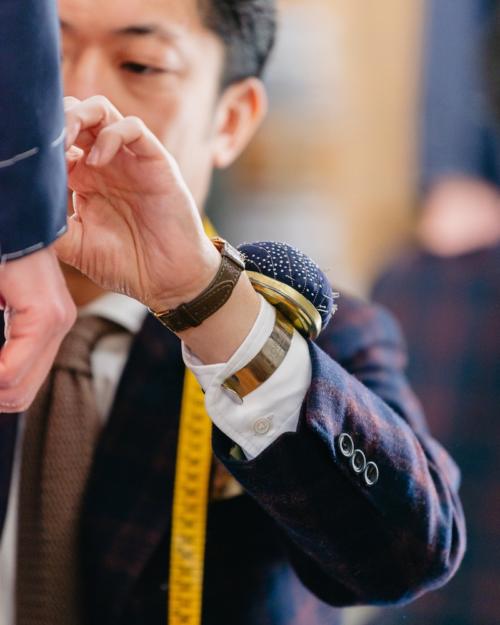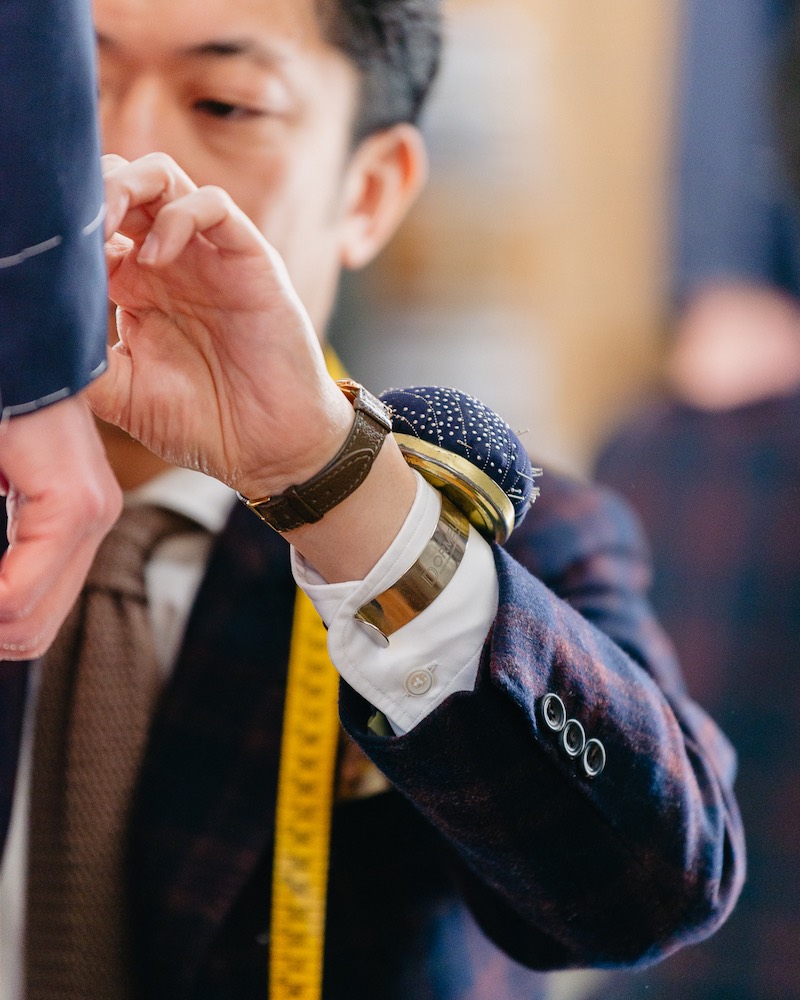 Actually, all of this is something of a side note. I hope you'll forgive me: the colourful things are often found down the cracks of the facts.
This article is intended to introduce master Japanese tailor Kenjiro Suzuki (above), and his wife and team, who are running a superb operation in Paris.
As is usual, I am covering them now because I'm in the process of having a piece made - or rather have been, for the past 18 months - and can therefore offer more in-depth coverage of the style and service.
That style is quite similar to Smalto, as you might expect. Most obviously, there is the same 'fish mouth' or closed notch on the lapel.
Readers might recognise the term from my Camps de Luca grey two-piece suit, but Kenjiro's notch is actually cut rather deeper, making it more dramatic and perhaps attention grabbing.
He is also varies his style more. For example, he has developed a more classic open-notch style at the request of an English client, and sometimes cuts the lapel flatter and larger. The gorge can shift up and down too.
You can see examples of all of those below. These are taken from the 'Collection' section of Kenjiro's website, which is unusual in showing a really large number of styles - currently 68 of them. More tailors should have galleries like this.
Kenjiro cuts a fairly padded, sharp jacket, in a similar line to Camps and Smalto. However, it is a touch shorter than others, and certainly a touch closer in fit than Smalto, which tended to larger, boxier jackets.
"Smalto preferred a heavy canvas, and quite a straight fit," says Kenjiro. "It was a hard look to get wrong, to be honest, with a lack of shape in the waist. I prefer something a bit more contemporary and fitted."
Among Kenjiro's other experiments are a belt he sometimes makes for trousers, in the same cloth. I don't like the style myself, but it is distinctive.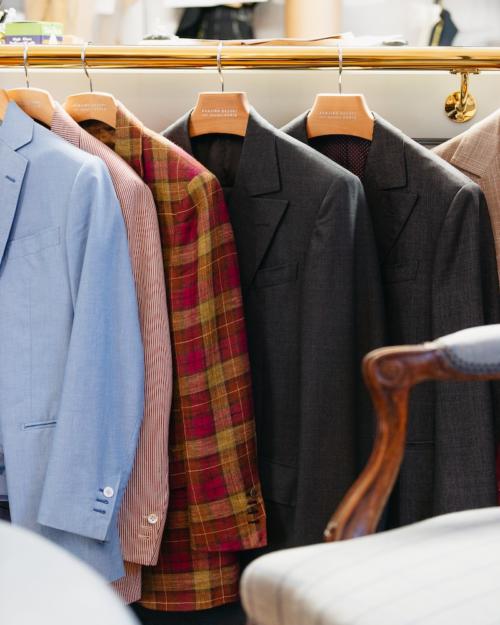 Kenjiro is older than you might think, given his boyish looks and ever-present smile: he's 44 years old, with 22 years in the industry.
Kenjiro moved to France in 2003, having studied at a tailoring school in Japan and worked as a pattern maker at Chiaki Tamura. In Paris he trained at L'Academie International de Coupe de Paris, while interning at Arnys and Lanvin.
He was at Arnys together his wife, and they both moved to Camps de Luca in 2005. He switched to Smalto in 2007, was head cutter from 2009 to 2012, and set up on his own in 2013. His wife left to join him when the business was large enough to support them both.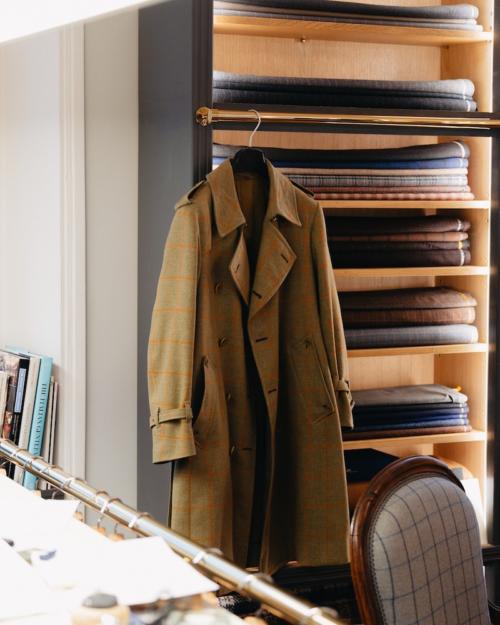 He has moved once since then, into a new space on Rue de Penthièvre, just around the corner from the Cifonelli store on Rue du Faubourg St Honoré.
It is there these pictures were taken. The workshop is on the ground floor, which is unusual, and means you walk between the two rows of tailors as you enter (three pictured higher up this post).
But upstairs is a beautiful, bright room, decorated with some lovely bolts, a big side-lit mirror and accessories that Kenjiro recently started offering.
The suit Kenjiro is making me is a blue cotton - the same 9oz Holland & Sherry cotton I used to make my double-breasted suit with Musella Dembech. I've loved how that cloth has worn in.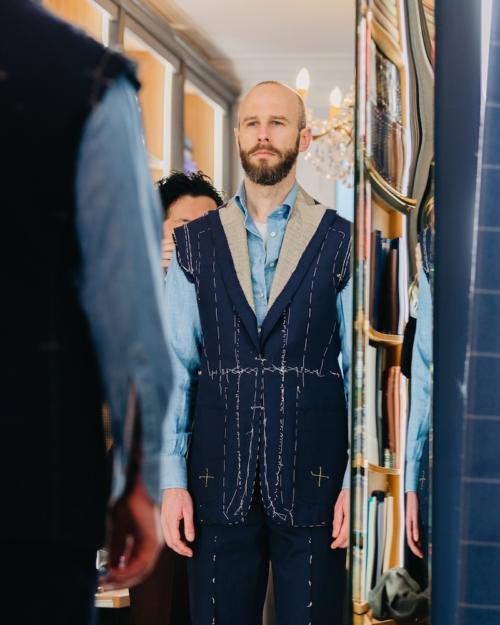 Full review on the suit itself in a few weeks.
Kenjiro's suits start at €4800. He currently travels to Japan regularly, and plans to start coming to London.
*The exception, perhaps, being those Savile Row tailors where the salesperson takes measurements during some trunk shows, because the cutter can't be everywhere at once. In that case, the degree of understanding between the two is crucial - but can still work well, with Brian Lishak and Richard Anderson being a good example.
Photography: Alex Natt @adnatt