Kenjiro Suzuki bespoke, Paris: Review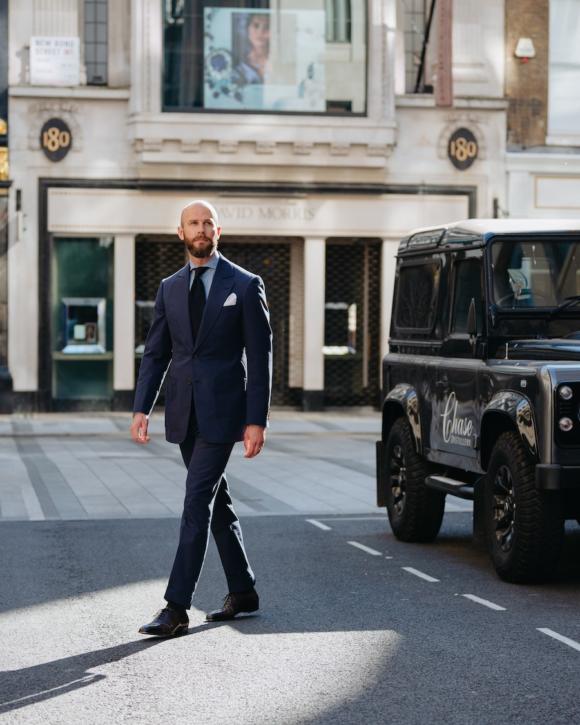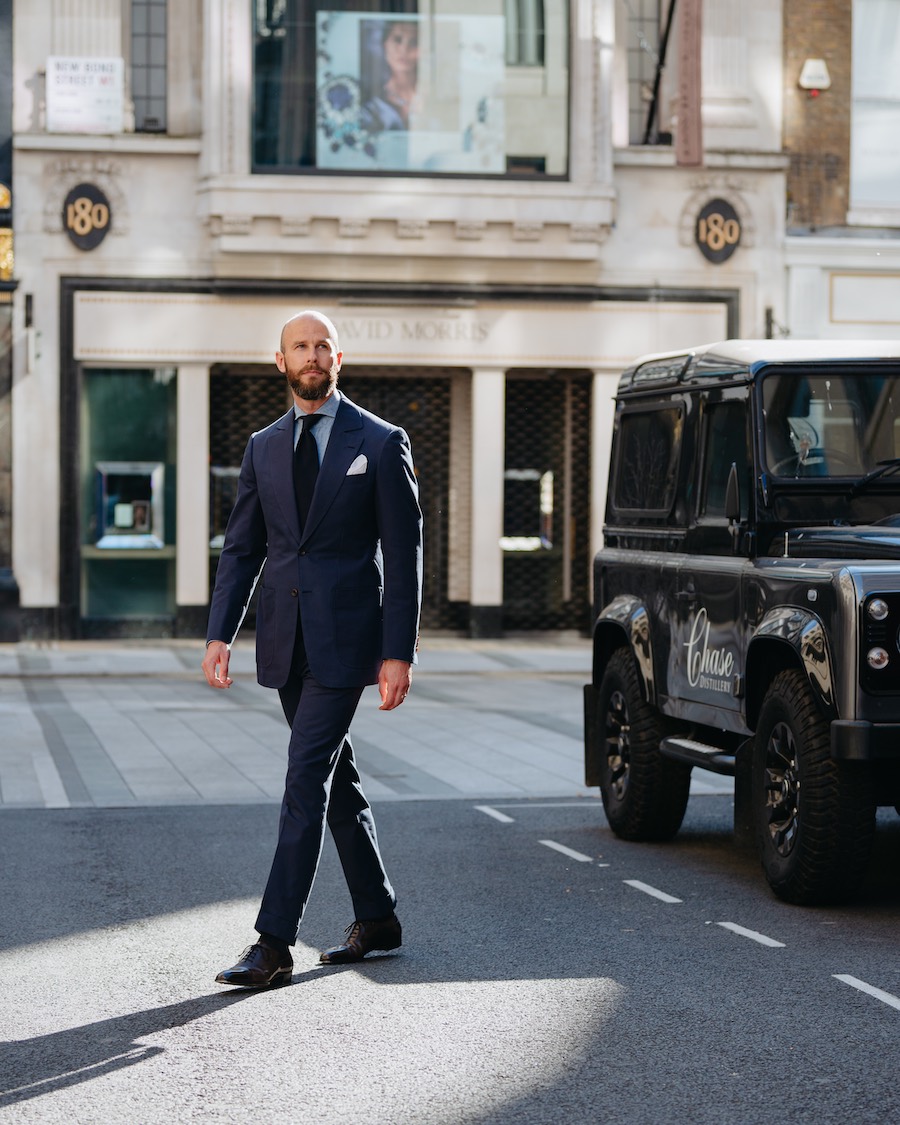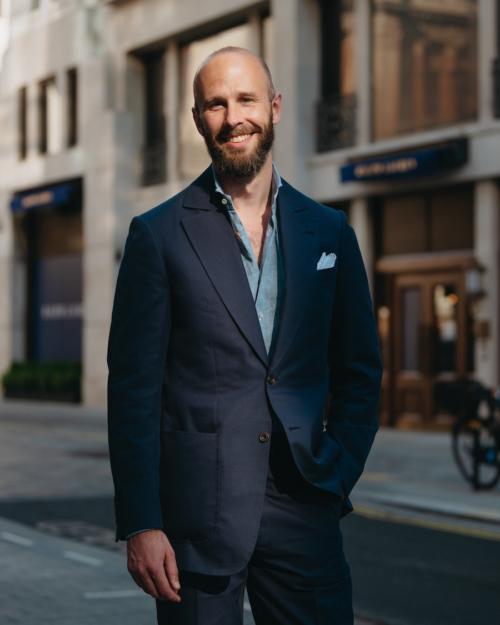 Kenjiro Suzuki is a superb technician.
I think that's the key take away from this review, aside from the normal points of fit, style and make.
The work that went into this cotton suit he made me is just palpable, both in the handwork visible on the outside and the shape created by the work on the inside.
It is a piece of art, an example of the best that bespoke can be.
The style is not what I would instinctively go for these days, with its higher waist, shorter jacket and bellied lapels. But I know it will appeal to others. The fit is also good, and I'll cover both those aspects in detail.
But particular attention will be given to the technical side of Kenjiro's work, its originality and its rigour.
Cotton has little drape, as I've said many times before, and therefore a bespoke cotton suit is never going to flow as a fine worsted would.
But still, Kenjiro has achieved a great fit. It feels sculpted to the upper body, perfectly accommodating my sloping shoulders and the curved run into the upper arm.
During our fittings and interview, Kenjiro talked repeatedly about shaping the garment, about working the cloth into a mould to encase the body. And the chest and shoulders do feel like that.
He has developed his own range of both canvas and shoulder pads, which likely helps. For my suit, he used a fairly structured canvas but the lightest pad.
He was at pains to point out that it would be much easier to use a slightly thicker pad on one side, given my right shoulder is lower than my left (most people have a similar difference). But he considers that cheating, and would always shape both sides differently instead.
The back of the suit isn't quite as clean as the front, but most of that should be put down to the material.
And the side view shows the shape nicely, while also illustrating the slightly short length and the lack of suppression in the back. This space is a useful thing to have on cotton, as it has so little stretch; but still, it is something I might ask Kenjiro to tweak next time I see him.
It's also worth looking at the line of the trousers in that side view. Because Kenjiro goes to extreme lengths to shape the cloth of the legs, creating an S-shape that follows the curves of the thigh and calf.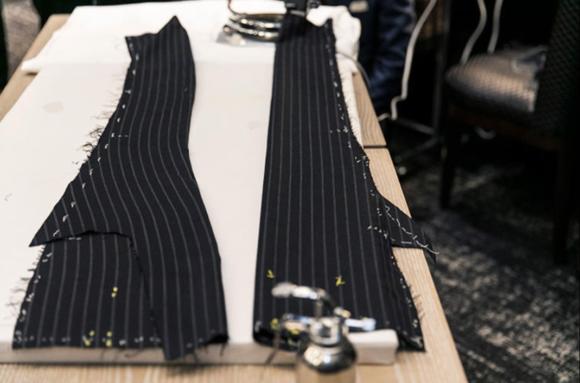 Above you can see his before-and-after photos from another customer's trousers. He works on the trouser with an iron for about 50 minutes to achieve that shaping.
As to the difference it makes, I'm not sure anyone would notice unless it was pointed out.
They do hang very nicely for slim trousers, and never get stuck on my calves. But still it is a very subtle point.
The make of the suit elsewhere is absolutely first class. The level you would expect from a top French tailor, plus - perhaps - some extra Japanese attention to detail.
The buttonholes (below) are fine, the Milanese-style buttonhole in the lapel (above) perfect, and the edge stitching and tack stitches meticulous.
But in a few places there are also a few more stitches, perhaps smaller ones too, than on other French suits. On the back of the collar, on round parts of the lining, and on the internal work like the chest canvas (above).
The breast pocket is also particularly nice. Straight but subtly angled, with precise corners. The kind of thing a good coatmaker would appreciate (see previous post).
The in-breast pockets are also beautiful. They're cut into the facing itself, which curves deeply around the two openings.
And they're angled slightly: perhaps not as much as the photo suggests, but definitely with a forward slant. It looks odd, but actually functions very well.
The internal hip pocket, which also displays the brand name, is equally well executed. Though if I had to choose, I probably think the design of the Camps de Luca 'teardrop' pocket is more pleasing.
Returning to the canvas and pads, Kenjiro has offers four levels of canvas: classic (for most suits), softer (suit or jacket, soft style), very soft (only casual jackets) and the softest, for virtually unstructured suits.
We used the classic on my suit, as Kenjiro was particularly keen to create an attractive chest profile (which probably explains why the fit feels so good there). He also usually sews the shoulder seam by hand, to give it more flexibility, and angles it backwards (something seen more often with Anderson & Sheppard).
Those things, he says, enable him to create four shoulder styles: concave (more common at Smalto, similar to Sexton), natural (mine), rounded (very natural) and American (a smaller, compact shoulder).
These styles are hard to explain and really need illustration: I'll do a follow-up post.
Finally, above you can see Kenjiro's six (six!) types of shoulder pad. He rarely uses numbers 2 and 3, and says most French tailors use them and number 1. These are ready-made.
The ones he uses most are the other three, which are all constructed in-house. These are a 'classic' pad, 'leaf' (the second thinnest, above) and 'leaf canvas' (thinnest). There is also the option of having no pad at all, for those unstructured jackets.
We used the 'leaf canvas', as Kenjiro wanted to show the clean shoulder line he could achieve. And I have to say it is probably the best result I've seen from a shoulder with basically no padding.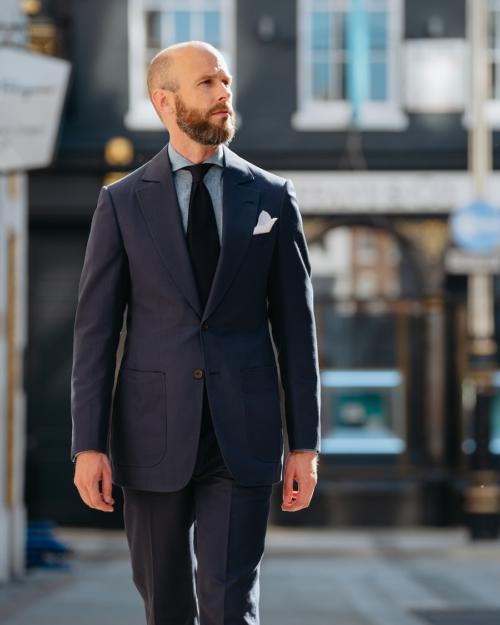 On style, the most important points to look at are the high-buttoning point and lapel/collar shape.
The (relatively) high button is something Kenjiro particularly favours. He likes the shape it enables him to get in the waist, and in his words "the movement it gives to the skirt, from the chest line down to the bottom of the jacket". It is most akin to Huntsman in this respect.
We had a long email conversation after the final suit was delivered, discussing all these points. As with the canvas and pad, it shows how actively Kenjiro thinks about his cut and style, which is something else he has in common with other Japanese craftsmen. Nothing is taken for granted.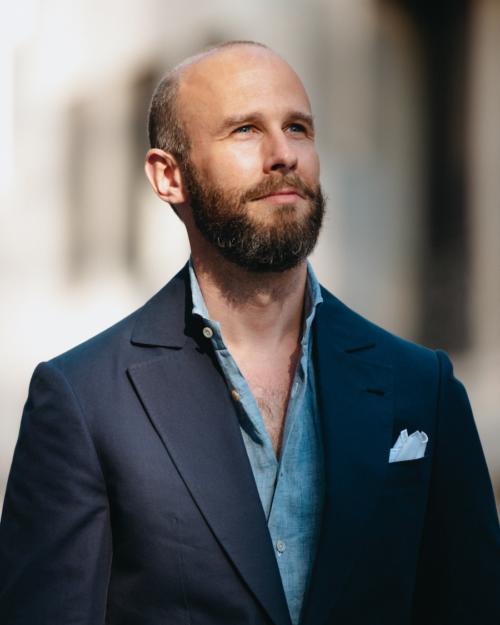 The point most normal people will notice is the lapel and collar shape.
The lapel is not especially wide at the top, but has plenty of belly, which gives it width and curve as it runs upwards from the waist button.
The top of the lapel is then quite flat, making the notch between it and the collar rather narrow. This is the 'fish mouth' shape that Smalto (where Kenjiro was previously head cutter) was known for, and you also see on some other French tailors.
The difference between this and the other suit I've had made in that style (from Camps de Luca) is that the notch is cut deeper, making the fish-mouth shape more pronounced.
On the Camps suit, it was a subtle style point that few people would notice. Here it is more obvious.
Of course, Kenjiro has other styles - there are several notch shapes, mostly more conservative. But given this is the one he's best known for, it's useful for other potential customers to see the effect of this lapel, if they're considering a commission.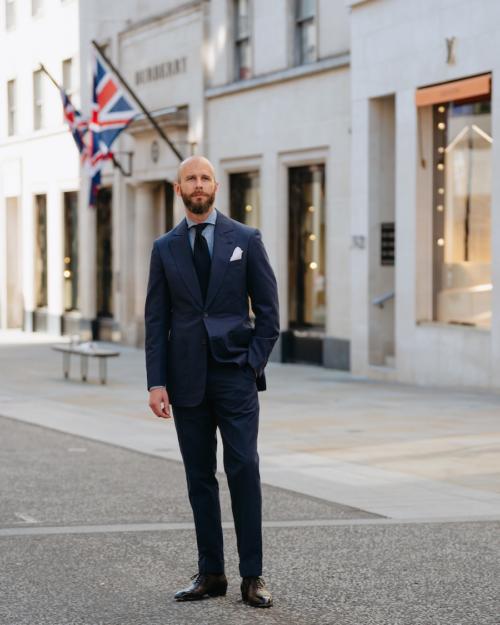 In terms of the material and how it's worn, regular readers will already know how much I like this cotton gabardine. It is lightweight, casual, and fades in a subtle way over time. I used the same one on my Musella-Dembech suit.
I also re-read Alan Flusser's words on it recently, which are worth repeating: "The cotton gabardine two-piece offers a soothing alternative to the typically dry, firm-feeling tropical worsted.
"The fine Italian cotton gabardine suit will wrinkle, but its satiny freshness and cool suppleness offer the humidified epidermis a princely measure of comfort."
The navy looks particularly nice, I've found, with a chambray like this linen from D'Avino, and my old favourite, the navy grenadine.
It's also the kind of suit I'm more likely to wear without a tie sometimes, given its casual texture. Though probably with suede loafers rather than these calf oxfords.
And those beautiful oxfords are my bespoke from Yohei Fukuda.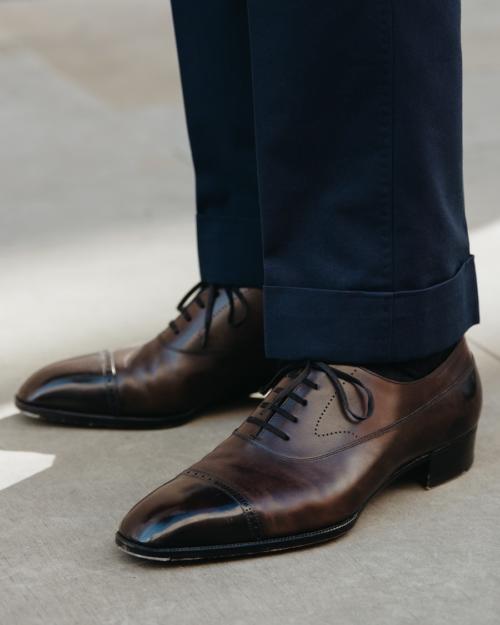 Photography: Alex Natt @adnatt
Kenjiro's suits start at €4800 (including VAT). He currently travels to Japan regularly, and plans to start coming to London.
For more information on his house and background, see our introductory article here.