*Note: George has now combined with Celebrity Dry Cleaners and The Jaunty Flaneur shoe care, to form The Valet, offering all three services*
There are many unsung heroes of bespoke tailoring, but one of the biggest has to be the presser.
Frankly, a jacket can look awful once a coatmaker has finished with it - dragged all over the place and wrinkled to hell. It's the presser that gives it life again, bringing out the beautiful shape of bespoke.
Pressing is also almost as good as shoe polishing for making something feel new. (Or better than new, given how you've now broken in and shaped the canvas.)
The steam relaxes the fibres and helps them recover their original shape. And it cleans - surface dirt taken off and odours washed out.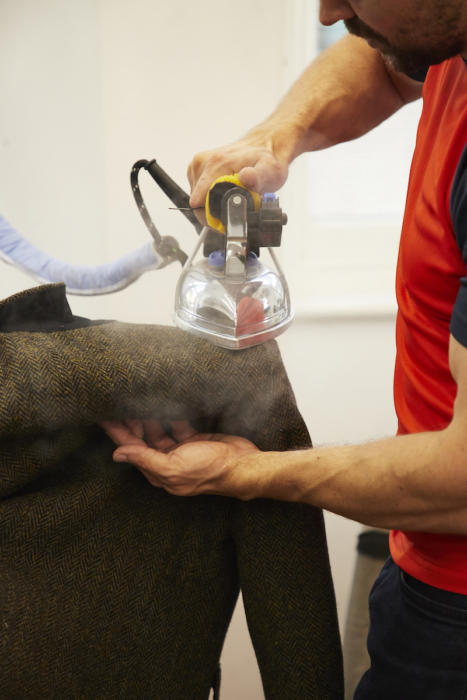 Unfortunately, this kind of service is not something that's easy to get unless your tailor is local.
A Savile Row tailor will happily take in your suit and give it the once over (often, these days, for a fee) but they usually won't with the work of others.
So what to do when you use tailors like Ciardi, Solito, Cifonelli or Caliendo, who visit here from Europe?
It's a lot of fuss to go see them at a trunk show, give them a few pieces, and then go see them again at the next show just to pick them up.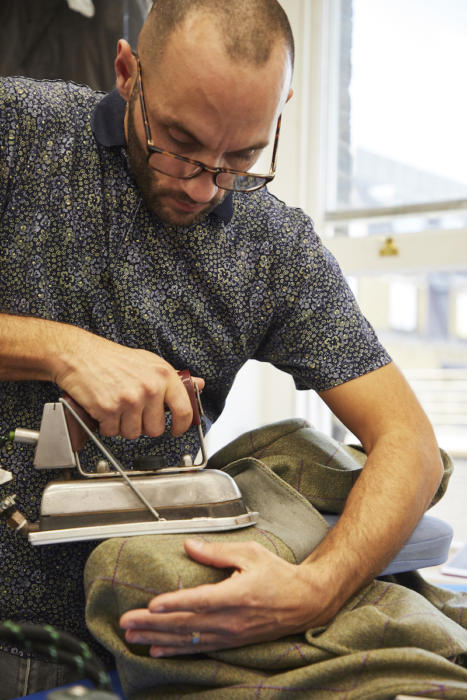 I'd looked for a presser who would take outside work for a long time, and many people recommended George Varnava (pictured), who does pressing for many of the Savile Row houses.
For years George was based in some of those houses, latterly Huntsman (although being independent) and therefore couldn't take on private customers.
But last year he set up on his own - on the top floor of 59 Brewer Street in Soho, under the name The Pressers.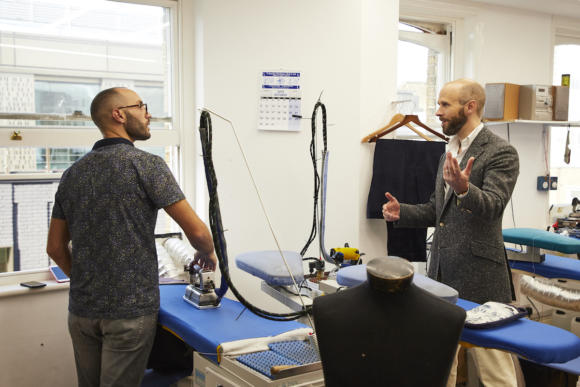 George now has three people working for him in this space, and is taking on an increasing amount of private work.
I've used him for several things, including all the suits and jackets from foreign tailors featured in our Style Breakdown series.
He also said he'd done several suits of mine over the years from various Row tailors.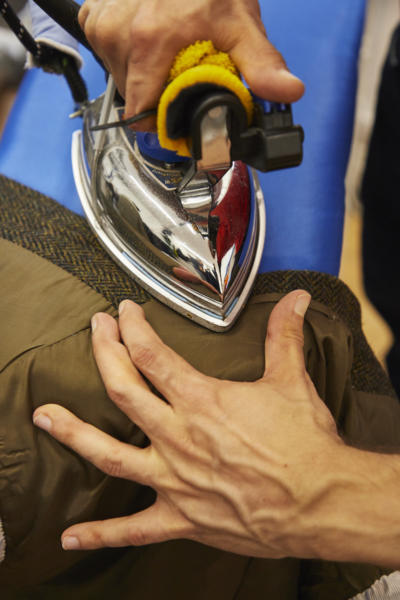 George's work is great, as you would expect.
There was a risk that an English presser wouldn't have much experience with foreign tailors, and wouldn't get the roll quite right on the jacket, for example.
But George got that spot on. He even explained how he alters the roll very slightly up or down, for different customers. Another likes a harder crease on his jackets because he thinks it looks sharper.
Of course, the roll of a lapel is carefully set by the tailor; its intended place can be seen by the position of the seam on the front edge; and it is held to a certain extent by the tension in the collar. But some small variation is still possible.
The only thing George didn't quite got right is the vent design on my Camps de Luca suit.
The overlap on a Camps jacket is large, and folded back so the vent looks more like a pleat. George pressed this flat, but it was easily fixed.
It's important to emphasise that George is only a presser, and won't do the various other services a tailor would, such as tighten buttons, repair linings, or spot clean.
If you need those things, it's best to take it to a tailor (original or other). George also has a local repair tailor he works with, who things can be passed onto.
George has some people send him pieces that have been dry cleaned, but not pressed yet. So that's an option if the suit needs a clean.
"When things come from the dry cleaner they're not in bad shape, because the cleaner will normally have put them in a steam room and taken the wrinkles out that way," says George.
"But the suit will have no life in it. It won't be shaped or three-dimensional. Most of the beauty of bespoke tailoring, basically."
Another good option that I've recommended before is Michael Norman, who cleans and presses tailoring well. (www.mnbespoke.com)
Michael's slight disadvantage is that he doesn't have a physical location, but rather comes to pick things up.
George will pick up pieces from anywhere in London, but some clients do also send things in by courier from around the rest of the UK.
"One client has his driver come over every couple of weeks, with a dozen pieces hanging up in the back," says George. "He likes things very sharp. All the time."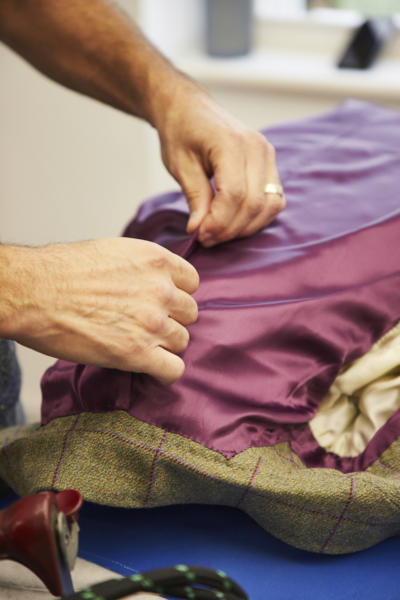 When I visited most recently, to take these images, it was nice hanging around and actually watching George at work for once.
Good pressing is so labour-intensive. The lining, for example, has to be pressed into shape before the outside can be done (to avoid distorting the outside). In the image above George is doing that on the pleat down the centre of the lining in the back.
But then, once the outside has been done, the lining has to be finished again, because it will have become slightly wrinkled while working on the outside. Below, George is finishing off the end of the sleeve lining.
And then there's the shape put into the chest and shoulders, which involves manipulating the jacket around a board, and applying a surprising amount of pressure.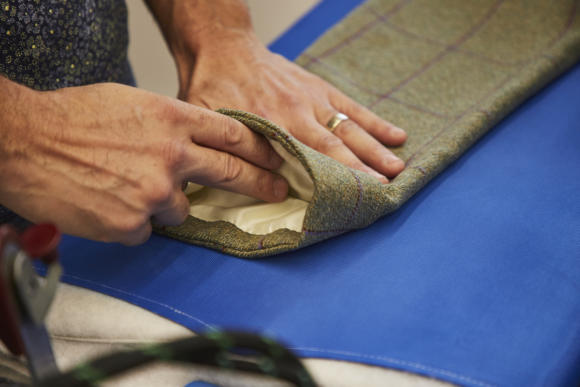 George doesn't have a website, but can be contacted on [email protected] and 020 3370 4068.
Address is 59 Brewer St, 4th Floor Room 4A, Soho W1F 9UN.
Pressing a two-piece suit starts at £50, a jacket £28.
For more recommended places for clothing care and alterations in the UK, see post here.
Photography: James Holborow