Michael Norman dry cleaning (previously Press2Dress)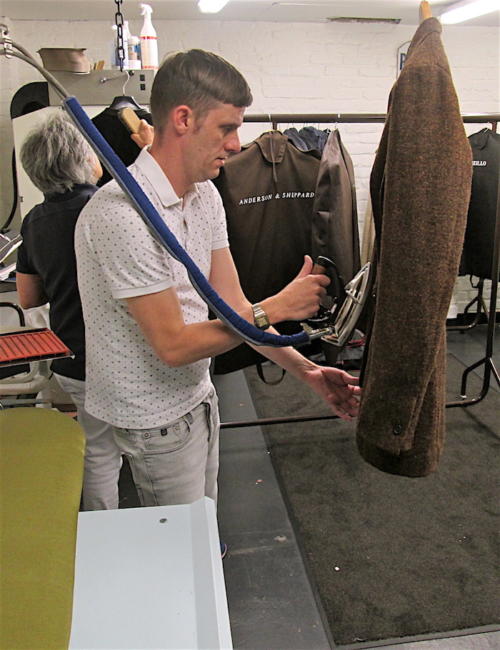 *Michael now has a basic website with contact details at www.mnbespoke.com*
There are precious few dry cleaners out there that understand bespoke tailoring.
They are likely to clean suits in bulk, with everything going into the vat together and no attention to delicate materials.
The biggest issue is pressing though: they don't appreciate the 3D nature of a bespoke collar, shoulder and lapel, and will often press everything flat, ruining the glorious roll of that front edge.
This was my experience with Jeeves of Belgravia (despite being cleaners to the Royal family), and I hear it hasn't improved since they were acquired by Timpson's.
I have highlighted a few specialists over the years on Permanent Style, that do understand bespoke. One is Stephen Haughton of Burford Valet, the majority of whose work is valeting and who also does a lot of shoe polish and repair work.
And another, who I know has received a lot of work from Permanent Style readers over the years, is Michael Norman.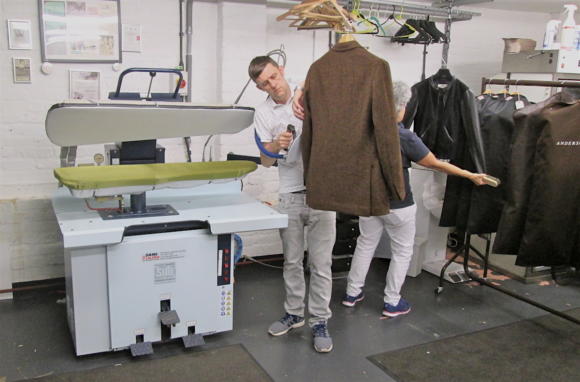 Michael used to run a dry cleaners called Press2Dress in south London.
Last year, he left the business and set out on his own, moving off the high street and putting his equipment in a new facility.
From here, he is now offering collection and appointment services.
Michael and Betty (pictured) deal only in high-end and luxury pieces such as bespoke tailoring for men, military dress, and designer pieces for women like Chanel. They also do bridal wear and upholstery.
As regards tailoring, Michael offers dry cleaning, which is all done individually and as lightly as possible, and a sponge and press service.
The latter is rarely offered by dry cleaners today, as it requires so much individual attention to the garment - examining it minutely and cleaning off light dirt, before pressing the item again.
Dry cleaning will always shorten the life of a garment, and is therefore worth avoiding wherever possible. I'm happy to leave this decision up to Michael on a piece-by-piece basis, but you can make your own requests.
In general I'd recommend dry cleaning a suit once a year (before it is put away for storage, if that is something you do).
Of course this depends on how and how frequently the suit is worn. Given the size of my wardrobe, a simple sponge and press might be all that is required each year, and at most one such treatment on top of the yearly clean.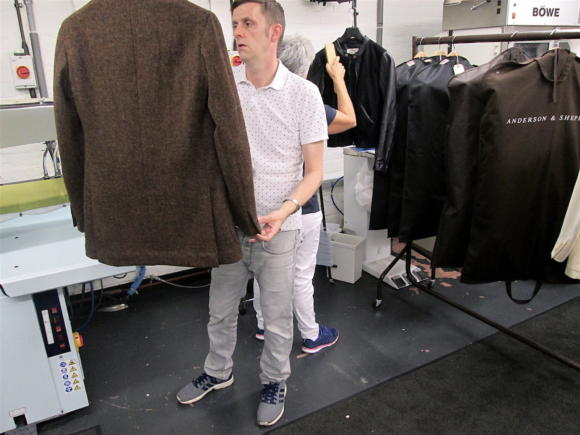 Michael's prices are below. He is currently offering free collection and delivery within London.
There is no standard delivery service outside of London, but it is worth contacting him if you're interested.
His email is [email protected] and phone is 07941155277. He doesn't have a website.
I particularly like recommending good service people here on Permanent Style, so if anyone else has someone they'd recommend in any area, please let me know.
Others I have recommended (with links to relevant posts) are:
Tailoring alterations: Graham Browne
Shoe repairs: Kokos (East Finchley) and Tony's Shoe Repair (St James's)
Leather alterations and repairs: Cromford
Knitwear alterations and repairs: Love Cashmere
Michael Norman Dry cleaning
Two-piece suit…………………………… £45.00
Jacket…………………………………… £27.00
Trousers………………………………. £22.00
Skirt ....................................................£20.00
Overcoat………………………………. £50.00
Raincoat……………………………….. £60.00
Necktie………………………………… £15.00
Knitwear………………………………. £20.00
Waistcoat …………………………… £18.00
Day dress…………………………… £36.00
Evening dress……………………….. £60.00
Ski outfit………………………………. £60.00
Cotton shirt…………………………... £7.50
Silk shirt/blouse…………………… £17.50
Sponge & Press as above less 20%