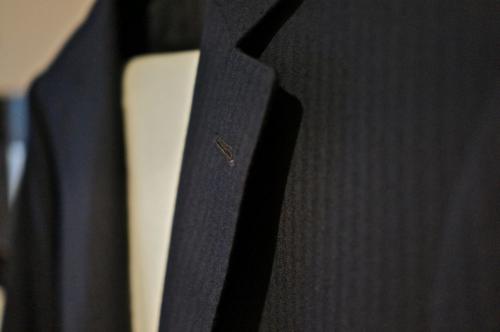 In the search for decent sponge-and-press services, I recently tried Press2Dress, a dry cleaner based in south London and run by Michael Norman.
Michael is developing an online service that specialises in cleaning and pressing for bespoke clothing. He has 25 years' experience in the industry and a small staff with similar experience. Any dry cleaning is done one piece at a time – unlike most dry cleaners, who pile everything into one drum – and on a manual programme rather than automatic. This means there is less agitation of the garments and they can be watched carefully, to make sure they handle the process ok. A pure filtered solution is also used each time.
Spot cleaning (the 'sponge' in sponge and press) is done by hand using steam and water-spotting guns, as well as a spotting chemical and brushes. Generally this is all that is needed for a suit unless it is heavily soiled – or the marks are oil-based. Perhaps most importantly, pressing is done expertly by hand.
I tried the service a couple of weeks ago, to assess how 'expertly' it could be done, and the results were impressive. The small marks on my Graham Browne suit (pictured) came out nicely and the pressing was very well done – a lot better than my recent experiment with Jeeves. The lapel roll was retained and the trouser crease was perfect.
Michael's dry-cleaning service costs £40 for a suit, £21 for a jacket; spot cleaning is £30 and £16. That's less than Jeeves. Of course, unless you're going to south London, the pieces will have to be picked up – which costs £25. But if you do a few suits at a time, the cost is reasonable.
Unless there are particular emergencies with stains, I tend to have my suits cleaned every two years, but pressed every year when they come out of summer or winter storage. I therefore plan to shift to a system where Michael picks up my clothes that have just come out of storage, cleans perhaps half of them, presses all of them, and makes any small repairs that are needed. For a wardrobe of expensive bespoke suits, it is not a large annual cost.
Michael can be contacted on: [email protected]
–
Background: For those that haven't followed previous posts about sponge-and-press services, you can read the review of Jeeves here, and of a similar service to Press2Dress that also does high-end valet services here.
In general, suits do not have to be cleaned very often, and should't be. Regular dry cleaning will damage the fibres and drastically shorten the life of the suit. Often all it needs is a good press – the steam pressing that any bespoke tailor will do to a suit before giving it to you. Steam does great things for wool, and the press will give the suit back its crisp finish. Any small stains can normally be done with some spot cleaning – hence the 'sponge and press' service that many tailors offer on their own suits.
They won't do this for others' suits, however, so that has driven my search over the past few years to find a good, independent sponge-and-press service. Press2Dress seems like the best solution so far.