Yohei Fukuda bespoke shoes: Review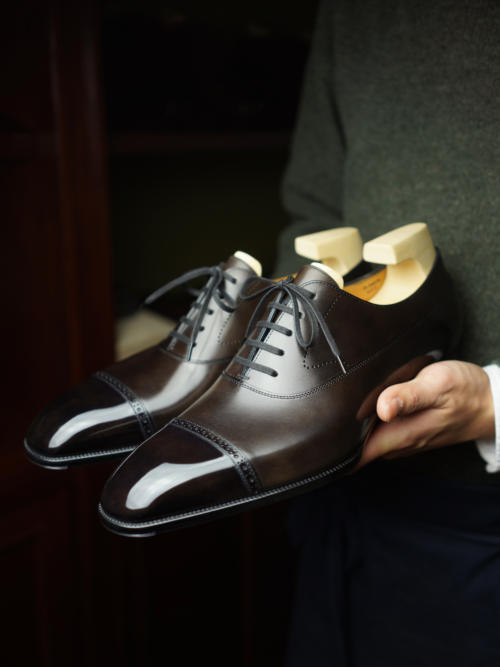 As mentioned in my recent article on Yohei Fukuda, I ordered a pair of bespoke shoes from him last year, when I was in Tokyo.
However, I opted for bespoke without a fitting.
Why? Well, at the moment I seem to be getting to Tokyo every three years on average, so the process of having a pair made with one or two fittings would have been a long one.
And although Yohei does come to London sometimes, it's unpredictable and not really a working trip - I couldn't guarantee getting a fitting. (That is now changing, of course, with Yohei holding his first show in London this summer, assuming travel is back to normal.)
So a bespoke-made shoe (as all Yohei's are, whether RTW, MTO or bespoke) and with a bespoke last, but without the opportunity to try the shoe on before completion.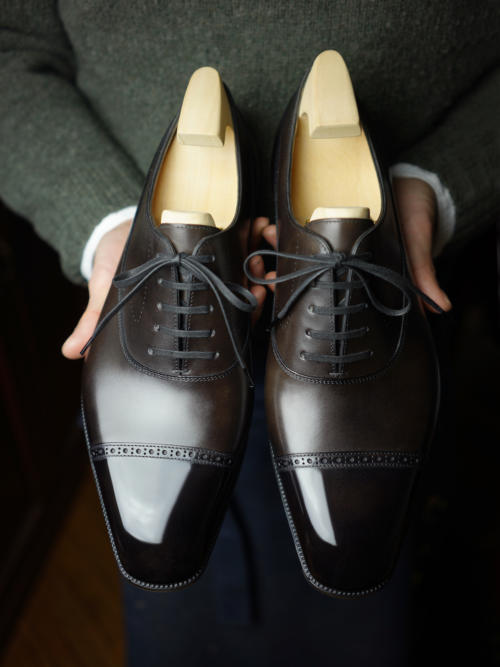 This was risky, I realised, though it is something Yohei has done before. He estimates 5% of bespoke shoes are made this way (though it's more common for clients ordering second or third pairs, with a last established).
In order to try and cut down this risk, I ordered a very standard style - Yohei's house oxford - which meant I could try on his RTW shoes in that style in the Tokyo workshop. This established that the fit was fairly good, with a few tweaks such as a higher instep, wider joints and a narrower heel.
Indeed, I had already tried on those shoes the previous year, at The Armoury in New York, which is what made me consider it it in the first place.
"When we do this process, it helps a lot to keep the design standard," Yohei told me at the time in Tokyo. "There are always fit issues that are thrown up by changing the design, and the house style is one we know very well - and how to fit it to different feet."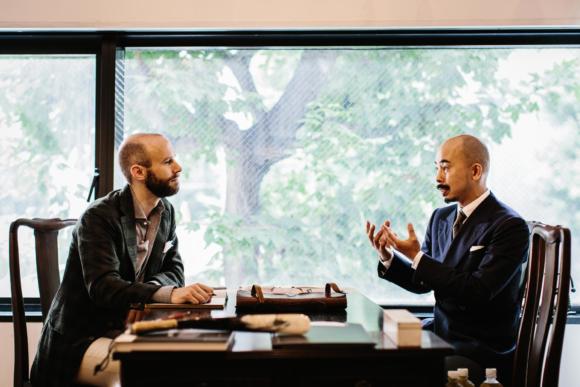 I'm pleased to say that the results were very good.
That's my pair photographed by Yohei at the top of this piece, by Jamie in Florence lower down, and then by me at home at the bottom.
Yohei and I had discussed all the aspects of my foot that would need to be dealt with, and he knew some of these anyway from reading Permanent Style, and seeing shoes made by others.
We also took standard measurements while in Tokyo, as well as trying on RTW versions of the shoes. So there was a lot of information to go on.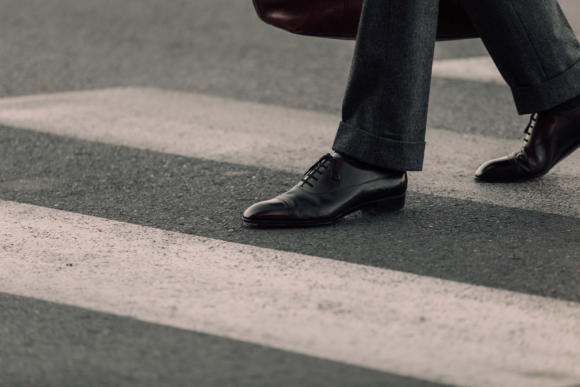 The fit of the shoes was great. Certainly better than any RTW shoes - a point worth repeating in any review of bespoke footwear.
There might be tiny points that Yohei would change next time, such as a little bit less room on the instep, so the laces don't tighten quite as closely at the top.
But it's the kind of thing I wouldn't be surprised to see on a first pair of bespoke, with multiple fittings, and then perfected on a second pair. Impressive to have just that with no fitting at all.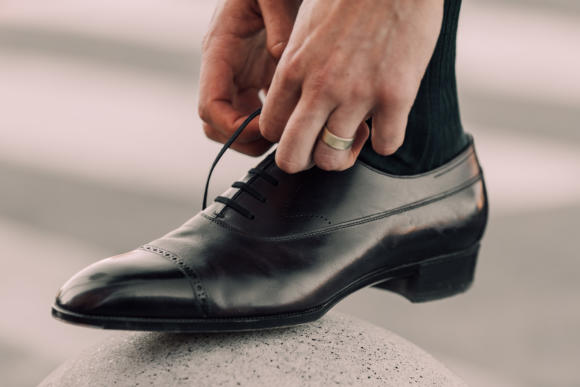 I think the shoes might also be the most beautiful I own.
They feel perfectly balanced - not too elongated or short, with a distinctive square toe but softer than Gaziano & Girling RTW or my Cleverley bespoke, for example.
The latter point is neither good nor bad - it's a subjective point of style - but it does reflect what Yohei was saying in our earlier piece, about softening his lines over time.
The same goes for the waist of the shoe. It's beautifully cut in and narrow, leading to the impression of sleekness you get with bespoke shoes - where the middle of the foot seems to disappear from some angles (see shot below).
It's such an elegant, light-footed effect.
But the waist isn't extreme either - compare it to my bespoke loafers made by Daniel Wegan when he was at Gaziano & Girling, for example.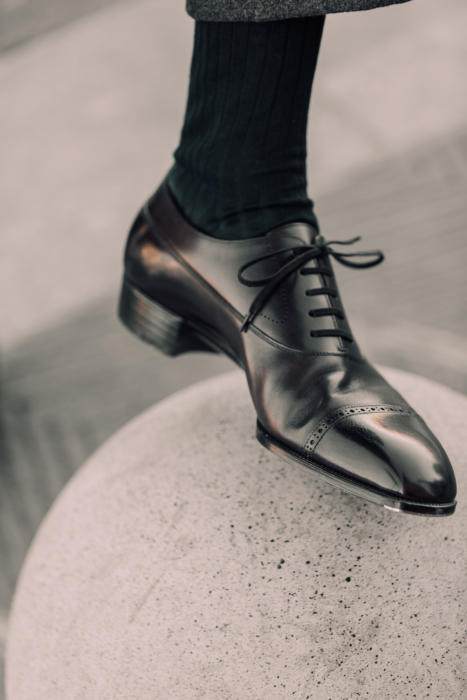 And the execution of the bespoke make elsewhere is perfect.
I ran through these points in my review of Foster & Son bespoke, and that's still probably the best illustration of them. But it should be repeated (like the bespoke fit compared to RTW) that the delicate pitch of the heel is beautiful, as is the way it runs up into the heel cup.
That heel is also curved inwards subtly, as it runs into the waist (most clearly seen when looking at the bottom of the shoe). And indeed the combination of make and fit is lovely, as the upper edge sits perfectly all the way around my ankle.
These are all things I take for granted with good bespoke shoes. But they are integral to its beauty, and precisely executed here.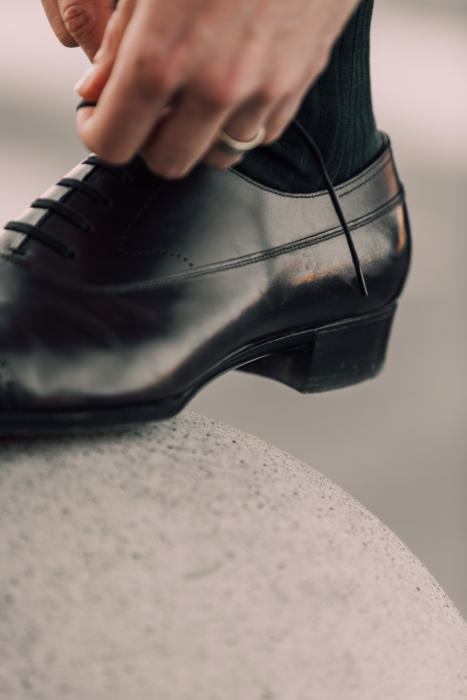 The style and leather I went for were pretty conservative - an oxford in dark-brown calf. But I know very well, this far down the line, that these are the shoes I will get most use out of.
The green-suede chelsea boots I included in the earlier article on Yoehi are more exciting. Indeed, they generate a particular kind of desire that I think is unique to shoes - something about a perfect object that you never quite get with tailoring, shirts or other articles of clothing.
But I know they will be too unusual, and will only come out once or twice a month. They would usually require an outfit that starts with them as the first consideration, rather than the last.
Over time, you start to realise why the footwear collections of old dressers, or those in old Apparel Arts illustrations, are mostly black, dark brown and tan, lace-ups and loafers. It's just easier to vary other things, like shirt patterns or accessories.
And it makes me happy that my first pair of shoes from Yohei will see a lot of use.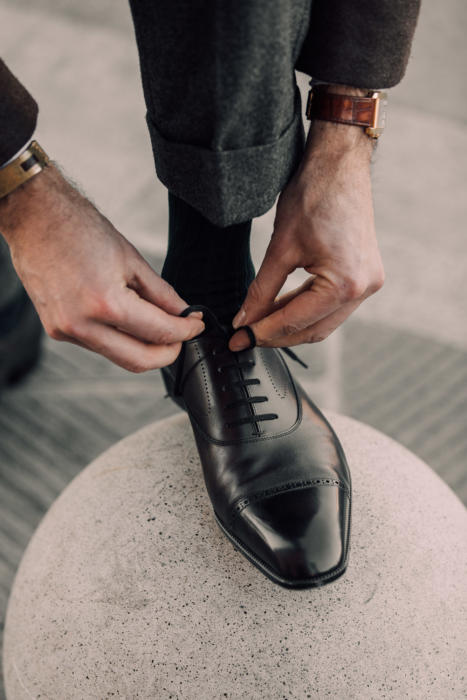 The Yohei shoes came beautifully polished, with a real mirror shine on the toe in a darker shade of brown. This is of course something I could achieve myself over time, but it is a treat when someone lays the foundations for you.
One or two areas of the back were perhaps over-polished, with the surface coming away slightly on the first wear. But that went the first time I polished them myself.
The packaging was also lovely. Most bespoke makers use branded wooden boxes these days, but Yohei's also come with tweed shoe bags and a tweed strip to separate the shoes, all with branded leather patches on them.
The shoe trees (shown below) were also lovely, although not quite as hollowed out as those from Masaru Okuyama that we covered recently, or Gaziano & Girling.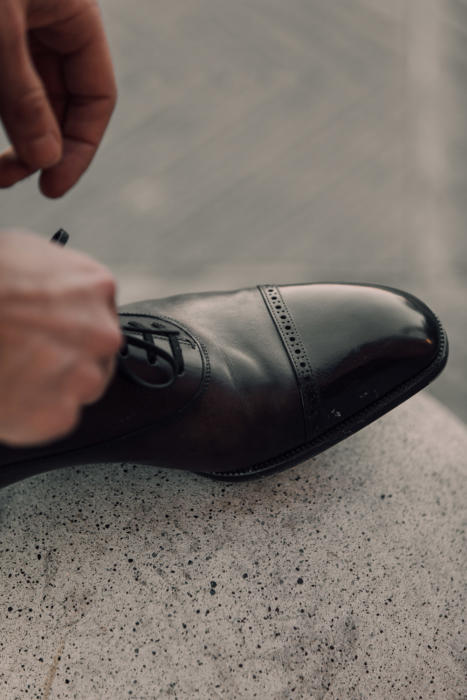 I have to say I was rather stressed about going for non-fitting bespoke, and it was a relief to get such a great result.
I also know, now that we've made one pair, that a second pair could be made in the same way and this first pair act as a fitting - when I show them to Yohei in the summer.
It makes me think that if you try Yohei's shoes, and they fit you well, they're definitely worth considering. As mentioned, all the make and hand sewing is the same.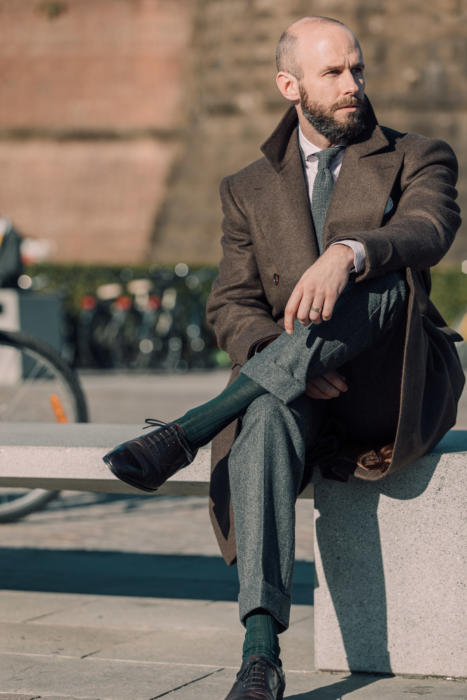 And while I understand why Yohei doesn't offer an 'adjusted last' or semi-bespoke, where small changes are made to a standard last (as Saint Crispin's does), I do think this is an option more shoe brands should offer.
I don't have very regular feet, but still the important changes I need to a standard last are fairly small. With just two or three adjustments, the fit can be very good.
Like tailoring, full bespoke shoemaking is exciting because it opens the doors wide for design and fit - but that increases the risk as well. (And of course it's harder with shoes to make changes to the finished product.)
So I personally think bespoke shoemakers should look at more options between bespoke and RTW. Perhaps an adjusted last, perhaps no-fitting bespoke on house styles, perhaps just more RTW styles to try on to understand fit and style.
It would help with the costs, the timings, and the predictability of bespoke. (The middle of those three often being underestimated - Yohei's delivery time is currently 18 months.)
Yohei's house bespoke costs 420,000 Yen (£3,120). Prices vary mostly with style rather than make - full list available on the previous post to this, here.