Yohei Fukuda bespoke shoes: The style and shop today
Yohei Fukuda is one of the finest shoemakers in the world. And given his longevity - he set up on his own 12 years ago - he's been at the forefront of Japan emerging as the primary world force in bespoke.
But like many Japanese, it's taken him a while to feel he is as good as the masters he trained under. And in parallel, to feel it was OK to just be a Japanese maker, with a Japanese style.
Yohei and I talked recently about this and the many other changes he's seen in those 12 years - ahead of a full review of a pair of bespoke shoes he made for me.
He is also coming to the UK for his first official trunk show later this year, in June or July.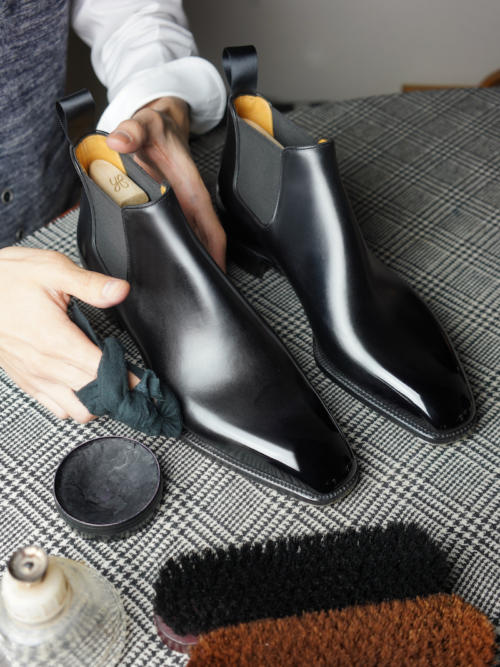 At the Japanese Symposium in Tokyo last year, which I chaired, local artisans asked repeatedly about their reputation around the rest of the world. They couldn't quite believe that they were considered on the same level as those in Europe.
Partly that's because Japanese customers also still look to the West as the source of all top-end craft. And local fashion magazines echo that attitude.
It has only been as more Japanese have experienced both local and international makers - according to Yohei - that the attitude has started to change for bespoke shoes.
"At this point, many local customers have had shoes made in Europe, and from at least one Japanese maker," he says. "They can see and compare themselves."
"Also, they start to tend towards local makers when they need shoes repaired, or perhaps stretched. It's a lot more convenient to do that with someone local, rather than travel to Europe, and have to explain any issues in a different language."
Yohei worked at George Cleverley and at Edward Green in the UK, and his house style is still clearly influenced by English traditions.
You can see echoes of Cleverley in the house-style square-toed oxford (below), and his shoes have never been as elongated or stylised as those of Japanese makers trained in Italy or France.
But his style has also evolved over the past 12 years, and now feels more his own. "When I first started it was just me at home, doing everything myself," he says. "It was hard to feel then that I was trying to do anything other than replicate what I had learned in England."
"But I've gradually found what I like, and had more confidence in it. For example, I used to make very narrow waists on my shoes. They're still quite narrow - more than most makers - but a little softer, more gentle. I don't think there's anything aggressive about what I make now."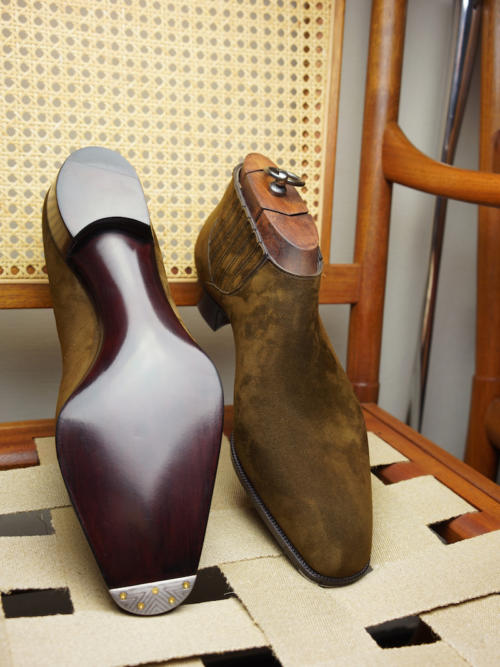 As ever with shoemaking, we're talking about very small adjustments. A millimetre here or there. The waists of my shoes will still look very narrow to most readers, and Yohei says most of the changes are never noticed by customers.
"The samples I have on display are still the same ones that I made for my first shop 12 years ago," he says. "I can see the differences - particularly in the proportions - but customers don't really."
Having started on his own, at home, Yohei's first break came when a local watch store asked to put his shoes on display. "A journalist friend of mine wrote about them in a fashion magazine, and soon a lot of fashion people were coming down to take a look," he says.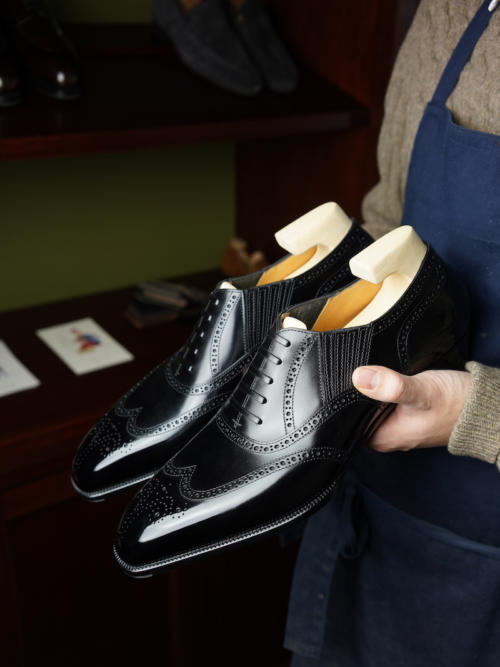 Unusually, those shoes were offered made-to-order, not bespoke.
When shoemakers set up on their own, they usually start by just offering bespoke. It is what they've been taught, and is perhaps most prestigious. It's only later on, when they become bigger and there's demand for a cheaper (and quicker) product, that they offer RTW or MTO.
But Yohei wanted to offer just made-to-order shoes, to set himself apart. "Other makers offered bespoke - including the Europeans when they came to Japan for trunk shows," he says. "So I wanted to do something different, to make shoes at the same quality level as bespoke, but without the bespoke fitting."
This worked well for a while, until customers started wanting second and third pairs. These were usually for more unusual styles of shoes, perhaps with some fitting adjustments. So Yohei started offering bespoke as well.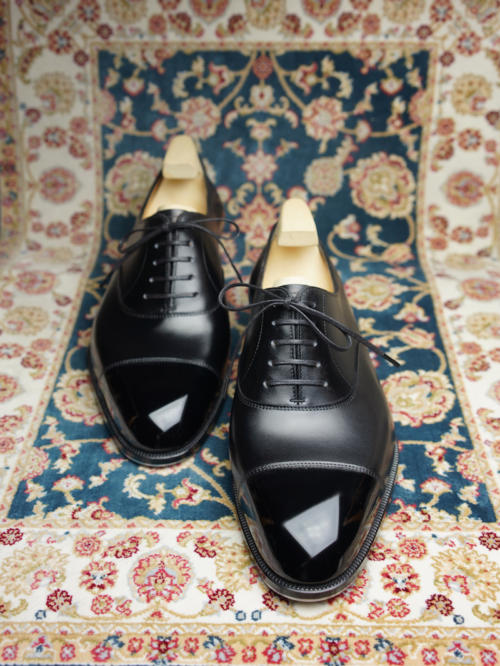 Today, Yohei offers RTW shoes (The Armoury, The Sabot), MTO and bespoke.
There is no 'personalised last' or semi-bespoke (although this was offered for a while) because Yohei found it was hard to stop that slipping into full bespoke. The expectations were too high.
Instead, he offers different levels of MTO and bespoke depending on the design of the shoe - which reflects the extra time required in the workshop.
So there is MTO A, B, C and D, with A being the house-style oxfords, B some derbies and a whole cut, C adding a chukka boot and a chelsea boot, and D a jodhpur boot (below). Bespoke has house oxfords and full bespoke (where any design is possible).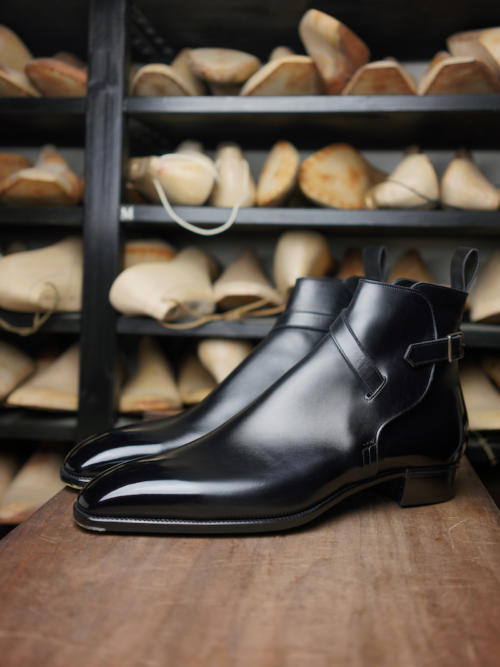 The other big change after 12 years is that Yohei is no longer on his own.
His cosy first-floor studio and workshop in Tokyo contains four shoemakers apart from himself, which I've visited twice in the past four years (the photos here were taken in 2016).
Yohei still does all the lastmaking, and some pattern cutting, but most of the other work is done by his shoemakers. "The lastmaking is the most important, because that can undermine everything," he says. "Everything else can be fixed, but if the last is wrong, the shoe cannot work."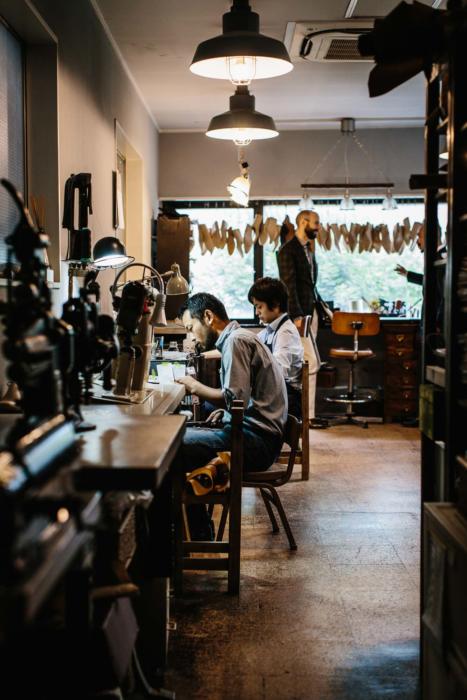 Between them, the team can make about 100 bespoke pairs of shoes a year, for about 60 clients (some order more than one).
That's not a lot for someone with as big a reputation as Yohei's, and offering RTW was also important for him as a way to expand awareness of the shoes.
"The only way for people to know bespoke shoemaking - to help preserve the tradition and the skills - is for more people to experience them," he says. "So with RTW they can feel the quality, the style, the lightness. It's also a good way to employ more shoemakers here, and spread the craft that way."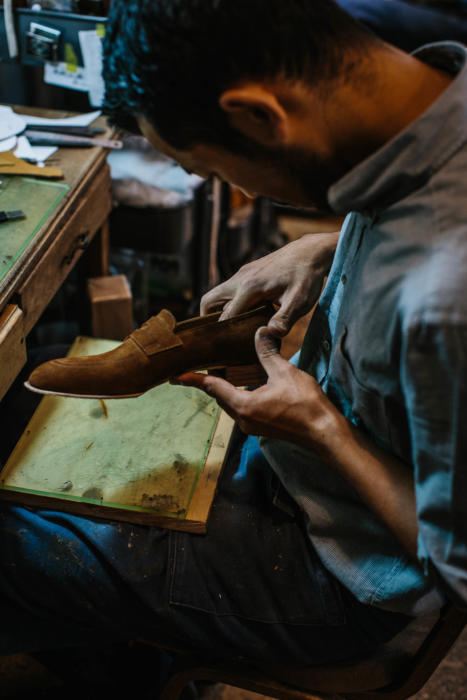 This increased awareness will also, hopefully, help both Japanese and international customers realise the quality coming out of Japan.
That might seem obvious to menswear fans that read Permanent Style, but in the broader market, bigger, more storied houses in Europe are still much better known - something that stayed with me long after the Symposium last year.
Hopefully this coverage and Yohei's forthcoming trunk show in London will help a little bit too.
Yohei currently holds trunk shows in Hong Kong and New York (through The Armoury), Beijing, Shanghai, Singapore and Paris. He also takes RTW shoes to certain countries for three months at a time, like a rolling pop-up shop. Contact Yohei for details.
Prices and delivery times currently are:
Ready to wear: 240,000 Yen (£1,700, $2,200)

Made to order A: 270,000 Yen, three to four months (same for all MTO)

Made to order B: 300,000 Yen

Made to order C: 330,000 Yen

Made to order D: 360,000 Yen

House style bespoke: 420,000 Yen, eighteen months (same for all bespoke)

Heritage style bespoke: 440,000 Yen

Full bespoke: 500,000 Yen
Photography: Jamie Ferguson, except that of finished shoes, Yohei Fukuda
Review of my bespoke shoes next week