I was more nervous than usual at this, our first Symposium in Japan.
Partly I think it was because of the speakers: sitting alongside Kamoshita-san (above) is intimidating for anyone. But mostly it was cultural.
I was very conscious of being the only person on stage that didn't speak Japanese, and so we organised the talk with parallel translation. The speakers were translated for me as they answered, which meant the audience didn't have to wait while everything was repeated.
Fortunately that seemed to work well, and no one minded my short questions being translated.
Interestingly, a lot of the discussion also centred around cultural issues.
The aim of the talk was to discuss the state of Japanese bespoke menswear. We had three craftsmen there to give their first-hand opinions: Noriyuki Ueki of Sartoria Ciccio, shirtmaker Masanori Yamagami and shoemaker Yohei Fukuda.
And then four others with different perspectives:
Journalist Kanae Hirasawa from Japanese magazine Men's Ex, who has written on bespoke for years;
Yosuke Kagami, who is the head of bespoke at department store Mitsukoshi and so organises the visits of Cifonelli, Henry Poole and others;
Author Yoshimi Hasegawa (above);
and Yasuto Kamoshita, creative director of United Arrows but also a customer of many bespoke makers in Japan and abroad.
The talk was about culture because we quickly started with things that made the Japanese suited to being craftsmen.
All the speakers agreed that there is a tendency for Japanese to be detail-orientated, perhaps slightly insular and focused. Ueki (above) laughed and said "Yes, I was that kid playing intensely with my train set. It doesn't feel that different to being a cutter, head down and focused."
Yamagami (below) described how he taught himself to make shirts, buying bespoke ones online and rigorously taking them apart and putting them together again.
In fact reassuringly for an anxious westerner, all the clichés about the Japanese seemed to be true. Including mimicry: importing foreign things, copying them, and then rigorously improving them.
Over the past 50 years that's happened in areas as diverse as electronics, denim and car making, and the speakers agreed that this had been true in shoemaking in particular too.
How about being overly modest? That was a trait I commented on last time I visited Japan: that every artisan, no matter how good they were, would say at some point that they couldn't be as good as the Europeans they trained under.
Again, yes, this was broadly true. Yamagami said he had to fight against that all the time, because shirtmaking is not as well known, and he needed to do more self-promotion. But it didn't come naturally.
The biggest point that I think speakers disagreed with was the size of the Japanese domestic demand for bespoke.
From the outside, it's easy to assume that lots of Japanese buy bespoke: after all, there are 40+ bespoke shoemaking brands in Tokyo alone, and the vast majority don't travel outside the country. Someone must be buying the shoes.
Fukuda (above) pointed out that nearly all of these are single artisans, so the number is a little deceptive. And also that many of them do things like run shoemaking schools, to supplement their work.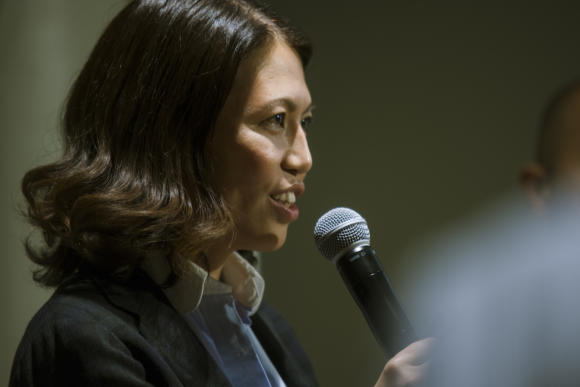 Indeed, Kanae (above) made a point which I hadn't realised, which was that most Japanese still see suits and shoes as inherently western clothing, and therefore something westerners must be better at.
There is still a premium set on western products from this point of view, in everything including bespoke.
Kanae also said that the education level of Japanese consumers around bespoke is very low: as in the US, there is little tradition around the phrase 'bespoke', and as a result most see it as meaning anything that is made to order.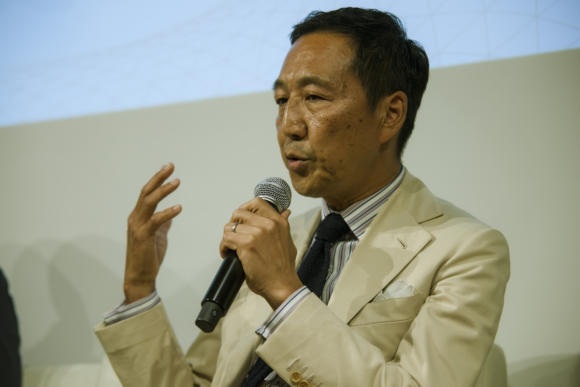 Kamoshita was characteristically thoughtful with his answers. He had been like that when we did our film for The Style Guide book two years ago, and again everything was carefully considered and slowly spoken.
This was most powerful when he talked about the future of Japanese bespoke.
In his opinion and that of Kagami (below), Japanese makers will only survive if they can go abroad. The demand at home isn't enough, and it will go in and out of fashion.
Artisans need a clearer house style, which they can promote and customers will identify with. And they need to communicate better – including speaking better English – in order to deal with foreign consumers. It was a constructive outlook, but sobering.
On the point of house style, I asked the makers whether they thought there was, or could be, a Japanese style of tailoring, shoemaking or shirtmaking. Not just quality and details, but a cut and an aesthetic.
The general agreement was that it was emerging, but it needed the next generation to really make it happen.
This is because most of the masters such as Fukuda and Ueki learnt their skills abroad, under the auspices and styles of English or Italian makers.
It was only now these masters were training apprentices of their own, in Japan, that a domestic style could start to emerge.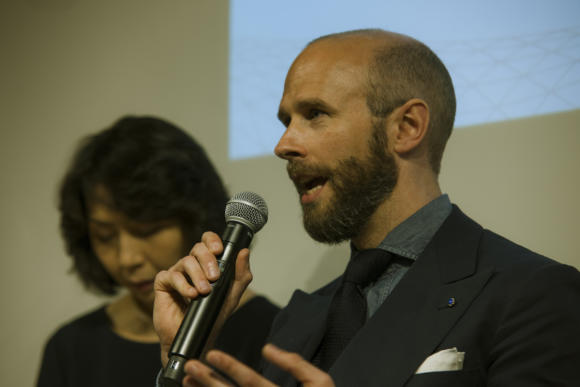 Flatteringly, towards the end a couple of the speakers asked my opinion about how Japanese bespoke is viewed in the West.
I said it's generally seen as both very high quality and rather exotic – which surprised the speakers. Rather like my ideas of domestic demand in Japan, it seems the external view often exaggerates the positive. Something amplified by social media.
Mark Cho of The Armoury (below), who was in the audience, also made the point that Japan's sheer distance meant that few people had travelled there, and even fewer had been enough to use Japanese artisans. As a result, it still seemed rather glamorous and attractive.
Mark and David Marx were two of the attendees to ask great questions, and it was lovely to have them plus friends like Ethan Newton, Seiji McCarthy and Benedikt Fries in the audience.
There were also a lot of Japanese makers and buyers, such as Tomoyoshi Takada, whom I interviewed at Beams the following day.
It all went well. The audience liked it, the sponsors Thomas Mason were happy, and my complete lack of Japanese didn't stand in the way.
Unfortunately the video coverage we planned didn't work out, but hopefully this post gives some sense of the discussion and the atmosphere.
Thank you to all the readers in Japan that came along – including some very long-term ones, which was both surprising and gratifying.
Next stop on the Symposium tour, probably New York in the Autumn. See you there.
Photography: Ko Tsuchiya @kotsuchiya
Illustration: Adrian Hogan @adehogan