I had this tweed jacket made by South Korean house B&Tailor over the past 18 months, using Robin Petterson - a Swede who does their fittings in London and at home in Stockholm.
Unfortunately, although the end result isn't too bad (just a couple of outstanding issues) the process has been pretty poor - it took five fittings to get to this stage.
I originally met Changjin and the rest of the B&Tailor team at our Young Tailors Symposium back in June 2016. Sponsors Holland & Sherry offered to pay for a suit with them (or jacket and trousers in this case) in order to cover the service, and B&Tailor measurements there.
We had the first fitting that Autumn, when Robin was in London for a trunk show. There were some fairly large issues immediately - in particular the balance left to right, which was causing the jacket to collapse under the arm on one side.
The flannel trousers, which I had asked to have with 'kissing' pleats having seen these on Chad, were also rather too small in the seat, forcing those pleats open.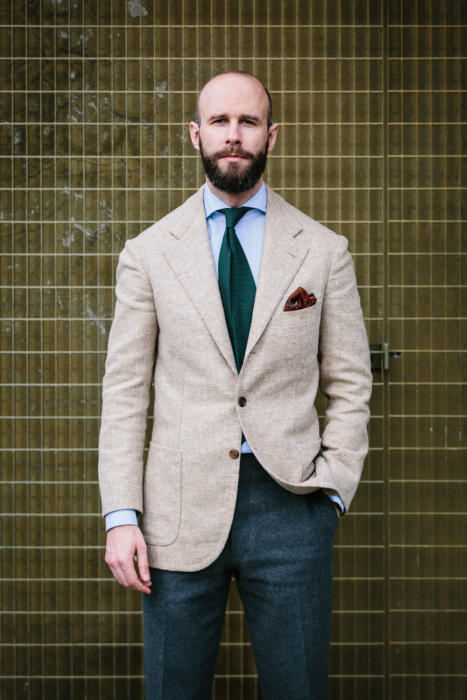 At the next fitting in December, these issues seemed not to have been corrected, and this was a pattern that would repeat itself over the next six months.
Robin noted the issues, chalked the cloth, took photographs, and made his own notes to send back to the team in Seoul. But at each fitting some changes seemed not to have been made, with Robin sometimes unsure why this was.
The jacket continued to improve in some ways, with the length correct and the collar sitting well, for instance, but fundamental issues around the balance and the sleevehead remained, with a fitting in March and then again in June.
The trousers proved hopeless. The seat was taken out twice, but there wasn't enough inlay to do so to the extent needed, and they had to be remade. I've had one fitting so far on the new pair.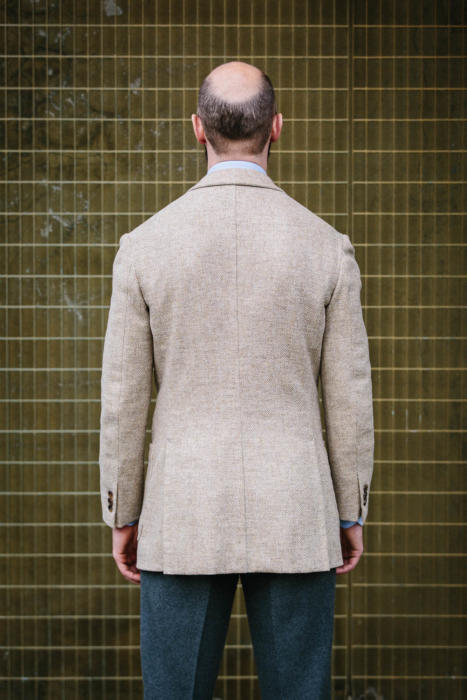 After a fifth fitting in October, I asked for the jacket to be sent to me, so I could at least have it photographed and cover it.
The result, shown here, has only two significant issues: the right sleevehead is pulled too tight and as a result creases horizontally; and the front/back balance is a little off, with the back too short compared to the front.
The sleeves are also around 2cm too short (probably from alterations to try and fix those sleeveheads) but that can be changed fairly easily.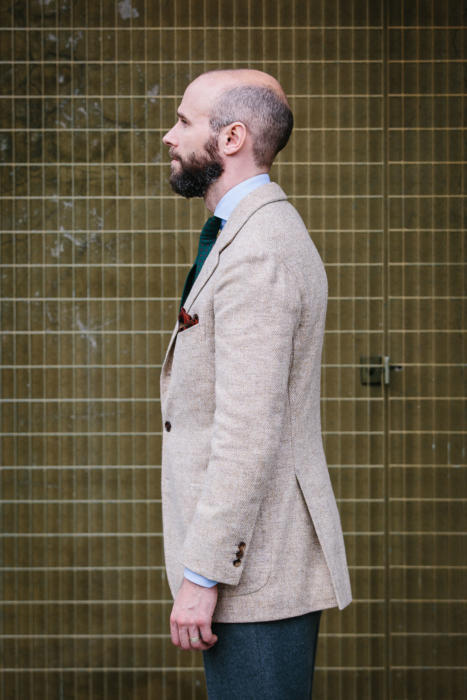 Otherwise, I quite like the B&Tailor style, as I know a lot of others do.
It draws on influences from both Florence and Naples (again, as many other new tailors do) with a relatively wide lapel, low gorge and slightly extended shoulder.
The construction is very soft, and I'd be comfortable wearing something this casual and lightly padded with jeans.
The only thing I don't like is the slimness of the sleeve. This is always a little restrictive and in fact is not as flattering as a larger sleeve, despite many men's instincts.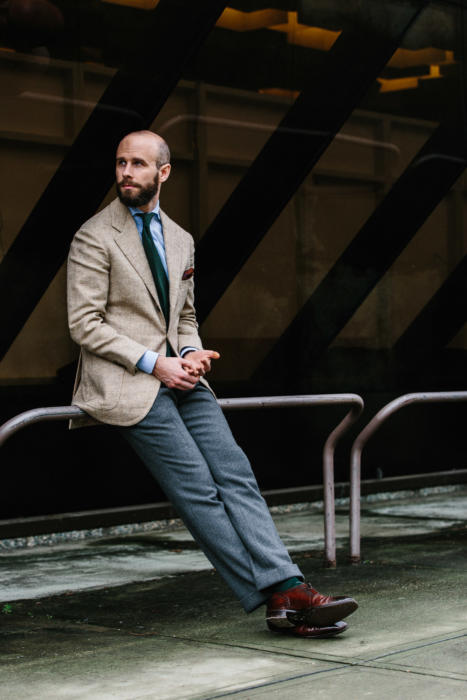 As to what has gone wrong with the fitting of the jacket, B&Tailor say they aren't sure having never seen me in it. Robin says the process would have been different had he taken the measurements initially (though you might have thought five fittings could correct things).
Certainly, I can't recommend the service based on this experience. And while I've seen some other good pieces on friends, I've also heard some negative experiences.
Given the issues, I will likely go somewhere local, such as Graham Browne, to have the remaining issues fixed.
Robin charges SEK19,000 (£1,700) for a sports jacket through B&Tailor, and SEK24,500 (£2,200) for a suit (including most cloths). He is usually here every couple of months.
Robin has been training himself with a tailor in Sweden, and offers a full range of tailoring under his own name. He also offers bespoke shirts through 100 Hands and a range of custom jeans.
In terms of B&Tailor, he spent three weeks with them in Seoul learning fitting with their garments. B&Tailor also work with other remote fitters in other parts of the world.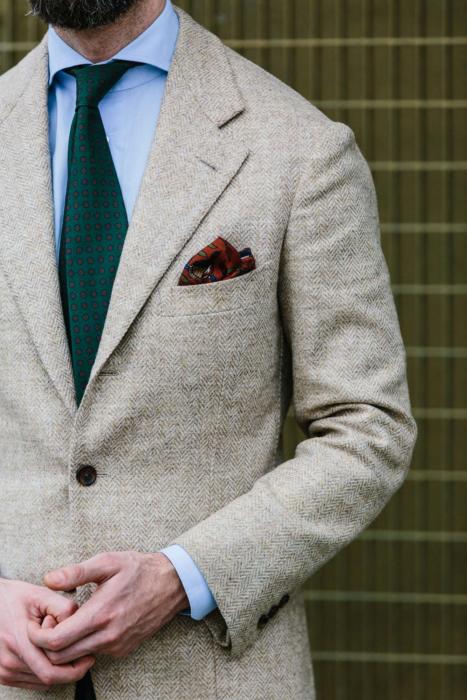 The jacket cloth, by the way, is a really nice yellow herringbone tweed from Holland & Sherry that I was excited about using.
I see it as the casual equivalent of my oatmeal-cashmere jacket from Elia Caliendo. It is similarly versatile, working with every colour of trouser except the paler tans and greys.
And it manages to be a casual jacket that works with jeans, without being the usual country brown or green (or indeed, anything brighter or more unusual).
Unfortunately, the bunch has been discontinued by Holland & Sherry since the jacket was originally commissioned (another disadvantage of it taking so long!). It was 883205, from the SherryTweed range, 100% wool at 11oz.
Holland & Sherry are bringing out a replacement tweed bunch in the Autumn.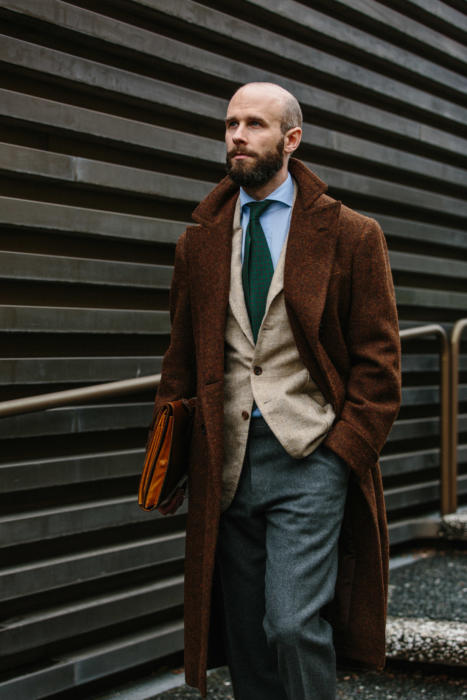 Elsewhere in the outfit I am wearing:
Photography: Jamie Ferguson @jkf_man