Harris Tweed waistcoat, Richard James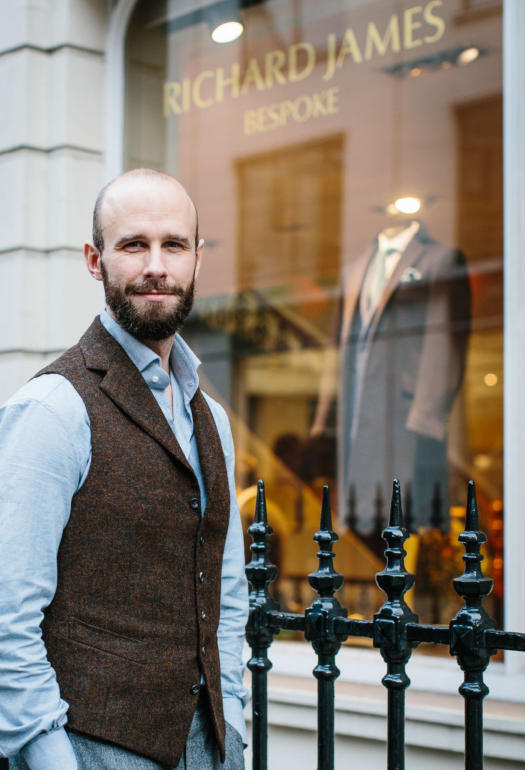 Although we discussed last week that the fit of a jacket is the most important - and flattering - part of tailoring, a waistcoat is in some ways the most satisfying.
Of all the tailored garments, it is the one that sits closest to the body, and there is something peculiarly pleasing about its precision.
The line formed by the armhole as it runs up and over the shoulder is particularly beautiful, and a clear illustration of the tailor's art. No ready-to-wear waistcoat will ever fit like this.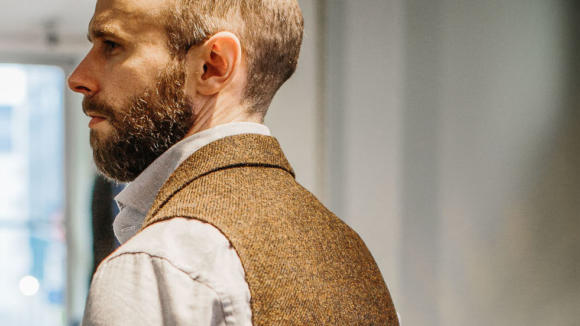 This Harris Tweed waistcoat was cut by Ben Clarke of Richard James.
I reported last year on starting three separate pieces with Ben (jacket, trousers and waistcoat) following a meeting and an interest in his openness to new ideas.
One big thing that helps here is Ben can and does make many of these things himself, as well as cutting them.
In our combination he made the jacket, with the waistcoat and trousers being made by other Richard James tailors.
Although Richard James has a clear house style, as projected through its ready-to-wear, advertising and shows, I would encourage readers that like the look of any of these three pieces (as I feature them) to consider Ben for other, particularly creative projects. Ours have certainly worked out very well.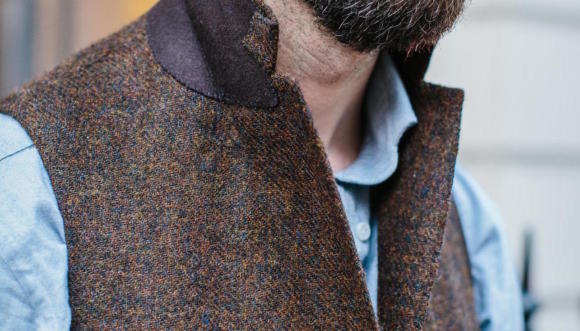 Readers may recognise the tweed from my Caliendo jacket - as I wrote on Friday, probably one of my favourite pieces of all time.
We used the modern version of that tweed from Holland & Sherry to make this waistcoat, with the idea that its texture and colour would enable it to be worn with the most casual of trousers, including denim and chinos.
The style was also one I have used in the past (for example my Chittleborough & Morgan suit), with a jacket-style collar and self back.
The style makes the waistcoat feel more like a jacket, rather than an odd part of a suit. It also means the collar can be popped up - something that is particularly practical on a cold day under a coat.
Indeed, a piece like this is at its most useful when it becomes a layering piece under a coat or casual jacket.
Waistcoats that were more workwear than dresswear used to commonly have this construction, for the same practical reasons. Vintage-inspired pieces from the likes of Universal Works or Nigel Cabourn still do for that reason.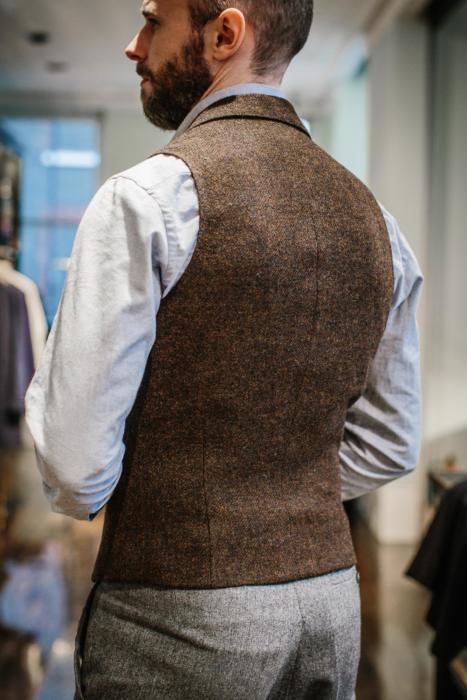 The waistcoat was cut longer in the back to enable it to be worn with those lower-waisted trousers.
This is a delicate balance, of course, as if the waistcoat becomes too long the proportions of the whole piece will be thrown off. It will also start to kick out over the seat.
I think we got the balance right here - it is about an inch longer than my waistcoats cut for a three-piece suit (and longer still than waistcoats cut for high, brace-backed trousers).
It is worn with mid-grey flannel trousers from Anderson & Sheppard (I do love this particular shade - so many are just a tad too dark, the shade of my Edward Sexton suit)
The shirt is a blue/grey brushed-cotton oxford cloth made by Simone Abbarchi.
Photography: Jamie Ferguson @jkf_man