These 'Building a Wardrobe' pieces have now been collected into a Guide, which will expand over time. You can see the list at the right (on desktop), at the bottom of this post (on mobile) or simply on its own page here.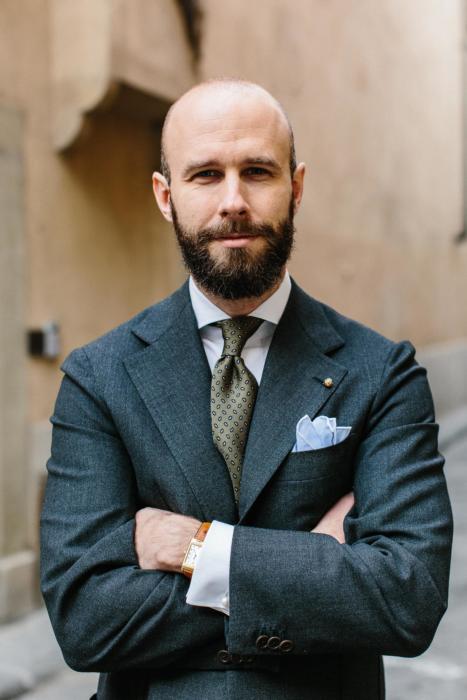 When you first start spending good money on tailoring, it's hard to buy the sensible things.
I certainly didn't. My first bespoke suit was from Graham Browne in London, and was a double-breasted in dusty-blue wool (below). It was lovely, but didn't get a lot of wear.
My first Savile Row suit, from Anderson & Sheppard, was a three-piece Prince of Wales. It was what I'd always wanted: a PoW check, from one of the best tailors in the world, with a waistcoat and everything.
But again, it didn't get much wear.
I was buying things that were exciting, rather than useful. Or perhaps, I was failing to match the situation of working in a professional office every day, with the situation of being in a fancy Savile Row tailor.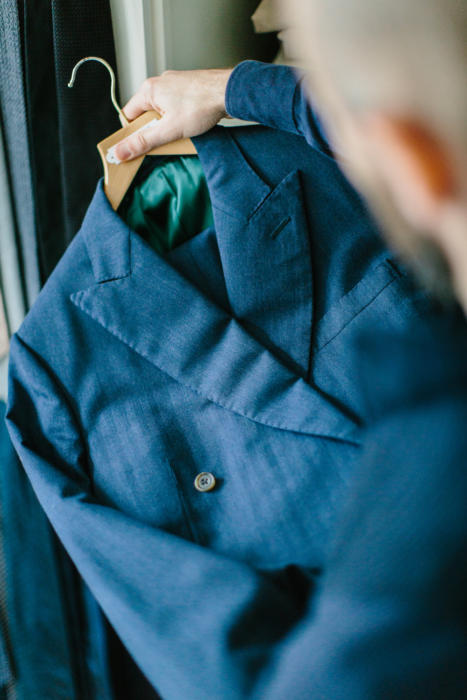 Suits are expensive, and bespoke ones even more so. For what they are they remain great value for money, but there's little point if it's something you rarely use.
This, then, is what I should have bought, and likely what you should too – if you work in a professional office where suits are regularly worn.
I've listed them in descending order of priority, so the first suit should probably be your first. None of this is hard and fast of course, but like everything in menswear there are rationalisations behind every choice. So consider them before making your decision.
[This post, by the way, is part of a broader series on capsule collections, visible here.]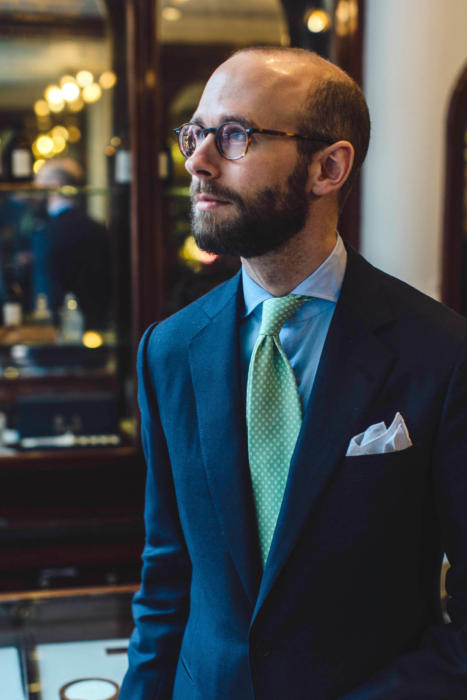 1 Navy single-breasted
Navy is the most universal and versatile colour of suit.
It is smart, professional, and can be worn with both a tie, white shirt and black shoes for a meeting or evening event, and a rollneck and suede shoes for something more casual.
The suit should be single breasted, have a notch lapel, two or three buttons on the front, and nothing else gimmicky like coloured buttonholes or flashy lining.
It should be made from a worsted wool (the material most suits are made from), weighing between 9oz and 13oz depending on your preference and local weather, and probably have no pattern.
At the most, the pattern should amount to little more than texture: a herringbone, pick-and-pick or birdseye, for example.
It sounds boring, but the prime pleasure in a business suit is not the colour or design – it is the fit and the cut. The accessories allow you to make it unusual or just elegant.
[For more on picking the style aspects of a suit, read 'The Guide to Suit Style']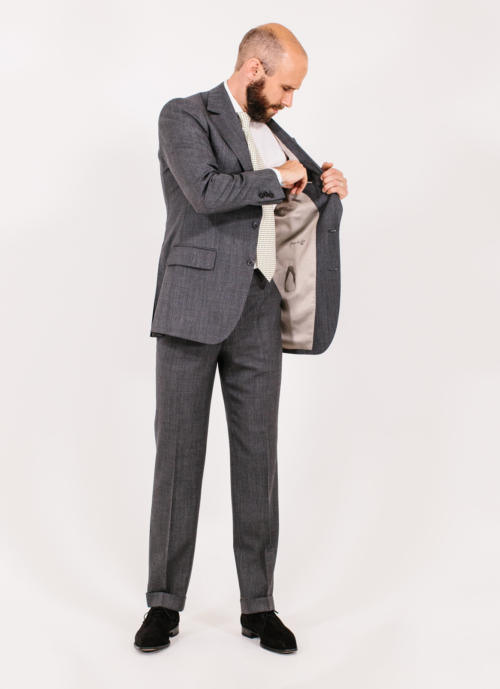 2 Grey single-breasted
A grey suit is almost as versatile as navy. From a business point of view, there is little difference. Navy's biggest advantage is that ability to look smarter at a particularly formal event.
Grey should certainly be your second choice, though, and mid-grey is a little more interesting than charcoal. Mid-grey is also kinder to some skin colours than navy, and is easier to pair with bright colours. Such colours often look cheap against navy.
One final advantage is that a mid-grey suit can be nice for a wedding. Wear it with a white shirt, grey or silver tie with a subtle pattern, and a white handkerchief.
Few things are such a waste as buying your first good suit for your wedding, and then never wearing it again.
[For an example of that wedding suit, read here]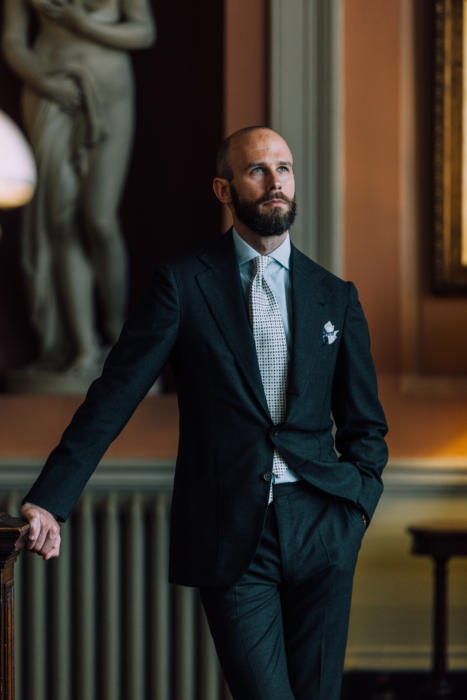 3 Charcoal single-breasted
For business, the next colour to consider is probably charcoal. It isn't as versatile as the others, particularly because it rarely works with brown shoes, only black.
But it is very elegant, especially with a little of that textural pattern going on, like a herringbone.
In every other respect, this suit should be the same as the navy and the grey. Resist the urge to add a waistcoat unless you know you regularly wear them. At the most, add small style details like a peaked lapel or slanted pocket.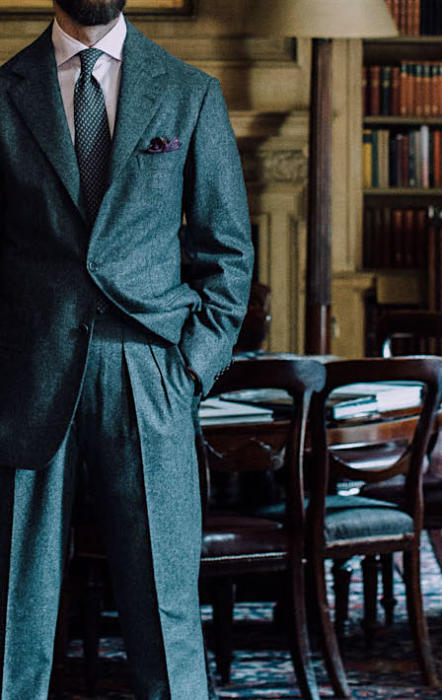 4 Experiment with subtle pattern or texture
You've now set the foundations for a solid working wardrobe. The next place to experiment, if you want to, is with a different material or some bolder pattern.
The easiest is to vary the material, and make it more specific to a time of year. Flannel, for example, is particularly popular with readers who are new to tailoring. It hits the sweet spot between unusual and subtle.
Another material to look at is a high-twist wools that is more suited to the summer – perhaps a Fresco, Crispaire, or 2-Ply from Drapers/Vitale Barberis Canonico.
Or stay with the worsted, but go for a pinstripe, chalkstripe or check. The first two can seem a little anachronistic these days, but pinstripes are usually quite understated. The risk with checks is being too flashy – always err towards small and faint.
Finally, depending on your office, you might be better served by having a jacket at this point, rather than a suit. Such as a classic navy blazer or something in a pale cashmere like oatmeal.
But we'll deal with jackets in a separate capsule post.
[Read the guide to flannel as a material, here]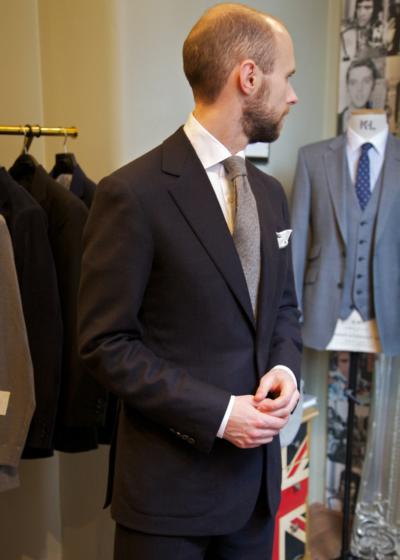 5 Get another safe one
In some ways, this is the hardest choice. You already have four great suits. Surely now is the time to run wild?
Unfortunately not. A great business wardrobe would have at least one suit for each day of the week – to allow each to rest and shed its wrinkles each day, and to extend the life of all of them.
And you're unlikely to be able to, or want to, wear a really unusual suit once a week. That includes a double-breasted suit – which is a shame.
'Unusual' is defined by other people, not by us: by what they wear, and therefore how much we stand out. And a DB is now rather rare.
So the sensible choice is to double down. Get another navy suit, just with a different texture (NOT a different, bright blue – there's nothing professional about that colour). Or go for grey or charcoal, if you've found you wear them more.
(Also, don't buy any of these suits together – add one at a time, so the impact of any mistakes is minimised.)
The further experiments, if there are any, should be reserved for maybe suits 7 or 8. If you can afford it, that's when to try a DB, a cotton suit or a corduroy suit.
It's no coincidence that this is called building a wardrobe. You need to set good foundations.