How I dress now: The jacket/trousers uniform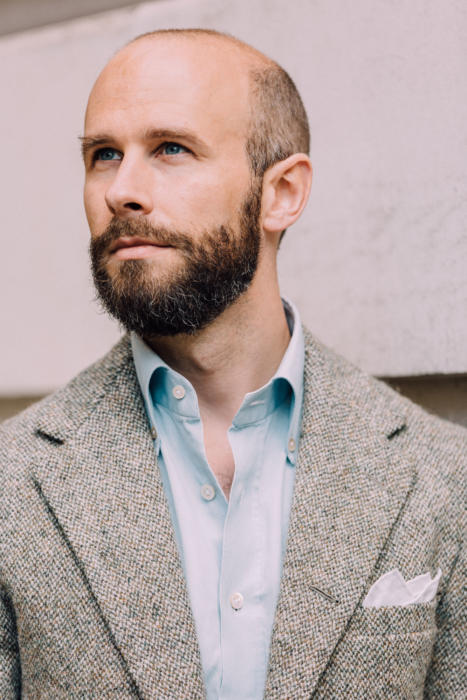 Eight months ago I quit my day job as a financial journalist in order to dedicate myself to Permanent Style. (Many heartfelt thanks for all the messages I've received since then.)
This prompted an interesting question from readers: How would I dress?
I'd written previously that I thought working in an office every day kept me grounded. I was an editor with a team to run. I had to be professional. I met lawyers and bankers in their glass offices every day.
I couldn't indulge in the sort of historical fantasy that leads young fans of tailoring to wear loud checked suits, sock suspenders or bowler hats.
So how would I dress now - with no constraints, no colleagues, and only the need to meet fashion brands, rather than lawyers?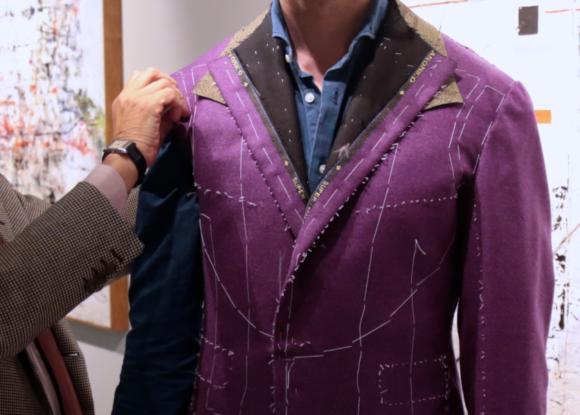 At the beginning, I have to say I went a little crazy.
Out came the Liverano purple jacket, otherwise reserved for special occasions. On a Wednesday - just because I felt like it - I'd wear battered canvas sneakers and a kimono-style sashiko jacket.
I was experimenting. Often thinking the night before about what I could play around with the next day, and laying it all out, ready.
I also wasn't cycling to work all the time, as my new workspace doesn't have room to keep clothes in a locker. So that restriction was gone.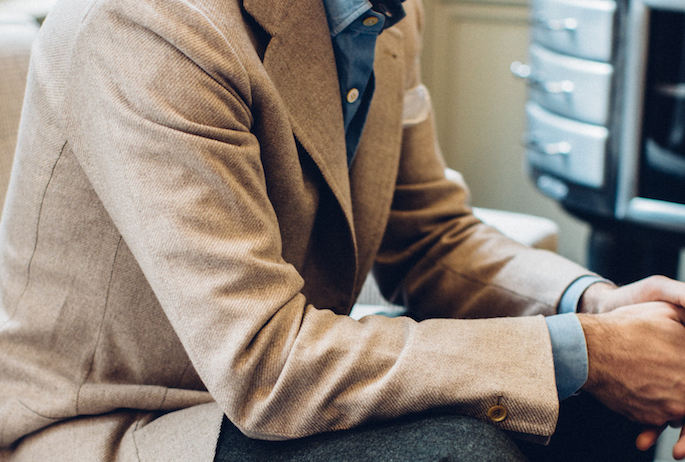 But after two or three weeks, things began to settle down.
There were a few long days in the office, and some early mornings trying out the free gym classes. There wasn't time or quite the motivation to experiment every day.
I also got a little tired of making sure whatever I wore would suit the next day's appointments.
That might be a fitting with a tailor, where I'd want to be wearing at least a shirt and proper shoes. Or it could be a new brand, where it was important to project the right image of Permanent Style.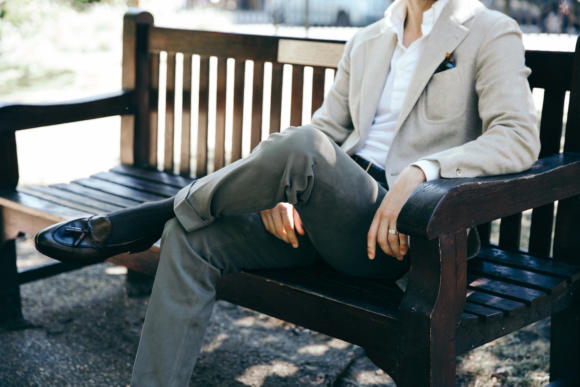 Everyone has some kind of uniform - men in particular - and I think it's often for these two reasons: that it suits the various things the day might throw at you, and that what you wear is not always the most important thing on your mind.
For both these reasons, I began to fall back to the same rough uniform I'd worn in my old office: a jacket, trousers, open-necked shirt, smart shoes and sometimes a pocket handkerchief.
It's a combination that still has plenty of room for expression. The shirt can be a Friday Polo or a polo-collared sweater, rather than a dress shirt. The trousers can be cream cavalry twills or just charcoal flannels.
And there's also a large spectrum of formality – from a white shirt, navy jacket and black shoes, to a chambray shirt, tweed jacket and suede boots.
But most importantly, on a day when I'm getting up at 6:30am to go to Pilates - and everyone else in the house is still asleep - I can quietly grab a blue button-down shirt, grey flannels, any jacket and any brown shoes, and tip-toe out of the door.
It takes no thought.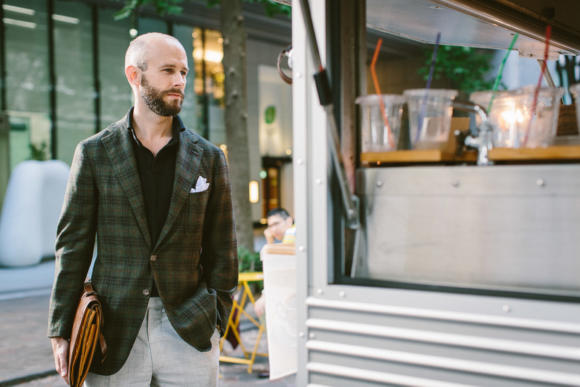 I also find that it's helpful to work within a uniform or fairly narrow wardrobe in order to slot slightly experimental things into it.
For example, a first consideration with a piece of suede outerwear will be whether it works with the standard shirt, flannels and shoes, just replacing the jacket - so nothing else has to change (example below).
A new shirt must have sufficient collar to sit up and proud inside a jacket. Most knitwear has to be thin enough to go under the jacket, or thick enough to replace it. And outerwear usually has to work over it all.
The result is that you can decide between the conservative navy overcoat or the extravagant Edward Sexton one, but you don't have to start changing everything else underneath.
It's a similar principle to a capsule wardrobe, which I know always make popular posts. Just with bolt-on extras.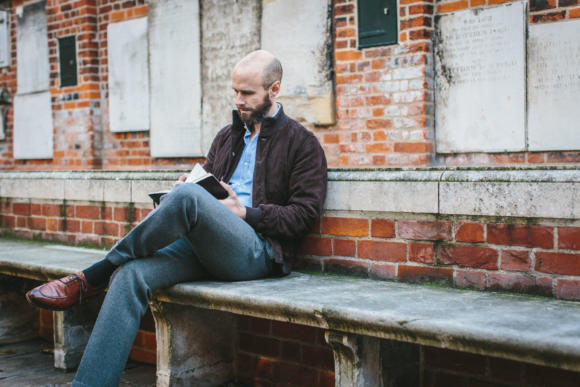 While this is the default uniform, I will still wear a suit and tie on days when I'm seeing somebody important, or going to a nice dinner.
It remains – in my view – a compliment to the host and the occasion; and it helps that I really enjoy wearing those things.
It's also nice that after perhaps two long days in buttoned-up tailoring, I have the freedom to come into the office on a quiet day in jeans, sweatshirt and leather jacket. Before enjoying tailoring again the next day.
It's similar perhaps to working at home. I couldn't do it every day - I'd go stir crazy. But it's lovely as a break from the routine.
The office/club I now use - in which I have a shared workspace - is full of entrepreneurs in everything from property to health.
They can largely wear anything they want. But if anything is lacking I feel it's a uniform like this that feels comfortable yet presentable.
Some say that without the dress code of an office, it's easy to default to the most comfortable and casual thing. Which is usually jeans, a shirt and trainers.
Partly, I think this is because for decades, men have either worn a suit and tie, or this very casual attire at the weekend. There's been nothing in between.
There is little awareness of what a sports jacket or an odd jacket might be - let alone the conventions around combining it with other things.
Hopefully that's the kind of thing Permanent Style can help with, in its small way.
And for those that would never need or want to wear tailoring, there's still plenty in understanding how much better jeans, shirts or knitwear can look with better fit and quality.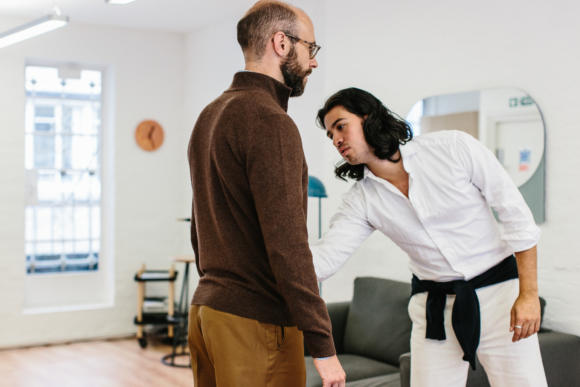 Interestingly, I find my old/new uniform gets compliments from both ordinary and menswear people alike, I think because of its versatility.
A young tailor might be interested in how someone else wears bespoke tailoring without it looking stuffy.
And a friend might be equally interested in how clothes can look well put-together without being too smart.
Perhaps another post similar to 'Which office are you' would be good, showing the range of looks within this uniform.
And it might be interesting to do something similar showing how good outfits can look without (shock, horror) a jacket all day.
As ever, I'm interested (and I'm sure other readers are too) in what you find becomes your uniform every day. Thanks.
Photography: Jamie Ferguson, except Liverano fitting