Nicholas Templeman bespoke shoes: Review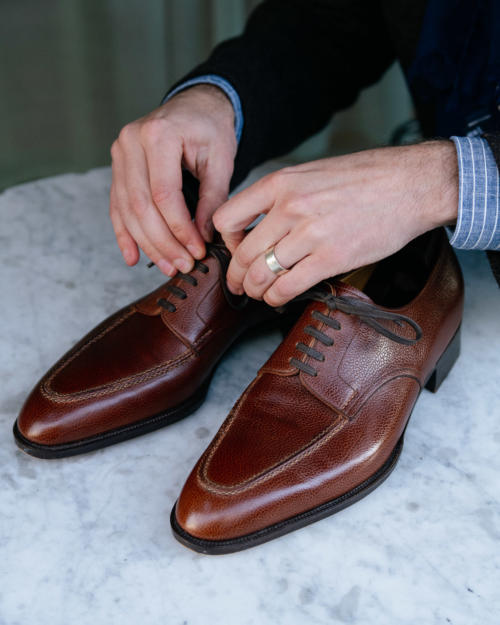 Bespoke shoes are a luxury for me, rather than the norm.
Unlike bespoke tailoring - which I will always buy over RTW as long as I can afford to - I'm quite happy with a shoe wardrobe which is mostly ready-made.
This can put more pressure on bespoke footwear, as it has to deliver in all respects. It must be as pleasing stylistically as RTW, but also be superior in fit, and probably look bespoke in some manner too, whether through a finely turned waist or an intricate hand detail.
Fortunately these shoes from Nicholas Templeman, which I wrote about for the first time last year, succeed on all those points.
They do have a couple of minor issues, around the lacing and the vamp, but this is still good for a debut pair. On the important points - most importantly fit - they are spot on.
The shoe is a Norwegian derby, in a grained calfskin, with a rather decorative double-braid around the apron (or 'lake' as Nicholas calls it - an old term still used at his old employer, John Lobb).
That stitch is tricky to do, involving six threads intertwining their way around the front of the shoe, and I think certainly qualifies for the intricate hand detail mentioned above. Very few RTW makers would spend the time to include a detail like that (if they were even able to do it).
I don't normally wear grained leathers, but this is mostly a prejudice based on the fact they're often cheaper, corrected skins whose blemishes are hidden by a print. They often look and feel plasticky.
However, one of the nicest things about this commissioning process was the interaction with Nicholas over leathers. We chatted about what he had used on this style of shoe before, how it had made up and worn, how new versions differed from old ones, and all illustrated with photos from his previous work.
That didn't just deepen the experience of commissioning the shoes - akin to sourcing vintage cloth for a jacket - but it gave me confidence in how these shoes will age. It was that which convinced me to try a grained leather for the first time.
I did write an initial article on Nicholas here, back in June, and if you haven't read that - and are interested in commissioning from him - it's worth doing so.
In that piece I described our first fitting, with the shoes in welt but no sole attached. We later had a second fitting, and then made a tweak to the shoes once they were completed.
That tweak was required to line up the facings of the shoe - the two parts that are laced together across the top of a derby.
Derby shoes are surprisingly hard to get right in this respect, when made bespoke. Any pull on the upper on either side of the shoe will tug these facings out of line, slightly. An oxford is easier because one end of the facings cannot move.
In our case the facings were a little closer together at the bottom than the top, with my instep pushing them apart at the top end. This was mitigated by adding some leather to the last, and then putting the shoes back on it for a while.
They're still not perfectly aligned, and it is probably one difference you'd notice compared to a RTW pair. But it is minor, and I doubt anyone would see it that wasn't trying to analyse or review them.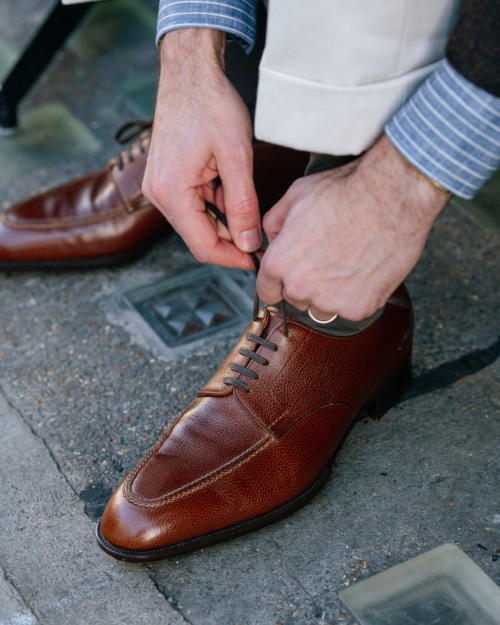 The fit of the shoes was very good from the start, and they've proved very comfortable to wear.
This is probably the hardest thing to get right with bespoke - designing a shape to fit someone's foot, from scratch, with no pre-existing knowledge about their feet, style or preferences.
But it's also something that I think must be right. A bespoke shoe has to fit as well or better than a RTW shoe, otherwise there's no point, given the number of bespoke-make shoes that are now available (Yohei Fukuda, Stefano Bemer etc).
It's also the area I've found most disappointing in the past. I love my Cleverley shoes - my first experience of bespoke - but the fit wasn't better than RTW until they'd been adjusted, then stretched a few years later.
It's nice to say that Nicholas nailed this. In fact these were probably my best-fitting first pair - on a par with the second ones (here) I had from Stefano Bemer.
The style of the shoes is interesting. The shaping is far from aggressive, yet the relatively long toe shape does give them real character.
On the shaping, note in the image above that the waist is only gently rounded, without the aggressive bevelling or tiny, narrow waist you get on some bespoke.
Equally, the heel is pitched forward, but only very subtly, following the natural line of the heel cup (visible on the side-profile shot higher up). And the bottom of the heel is shaped to flow into the waist of the shoe, but to a degree that would be barely noticeable to a non-bespoke fan.
(For those non-fans, there is an illustration of these points of bespoke make in my old review of Foster & Son.)
Nicholas describes his style as a traditional West End make, referring to the shoemakers around Mayfair and the West End of London. This makes sense given his background at Lobb, and certainly Italian and French makers are often more aggressive in their styling.
However, his style is also more subtle than the two English names readers are most likely to know - Cleverley and Gaziano & Girling. This is down to Cleverley always being a little different, slim and shaped, and Gaziano being a relative, innovative newcomer.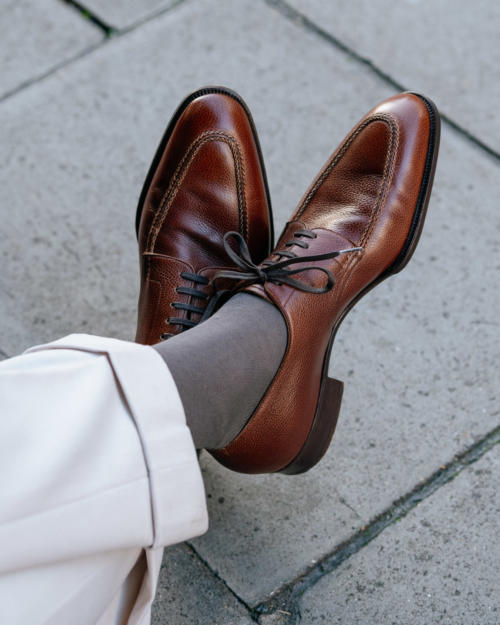 And then there's the relatively long toe shape, mentioned above.
For as much as Nicholas says his roots are in traditional West-End makers, he also believes a shoe should look bespoke - that there's little point having a bespoke shoe if it doesn't have a distinctive style you couldn't get in RTW.
The result in my shoes is a profile that looks distinctive, but also more dressy. And much as I really like the shoes, that does limit them slightly. They will be best worn with pale, smart trousers like the stone-coloured twills here, rather than cotton chinos.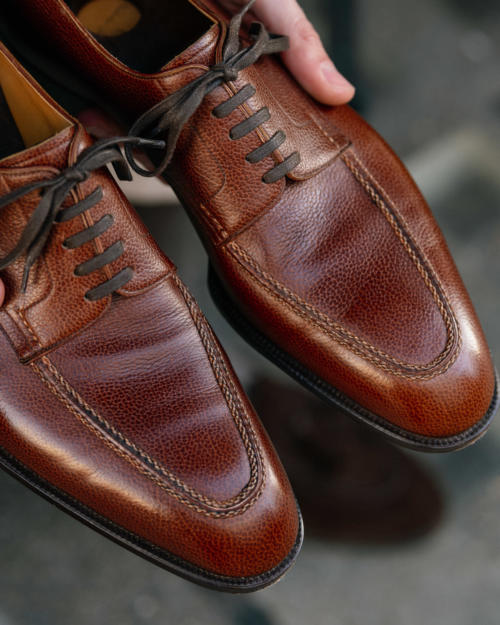 I think this will be an interesting tension for bespoke shoes going forward.
As people dress more casually, they will need fewer smart shoes. Bespoke shoes can of course be more casual, with squarer waists, squarer heels, rounded toes etc. But then there are fewer reasons to go bespoke. It becomes just about fit, and to a lesser extent quality, rather than style at all.
As I've mentioned in previous posts on bespoke shoes, I think the future there might be a really good, reliable system of made-to-order shoes on an adjusted last - as Saint Crispin's has tried to do and Carreducker is exploring as well.
However, none of this should take away from the excellent service and shoes from Nicholas.
As I mentioned at the start, the shoes are a little close over the toes, which is leading to wrinkling on the apron. But this is already softening with wear, and no first pair of bespoke is perfect. (I've also deliberately shown these shoes after more than a dozen wears - unlike some which are often reviewed unworn.)
Nicholas got all the important things bang on, and I'd certainly recommend him, as well as look to use him again myself in the future.
It helps that he's in London too. My other favourite bespoke pair at the moment, from Yohei Fukuda, is just as nice - but he is on the other side of the world.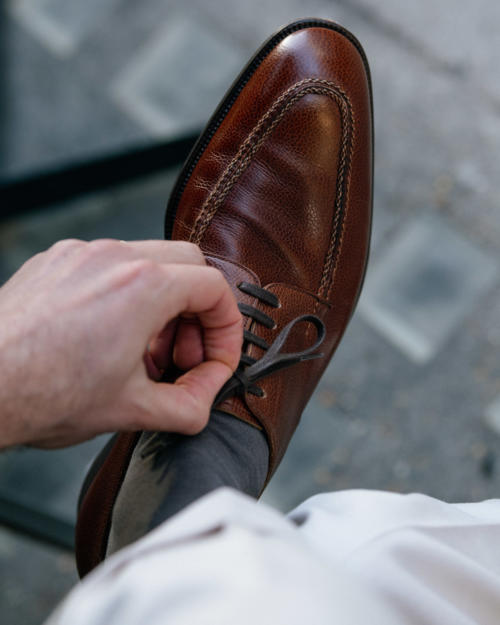 Bespoke calf-leather shoes, with hollow and hinged trees, start at £2950 plus VAT. Ankle boots are from £3450, and alligator from £5300.
Nicholas normally visits the US twice a year: New York, Washington DC, San Francisco and (for the first time on the next visit) Dallas. He also travels to Japan and Hong Kong.
My shoes took more than a year and a half, but mostly due to the restrictions around Covid. Normally delivery times are around eight months, four months for a subsequent pair. Though obviously dependent on travel timings
Photography: Alex Natt
Clothes pictured with the shoes can be seen on this previous post on WW Chan.