Nicholas Templeman bespoke shoes: Introduction and fitting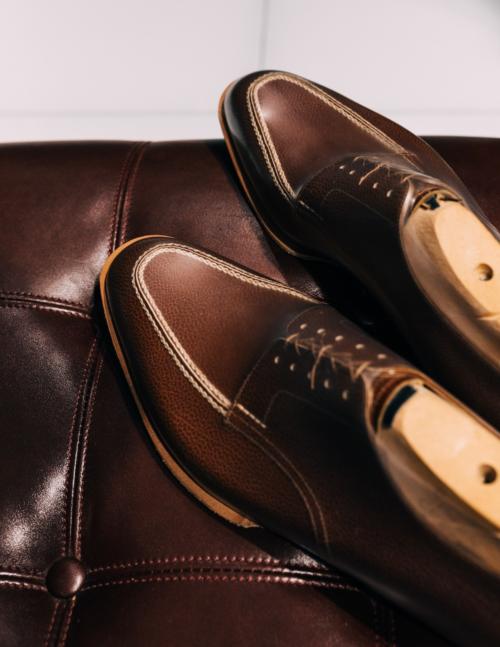 Nicholas Templeman is a bespoke shoemaker, an ex-John Lobb lastmaker who now works out of his home in North London.
We've been working on a pair of derby shoes for the past year, and they're near completion. So I thought it would be good time to write a little about Nicholas, his background and his style - and include some photographs of our first fitting last year.
Although Nicholas was at Lobb for seven years, and it's an important point in establishing his credentials, it feels like it's becoming less and less relevant, given he has been on his own for almost as long - since 2014.
"It did take me a while to get out of some of the habits," he says. "For about a year I was still calling people 'Sir', which everyone has to at Lobb. It would be a case of 'Please call me Steve' and I'd reply 'Of course Sir'."
He still finds himself occasionally using Lobb names for shoe styles - such as a 'navvy cut' for a derby, which refers to the fact that the shoe was worn by the navigational engineers (basically, a worker's shoe).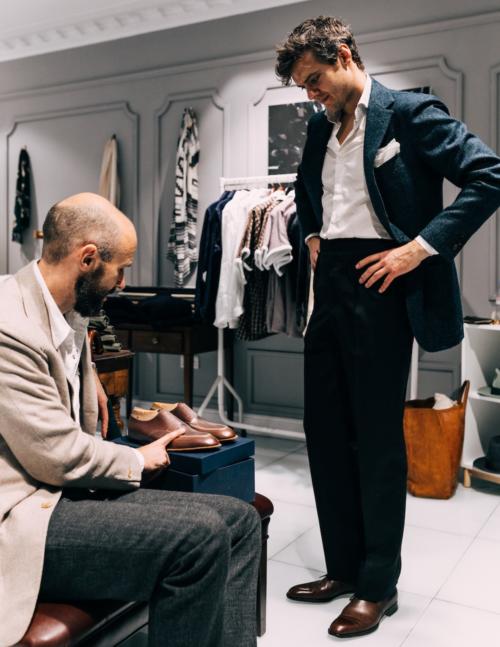 Although Nicholas has shaken some of this terminology, he still considers himself grounded in West End traditions. That's the way he was trained, and the make he still employs: a solid, classic English shoe.
However, his style and design is more international. In fact, when he left Lobb he "went a bit mad" he says: "I'd been making one way for seven years, and all of a sudden I could do anything. I became obsessed by other makers, by Anthony Delos and Dimitri Gomez in France and by the Japanese."
"I remember when I went to the US for the first time. I'd taken some good orders and made all these lasts with really smart, elongated toe shapes. I thought I was going to knock it out of the park.
"But when I went back to the US to fit them, some customers said it wasn't what they wanted. They were used to American shoes, to comfortable round-toed styles and penny loafers."
Nicholas has become better at tailoring his style to different clients since then. In fact, I would say the communication was one of the things I enjoyed most about commissioning from him. We discussed tanneries, international styles and little points of technique, all of which led to a feeling that I was deeply involved in the process.
Examples of some of his work below, all taken from his website here.
Nicholas studied fine art before deciding he wanted to be a shoemaker, and he thinks this gives him a slightly more aesthetic appreciation than makers who are primarily craftsmen.
"In some ways it was a great combination of both - the artistic and the technical," he says. "I specialised in print making, which is creative but also involves a lot of the repetition and refinement you get in shoemaking.".
His decision to go on his own was driven by a desire to create his own identity - but also to control every aspect of the process.
"It could be rather frustrating at Lobb: you had little interaction with the customers, yet they would still be upset at you if something went wrong," he says.
"In fact when I first started working there, we had to go to the office and explain what email we wanted sent to the customer. Then replies were printed and handed to us later."
Nicholas still uses outworkers for the closing and making, which is standard in the UK. But he controls all the measuring, the fitting and the lastmaking, as well as the pattern work and final finishing.
And most importantly, there is the direct relationship with the customer. "In some ways it feels a lot more modern than going to a shop, and dealing with an organisation," he says. "I want to understand the customer and make something that fits their lifestyle. I'm only 37 - a millennial - and I'm not going to make them an old man's shoe unless that's what they really want."
Nicholas has a workshop on the top floor in his house, and receives a lot of customers there - as well as visiting others in their offices or homes.
I visited for our first appointment, and it's a lovely little space, with views down over the garden. There's also something pleasant about being picked up at the station, having coffee in the kitchen, and then chatting about shoes for a good hour or so.
Nicholas and I have a bit in common too, being similar ages, with young families and an interest in cycling - so that ate up another hour.
In fact, while I know some readers would enjoy the full retail experience, this personal relationship is the kind I'd like to have with my tailor or shoemaker - particularly as I get older.
"I don't ever really want to have my own shop," Nicholas says. "For one thing, I'd have to make twice as many shoes as I do now just to cover the rent. Perhaps a showroom at some point, shared with others. But that's about it."
The shoe we commissioned was a derby in an old grained calfskin that Nicholas had from French tannery Annonay.
Pictured is our first fitting, with the upper wrapped in plastic to protect it. Nicholas normally does one fitting 'in welt' like this, and then another with the finished shoe.
"I do as many as is needed though, and as many as the customer is comfortable with," he says. "If we need more, and it's convenient for them, then that's fine."
The whole process normally takes about eight months, for a first shoe, but if a fitting isn't required for the second one, then more like 3-4 months.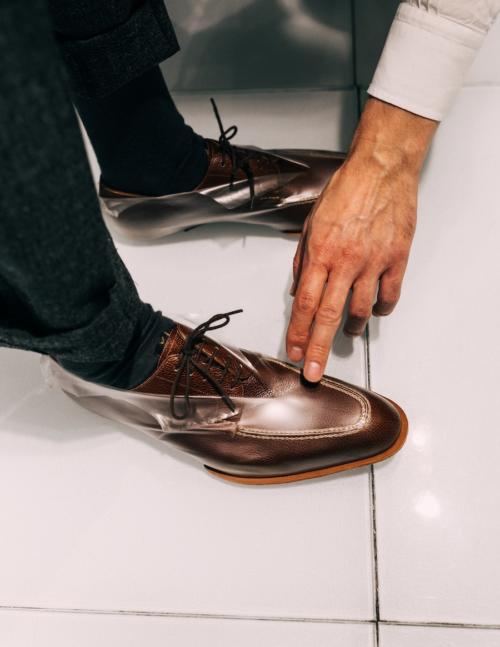 Happily the fit on my pair was very good, with a snug hold around the heel and sufficient room around the joints and toes. It boded well.
One more fitting might be needed, but on a completed shoe and just to check there isn't anything small left to tweak.
That might be a question of adding leather to the last and getting it back in the shoe, for example. Or it might require the sole to be taken off again - Nicholas made it clear he is always happy to do that if required.
We conducted the fitting in our PS Presents pop-up shop, with a little bit of an audience. That's hatmaker Cody Wellema - always interested in seeing other craftsmen at work - peering over Nicholas's shoulder.
Review of the completed shoes in a few weeks.
Bespoke calf-leather shoes, with hollow and hinged trees, start at £2950 plus VAT. Ankle boots are from £3450, and alligator from £5300.
Nicholas isn't currently travelling due to the Coronavirus, but normally visits the US twice a year: New York, Washington DC, San Francisco and (for the first time on the next visit) Dallas. He also travels to Japan and Hong Kong.
Photography: Milad Abedi