Layering and accessories for cold Spring days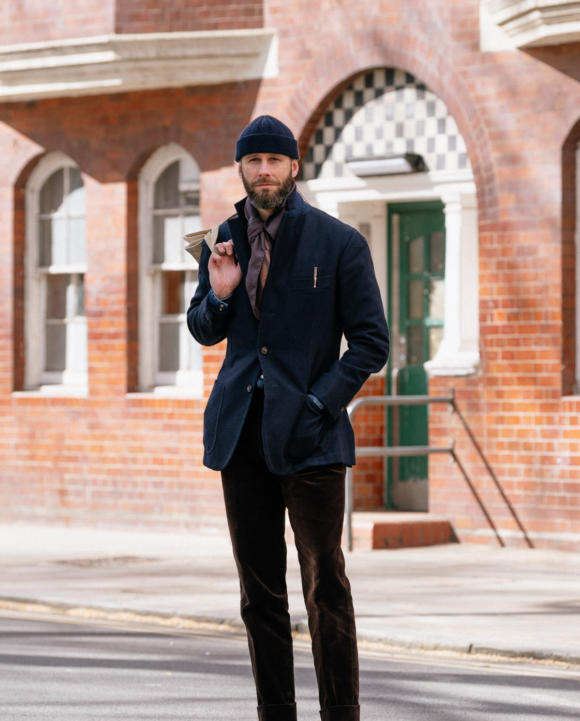 Back when these things were possible, I remember an American friend visiting in the Spring and asking: "How on earth do you dress for this weather? I can see my breath in the morning, but my midday I'm roasting and can barely wear a jacket."
We've been going through such days again in the UK recently. I'm no meteorologist, but it seems the combination of cold air (winds from the North or East) and hot sun (given the time of year) mean it can be freezing until the sun gets up, then boiling when it is.
Dressing for such weather can be frustrating, particularly if you're a traveller and thought carefully about packing for every eventuality.
I was thinking about this recently when we toured London for our recent series of articles on great shops - which is the outfit pictured here.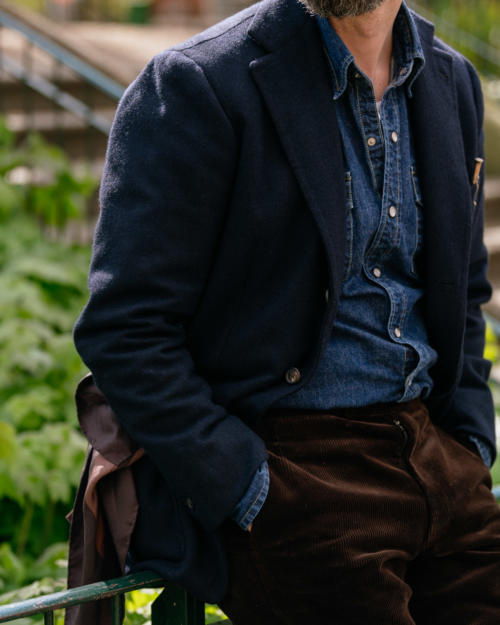 Alex and I were having coffee at the Allpress on Redchurch Street, and alongside the fascinating variation in style you get around there (business, fashion and defiantly anti-fashion) there was a broad range of choices for the Spring weather: some guys in T-shirts, others in coats.
I find a better approach is to dress in layers, with heavy fabrics for the basic pieces (jacket and trousers) which avoid the need for a coat. The last thing you want is to be carrying a coat over your arm all day.
In this case the jacket was navy Fox lambswool, an overcoating material at 20/21oz, made up by Solito. I wouldn't actually recommend something this heavy for a jacket, and regret it slightly: 16-18oz would have been better, with almost as much heft but much more pliable. But it does come into its own on days like this.
The trousers were brown corduroy from Brisbane Moss, made up by Whitcomb & Shaftesbury. They too are very heavy, at 19/20oz, although I don't regret those - the weight has perhaps more benefits in a trouser, giving them a fantastic shape.
The advantage of these weighty cloths is that even on a brisk, chilly morning, they are very effective wind breakers. It's that northerly air that's going to make you cold, and these stop it.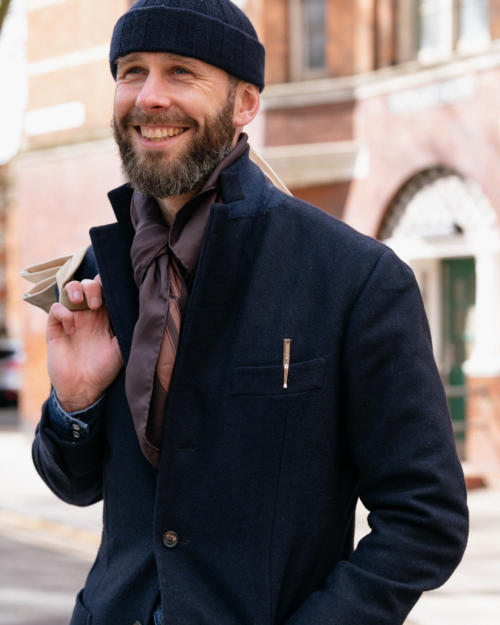 The rest of the job is done by layers and accessories.
The shirt itself (Bryceland's Sawtooth) is pretty heavy, but it's reinforced by a vest underneath (Lee Kung Man, also Bryceland's). And if needed, that vest can easily be removed.
In fact, a more practical option there would be a sleeveless cardigan, in that it would provide more warmth and be easier to take off. But that probably wouldn't have worked so well with the outfit (more country, less western).
The scarf and watch cap protect the remaining areas exposed to the cold - the head and neck - and can of course themselves be easily removed. Indeed, the scarf can even be pleasingly stuffed into a jacket pocket, keeping its colour and pattern on display.
Also, while I certainly didn't think about this at the time, a silk scarf works particularly well because silk is such an effective wind-breaker. It's not as warm as wool or cashmere, but its density makes it great at blocking cold air (the reason they were often worn by cyclists).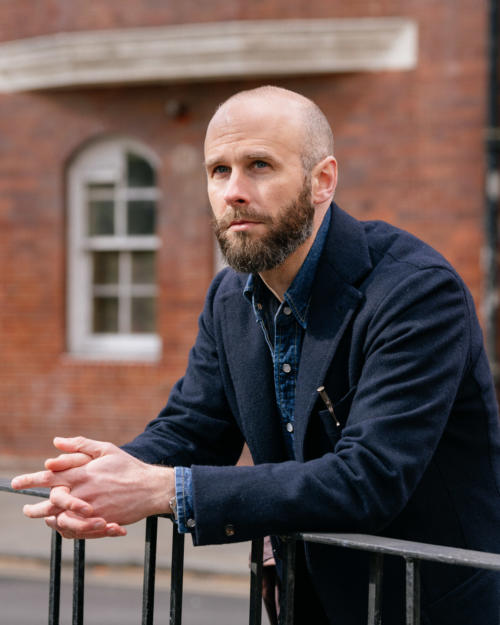 By the middle of the day, having lunch at Morris's on Clifford Street, the scarf was in the pocket and the watch cap folded in a bag.
It was decidedly warm, even in the shade. Although the necessity of sitting outside (still required in the UK at the moment) meant I was still grateful for the heavy jacket and trouser cloth, whenever a cold wind whipped around the corner of Bond Street.
It's also occurred to me while writing this piece how I often dress in such combinations. See examples below from Stockholm in the Autumn (watch cap in the bag at that point) and Florence in the Winter.
That might also be motivated by the fact that, on a long day of visits, whether to shops or stands, it's a pain to have more than one outer layer. So it's a jacket or an overcoat, not both.
Threat of rain would necessitate a lightweight raincoat that could be rolled up into a bag, perhaps. And a brimmed hat that would be better in that case at protecting the head.
Clothes in the main outfit, with links to more details:
And accessories:
Photography: Alex Natt @adnatt