Hermes silk printing, Lyon: Factory visit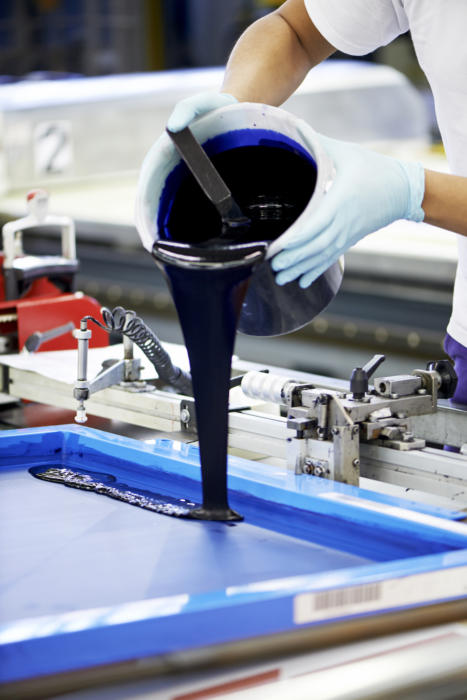 I've been buying and wearing Hermes silk scarves for several years. (Indeed, a nice thing about the seasonal collections is, with a little work, you can date them all precisely).
So it was a personal pleasure to visit the silk printing atelier in Lyon, the engraving next door, the archive in Paris, and interview creative head Christophe Goineau.
In fact after three days of Hermes time, it's quite hard to know where to start.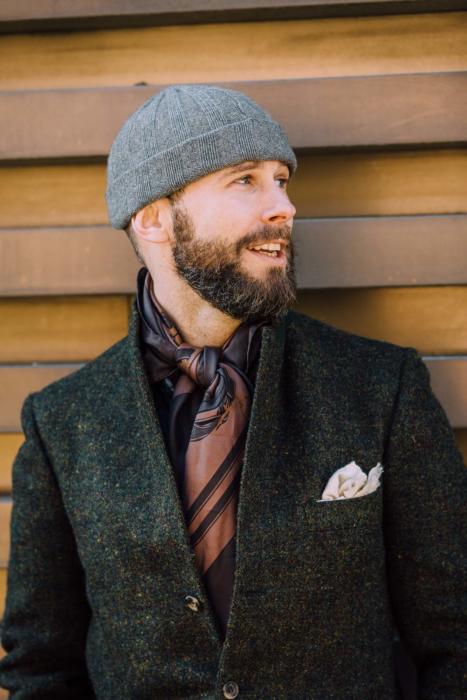 Perhaps let's begin where most Permanent Style readers do, with the quality.
Hermes makes, from most angles you could conceive, the finest quality of silk scarves. As the director of one silk mill put it to me recently: 'They're just a step-change above everybody else. Where some might use eight or 10 different layers of printing, Hermes uses 20 or 30. And yet other designers are often more expensive.'
I was to discover in Lyon that it's actually up to 46 layers. The scarf I watched being drawn and printed, 'Animapolis', has 38.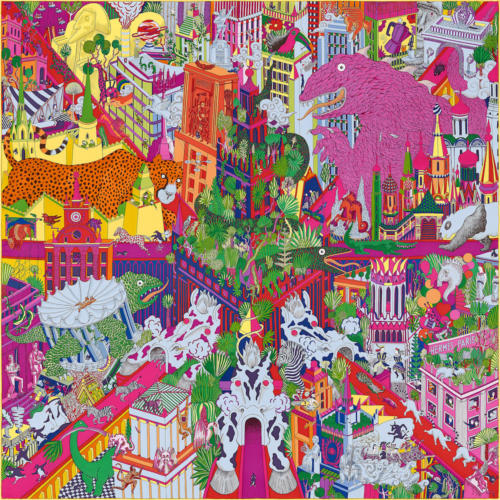 This number of layers is important because it increases time and cost proportionately. Twice as many layers means twice the number of hand-drawn frames and twice the number of printing stages.
The method is screen printing - often referred to in France as 'méthode lyonnaise' - where a stretched piece of silk is dyed with one colour at a time, each stage only filling in the little bits required for that colour (which might be scattered in irregular shapes around the design).
It's essentially the same as the screen printing used on silks for ties, whether in Macclesfield in the UK or Como in Italy. The difference is that those are usually simple, repeated patterns, rather than a paintings rendered as a hand-drawn graphic.
Both produce a sharper and more vivid print than the more common inkjet printing.
In the image below, you can see a design going through the printing, with just three layers applied so far: a navy, a light blue and a cream.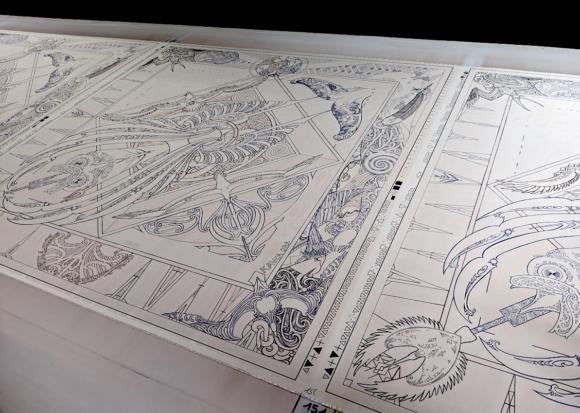 However, the most interesting thing about Hermes is while it produces this level of quality, the manufacture is modern and highly mechanised.
People taking you round factories will often comment that they combine the best of new technology and traditional craft. This is usually rubbish. They nearly always have machines they'd rather replace with more modern, more reliable versions.
At Hermes, there is no old machinery. The creation of the printing screens was overhauled five years ago. Three years ago, the screens were all being cleaned by hand after they were used - now it's done by huge mechanical arms.
I've never been to a factory where so many stages of production have been replaced so frequently.
Hermes can afford to do so, of course. And it's the only way they can print the volume of scarves they need to, to still produce them all in France.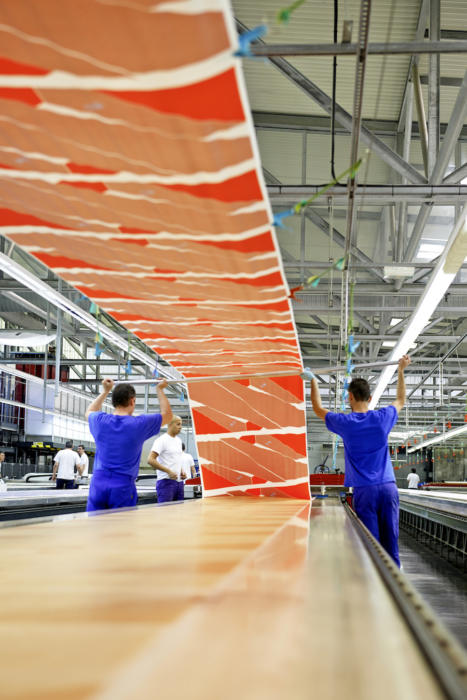 It can easily seem like mass production. The most modern hall where the silk is printed has two 150m-long tables. It's huge.
Mechanised print screens move up and down in unison, pressing different colours of dye across each square. Workers move slowly alongside each one, watching for when colour or settings need to change.
But at the same time, this is the highest level of quality. It's not like a bespoke suit or shoe, where painstaking handwork is necessary to produce a certain quality level.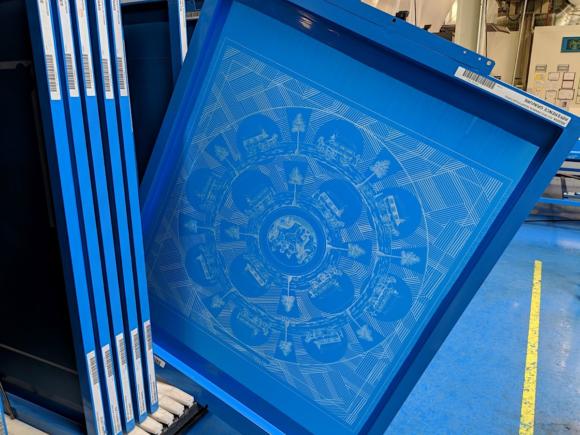 The handwork on a scarf is kept to the rolling of the edges - and the drawing, which takes place at the engraving facility a short drive away.
Here a team of Hermes artisans turns the designs produced by the artists the company collaborates with, into different silk screens.
We watched one artisan re-drawing sections of the Animapolis design. She carefully sketched each outline, and hatched each shadow, one colour at a time. It was painstaking work, and felt like producing 30 or 40 different levels of art, all on top of each other.
She said each layer can take more than 20 hours to complete, and a whole design might take around 700.
A huge amount of time, which is justified when the mechanised side can produce hundreds of scarves from that one design.
Again, an interesting point was that this artisan used a digital pen to draw on a digital screen. This was a method introduced a few years ago, and the artisan commented that it was nicer, as you could get more precision and turn the piece more easily.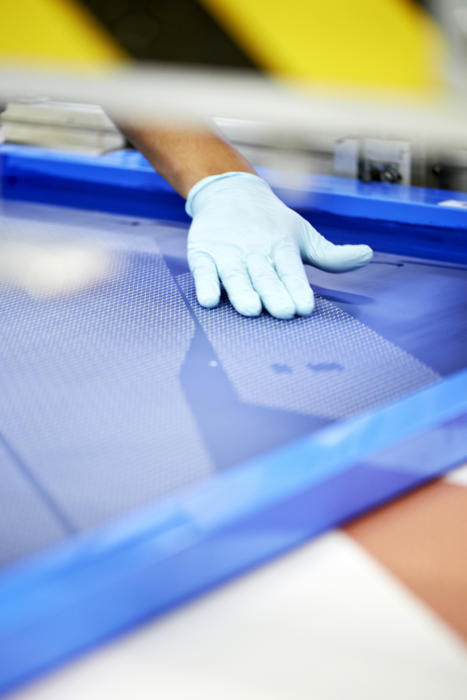 That engraver is one of only two left in the Lyon area - the historic home of textiles in France.
And in fact Hermes owns several other operations that operate under the holding company HTH.
Like Chanel, it often buys French production houses that are being sold off, and HTH actually does most of its work for other companies. The most specialised is an ancient production in Challes, which mostly weaves horsehair for upholstery.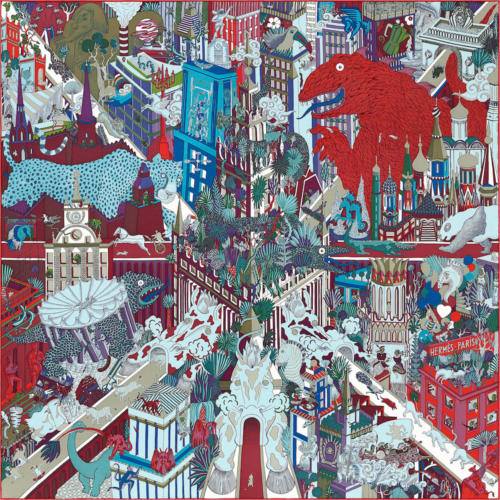 The other area of production I loved was the colouring - another area where peers in the industry say Hermes is the pinnacle. I love studying how colours are put together in scarves like the red/mint combination above.
But I'll leave that to another post, along with Christophe.
For now I'd like to say thank you to Pauline, Kamel, Christophe and everyone at HTH. It can be hard to connect to a big brand like Hermes, when you're used to meeting the founders at other craft menswear brands.
So I feel particularly grateful for having met everyone that makes the scarves I love, and collect. And I hope I've made readers feel a little closer to them too.
Photography: Hermes, except numbers 4 and 6, Permanent Style. Images of myself, Jamie Ferguson
Want to learn about how Permanent Style is funded? Read 'Is this an advert?' here.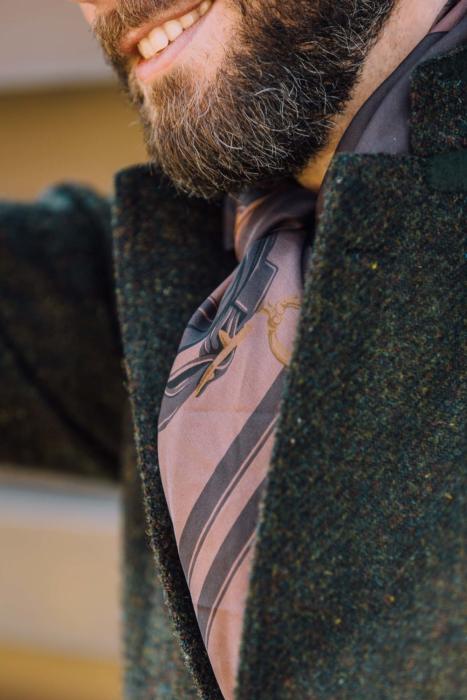 UPDATE
In answer to requests from readers in the comments below, here are another couple of images of me wearing the scarves - all 90x90 silk versions.
This size works best under a popped collar - otherwise it can be a little small, and the 100x100 is better.