Support our shops. At least the real ones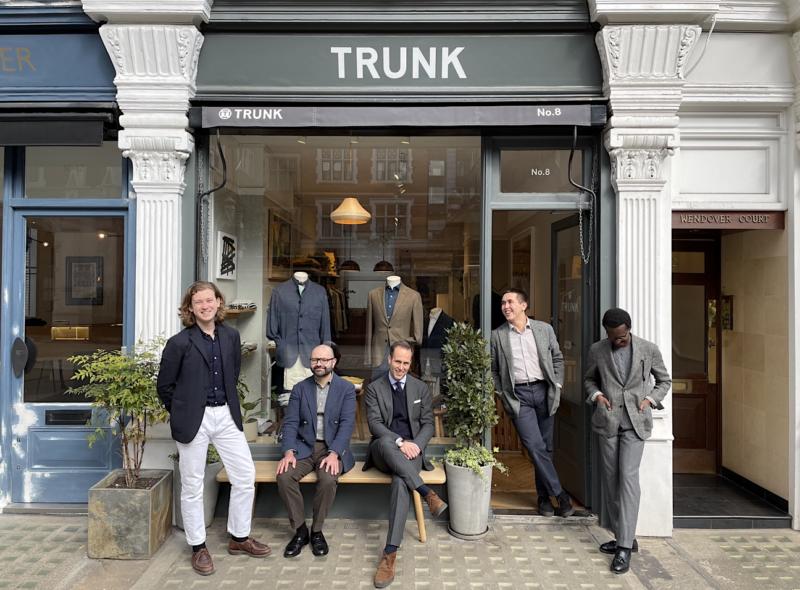 It is genuinely important that - if you can - you visit a UK shop and support it now they're open again.
Why? Because good retail offers something distinct that could easily be lost.
Let me explain the difference between a good menswear store and a take-it-or-leave-it high street version.
With high street shops, the image and the in-store experience are completely disconnected. The advertising might be of chiselled men sailing a yacht, or a rugged one riding a motorcycle. But in store, what you get are 20-something sales assistants that know nothing other than where the till is.
The only point of the store is convenience. The convenience to be able to see material in person, try on different sizes, and not wait around for a delivery at home.
That's all they offer. And if people increasingly live outside city centres, this convenience will fade. It will become more convenient to just order several things and send some of them back.
I am not so concerned about those stores. It would be a shame if they closed, but only because aspiring menswear nerds would have nowhere to learn the ropes for a few years.
Going to a good shop is different. Here, the image and the experience are the same.
Shopping online from Trunk Clothiers is pleasant enough. I quite like the little chap that blows a trumpet on your email receipt, celebrating the purchase.
But it does not begin to compare to the experience of browsing the stores on Chiltern Street, getting a coffee from Monocle cafe, and sitting on the bench outside No.8 in the late-afternoon sun.
That is one of my favourite places in the world. Not craft stores in Kyoto, not the Spanish Quarter of Naples, not the cobbles of Chelsea: talking to a knowledgeable member of the Trunk team on a warm afternoon, probably about Alden sizing, as hip staff from Winkreative wander by.
Trunk would not be anything like the same without its stores in Marylebone. But let's face it, Uniqlo would. It's just an outlet.
The Anderson & Sheppard haberdashery is one of the few shops that genuinely feels like a club.
Once, I made a gaffe when a PR was touring me around a (different) menswear store. They were proudly showing me the made-to-measure room, when I made some quip that at least they hadn't created a 'club room' for customers to 'just hang out'.
It turned out the club room was next door. The aim, as the PR explained with a fixed facial expression, was to 'foster an informal interchange among the clientele'.
Every high-end brand wants this; very few achieve it. The problem is most customers don't want to chat to the sales staff. The staff know little about clothing, and have little in common with their 'clientele' anyway.
At Anderson & Sheppard, everyone that comes in seems to be a long-time customer. Emily and Connor have been working there, I think, ever since the shop opened, and know the clothes inside out. They will offer you a genuinely nice cup of tea, which will remind you you should use a teapot more at home.
It's the same at Connolly across the street. At Adret, just opened a few doors down, the founder Adam himself is sitting there in the window.
Go to Clutch Cafe up in Fitzrovia, and frankly it's hard to avoid a conversation about selvedge denim or loopwheeled sweatshirts.
This retail is different. It's real. This is where the products live and breathe, where style genuinely evolves through interactions with customers. God I miss those interactions.
The other shops are outlets: mere function. The heart of the brand beats somewhere else: a design studio, a marketing meeting, or worst of all, an venture capitalist's spreadsheet.
For them, shops are merely a useful way to display and sell. And if they stop being useful or profitable, they will close.
We cannot allow good shops to close. They are what good menswear has been built on. For 50 years and more, what we know as menswear has been established by the likes of The Andover Shop, John Simons, Bardelli, Paul Stuart and The Armoury.
Yet dozens have closed. Even since writing my book on the subject (the Sartorial Travel Guide) several have moved or shut down. The latest was The Vintage Showroom, which announced last week it would not renew its lease.
Please visit menswear stores over the coming weeks, and show them how much you value them. Because if you don't, they will disappear.
On Permanent Style, we will be doing our bit to spread the news about offerings and any new reasons to pop into stores. And we'll be profiling a series of shops never featured on PS, beginning with three over the next week. I hope you like them.
Thank you Trunk, Clutch and A&S for the shots of welcoming staff, taken this week. Those below are of new stock in store.