Introducing: The Sartorial Travel Guide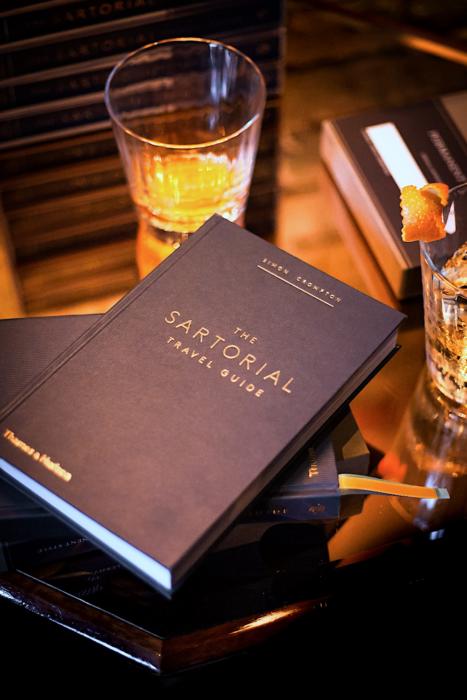 UPDATE: The readers' special edition of this book sold out on its first day. It is now only available from the shops listed at the bottom of this page. The standard edition is available in bookshops and will be on the PS Shop in the future too.
Over the past 10 years, there has been a welcome recovery in the small, crafted menswear shop.
Usually single stores, with dedicated staff often involved in the brand and product, they have come to typify the quality of clothing we celebrate on Permanent Style.
But I still don't think they get enough attention. Big brands and department stores still dominate, with the independents often characterised as 'cult' shops.
This was the main reason I wanted to publish this new book, The Sartorial Travel Guide.
When I first began talking to Thames & Hudson about a follow-up to my last book with them, The Finest Menswear in the World, a way to publicise these stores was top of the list.
Using a large, international publisher like Thames & Hudson means the books will get a broad, mainstream release, and reach people beyond the Permanent Style readership and other fans of menswear.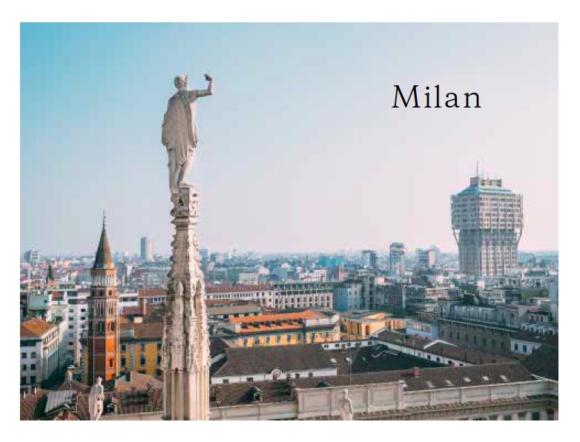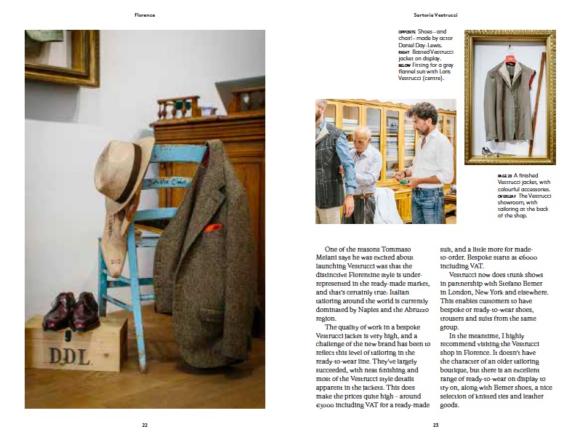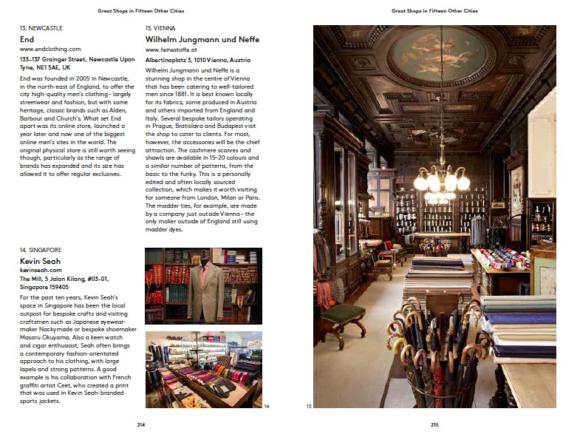 The book came out last week, and includes a list of my favourite 10-15 menswear stores in 10 different cities: London, Paris, Florence, Naples, New York, Tokyo, Hong Kong, Milan, Stockholm and Melbourne.
There are then 15 single shops picked out in another 15 cities: so Optimo in Chicago, Michael Jondral in Hannover, Brio in Beijing and so on.
Each city has a map showing the rough locations of the shops - intended to give the reader an idea of which order to visit them in, rather than navigate (Google Maps is best there).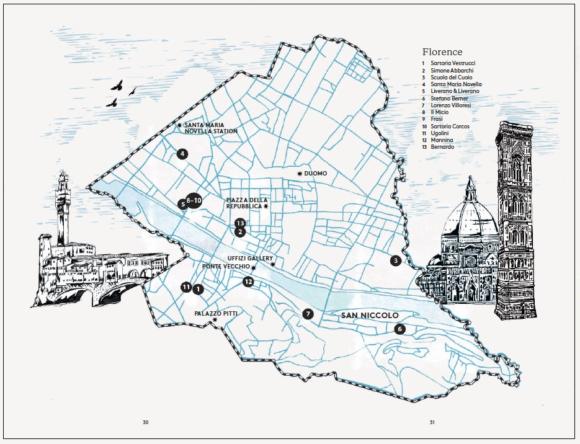 And then each city has a few 'focuses', where I go into more depth about the particular shop, its history and its offering.
Places that get that treatment include Connolly in London, Motoji in Tokyo, Ferdinando Caraceni in Milan, Leffot in New York and Charvet in Paris.
Most of the photography here is Jamie Ferguson's, building on the trips we've done together around the world in recent years.
There are also two bonus sections.
In the first, four people in the industry write essays on the subject of retail. Anda Rowland of Anderson & Sheppard talks about the role of small shops; Wei Koh of The Rake picks out his favourites; Mark Cho from The Armoury gives his advice on travelling; and Mats Klingberg at Trunk talks about how he shops when abroad.
These add variety of taste as well as broad experience to the book. Mats is particularly good on Tokyo; Wei suggests jewellery and motorbike shops that wouldn't otherwise make it in.
I then contribute two features: one explaining how I plan what I wear when travelling, and one illustrating how I pack my clothes.
All in all I think it makes a neat, attractive travel package. Expert views, on the menswear shops worth travelling for.
Some of this has appeared on Permanent Style in recent years, of course, but not all. In particular the 15 extra shops, and some of the bonus sections.
I have also - for the first time with a publisher - been able to produce a limited edition, Permanent Style-branded version.
I did this primarily because I feel the priorities of PS readers are different to those of the normal book-buying audience.
While they might need something under £20, readers will value something a little more celebratory, and luxurious.
So the special edition comes in its own grey-cloth slipcase, with the title embossed in gold.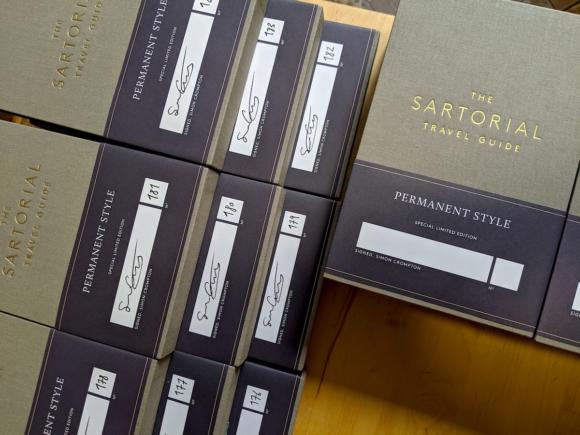 Each one is signed by me, and numbered. I did that on Monday at Trunk, and as per usual it took a very long time.
Still, only 300 are available, and half of those have already been bought by a select group of the shops.
I've listed those shops at the bottom of this post.
Anyone not close to a store can buy a copy online, on the PS Shop here. The price is £29 (no VAT, as books are exempt).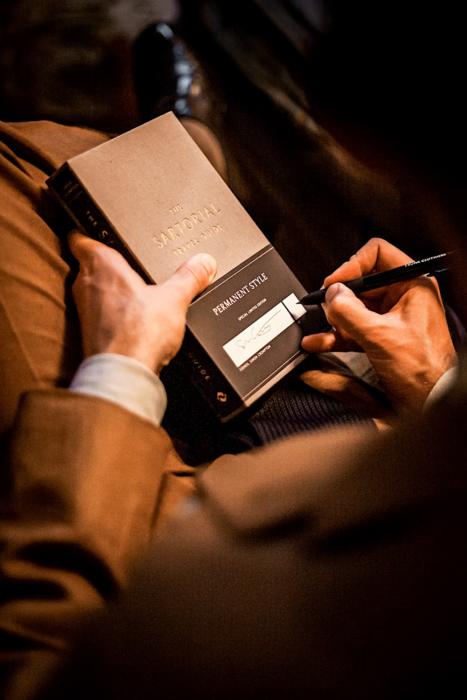 We had a nice little launch party for the book last week, hosted by four London shops featured: Anderson & Sheppard, Trunk Clothiers, Connolly and Drake's.
Everyone invited their VIP customers, and we had a great time at the Chiltern Firehouse in Marylebone.
I do hope you like the book as much as they did. As with most books, it's been two years in the making, so it's great to have it out there.
And hopefully it helps a little towards spreading the word about the shops we love.
Shops carrying the limited edition:
The Armoury, New York and Hong Kong

Christian Kimber, Melbourne

Trunk Tailors, Melbourne

Ferdinando Caraceni, Milan

Barbarulo, Naples

No Man Walks Alone, New York

Leffot, New York

Sid Mashburn, Atlanta
Simone Abbarchi, Florence

Skoaktiebolaget, Stockholm

Michael Jondral, Hannover

Kevin Seah, Singapore

Benjamin Barker, Singapore

Linnegatan, Gothenburg

Trunk Clothiers, London
Connolly, London
Drake's, London
Anderson & Sheppard, London