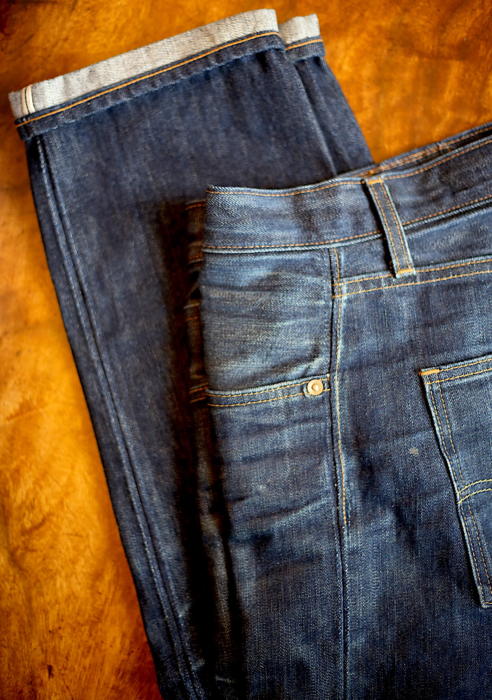 One of the big disadvantages of jeans over tailored trousers is their inability to be altered.
It means that, over the years, they're less able to adapt as you change shape. And given that a key appeal is their longevity - that in fact, jeans get more comfortable and beautiful with age - this is significant.
Of course, they don't necessarily have to fit as precisely as flannels. A little looseness isn't necessarily bad, and there is more leeway for being cinched by a belt. But still, you do want them to fit as intended.
There are three main reasons jeans are difficult to alter. First, there isn't the same inlay (spare cloth) inside the seams. Second, the waistband is one piece rather than two. And third, the fading of denim makes alterations more visible.
However, I've had three pairs of jeans altered in recent years, and I've been happy with all of them. So I thought I'd show here how those issues can be mitigated.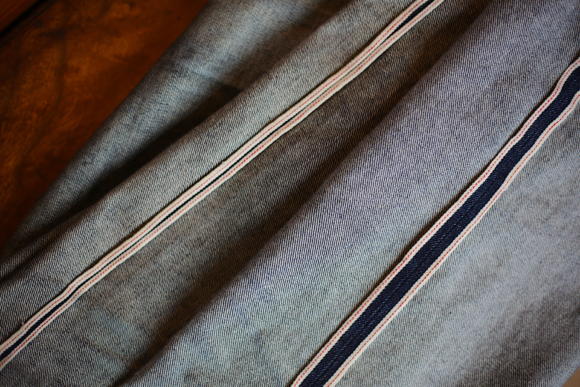 It is true that jeans don't have the same amount of inlay as tailored trousers, and certainly bespoke ones.
However, there is some. Both the inseam and outseam on the legs have a little - around three-quarters of an inch on the outseam, and half an inch on the inseam. The outseam is the selvedge you see when the bottoms of jeans are turned up.
This inlay can't be reduced to zero, otherwise the jeans would fall apart. You need some room for the stitching. But it can be reduced a little - to around three-eighths of an inch on the outseam and a quarter on the inseam.
You can see these altered - before and after - in the images the outseam (above) and the inseam (below). The altered pair are my first Levi's Lot.1 jeans and the unaltered pair are a new purchase from them.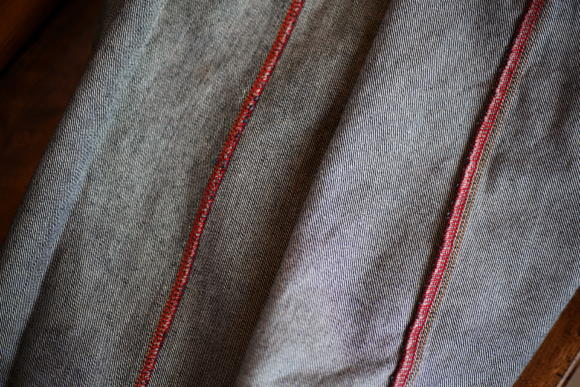 Widening the legs of jeans by five-eighths of an inch is not a lot, but it is noticeable.
For example, the problem with my first pair of Lot.1 was that I picked a leg line that was too slim. The opening at the bottom was just over seven inches (diameter), and most I've had since have been seven and a half, or almost eight.
So we're talking about small differences anyway, where a half inch does make a difference. Below is how that alteration looks on the outside. It's softening with wear and the occasional iron.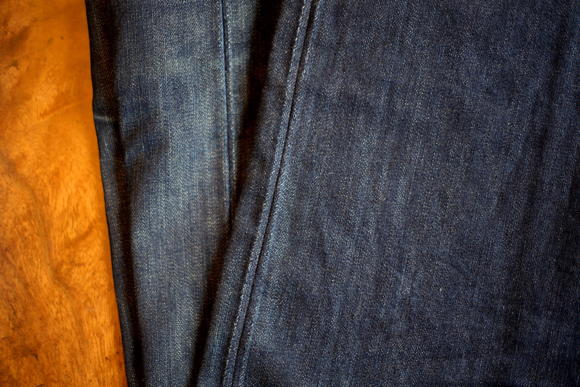 These small changes are also significant when it comes to improving fit, rather than style.
The jeans below are my vintage Levi's 501s, covered on PS here. Fit is always a problem with vintage, and particularly in something hard to find like 501s. Even in Japanese vintage stores, where everything is laid out by age, size and length, it's hard to find the perfect combination.
My pair were great in many respects - the rise, the waist, the fade. But they were always a bit tight in the hips and thighs.
So we made that same adjustment on the outseam, to add some extra room. Of course, there is no inseam on the hips, so the change is even smaller. But it has definitely made them more comfortable.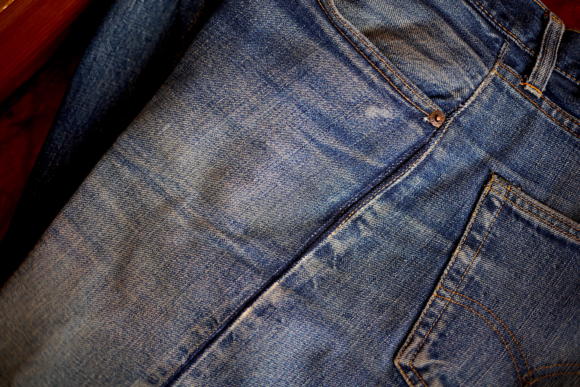 Changes like this, to make jeans more comfortable, are often limited by the waistband.
On tailored trousers, the waistband is made in two pieces, with a seam at the back that is a continuation of the one in the seat. Making them bigger or smaller is often just a case of altering that seam.
The waistband on jeans is made in one piece. So you can't make the waist bigger or smaller without cutting the waistband, or replacing it.
Replacement can be tricky if you don't have more of the same denim, and a new waistband will be a different colour, until it has been washed many times. The only thing you can do there is wash it a lot separately, before attaching it.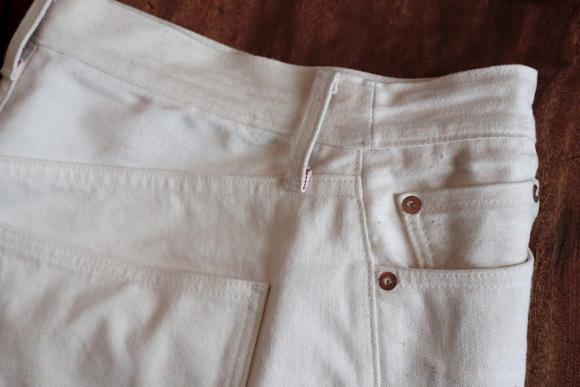 With the waistband I wanted to alter, this wasn't an issue, as they were my bespoke white ones (above).
But unfortunately, we didn't have any more of the same denim left. So we cut the waistband instead, putting a new seam on both sides.
This doesn't look great in the image above, but I don't mind because I usually wear a belt with white denim (otherwise I find they can be too similar to the shirt or T-shirt worn above). So the seams are usually covered.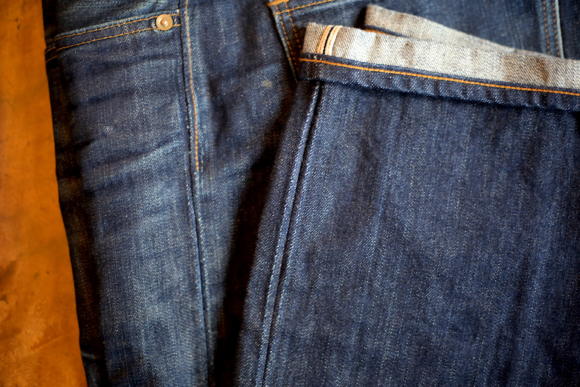 This brings us to the final issue, which is aesthetics.
Do you mind if alterations are visible on denim? On the one hand, jeans aren't meant to be perfect. The whole attraction is fading, nicks and marks. So what's another imperfection?
On the other, people can be particular about that imperfection. Nicks are fine, but stains aren't. And you don't want to interrupt or distort those fades, like the nice train tracks down the side.
Personally, I'm fine with the changes I've shown, but there are many I wouldn't do.
The seam alterations above are fine, for example, because they're virtually invisible on that dark indigo. The alteration is a lot more noticeable on the vintage pair, but there's so much going on on those jeans anyway.
I'd have more of a problem with shortening old jeans, because there would be none of the normal fading along the hem, and a complete absence of fading could look odd.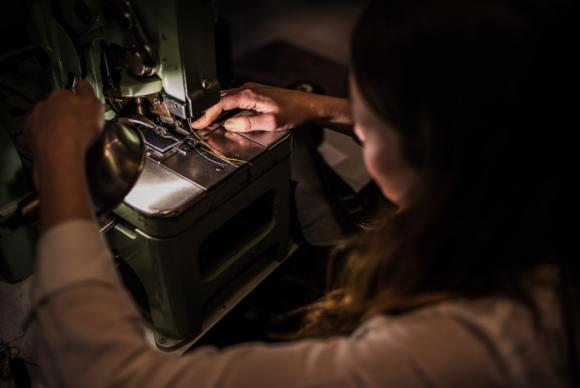 There are also more drastic alterations that I would stop short of.
For example, I have seen people widen the leg of jeans by inserting a new strip of denim down the sides - similar to the alteration people used to do to turn normal jeans into flares. This looks too strange to me.
Similarly, I'd like it if my second pair of Lot.1 jeans had a higher rise. But the only way to do that would be to replace the waistband with something much bigger - like the ultra-wide waistbands that were fashionable in bespoke tailoring for a while.
This would certainly be a look, but probably not an attractive one. I'd probably only try it if the jeans would be wasted otherwise.
There are other subtle changes that we haven't touched on, though. For example, you can slim the leg using the inseam, keeping that train-track fading on the outside. That's something I did on my vintage Army trousers too - covered here.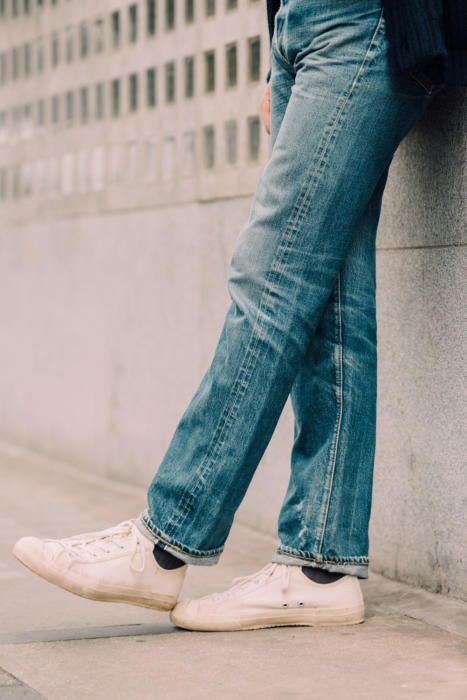 In terms of who can do these alterations, I've used the team at Lot No.1 for all mine, but they don't alter other brands.
Others I would recommend in London are:
Blackhorse Lane: Will alter any brand, from their shop in Coal Drops Yard.
Soldier Blue: linked to Son Of a Stag and Rudie's denim repair and alteration offshoot.
The Denim Doctor is well respected and has been doing the alterations for a long time.
Hang Up Vintage - Ben, a vintage dealer who makes and re-engineers vintage clothing, and has become a dab-hand at denim repairs and other alterations and repairs.
If there's anyone else you know and would recommend in other countries, please let us know.
Shoes shown: Doek via Trunk
Photography: Permanent Style, except above, Jamie Ferguson
Many thanks to Ben Chamberlin for denim repair recommendations.