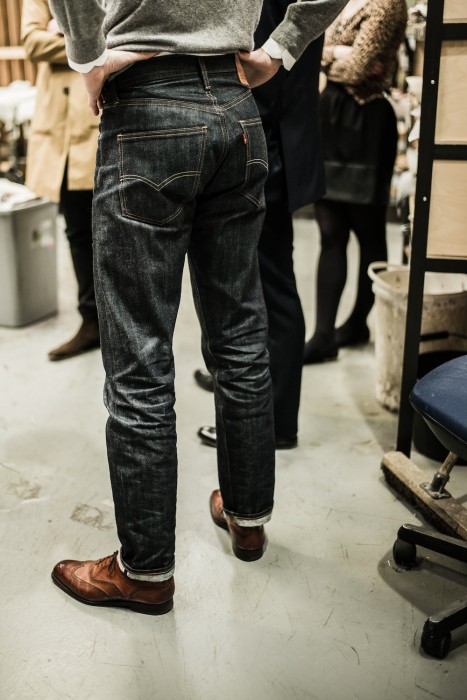 I've been wearing in my Levi's bespoke jeans gradually over the past few weeks, and the raw denim is settling in well. For those unfamiliar with raw denim, it is favoured by those passionate about indigo twill for the way it moulds to the legs – far more than a regular, washed denim. Obsessives will wear their raw denim for months, even years without washing, to maximise that effect. Odours are dealt with by sponging or even freezing the jeans.
I'm some way off that. I tend to wear raw denim for a couple of months – say 30-40 wears – before I wash it. By that point most of the shaping has been done. They should still be put on slightly damp after wash, however, to reinforce some of that wear pattern.
The stiff nature of the denim at this stage means that the jeans have sharp pulls and crease marks – as you can see on the examples above and below. Those will soften out with washing. Most important, for me, is the superior fit that the Levi's bespoke offering has been able to achieve through the waist of the jeans. As regular readers will know, I have a relatively slim waist and (as the tailors put it) prominent seat. This makes it hard to find trousers that fit, and particularly jeans, which usually have a big gap at the back of the waist if they fit elsewhere.
That problem has been solved by the cutting of Lizzie at Levi's, with a section taken out of the yoke of the jeans, pull them tight into the small of my back. Finally, I have jeans that fit.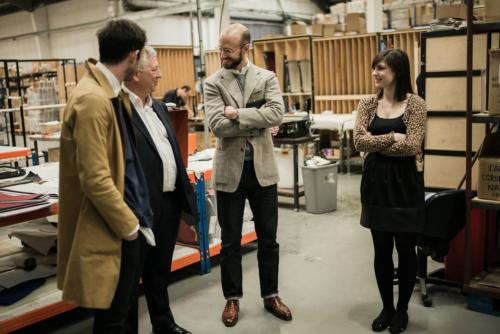 The pictures were taken at the Globe-Trotter factory, which I visited a couple of weeks ago. The outfit is fairly typical of what I wear with jeans: a jacket in a casual cloth and a Neapolitan make, brown or tan shoes, a very subtle handkerchief, and knitwear to help transition a dress shirt. It should be noted that the shirt is also rendered more casual by its soft, Neapolitan collar.
Jacket: Elia Caliendo, in Permanent Style Tweed.
Shirt: Satriano Cinque
Knitwear: Trunk
Handkerchief: Viola Milano (currently not in stock)
Shoes: Edward Green
Glasses: Francois Pinton