Adding interest to a navy blazer and grey trousers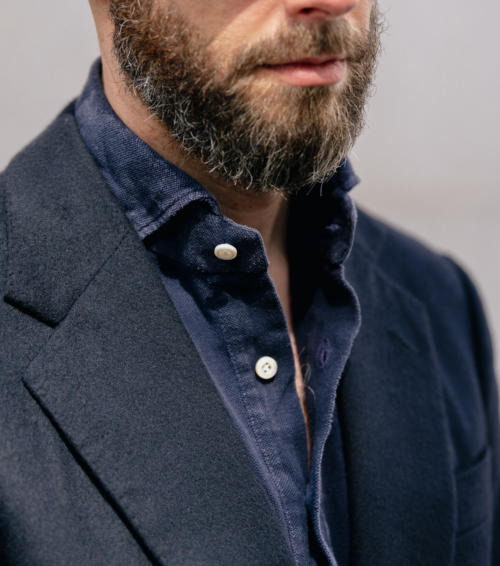 We used to do a lot of posts called 'Reader questions'. Someone asked recently what happened to them.
Well, we still do them - it's just that the site is now so big that posts normally reflect a half dozen readers asking similar things. Today's post is an example.
In the comments to the post 'Flash vs fuddy', a few readers asked how to make more standard outfits - those neither flash nor fuddy - more interesting. Another reader then asked, on a separate post, specifically how to add interest to the 'menswear uniform' of navy jacket and grey trousers.
I have a couple of more obvious, general points, before illustrating some specific options around shirts.
Quality and cut
The first point might be obvious, but it's important.
The things that make these conventional outfits interesting are precisely the ones that I've been banging on about for the past dozen years: quality and cut.
If you want to look good in tailoring, don't wear a double-breasted jacket, a pinned collar and double-monk shoes. Get quality shoes that look better as they age, good trousers that flatter your shape, and a quality jacket that's been made for you.
This doesn't have to be expensive. Most people don't look after their shoes, have their trousers adjusted, or buy flattering styles of jacket. Do all three and you'll be better dressed than 99% of the population.
Then, buy quality when you can afford to. Slowly and intelligently, buy fewer clothes but the same amount of money. The effect will be telling - especially where materials make a big difference, as with shoes and ties.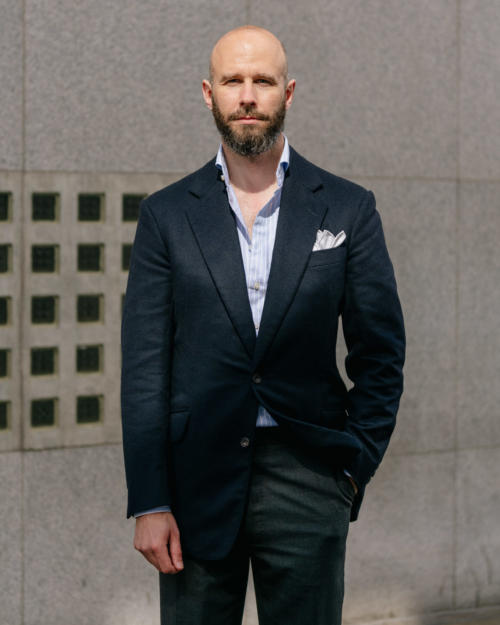 Shirts one: Add pattern
While you're waiting for that policy to take hold, you can experiment with some little changes around the jacket and trousers.
Shirts are by far the easiest way to do this. You're unlikely to be wearing a handkerchief in your pocket these days, and may not be wearing a tie. A scarf is a great option without those other two decorative pieces, but decorative scarves aren't for everyone either.
There's knitwear, but that's weather dependent, and there are options around shoes. I particularly like black suede, for example, as a way to shake up a pretty conventional, formal outfit. But there aren't many more options than that.
So, shirts. First option is a nice stripe, like the 'shadow stripe' pictured above. This pattern is nice because it's not too bold, as an awning stripe might be, nor something that looks like it's still missing a tie, as a hairline stripe can.
If you want to go less corporate, pick a coloured stripe instead. Swap the blue above for a lilac or a pale green.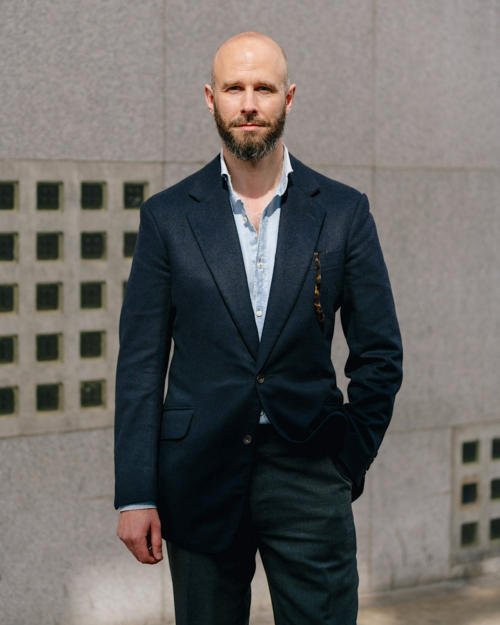 Shirts two: Texture
Second option: change not the pattern, but the texture.
This is our old friend the denim shirt. (It's a very old friend of mine, being an eight-year-old shirt from Al Bazar that's literally falling apart at the seams. About two years ago the dissolution had an old-world charm to it, redolent of frayed cuffs and faded carpets. Now it's just as mess, but I haven't found a replacement I like. So it's the only example we have.)
I shouldn't have to tell readers why denim is nice here. But as briefly as possible: it's the same colour as a business shirt, but a different texture; its associations are of workwear rather than formalwear; so it's a little unexpected with fine tailoring, which subverts it pleasingly, if subversive is what you're after.
Denim adds personality, basically, which was the desire of all the readers that brought this subject up.
If you want more personality, less corporate, less smart casual, you can add more design details to the denim shirt or change the smart blue colour. A Western shirt - with all its points and snaps - would have more details (see here). A darker denim or chambray shirt (see here) would change the colour.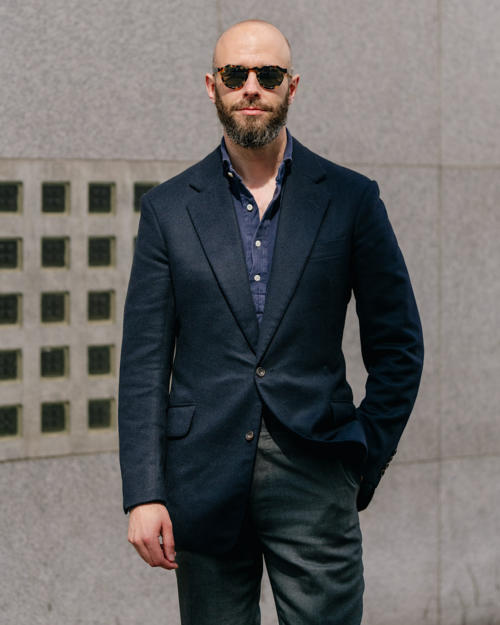 Shirts three: Dark colour
Which brings us onto option three, where we ditch the business blue and go to the darker end of the colour spectrum instead.
Navy on navy still looks elegant, but less formal. I wear it a lot, probably too much in fact. It's just so easy yet no one else seems to be doing it. (That I see in person, not that I see in my echo-chamber of a social media feed.)
Here the navy is an old version of the Friday Polo - our heavy cotton-piqué shirt that Permanent Style first offered back in 2015 (which launched with, I now realise, me wearing navy on navy).
The colour change makes this an interesting option, but we have the change in texture as well. The cotton piqué immediately suggests sport, activity. And this colour even fades a little over time, in some of the same way as the denim.
And four: Knitwear
Final option. Not a shirt at all anymore, but knitwear.
The impression knitwear gives under a jacket - at least in my head - is one of relaxation. It just looks soft and comfortable in there.
The material is soft, the edges soft. There's no sharp cutaway collar or tight little tie knot. The appropriate activity is lounging in a club chair, not (like the polo) swinging your arms at a tennis ball.
And it certainly looks interesting, which again is the whole point of this.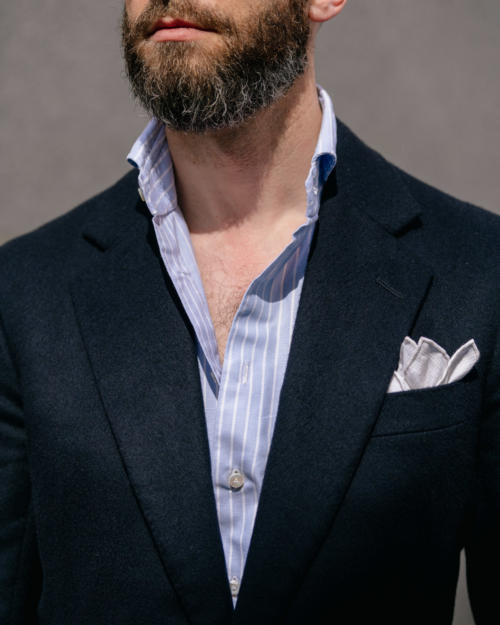 In the US, I've noticed, there is a tendency for security guards to be given a uniform of navy blazer and grey trousers.
First of all, I'd like to say, be grateful for what you've got. I wish guards in the UK were granted at least this semblance of seriousness by their employers.
Second though, I do see how the prevalence of this look could make guys a little less keen on the 'menswear uniform' of blazer and flannels. It's like wearing a cream jacket to a restaurant where you realise all the waiting staff are wearing cheap, synthetic versions of the same thing.
But still, I do feel that the combination of quality, cut and options one through four should sufficiently separate the elegant man about town from any security staff. Perhaps the knitwear most of all.
And there are plenty of other ways to add more personality, if that's what you want. That's where things like jewellery come into their own.
Do please tell me if you disagree, or indeed have any other helpful suggestions. Those from other readers are always at least as useful as mine.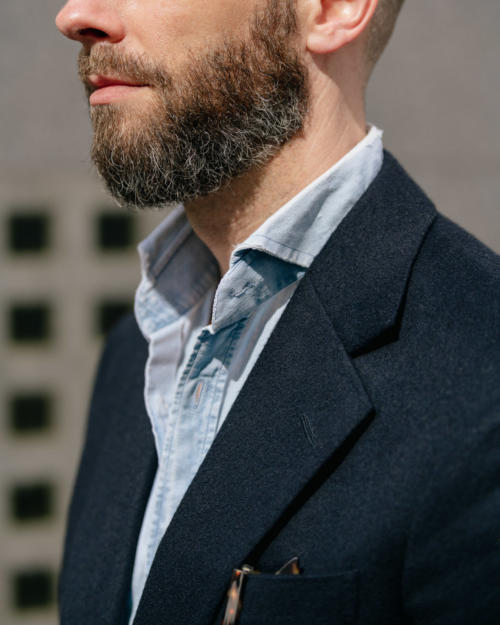 Clothes shown:
Grey flannels from Whitcomb & Shaftesbury
Shadow-stripe shirt from Simone Abbarchi
Denim shirt from Al Bazar
Shoes...
Photography: Alex Natt @adnatt
Below: some other old examples from PS of navy jackets and grey trousers